Bears vs. Steelers: Takeaways from Pittsburgh's 40-23 Loss to Chicago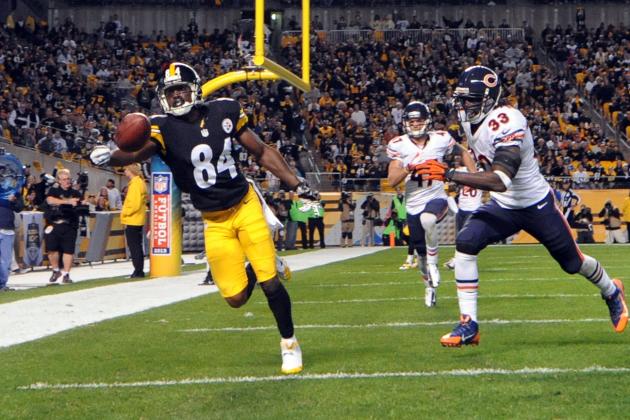 Jason Bridge-USA TODAY Sports

The Pittsburgh Steelers looked like they were going to get over the hump against the Chicago Bears Sunday night, but in the end they dropped the ball. And they dropped it five times.
The Steelers lost to the Bears 40-23 behind five turnovers, two of which were returned for touchdowns. The offense was able to move the football, and the defense played a solid all-around game.
But it was all for nothing, as every attempt to get back in the game was thwarted by either an untimely fumble or interception.
Here are the takeaways from the Sunday night loss.
All stats provided courtesy of espn.com

Begin Slideshow

»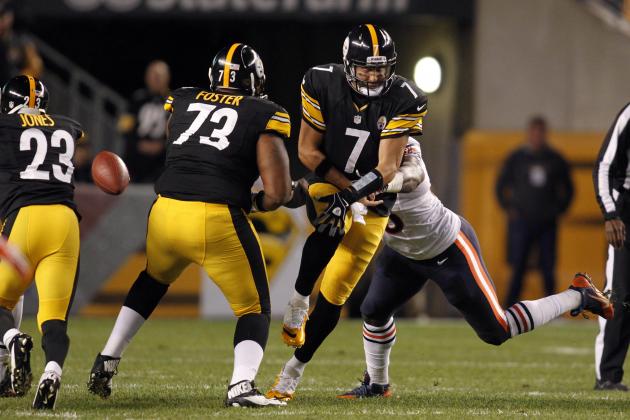 Charles LeClaire-USA TODAY Sport

It is understandable that Steelers quarterback Ben Roethlisberger feels like he needs to force the issue. His offensive line is marginal at best, and the talent at running back isn't exactly inspiring.
So, a fumble or a forced throw that results in an interception isn't necessarily the end of the world. But against Chicago, Roethlisberger went above and beyond mere risk-taking to make plays: He was careless, failing to focus on ball security, and for all the good Big Ben did, some terrible choices on his part destroyed any chance of Pittsburgh winning this game.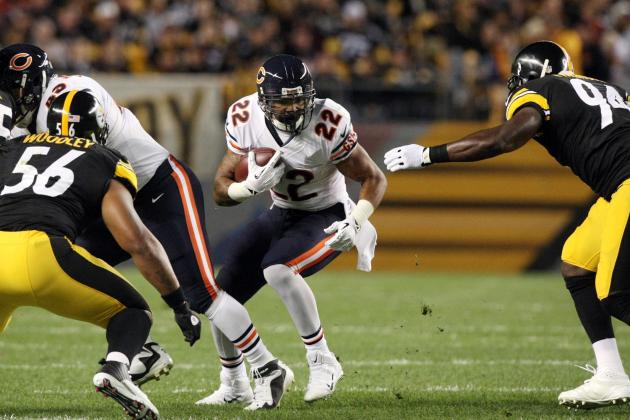 Jason Bridge-USA TODAY Sports

For the second week in a row, a Steelers opponent was able to impose its will on the interior of the Steelers defense.
Nose tackle Steve McLendon gets moved off the ball far too easily and rarely commands a double-team. This is unacceptable for a defense predicated on leaving the inside linebackers clean to make plays.
The Steelers don't have a massive 0-technique tackle on the roster, but finding one should be a top priority for the 2014 NFL draft.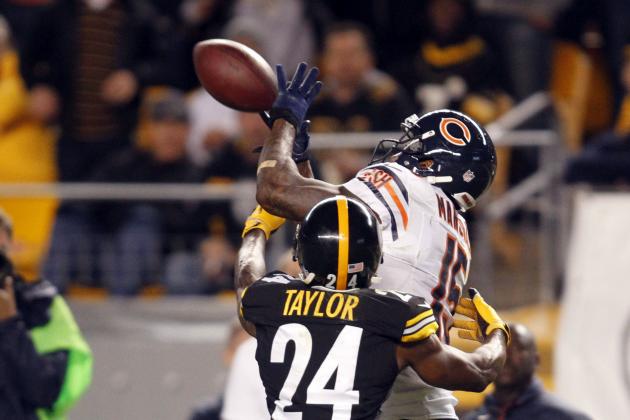 Charles LeClaire-USA TODAY Sport

Once again it was the job of veteran cornerback Ike Taylor to defend the opponent's top wide receiver. This week he drew the unenviable task of covering Brandon Marshall.
Aside from one long reception late in the game, Taylor once again did his job. Other than that one 41-yard reception, which came on a tremendous individual effort by Marshall, Taylor had Bears' top target on lockdown.
If only the entire defense played with his level of commitment, this team would be much stronger.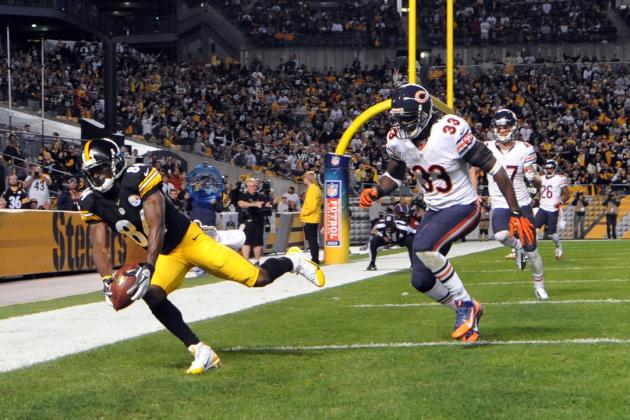 Jason Bridge-USA TODAY Sports

Antonio Brown had an incredible game Sunday night, finishing with nine catches for 196 yards and two touchdowns. It seemed like every time the Steelers needed a play, Brown was the one to make it.
But you have to wonder, after only having 11 catches for 128 yards in the first two weeks, if Brown benefited by some well-timed complaining, per NFL.com. Why it happened doesn't matter, but the Steelers must recognize the level of talent Brown has and continue to feed him the football.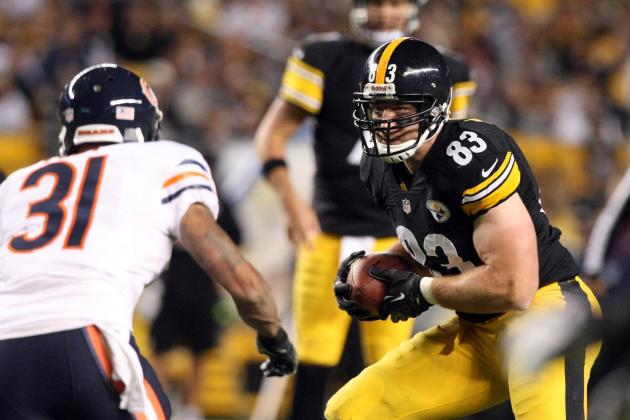 Jason Bridge-USA TODAY Sports

As a Steelers fan, it was great seeing tight end Heath Miller back on the field and making catches. Miller might have been targeted only four times, but he caught three passes.
And his influence went well beyond that. Fellow tight end David Johnson was targeted three times and had two catches himself. And he was targeted on routes that Miller excels at. This means Roethlisberger is looking for the tight end again, and that can only make this passing offense more deadly.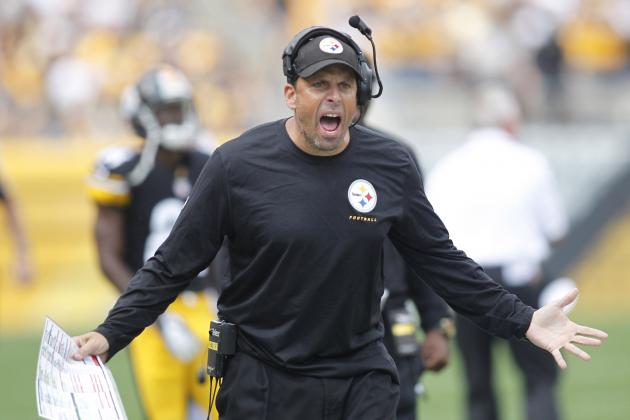 Charles LeClaire-USA TODAY Sport

I have tried very hard to give offensive coordinator Todd Haley the benefit of the doubt this season. But tonight he made that a challenging task.
The timing of some the play calls in this game, particular the running plays, were as poor as the execution. When the Steelers chose straight-ahead, quickly developing running plays with simple blocking assignments, they managed to run the ball successfully.
However, every time they ran such a quick-hitting play, the Steelers then seemed to follow it up with some slow-developing run with multiple pulls or some other complex blocking scheme...only to have the play get blown up.
Keep it simple, Haley.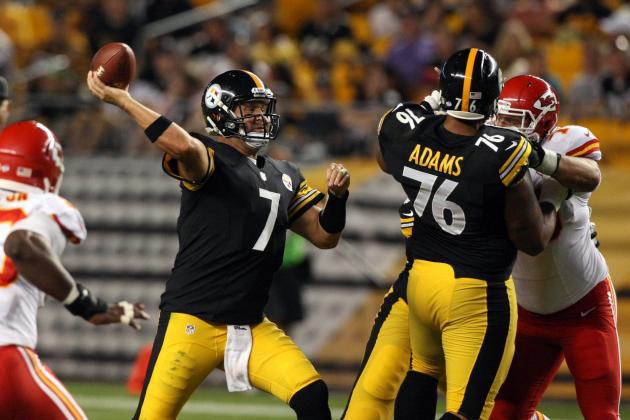 Jason Bridge-USA TODAY Sports

Understanding that the Steelers have already invested second-round picks in both of its starting tackles, I have been hesitant to demand that they use another high draft pick on one in 2014.
But that's all over now. Tackles Mike Adams and Marcus Gilbert are inept. They are lumbering and slow, they lack the required football acumen to be successful. They would be better as reserves rather than starters.
This team looks to be lining up for a high draft pick and there are a couple of excellent ones who will likely go in the top ten.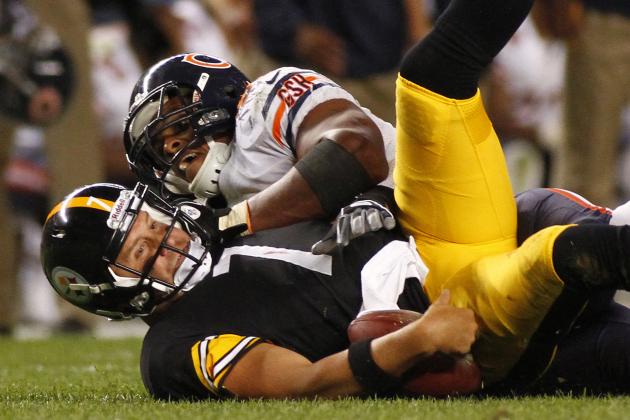 Justin K. Aller/Getty Images

Coming back from an 0-3 start is practically unheard of in the NFL. The last time the Steelers started 0-3 was way back in 2000. That was the final season of a three-year run in which the Steelers missed the playoffs.
At this point, what is a realistic goal for this team? If it is still the playoffs, the road is long and steep. If it's to finish the season with a .500 record, what is the point? Striving to be an average football team in a league that is so draft-centric is absurd.
If this team doesn't believe they can right the ship to the tune of 10 or 11 wins, it could be the end of the year already.