PSG vs. Monaco: 6 Things We Learned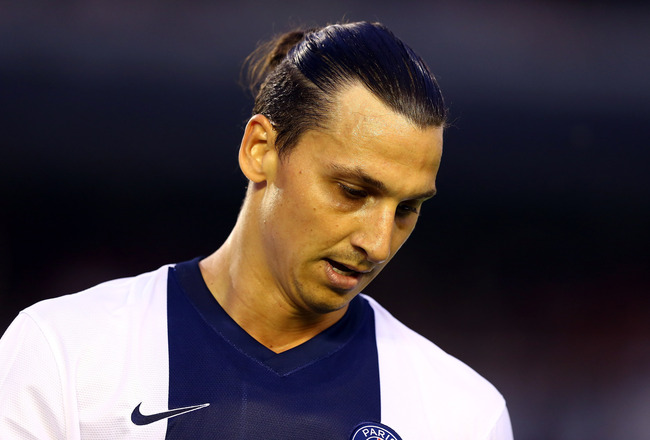 Martin Rose/Getty Images
Paris Saint-Germain and AS Monaco remain the only two unbeaten sides in Ligue 1 after playing out a 1-1 draw in the clash between France's top two at the Parc des Princes on Sunday.
Radamel Falcao cancelled out Zlatan Ibrahimovic's fifth-minute opener after 21 minutes as two of the league's big-name stars found the net.
The hosts in particular will feel that they should have had more to show from their efforts, but neither side could argue that the draw was not a fair result.
Claudio Ranieri's Monaco will feel the happier of the two, coming away with their unbeaten run intact as well as still leading Le Championnat—and PSG—by two points.
Laurent Blanc will be feeling familiarly rueful after his side dominated their opponents once again, but failed to create many real clear-cut chances.
The defending champions come away with more headaches than Les Monegasques too with ill-timed injury concerns in defence after Thiago Silva left the pitch injured in the first half.
Here are six things we learned from PSG 1-1 Monaco.
Floundering Ibrahimovic-Cavani Relationship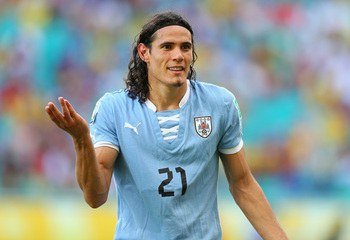 Clive Mason/Getty Images
Zlatan Ibrahimovic and Edinson Cavani continue to give Laurent Blanc a problem going forward, as only one seems to play well at a time.
So far neither have played to a high standard together and the Uruguayan looked a shell of his normal self against Monaco.
Stranded on the right, El Matador was too removed from the action to be able to influence events adequately.
When he got his chances he snatched at them and, although he worked hard and tracked back well, his positioning made PSG highly inefficient going forward.
Cavani's evening was summed up by a free-kick that he took from Ibrahimovic and blasted straight into the wall.
If Blanc wants to get the best out of his star duo, he has to play the two up front together with the Swede perhaps a little behind Cavani.
That would mean moving away from the three-man midfield that was so effective against Monaco and has served PSG well so far. It would also likely limit the team's domination of possession.
Monaco Still a Young Side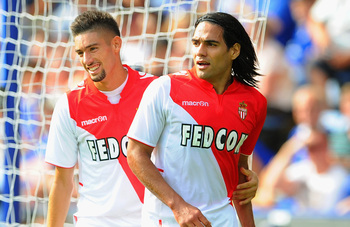 Michael Regan/Getty Images
Although a 1-1 draw with title rivals Paris Saint-Germain is an impressive result for Monaco, there was a lot left to be desired in their performance.
There are still a number of mistakes being made across the pitch, and the team looks every bit the young side still finding their feet together that they are.
When you have the quality of a striker like Falcao able to create goals from relatively little, it can paper over the cracks. Despite his five goals in six matches this season, without him and substitute Emmanuel Riviere the team would be struggling.
At times there is a lack of fluency in their play and moves break down because of a lack of communication that is to be expected of a side still getting familiar with one another.
The most encouraging thing for Les Monegasques is that, despite all of this, they still remain top of Ligue 1, unbeaten and two points clear of PSG.
Imagine what they will be capable when all players familiar, fit and in the same starting lineup.
PSG's Lack of Defensive Depth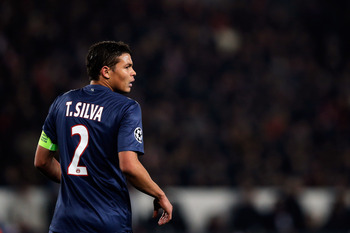 Dean Mouhtaropoulos/Getty Images
Thiago Silva's 15th-minute substitution through injury would have been as close a nightmare scenario as it could get for Laurent Blanc.
Not only did he have to replace his irreplaceable captain and one of the cornerstones of the team, he only had the 34-year-old Zoumana Camara to call on in reserve.
With Alex injured, Marquinhos stepped in alongside Silva to start the match in central defence.
However, the teenager had to take on a massive amount of extra responsibility once his compatriot left the field and the veteran Camara moved in to partner him.
Considering that Blanc claimed he only needed four defenders (h/t ESPN FC) before Mamadou Sakho eventually left, it must have been frustrating all of a sudden to see your defensive options halved by some ill-timed injuries.
Le President was probably half-tempted to ask Sakho to get his kit on at the break with the Liverpool FC man in the stands after being granted to chance to say goodbye to his adoring fans before the match.
Jeremy Toulalan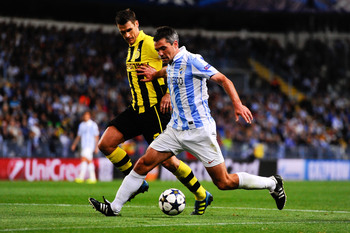 David Ramos/Getty Images
Despite finishing the match level, Monaco arguably lost the contest for midfield domination as well as possession.
The PSG trio of Thiago Motta, Blaise Matuidi and Marco Verratti was exceptional when in control of the ball and worked hard to recover possession whenever it was lost.
Monaco created few chances and that was largely down to the fact that their midfield, particularly the metronomic Joao Moutinho, was starved of the ball.
The closest thing Monaco have to Motta—the glue in the PSG trio and the most disciplined of the three—is Jeremy Toulalan.
His absence was felt by Ranieri's side that struggled to get a grip of the match in the middle of the park.
It allowed their hosts far too much of the ball and putting too much pressure on Geoffrey Kondogbia to break up the play.
Ezequiel Lavezzi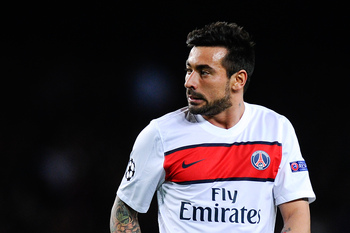 David Ramos/Getty Images
The difference between PSG's first- and second-half showings demonstrates how changed Blanc's side is with Ezequiel Lavezzi and without him.
In the first half, the defending champions enjoyed plenty of space on the left and looked productive whenever the Argentine came forward.
As he tired in the second half, so too did PSG, and the hosts created less in attack.
Lavezzi made a difference when he was introduced against Olympiakos in the Champions League in midweek and once again had an impact, but this time from the start.
Comparing his and Lucas Moura's showings on the night, it is evident that there is more of a goal threat with El Pocho on the field.
Monaco's Lack of Defensive Solidity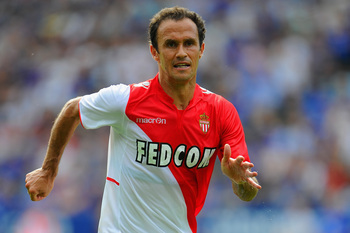 Michael Regan/Getty Images
Considering that they conceded Zlatan Ibrahimovic's opening goal inside of five minutes, Monaco's defence could have given way and shipped plenty of goals.
They didn't though.
After that early setback, Ricardo Carvalho and Eric Abidal stood firm and marshalled the defence to maintain parity.
However, they did show their age and were stretched thin at times by a PSG strike force struggling to rediscover their prolific form from last season.
Had the hosts created more clear-cut opportunities, the chances are that Carvalho and Abidal would have been powerless to stop them.
The pair may boast almost unrivalled experience, but mobility, pace and strength are no longer either of their particularly strong suits as the sands of time begin to tell.
Other teams in Ligue 1 should be looking at getting at the pair by starving the midfield of the ball to force chances and also by exploiting the waning physicality with any substantially powerful attacking presences.
Keep Reading