Mesut Ozil, Arsenal's record-breaking £42 million signing, has hit the ground running in North London.
The new boy kicked off his Arsenal career with a dream debut, taking just 10 minutes before setting up the Gunners' first goal in their 3-1 win at Sunderland. He followed up his assist with exceptional play throughout the match, orchestrating Arsenal's every move with perfectly placed passes and silky touches.
Despite his undeniable talent, when Ozil was initially signed, there were a few cynics who questioned whether Arsenal really needed another attacking midfielder.
After all, Santi Cazorla was fantastic as the focal point of Arsenal's midfield last season, and the likes of Jack Wilshere, Alex Oxlade-Chamberlain and even Mikel Arteta can all play attacking midfield.
But to say Arsenal don't need Ozil is like saying Manchester United didn't need Robin van Persie when they purchased him—they already had Wayne Rooney, Javier Hernandez and Danny Welbeck at the time.
Ozil is a game-changer. In the tighter matches where Arsenal would have previously struggled to find a breakthrough, Ozil can unlock the opposition's defense, as he displayed in the team's 3-1 win over Stoke City last weekend.
The 24-year-old notched a hat-trick of assists, with each one coming from a set piece.
It's impossible to know for sure, but without Ozil in the side, the Gunners could easily have dropped points in Arsenal-esque fashion, dominating possession but ultimately failing to break down a sturdy Stoke team.
There's no doubting that Arsenal's No. 11 will be a difference-maker this season. Here are the players that will benefit most from his arrival.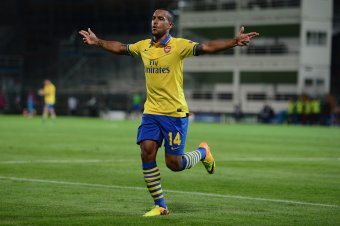 Jamie McDonald/Getty Images
At Real Madrid, there was a certain understanding between Ozil and Cristiano Ronaldo. Ozil was the man who had the most assists for the Ronaldo.
In fact, the German playmaker's departure infuriated the Portuguese winger.
According to AS (h/t The Independent), Ronaldo told his Portugal teammates, "The sale of Ozil is very bad news for me. He was the player who best knew my moves in front of goal... I'm angry about Ozil leaving."
Now that Ozil's a Gunner, Arsenal supporters will be hoping to see a similar partnership struck up between the German and Theo Walcott.
The two have compatible playing styles. While Ozil is a player that looks for through balls and killer passes, Walcott is a player that likes to make runs in behind the opposition's defense.
Arsenal fans did see glimpses of this partnership in the making in the 3-1 win against Sunderland—Ozil slipped Walcott through on a number of occasions, but the Englishman's dreadful finishing prevented him from getting on the scoresheet.
It will take some time, but there's clearly potential for a deadly combination in Ozil and Walcott.
There are few players in the world faster than Ronaldo—one of them is Walcott. If he can polish up his finishing, Walcott could be scoring goals for fun this season.
Olivier Giroud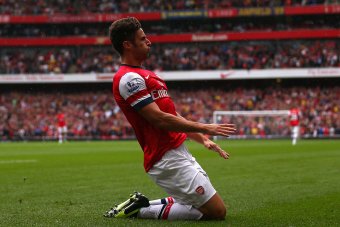 Clive Mason/Getty Images
Although he had a decent debut season at Arsenal with a return of 17 goals in all competitions, Olivier Giroud has come a very long way in the past year.
At this time last season, the Frenchman was taking shots from absurd areas of the pitch. When he got the ball in and around the goal, he seemed to make the wrong decision more often than the right one. His hold-up play was somewhat disappointing for a man of his strength and stature, and he looked like a striker who needed three or four chances before scoring a goal.
Now, Giroud is reveling in his role as Arsenal's indisputable No. 1 striker, scoring four goals in his club's first four Premier League matches and oozing with confidence.
Everything about the former Montpellier man has improved—he holds the ball up well, his touch is sharper and, when given a chance to score, he looks to bury it.
Giroud will be getting better service this season than he could ever imagine and has no excuse not to score more than 20 goals this campaign. Ozil joins Cazorla, Wilshere, Arteta, Walcott and Aaron Ramsey as players who will all be feeding Giroud up front.
Serge Gnabry, Thomas Eisfeld and Gedion Zelalem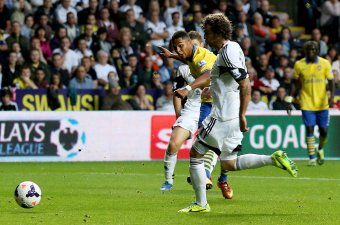 Scott Heavey/Getty Images
Arsenal have a rising contingent of young German stars in Gnabry, Eisfeld and Zelalem.
The former two have scored their first goals for the senior team recently, with Eisfeld netting Arsenal's goal against West Brom in the Capital One Cup while Gnabry opened the scoring in the Gunners' 2-1 win at Swansea.
Gedion Zelalem, meanwhile, was impressive during Arsenal's tour of Asia in the summer, although the 16-year-old is currently out injured.
1 year ago pic.twitter.com/70c7yIWViE

— Gedion Zelalem (@Gedion34) September 2, 2013
As arguably one of the best German players in world football, Ozil will undoubtedly have an impact on the youngsters during the formative years of their careers. Gnabry, Eisfeld and Zelalem all play attacking midfield positions, so Ozil will surely be giving tips and pointers on the training ground.
These three players might not currently be as important to the squad as Ozil himself or some of the other names above, but watch out for the trio in years to come.
Although he will take time to adjust to the Premier League, it's clear that Ozil has given the whole club a boost, as everyone seems to be playing with a newfound energy.
With Arsenal at the top of the table and the title race more open than it's ever been, Ozil and the Gunners could be lifting some long-awaited silverware this season.