Big Ten Football: Ranking Top 10 Performances from Week 4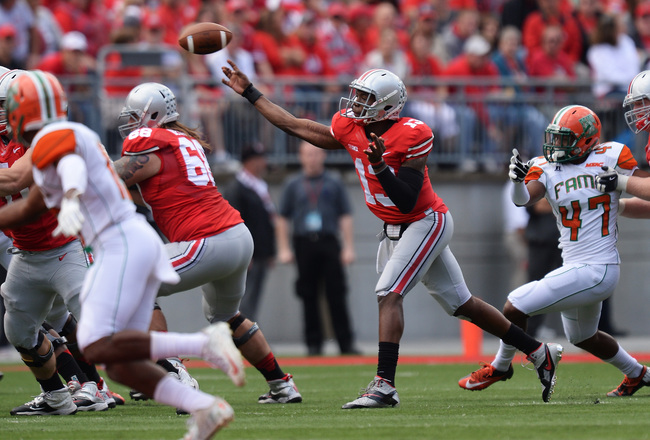 Ohio State QB Kenny Guiton
Jamie Sabau/Getty Images
Week 4 in the Big Ten gave us a variety of great performances, from backups stepping up to ground attacks dishing out some major punishment.
Interceptions were also a theme, as defenses were ball hawking throughout the Midwest. All in all, though, it was a relatively quiet weekend in the conference.
Only two games were decided by less than a score, and a handful of games reached blowout status rather quickly.
Let's take a look at the top 10 individual performances from Week 4 in the Big Ten conference.
10) Cody Latimer, Indiana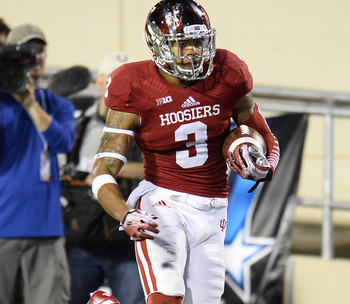 WR Cody Latimer
Mike DiNovo-USA TODAY Sports
Cody Latimer has established himself as one of the best receivers in the Big Ten in 2013.
His performance Saturday was further proof that the tall, physical junior has next-level ability.
Despite the effort coming in a loss, Latimer caught eight passes for 136 yards and a score. It was his second straight week with over 100 yards and a touchdown reception, and he remains one of the stars of this underrated Hoosiers attack.
Unfortunately, the defense failed to do its job and Indiana lost 45-28. But it was another special day for Latimer, and he'll look to continue his strong start this season in two weeks against Penn State.
9) Fitzgerald Toussaint, Michigan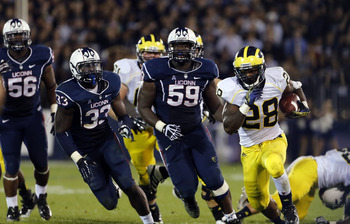 Michigan RB Fitzgerald Toussaint
David Butler II-USA TODAY Sports
Michigan should never have let UConn hang around until the fourth quarter. By hang around, I mean jump ahead by two scores.
But the come-from-behind effort resulted in a win, and it might not have happened if it weren't for running back Fitzgerald Toussaint.
The senior carried the ball 24 times for 120 yards and two touchdowns. Both scores came in the second half, with the latter tying the game at 21 in the fourth quarter.
The Wolverines may have some questions at quarterback all of a sudden, but the steady Toussaint is a major reason why this team still has everything to play for.
8) Greg Heban, Indiana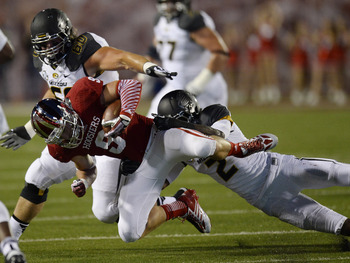 Indiana safety Greg Heban
Mike DiNovo-USA TODAY Sports
Missouri quarterback James Franklin did everything he wanted against the Indiana defense on Saturday.
Well, against everyone except for safety Greg Heban.
The senior from Muncie, Ind., snagged two interceptions during the game and had seven tackles as well. If everybody gave the kind of effort that Heban did, the Hoosiers may have kept this thing a little tighter on the scoreboard.
His performance would also rank higher, too, if it weren't for the loss. Still, a two-interception game is a fantastic effort to build off of moving forward.
7) B.J. Lowery, Iowa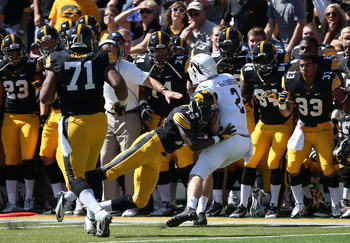 Reese Strickland-USA TODAY Sport
The Iowa Hawkeyes brought their A-game on Saturday, racking up 446 yards of offense and giving up just 206 in a 59-3 win over Western Michigan.
There weren't many standout performances on offense, but the defense had plenty of 'em. Best of all was the play of defensive back B.J. Lowery.
The senior had a pair of interceptions in the victory while sprinkling in four tackles as well.
It marks the second straight week with an interception for Lowery, who may have opposing quarterbacks thinking twice before throwing in his direction.
6) Nebraska RB Trio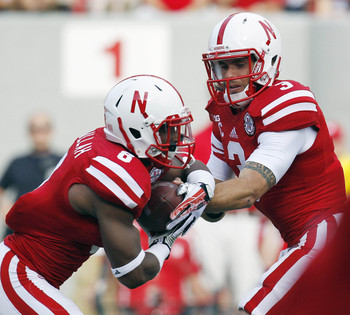 Nebraska RB Ameer Abdullah
Bruce Thorson-USA TODAY Sports
It was impossible to stick with just one running back from Nebraska, so we're going with the top three guys who contributed to the Cornhuskers' 59-20 win over South Dakota State.
After struggling in the opening quarter, running backs Ameer Abdullah, Imani Cross and Terrell Newby combined to rush for 251 yards and five touchdowns.
Abdullah led the way with 139 yards and a score, and Nebraska pulled away from the Jackrabbits in the second half.
While the situation at quarterback is muddy, it's nice for fans to know their team has several players who can tote the rock and have success.
5) Ezekiel Elliott, Ohio State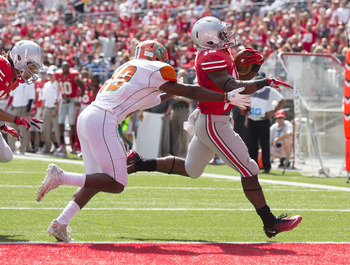 Ohio State RB Ezekiel Elliott
Greg Bartram-USA TODAY Sports
Uh oh, looks like the Buckeyes have found their next great running back.
Yes, Ezekiel Elliott's effort came against by far the worst team Ohio State will play this season. But the freshman from Saint Louis has to have fans excited after his performance on Saturday.
Elliott rushed for 162 yards and two touchdowns on just 14 carries, for an average of nearly 12 yards per touch. His only previous action came in Week 2 against San Diego State when he ran for 36 yards.
But after this breakout performance, Elliott all of a sudden will have his name pop up on opposing team's radars as yet another Buckeye weapon to look out for.
4) Mitch Leidner, Minnesota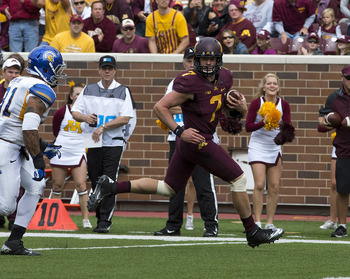 QB Mitch Leidner
Jesse Johnson-USA TODAY Sports
You'll rarely see a quarterback make the list of top 10 performances when he completes five of 12 passes for just 71 yards without a touchdown.
But when that same quarterback happens to rush for 151 yards and four touchdowns, you can see why he's on here.
The player in question, of course, is Minnesota freshman Mitch Leidner, whose sensational effort gave the Golden Gophers a 43-24 victory over a very good San Jose State team.
While the young quarterback still has a lot to work on in the passing game, his dual-threat abilities add another dimension to Jerry Kill's offense, and he makes this team a very tough draw for the Big Ten heavyweights.
3) Kenny Guiton, Ohio State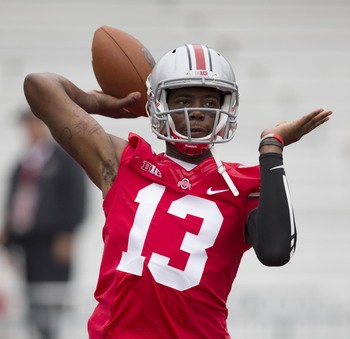 Ohio State QB Kenny Guiton
Greg Bartram-USA TODAY Sports
Ohio State quarterback Kenny Guiton has done a fantastic job in place of the injured Braxton Miller, and he continued to excel on Saturday against Florida A&M.
The senior completed 24 of 34 passes for 215 yards, but six of those passes were for touchdowns.
The pressure wasn't much against a team that had virtually zero chance of keeping things close, let alone winning. But Guiton's play should make Buckeye fans feel a lot better about the quarterback spot should Miller continue to face injury woes.
It's hard to believe a guy like Guiton could sit in the shadows, too, because there's been zero drop-off since he replaced Miller. He may not be on the field for much longer, but in his time as the Buckeyes quarterback he's played some incredible football.
2) Kevonte Martin-Manley, Iowa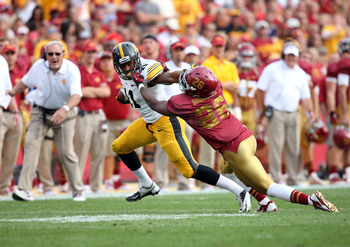 Reese Strickland-USA TODAY Sport
A receiver's job is to catch passes, and Iowa's Kevante Martin-Manley caught exactly one pass for six yards on Saturday.
But it just so happens that the junior returns punts as well, and my what a day he had in the return game.
Martin-Manley returned a total of four punts for 184 yards. What's special is that two of those went for touchdowns, and they both occurred within a minute of each other!
Any time you can return a punt, you're making a big-time momentum play for your team. Two punts in one game is very rare, and two back-to-back puts this performance in the all-time category.
If you're Minnesota, you might think about kicking it away from Martin-Manley next Saturday. Just a thought.
1) Wisconsin RB Tandem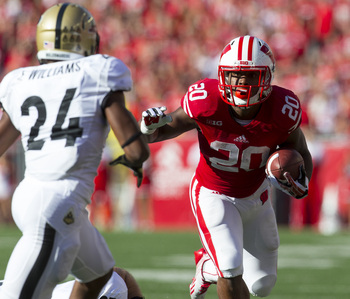 RB James White
USA TODAY Sports
Purdue is not a very good football team, but they're still in the Big Ten, which makes what Wisconsin running backs Melvin Gordon and James White did on Saturday all the more impressive.
Gordon has been on a tear lately, having rushed for 477 yards and four touchdowns in the team's first three games. But Saturday, White chipped in with a nice game of his own.
The two combined for 292 yards and four touchdowns on 32 carries, and the running game produced 388 yards of offense. The result was a 41-10 victory to open up the Badgers' Big Ten schedule.
If Gary Anderson's team does it again next Saturday, we'll have to invent a spot higher than No. 1. That will mean they'll have dominated the Ohio State Buckeyes in Columbus. With the way Gordon and White are running, however, anything is possible.
That one is going to be fun.
Keep Reading