College Football Polls 2013 Week 5: 5 Who Should Be In, 5 Who Should Be Out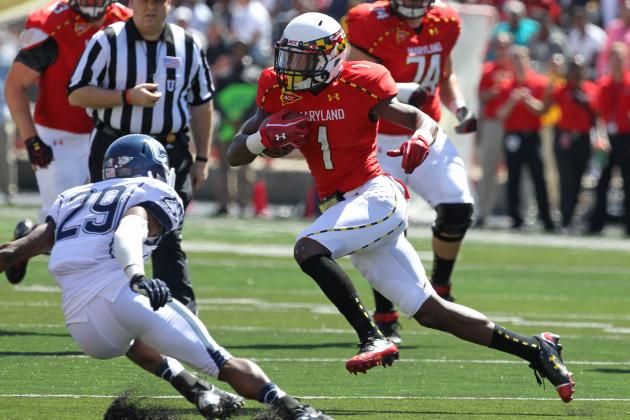 Mitch Stringer-USA TODAY Sports
Maryland's Stefon Diggs
With each passing week of the 2013 college football season, our picture of the Top 25 becomes clearer.
This ultimately makes it more difficult to decide on who doesn't belong, because while most of the Top 10 is still shiny and sparkling, everybody else has flaws, some of them rather obvious.
Creeping into the current conversation is how a team is playing at the moment. While the previous few weeks were all about resume and teams on the fringe of the polls (AP and Coaches), we'll now disregard ranking altogether and really look at whether teams are playing Top 25 football.
A bad week isn't any reason to hammer somebody, but more than one makes it a trend and that could spell big problems down the line.
Take a look at five teams who should be in this week's Top 25, and five who should be out.
Begin Slideshow

»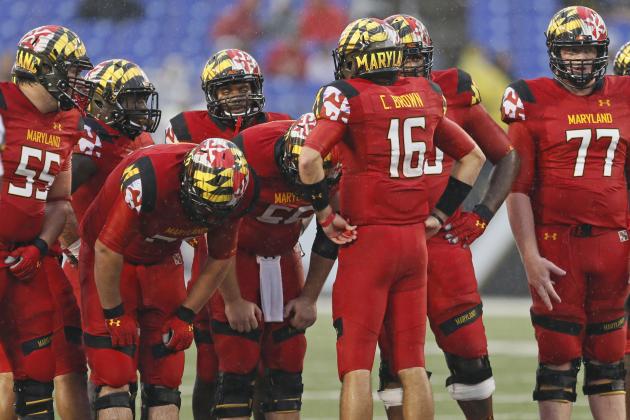 Mitch Stringer-USA TODAY Sports
Maryland throttled West Virginia on Saturday.
Okay, Maryland, we see you.
We see that you're 4-0 this season and coming off a 37-0 victory over West Virginia. When was the last time Maryland scored a truly dominating victory over another BCS conference opponent?
The Mountaineers may not be anything close to the team that took the field last season led by quarterback Geno Smith, but shutting out anybody is an impressive feat.
Quarterback C.J. Brown is playing efficient football for the Terps, with seven touchdown passes and just one interception, and the defense is allowing just over 10 points per game.
Of course, all of the happy feelings in College Park could be whisked away next Saturday when the team plays at Florida State. But Randy Edsall's team has proven through four weeks that it belongs in the Top 25.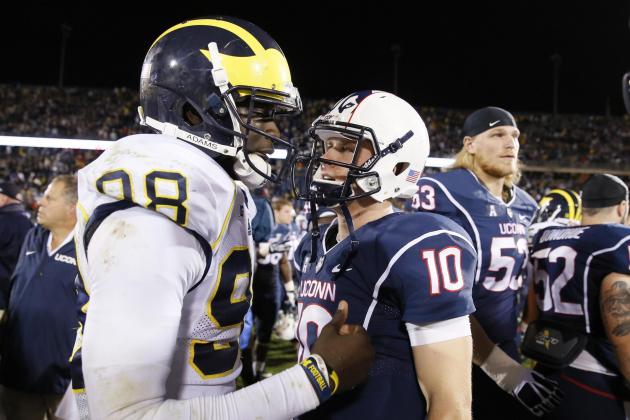 David Butler II-USA TODAY Sports
QB Devin Gardner after beating UConn
The Michigan Wolverines are undefeated and in the Top 20 of both major polls. Without a loss, it's no surprise that the team has kept its ranking.
But if you watched even five minutes of its games over the past couple weeks, you know that this is not a team that deserves to be ranked.
Akron looked like a fluke, and most were willing to give Brady Hoke's team the benefit of the doubt. After all, they beat Notre Dame, right?
But a trip to UConn to face a Huskies team that had previously lost to Towson should have been a blowout. Instead, it was a close shave against a bad team for the second straight week. Top 25 teams do not let UConn even dream of winning, let alone keep the game close in the fourth quarter.
Credit the team for pulling out the victory, and understand that this group still has a lot of talent. If it comes together, it can potentially be a Top 10 squad with a real chance to knock off Ohio State. Right now, however, it is none of those things and shouldn't be ranked in the Top 25.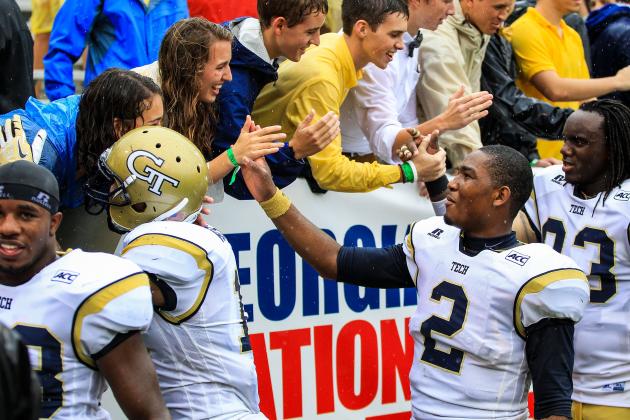 Daniel Shirey-USA TODAY Sports
QB Vad Lee and Georgia Tech
It's hard to believe that a 3-0 BCS-level team with two in-conference victories can be unranked at this point in the season.
That's the case, though, for coach Paul Johnson and the Georgia Tech Yellow Jackets. Dominating victories over Elon and Duke didn't really prove a whole lot, but a grind-it-out victory over North Carolina said everything.
You might think a win against the Tar Heels still doesn't mean a whole lot, but remember, we're not looking for championship teams here. This is about teams who belong in the Top 25 and Georgia Tech just beat a team that played South Carolina tough to open the season.
It took a come-from-behind effort, and it signaled to the rest of the conference that these Yellow Jackets won't give up against anybody. Next Saturday's trip to Miami will be very revealing, but for now, this a squad deserving of a Top 25 ranking.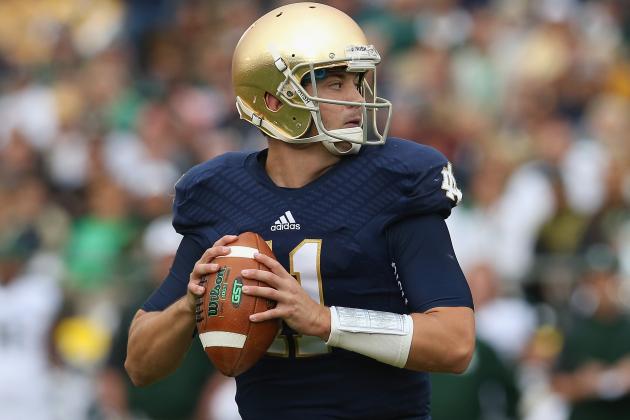 Jonathan Daniel/Getty Images
Notre Dame QB Tommy Rees
If Michigan doesn't deserve a spot, then Notre Dame shouldn't be ranked either. How's that for logic?
It might not be a foolproof way to look at the situation, but part of the reason the Irish previously belonged in the Top 25 was because they had played a "tough" Michigan team and lost a close one.
But the Wolverines have revealed themselves to be not so tough, and Notre Dame has continued to look incredibly average in its wins.
A 31-24 victory at Purdue was followed up Saturday with a 17-13 win against Michigan State. But the Boilermakers were then crushed by Wisconsin, and the Spartans have too many issues on offense to even keep track of.
The Irish may have a lot of talent left over from last year's team that made it to the national championship, but Brian Kelly's guys aren't playing very good football.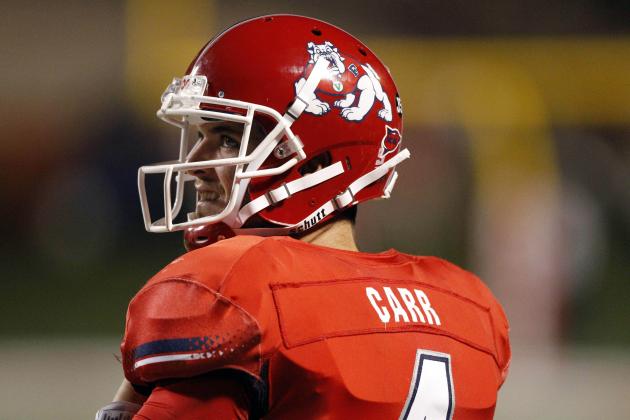 Cary Edmondson-USA TODAY Sports
Fresno State QB Derek Carr
It hasn't always been easy, but boy do quarterback Derek Carr and the Bulldogs play an exciting brand of football.
On Friday, they beat Boise State 41-40 in a game that saw the Broncos come roaring back from a late deficit to take the lead. But Carr led his team on a game-winning touchdown drive to seal the victory, its first over Boise State since 2005.
Carr has 12 touchdown passes with just one interception this season, and the Bulldogs beat Rutgers in Week 1. The Scarlet Knights just knocked off Arkansas on Saturday, and while the transitive property doesn't always work in college football, it's safe to say that Fresno State can play with anybody.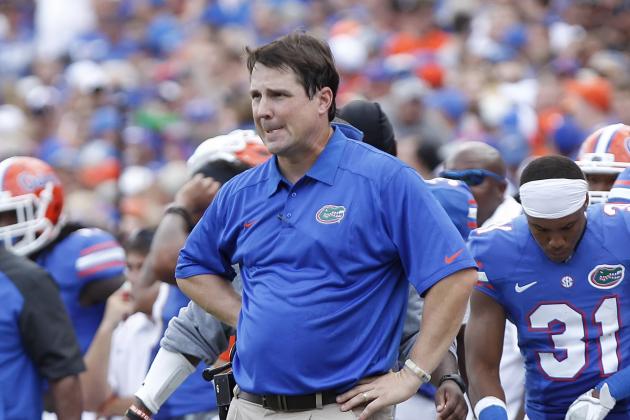 Kim Klement-USA TODAY Sports
Florida coach Will Muschamp
Florida is another team that won't fall out of the Top 25 until it loses, but the Gators don't deserve to be there for several reasons.
First, take a look at their resume. You'll see a 2-1 record with two semi-close wins over Toledo and Tennessee and a loss at Miami. What this tells you is that voters are seeing the name "Florida" rather than looking at how the team is actually playing. There are many other teams that could start 2-1 against the same teams and not be anywhere near the Top 25.
Then take Saturday's win over Tennessee. The defense flexed its muscles and is undoubtedly one of the best units in the country. But the offense must have been working out with Michigan State this offseason because it cannot move the ball with any kind of consistency.
It was reported that quarterback Jeff Driskel is out for the season, and while you certainly feel for the young man, it may ultimately help the team to get some new blood in at the position. Backup Tyler Murphy came into the game and completed eight of 14 passes for 138 yards and a touchdown while rushing for 84 more.
This is still a team to keep an eye on moving forward, but it isn't a Top 25 team at the moment.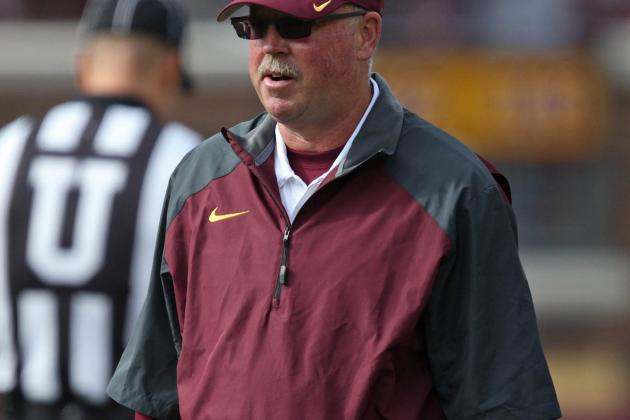 Jesse Johnson-USA TODAY Sports
Head coach Jerry Kill
At halftime, Minnesota led San Jose State 20-17. It then reeled off 23 points to bury the Spartans and move its record to 4-0 on the season.
Quarterback Mitch Leidner is just a freshman, but on Saturday the young man rushed for 151 yards and four touchdowns to go along with 71 yards through the air.
One of the reasons the Golden Gophers deserve to be in the rankings is that when you compare their victory over San Jose State to Stanford's in Week 2, the scores are pretty similar. The Cardinal may have dominated on the defensive side of the ball, but they are also in the Top Five.
If the Gophers can put up an dominating effort over San Jose State without having lost their previous three contests, they deserve to be ranked this week.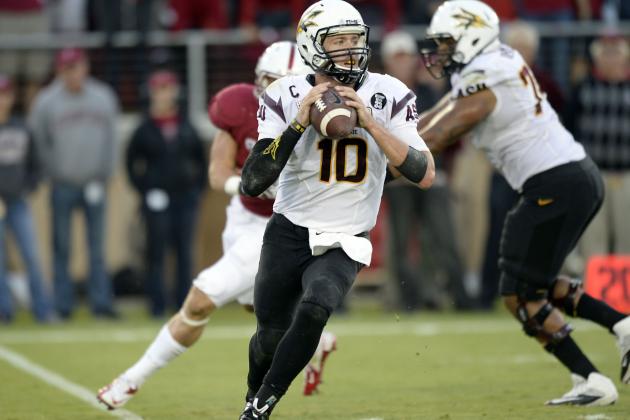 Bob Stanton-USA TODAY Sports
Arizona State QB Taylor Kelly
If you stuck with the Arizona State-Stanford game until the very end, you saw the Sun Devils put up a valiant effort in the fourth quarter.
After falling behind by 32, Todd Graham's team cut it to 11 before losing, and you have to give credit to a team that never gives up. Losing on the road by two touchdowns to a Top Five team isn't something to scoff at, but the first half told us that this is not a Top 25 football team right now.
It fell behind 39-7 in a flurry of missed tackles and dropped passes. Stanford ran the ball up the middle and threw the ball downfield, gaining yards in every way imaginable. When coach David Shaw decided to pull some of his starters, the Sun Devils crept back into the game. It wasn't until the lead was cut to 11 that starter Kevin Hogan was put back in and order was resumed.
With both teams at full strength, this wasn't even a contest. And though Stanford may be one of the best teams in the country, a Top 25 team has to fight a little harder than that in the first half.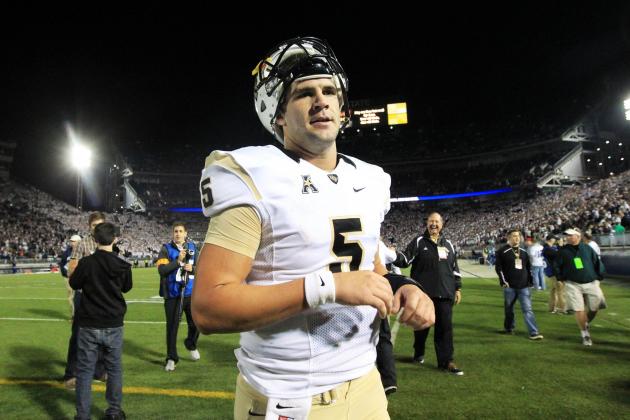 Matthew O'Haren-USA TODAY Sports
UCF QB Blake Bortles
Central Florida opened up its 2013 campaign by smoking Akron 38-7. Can anybody think of a big-name team that didn't fare so well against the Zips?
After the strong start, the Knights have notched a pair of victories over Florida International and Penn State. The latter came in front of a raucous Beaver Stadium crowd under the lights.
The success is due in large part to the play of quarterback Blake Bortles, who has thrown for 816 yards and seven touchdowns in just three games this season.
Next up is a visit to South Carolina, where the Knights may have a tough time keeping it close. But if George O'Leary's team can hang tough or even pull out a surprise win, it will confirm that this team is one of the 25 best.
Matthew Holst/Getty Images
NIU QB Jordan Lynch
You never want to pick on the little guy, but as Northern Illinois creeps up in the "others receiving votes" portion of the polls, you can't help but think that this may eventually be a Top 25 team that doesn't deserve to be there.
Wins are wins, but a four-point victory over Eastern Illinois, an FCS team, is far from impressive. When trying to decide if a team should be ranked, you have to look at the resume as well as how the team is currently playing.
The Huskies have three close wins over Iowa, Idaho and Eastern Illinois. Iowa is a bottom-feeder in the Big Ten and Idaho lost 42-0 to Washington State on Saturday.
Jordan Lynch is a fun player to watch and this team is going to win a lot of games this year. But it is not one of the 25 best teams in the country.