Cleveland Browns vs. Minnesota Vikings: Live Grades and Analysis for Minnesota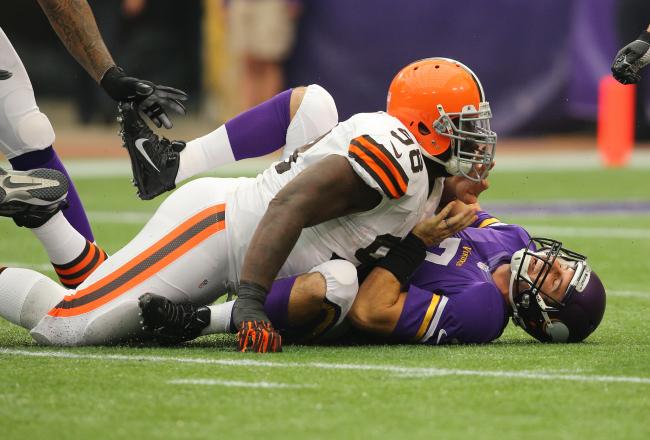 Adam Bettcher/Getty Images
The Minnesota Vikings played host to the Cleveland Browns in their home opener in an attempt to salvage their season and recover from their last-place standing in the division. Their failure might end the season, but there are still a number of takeaways from the game.
Final Score
Vikings: 27
Browns: 31
Minnesota Vikings Grades

| | | |
| --- | --- | --- |
| Positional Unit | 1st Half Grade | Final Grade |
| Pass Offense | B | D+ |
| Run Offense | B | C |
| Pass Defense | D | D |
| Run Defense | B+ | B |
| Special Teams | F | F |
| Coaching | F | F |
vs. Browns Week 3
Final Game Analysis:
Passing Offense: The pass attack for the Vikings broke down over the course of the game and was party to extraordinarily poor pass protection on the edges and in the interior. Overthrown passes, poor decisions and hurried reads defined Christian Ponder's performance as the Vikings went down with the ship. For the most part, the receivers did well, but they didn't get much help from the other units.
Run Offense: When the Vikings most needed a strong running game, the blocking and Adrian Peterson failed them. While he wasn't presented with a cornucopia of easy running lanes, Peterson still found himself taking the wrong hole or hitting his seam too quickly to allow his blockers to catch up. With that, even top-tier center John Sullivan couldn't maintain his blocks, and fullback Zach Line struggled after a strong first drive. Inconsistent blocking, poor decision-making and another fumble from Adrian Peterson hurt the Vikings when they were in a position to win.
Passing Defense: The Vikings allowed a third-string quarterback and an inexperienced (but talented) tight end to take advantage of the holes in their zones and their inexperience at the position. Without Chris Cook for most of the game, the Vikings struggled to stop the Browns passing attack. Ineffective pressure up the middle washed out the edge pressure from the defensive ends and they couldn't force mistakes.The one bright spot came from the linebackers, who were able to defend, intercept and sack the quarterback.
Run Defense: The Vikings did well on run defense, despite what the initial box score may look like. An end-around, fake punt and a few quarterback scrambles skew the yards per carry, but a large number of runs were stuffed at the line or behind the line of scrimmage. Unfortunately, Josh Gordon's run was poorly diagnosed and Chris Ogbonnaya did serious damage. The run defense can't really be proud of itself. Linebackers did a better job than they did in the previous two weeks and the defensive line stood stoutly in the tackle box, but a few big mistakes will capture the highlight reels.
Special Teams: There was nothing new to the Vikings special teams units other than a few poorly handled punt returns. Their grade stays the same as it did in the first half, where they allowed two special teams conversions as a result of play fakes—one for a touchdown. These massive miscues cost the Vikings the game, as they could have held up elsewhere to do just enough to win.
Coaching: Without adequate adaptation, there wasn't much the coaches could do to improve their first-half grade. They allowed similar plays and players to exploit them in the second half. Sloppy execution, poor planning, terrible clock management and inexcusable play-calling could very well be the story of the game, and the entire coaching staff should undergo serious scrutiny this week.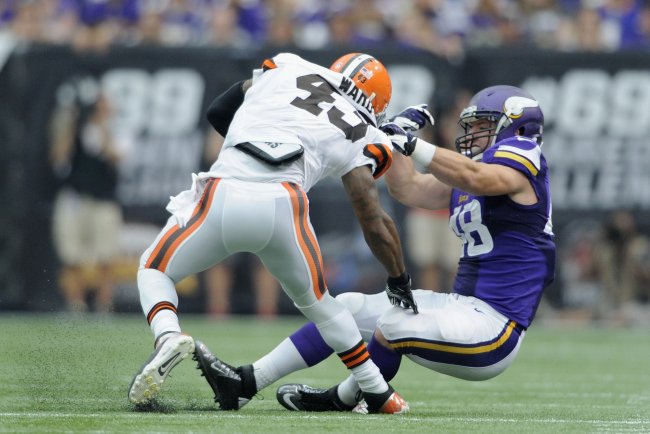 Hannah Foslien/Getty Images
First-Half Analysis
Passing Offense: The Vikings passing offense has had its moments and started out in rhythm, but it has been plagued by poor ball placement, which has resulted in lost opportunities for yardage after catches as well as an interception. Overall, however, the passing game has been an improvement. Better protection, able receivers and a quick-thinking Christian Ponder has led to consistent marches down the field. Unfortunately, it hasn't been able to find the end zone or overcome any deficiencies.
Run Offense: Adrian Peterson and the Vikings have been unusually consistent, as there haven't been any big runs, but no major disappointments either. While Peterson is only averaging 3.4 yards a carry, he and the line are doing much better than in the previous two games. Undrafted rookie Zach Line has been inconsistent as the lead blocker, and other linemen could improve in their blocking diagnosis, but the Vikings are at least gaining yards on the ground.
Pass Defense: Against a third-string quarterback, the Vikings passing defense has floundered. Allowing two touchdowns and 174 yards in the half is embarrassing, and only safety Harrison Smith's interception has prevented the Vikings from looking worse in the secondary. Losing cornerback Chris Cook was a big problem and rotating in A.J. Jefferson and Marcus Sherels has proven to be a poor solution. Even Jamarca Sanford has looked terrible in pass coverage, and it's a wonder why Hoyer's numbers aren't better.
Run Defense: There have been no significant problems with the base or nickel offense in run defense, although they should do better against the running back committee the Browns have fielded instead of Trent Richardson. They have bottled up the running backs, but poor diagnosis on an end-around will remain a black spot in their run defense. Stuffing running backs at the line, they have been able to prevent some of the problems that dogged them through the past two weeks.
Special Teams: A team that finished with one of the better special teams units in the league in 2012 should do significantly better. Allowing a 34-yard run on a fake punt was bad, but the fake field-goal attempt for a touchdown was even worse—leaving an open "lonely end" on a field-goal formation is inexcusable. Further, they haven't redeemed themselves in returns and can only claim a recovered muffed punt to their name.
Coaching: The Vikings coaching staff could not have done more to hurt the team. With terrible instruction on how to handle or predict special teams fakes, as well as poor coverage overall, the special teams coordinator took a hit to his coaching pride. Beyond that, a thrown flag for incorrectly challenging a muffed punt is galling. And Bill Musgrave hasn't been able to exploit some of the bigger holes in the Browns defense.
Stay here for live game grades and analysis.
This article is
What is the duplicate article?
Why is this article offensive?
Where is this article plagiarized from?
Why is this article poorly edited?

Minnesota Vikings: Like this team?