Green Bay Packers vs. Cincinnati Bengals: Live Score, Analysis and Highlights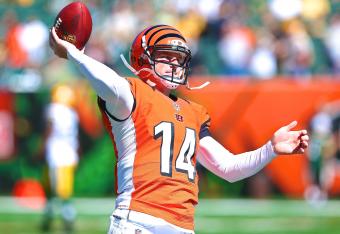 The Green Bay Packers and Cincinnati Bengals had quite the wild ride in their Week 3 matchup. The Bengals ended up winning by a score of 34-30 to get to 2-1 on the season, while the Packers' loss drops them to 1-2.
This was a game of runs if there ever was one. The Bengals jumped out to a huge start by scoring 14 points within the first few minutes of the game. However, Green Bay bounced back in a huge way to score 30-straight points to take the lead into the fourth quarter.
Cincinnati responded and a late fumble by Johnathan Franklin that was returned for a touchdown proved to be the game-winning score. The Packers put together a drive late, but it ended up short with a fourth down incomplete pass from Aaron Rodgers.
Green Bay has a bye week in Week 4 and the Bengals travel to take on the Cleveland Browns.
Final Score - Bengals 34, Packers 30
Searching for explanation for Packers loss? Cincy DE Michael Johnson vs. Packers LT David Bakhtiari = 7 tackles, 1.5 sacks, 4 QB hits.

— Robert Klemko (@RobertKlemko) September 22, 2013
The offensive line remains an issue for Green Bay. On the other side, the Bengals' defensive line looked as dominant as ever in this win.
Packers Player of the Game - Johnathan Franklin, RB
With Eddie Lacy out and James Starks injured during the game, Franklin came in and gave the Packers their second 100-yard rusher in two games. While his late fumble ultimately lost the game for Green Bay, he played solid football throughout.
Bengals Player of the Game - Andy Dalton, QB
Dalton generally gets a lot of criticism for not playing up to the level, but he played solid football throughout the game for the Bengals. In fact, it'd be safe to say that he outplayed Aaron Rodgers in this game with his two touchdown passes.
14-0, 30-14, 34-30. What a ridiculous game of ebb and flows.

— Zach Kruse (@zachkruse2) September 22, 2013
This was definitely a game of runs.
Incomplete, tipped at the line. Bengals take over on downs w/1:21 left. #GBvsCIN

— Green Bay Packers (@packers) September 22, 2013
4th Quarter, 1:12 Remaining
And that is the game for the Packers.
Dunlap bats it down. We need one more on this 4th down play. #GBvsCIN

— Cincinnati Bengals (@Bengals) September 22, 2013
4th Quarter, 1:25 Remaining
Big play from Dunlap there. Packers now face a fourth down to keep the game alive.
4th Quarter, 1:29 Remaining
The Packers face another big third down here. This time they need five yards.
4th Quarter, 1:40 Remaining
What a catch by Jordy Nelson. He catches everything thrown his way.
4th Quarter, 1:50 Remaining
WOW! Big first-down for Jeremy Ross right there.
4th Quarter, 1:56 Remaining
Rodgers' pass is batted down at the line of scrimmage. Third down coming up.
Johnathan Franklin is down. There are no other healthy running backs.

— Tyler Dunne (@TyDunne) September 22, 2013
And the hits just keep on coming for the Packers' running backs.
4th Quarter, 2:15 Remaining
Packers get another first down. This time by tight end Ryan Taylor.
4th Quarter, 3:40 Remaining
The Packers start this drive with a seven-yard gain from Rodgers to Cobb. The next play is a five-yard carry for Johnathan Franklin to give them a first down.
4th Q comebacks have been huge chink in @AaronRodgers12 armor. Can he come up with one today? #Packers

— Rob Reischel (@robreischel) September 22, 2013
Great question here. He'll need to if the Packers want to walk away with a win.
I'm not really sure what happened there, but the touchdown stands for the Bengals.
Stuffed! TOUCHDOWN BENGALS on the return! #GBvsCIN

— Cincinnati Bengals (@Bengals) September 22, 2013
4th Quarter, 3:47 Remaining
TOUCHDOWN! Franklin puts the ball on the ground and the Bengals return it for a touchdown. This gives them the lead late in the fourth quarter.
I think it's short in CIN -- when the knee touched the ground, the ball was shy of the 29

— Mike Pereira (@MikePereira) September 22, 2013
Right call from Mike Pereira.
Bengals challenging the spot. Ball at the CIN 29-yd line w/4:23 left. #GBvsCIN

— Green Bay Packers (@packers) September 22, 2013
4th Quarter, 4:23 Remaining
Marvin Lewis challenges the spot of the ball on Cobb's reception. This is a huge play for both teams.
4th Quarter, 4:25 Remaining
Another conversion on third down by the Packers on this long, long drive. This time it's Randall Cobb making a big play.
Packers went 44 games without a 100-yard RB and are about to have one in back-to-back games.

— Ian Kenyon (@IanKenyonNFL) September 22, 2013
It's an offensive revolution in Green Bay. Aaron Rodgers who?
4th Quarter, 6:37 Remaining
The Packers convert another third down to keep the ball away from the Bengals. This time it's Jordy Nelson making the nice grab.
4th Quarter, 8:28 Remaining
Franklin picks up the first for Green Bay on third down. He's quietly having a very strong showing with Starks and Lacy sidelined.
Rookie first-round pick Datone Jones with his biggest play of his brief NFL career, blocking that PAT. 30-27 #packers

— Jason Wilde (@jasonjwilde) September 22, 2013
Jones has definitely been a disappointment through the first two games of the year.
4th Quarter, 10:55 Remaining
TOUCHDOWN! Dalton finds Jones in the back of the end zone. The extra point is blocked and the Packers lead by three.
Giovani Bernard with 97 yards from scrimmage.

— Josh Kirkendall (@CincyJungle) September 22, 2013
Bernard having quite the game today.
4th Quarter, 12:24 Remaining
Marvin Jones makes the third-down reception to get the first down for the Bengals. Tramon Williams gets a personal foul on the catch to put tack another 15 yards to the gain.
This article is
What is the duplicate article?
Why is this article offensive?
Where is this article plagiarized from?
Why is this article poorly edited?