Josh Gordon Trade Rumors: Latest Buzz and Speculation Surrounding Browns WR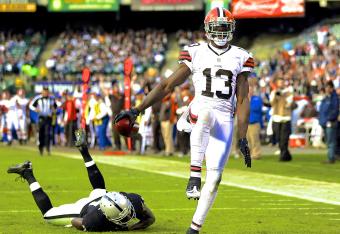 According to ESPN's Adam Schefter, the Browns were initially willing to part with Gordon along with fellow wide receiver Greg Little:
Cleveland fielding offers for and open to trading WRs Josh Gordon and Greg Little. At least one team has made a quality offer for Gordon.

— Adam Schefter (@AdamSchefter) September 22, 2013
ESPN's Adam Caplan added that Gordon had actually been on the trade block for "several weeks":
On #Browns WR Josh Gordon, he's been on the trade block for several weeks, source said. Banner wants him out, very clear, source said.

— Adam Caplan (@caplannfl) September 22, 2013
Browns head coach Rob Chudzinski stated the team would not trade Gordon, however. The deadline passed without a deal.
From NFL: Around the League:
Deadline came and went without trades for Jared Allen, Josh Gordon, Hakeem Nicks, Kenny Britt, Fred Davis and Jairus Byrd.

— NFL: AroundTheLeague (@NFL_ATL) October 29, 2013
From CBS Sports' Jason La Canfora:
In terms of Josh Gordon, plenty of teams reached out past few weeks, several offers have been on table but no one met asking price today

— Jason La Canfora (@JasonLaCanfora) October 29, 2013
From ESPN's Adam Schefter:
Unless something unexpected comes out of blue in last hour, CLEV is not trading WR Josh Gordon. Keeping him. 2nd in NFL in ave per catch.

— Adam Schefter (@AdamSchefter) October 29, 2013
From Ian Rapoport of NFL.com:
#Browns have had talks for WR Josh Gordon, but source tells me no trade expected by Tuesday. Belief is it'd take at least a 2nd rounder.

— Ian Rapoport (@RapSheet) October 27, 2013
Nate Ulrich of the Akron Beacon Journal provided a statement from Josh Gordon discussing recent trade rumors:
"I'm tired of it," Gordon said Wednesday before practice. "I honestly wish if it was going to happen, I wish it would happen already instead of dragging on. If a trade offer came in and that's what the Browns want to do, so be it. If not, then let it be known this is where I'm going to be. Honestly, it's part of the game. I'm dealing with it."

[...]

"It would be pretty naive of me to not think it's possible in this business of the NFL," Gordon said. "So it could happen any minute, any day. So if it does, it does. If it doesn't, you know, I'm glad to be here.

"Ultimately it's up to Joe Banner and [owner] Jimmy Haslam and the guys up top, but I do feel comforted in my head coach wants me to be here. But the reality of it is anybody can make a deal, and they're saying they're opening to listening to people, so anything can happen."

[...]

"I'm here in Cleveland, and I want to make a difference here in Cleveland. This is where I am right now. Whatever happens tomorrow, I'll have to deal with that then. But my head and my space is right here, and that's what I'm focusing on."
Ulrich also provides a statement from Browns CEO Joe Banner:
"If you're in this long enough, you learn to never say anything absolute, because then something comes up and you look like you lied," Banner said. "I personally — and I think anybody here — would be completely shocked if we ended up trading him. Josh is playing great. He's working his butt off."
NBC Sports' Mike Florio reports Josh Gordon is not guaranteed to remain with the Browns through the trade deadline on Oct. 29:
Amid a report of multiple teams making trade offers for Brown receiver Josh Gordon (which frankly feels like something that was leaked by the Browns in order to drive up interest and/or price), a league source with knowledge of the dynamics of any deal tells PFT that a trade is "possible" but not "probable."
From ESPN's Adam Schefter:
At least 3 teams have contacted Browns about deal for WR Josh Gordon; two have standing offers of a high pick and a player. Browns balking.

— Adam Schefter (@AdamSchefter) October 21, 2013
UPDATE: Wednesday, Oct. 9
From Mary Kay Cabot of Cleveland.com:
#Browns Chud re-iterated: "We're not shopping Josh (Gordon) and we have no plans of trading Josh.''

— Mary Kay Cabot (@MaryKayCabot) October 9, 2013
UPDATE: Monday, Oct. 7
From ESPN's Adam Schefter:
Browns-49ers have discussed trade for WR Josh Gordon. Deal unlikely with Mario Manningham coming off PUP, Crabtree slated to return in Nov.

— Adam Schefter (@AdamSchefter) October 7, 2013
UPDATE: Thursday, Sept. 26
ESPN's Adam Schefter discusses the latest trade buzz surrounding Josh Gordon:
At least one team -- and I don't know which one it is -- has made an attractive offer for Gordon. A deal for him might not be far off, though if Cleveland were willing to take what was on the table, it would have already done so. The problem with Gordon is not his talent; rather, it's that he is in the NFL's program, already having served a two-game suspension this season. He's a strike away from a lengthy NFL suspension, and teams around the league are both aware and leery. But he can play.
Gordon previously stated that Browns head coach Rob Chudzinski personally told him the team wouldn't trade their young star wide receiver, according to Nate Ulrich of the Akron Beacon Journal:
"[Chudzinski] texted me the other day talking about it and just reassuring me there were no trade offers or anything like that," Gordon said.

[...]

"The fact that [Chudzinski] said there wasn't [a plan to trade me], it makes me feel a little more comfortable," Gordon said. "At the same time, anything can happen.

"I guess after what happened to Trent, I think that's probably the way it's going for a lot of these guys. You're going to think about it until the [trade] deadline definitely happens [Oct. 29]."
---Original Text---
Josh Gordon returned to the field in Week 3 after serving a two-game suspension at the start of the regular season, following a violation of the league's substance-abuse policy, and helped lead the team to a major victory against the Minnesota Vikings.
He came into the season with some lofty expectations after his rookie year, in which he caught 50 passes for 805 yards and five touchdowns. Browns fans likely don't want to hear trade rumors surrounding Gordon, especially after trading Trent Richardson to the Indianapolis Colts.
For a fanbase as tortured as the Browns' it will hurt to see yet another talented offensive player be pushed out the door, especially after Gordon
Only 22 years old, Gordon will continue to improve, and he's the kind of player a team can build a receiving corps around. The fact that Cleveland is thinking about off-loading him is arguably more surprising than the Richardson trade.
However, if Cleveland is really in rebuild mode, it would make sense to cash in now on its most marketable asset and prepare for the future. The trio of Joe Banner, Michael Lombardi and Rob Chudzinski have a definite direction they're taking this team. They're not afraid to burn some bridges in the short term if it helps the long term, either.
Only time will tell if the plan works out.
This article is
What is the duplicate article?
Why is this article offensive?
Where is this article plagiarized from?
Why is this article poorly edited?