The New York Jets defeated the Buffalo Bills in a sloppy game at MetLife Stadium. Mistakes were on full display for both teams, but the Jets deep ball burned the Bills in the end.
FINAL Score:
Buffalo Bills: 20
New York Jets: 27
Buffalo Bills Grades

| | | |
| --- | --- | --- |
| Positional Unit | 1st Half Grades | Game Grades |
| Pass Offense | D | D |
| Run Offense | D | D- |
| Pass Defense | D | F |
| Run Defense | B+ | B- |
| Special Teams | B | B |
| Coaching | F | F |
Buffalo Bills Week 3
Game Analysis
Pass Offense: Manuel threw a nice touchdown pass to Scott Chandler, but his inconsistencies were on full display. He took too many avoidable sacks and overthrew his receivers more than he hit them in stride. Not a good performance.
Run Offense: Aside from Jackson's long run in the first half, the run game was non-existent. The Jets converged on the line of scrimmage like a pack of wolves on most plays, but the blocking could not have been worse for the Bills backs. It is easy to point the blame at C.J. Spiller, but he hit "holes" with conviction and was subsequently stopped after short gains.
Pass Defense: No pass rush and no healthy starting corners turns out to be a bad combination, regardless of what team you are playing. Justin Rogers was victimized on two long touchdown passes and might be tied with the Jets' Kyle Wilson for Least Valuable Player of the game. Two interceptions make things look okay, but pass defense was far from average.
Run Defense: OK in the first half, but the defense got tired in the second. For every stuff the Bills picked up, they gave up two solid runs to Bilal Powell—who had the first 100-yard game of his career.
Special Teams: Nothing to complain about other than the unit was on the field too much. Carpenter has been an admirable fill-in for the injured Dustin Hopkins. The only noteworthy complaint is that Shawn Powell kept booting the ball into the end zone for touchbacks.
Coaching: The coaching staff has been too stubborn to change their plan halfway through the game. Play-calling on offense was predictable. The Bills continue to be undisciplined and are prone to penalties, and that is a direct reflection on the coaching staff.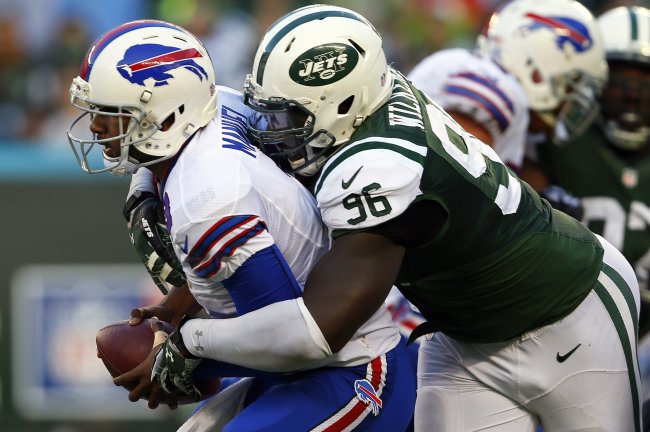 Rich Schultz/Getty Images
First-Half Analysis
Pass Offense: EJ Manuel's slow starts in regard to his accuracy continue to haunt the Bills in the first half of games. He has also been locked in to his first read too many times and has forced the ball into plays that are just not there. He needs to read the entire field before looking for the deep play along the sideline.
Run Offense: Fred Jackson had one 59-yard run on a play where it looked like he was stopped behind the line of scrimmage. C.J. Spiller has been bottled up to this point, but he had a horrible first half in his big game against the Jets last season. Manuel needs to know when to keep the ball in the read option. The opportunities for him to keep the ball and gain big yardage have been there.
Pass Defense: UGLY. Losing Leodis McKelvin on the first drive of the game is a huge problem for this team. Stephon Gilmore and Jairus Byrd remain in street clothes and McKelvin has been one of the best players on defense this year. Justin Rogers might be out of a job sooner rather than later because he continues to get burned for big plays.
Run Defense: Buffalo's run defense has played its best half of football so far in this young season. Bilal Powell and Chris Ivory have not been able to gauge the Bills for big gains. The defensive tackles have been much better filling the gaps up the middle.
Special Teams: Special teams have done everything they can, but I cannot remember the last time the Bills returned a kickoff. Kickoff rules have virtually eliminated the play. Dan Carpenter is two-for-two in field goal tries and Marcus Easley made a nice tackle. That's about it.
Coaching: I wish I could split up offense and defense in this category. Mike Pettine has done pretty well, considering the injuries, but Nate Hackett's offense has been brutally bad. Predictable, uncreative and inefficient is the only way to describe the first-half play-calling on offense.