10 Fan Bases Rightly Ticked off at Their Coaching Staffs After 4 Weeks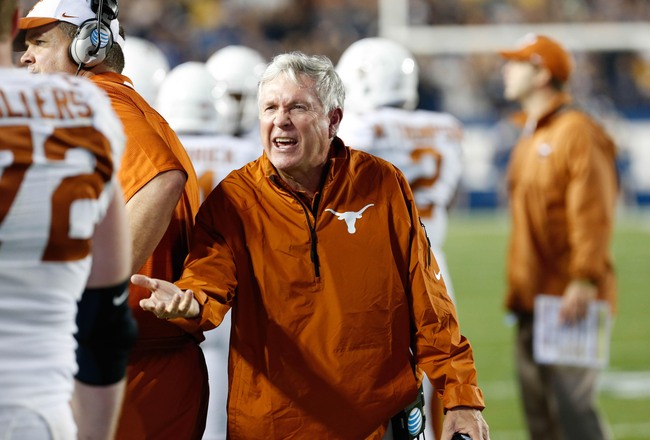 Chris Nicoll-USA TODAY Sports
Week 4 is an important benchmark in the college football season, signaling the unofficial (and far from complete) end of non-conference play. From here on out, most every game you see will be intra-league.
As such, the end of Week 4 is a telling barometer for coaching staffs and fan bases, most of whom are either terribly glad or seething mad with their programs.
Because of the way the BCS is set up, some teams have already all but squandered their goals. Others have survived the first four weeks, and still have those dreams intact, but haven't looked good in the process.
The natural state of the college football fan is "ticked off." That's just how fandom works. But these supporters have the most reason to feel that way.
Michigan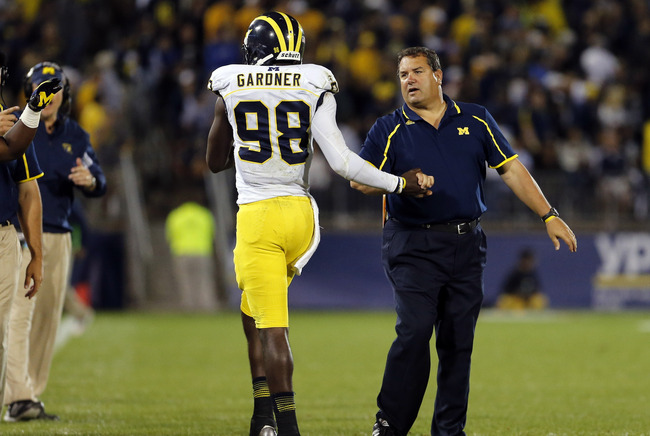 David Butler II-USA TODAY Sports
Michigan fans pictured the season going a number of ways. Almost none of those visions included barely surviving vs. Akron and at Connecticut.
Hoping for a bounce-back performance after last Saturday's near-loss, folks in Ann Arbor instead saw something worse. A team that lost to FCS Towson (decisively) at home came close to pulling the upset.
It should have been easy to get Michigan up for that game. After what it did against Akron, motivation should not have been hard to come by. But Brady Hoke, inexplicably, let his team sleepwalk for a second straight week.
And on national TV, no less.
Boise State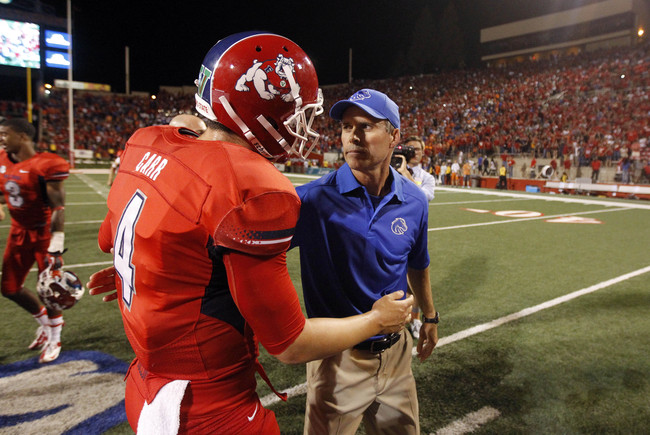 Cary Edmondson-USA TODAY Sports
Boise State fans have no right to get mad at Chris Petersen, who has helped make their rooting life better than it had any right to be.
But that shouldn't absolve him from scrutiny. And on Friday night in Fresno, after his cute little tricks finally caught up with him, that's exactly what he deserves (albeit it in tempered doses).
First he went for it on a first-half 4th-and-16, which led to a sack and, two plays later, a momentum-shifting Fresno State touchdown. He also allowed his holder to call a two-point conversion instead of a first-half extra point—a play that failed and had BSU chasing the lost point all game.
The Broncos ended up losing by one.
Virginia Tech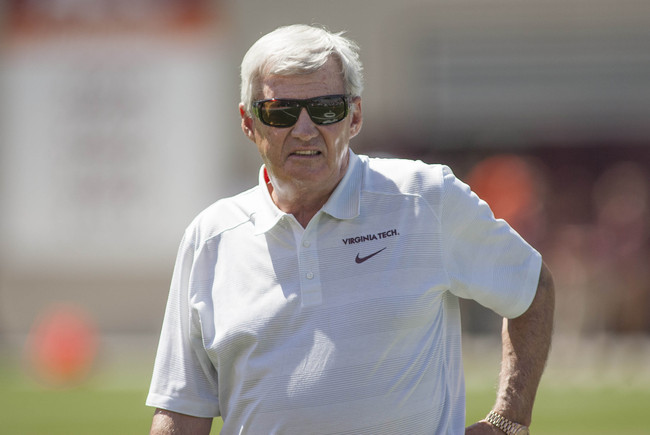 Jeremy Brevard-USA TODAY Sports
It's not Frank Beamer so much as it's Scot Loeffler. Or maybe it's both.
Whatever it is, after these past two nail-biters against C-USA opponents, the man most responsible for Virginia Tech's offense needs to pay.
In eight regulation quarters against ECU and Marshall, the Hokies have put up just 36 points. By comparison, against those very same teams, Old Dominion and Ohio put up 69.
Something needs to change, whether it be personnel (*cough, bench Logan Thomas*) or schematic. It just needs to happen.
USC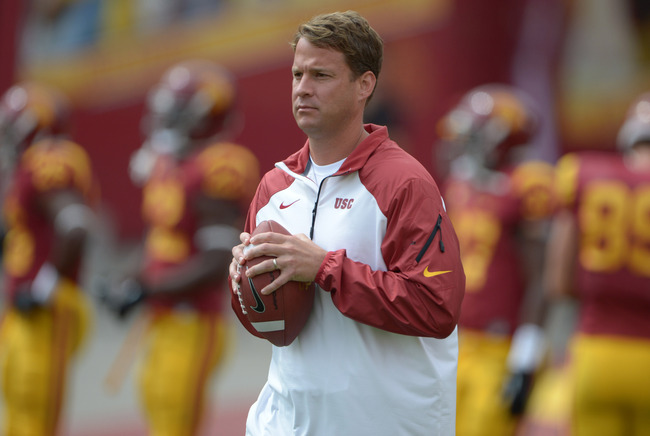 USA TODAY Sports
Yeah, it won. And yeah, the offense looked better. But USC fans are still (and still have a right to be) ticked.
Given the resources available to them, there's no reason the Trojans should score just 17 points at home to Utah State. There just isn't.
They got a win over a sneaky good team, but come on. How could anyone not be mad at Lane Kiffin?
Nebraska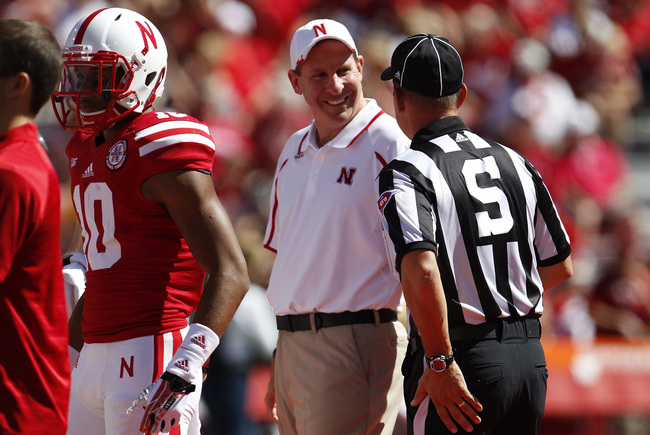 Bruce Thorson-USA TODAY Sports
Remember when Bo Pelini cursed you guys out?
One win (over an FCS team) does not a forgiven man make—especially when the team trails by three after one quarter. How could the defense possibly be this bad?
Nebraska pulled itself together against South Dakota State, but after the first quarter, in conjunction with the second half against UCLA, it had allowed 48 points in 45 minutes of game time.
All at home.
The blackshirts these are not.
West Virginia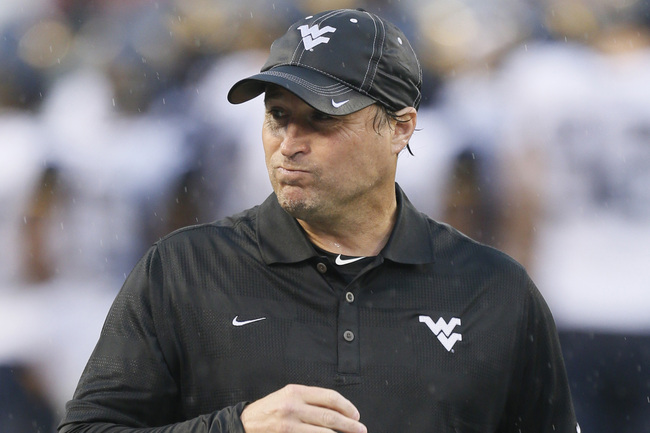 Mitch Stringer-USA TODAY Sports
We got it, Dana. This year's team is different than last year's. It's gonna win with defense instead of offense—that's fine.
It doesn't mean the offense needs to be so vile.
Playing in Baltimore, the Mountaineers' stunk up the joint against Maryland, getting shut out by a defense that allowed 21 points to Chandler Whitmer and Connecticut.
Ford Childress finished 11-for-22 with 62 yards and two (costly) picks.
Yuck.
Oregon State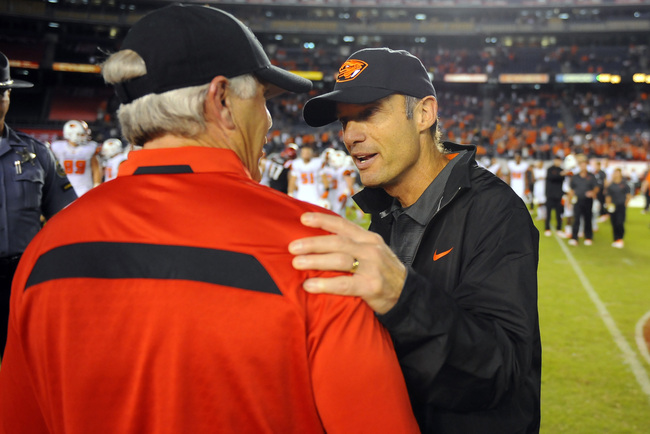 Christopher Hanewinckel-USA TODA
The ends justify the means, and for the second straight week, Mike Riley's Beavers stole victory from the jaws of defeat in a hotly contested game.
That's the good news.
The bad news is that this one—unlike an overtime thriller against a very good Utah squad—came at San Diego State, which is normally a plucky opponent, but in 2013 is winless with a blowout loss to Ohio State and another to an FCS team (just like OSU!).
It's hard to understand why Oregon State trailed by 13 after three quarters. There's too much talent on that roster to stink so bad.
Cincinnati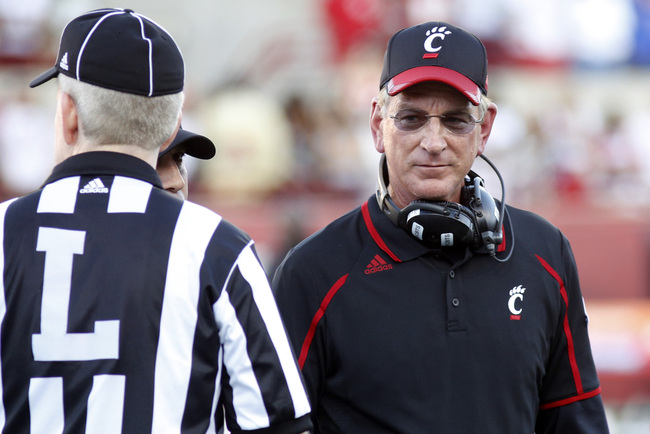 David Kohl-USA TODAY Sports
The Bearcats were—and kind of still are—expected to be one of the main threats to Louisville in the AAC.
But if they play like they did on Saturday, the Cardinals' schedule is even easier than anticipated.
Against a Miami (Ohio) team that ceded 52 points to Marshall and 41 points to Kentucky(!), Cincinnati went scoreless through three quarters.
It got its act together and won 14-0, but everything before that point was too ugly for words. Especially after getting blown out by Illinois, this is not how the season was supposed to go.
Florida International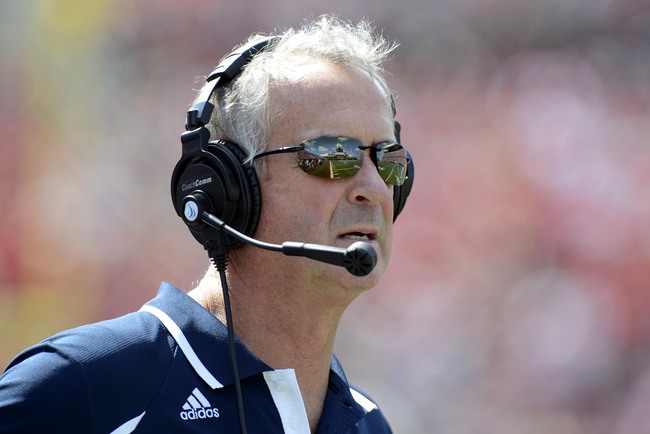 Jamie Rhodes-USA TODAY Sports
This one is kind of off-the-grid, but it might be the most deserved. Is FIU one of the worst FBS teams ever?
In losing to Louisville (by the tidy score of 72-0), the Panthers dropped to 0-4 on the season with a score differential of 187-23. Even FCS Bethune-Cookman walked onto their home field (as a betting favorite) and won by 21 points.
Now seems like a good time to point out that FIU, as B/R's Adam Kramer put it, fired former coach Mario Cristobal "on purpose".
Nice move!
Texas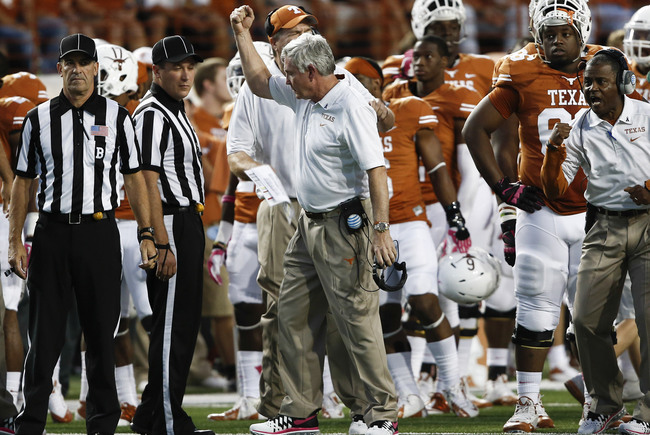 Jim Cowsert-USA TODAY Sports
Mack Brown got the Longhorns up for Saturday's Big 12 opener, and the team notched an impressive win over Kansas State, the defending conference champ.
Too little. Too late.
For those who care, BYU, which set all sorts of records in its shredding of Texas' defense, is officially 0-2 against other teams this season.
It scored 40 points in Austin and 29 points, combined, in its other two games.
Keep Reading