Sylvania 300 2013 at New Hampshire: Live Results, Updates and Analysis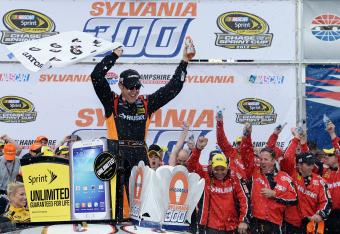 Patrick Smith/Getty Images
If drivers are looking to win the Chase, they're going to have to beat Matt Kenseth and the 20 team.
Kenseth historically runs bad at New Hampshire, but after today's race he turned it around with his first victory at the track.
It was also the first time in Chase history where one organization finished 1-2 at back-to-back races as Kyle Busch finished in second.
Jimmie Johnson also continued to finish strong, ending the race in fourth place.
Greg Biffle managed to run solid here, as he took home third place. Will he be able to maintain momentum moving forward through the Chase though?
Again, as we saw last week in Chicagoland, the three strongest drivers in the Chase continue to remain strong.
Matt Kenseth, Kyle Busch, and Jimmie Johnson continue to break away from the rest of the Chase drivers, but it's Matt Kenseth who continues to impress the most.
The Sylvania 300 saw a handful of cautions, but it wasn't enough to throw Kenseth and the 20 team off of their game.
As the Chase moves forward all eyes will be on Kenseth and Joe Gibbs Racing.
Winner: Matt Kenseth
Will Matt Kenseth be able to continue dominating the Chase as the rest of the post-season continues? We'll have to see how he handles Dover next week to find out!
Thanks for staying with us on the Bleacher Report for the live coverage of the Sylvania 300.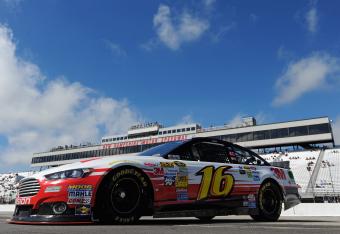 Biffle finished in third. Should we consider Biffle a real contender or did he just get lucky today?
How impressive is Kenseth and the 20 team? Not only is this a back-to-back win for them, it's the seventh win for Kenseth this season, and at a track where he historically runs bad.
Matt Kenseth wins at New Hampshire!
Two Laps to go. It's a battle between Kyle Busch and Matt Kenseth.
Top 10: Kenseth, Kyle Busch, Biffle, Johnson, Dale Jr, McMurray, Vickers, Burton, Truex Jr, Edwards
16 Laps left. Matt Kenseth continues to lead.
If the race continues under green, it looks like no one will catch the 20.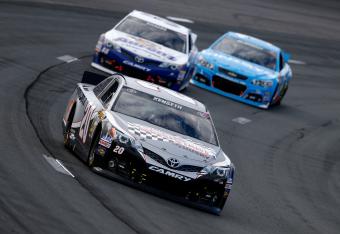 Only 23 Laps to go.
Kenseth is running well, but has a lot of debris on his grill.
Top 10: Kenseth, Kyle Busch, Biffle Johnson, Dale Jr, McMurray, Vickers, Burton, Truex Jr, Hamlin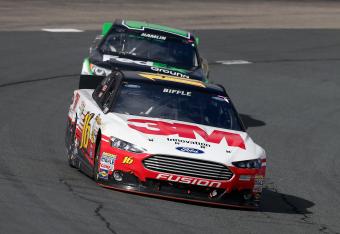 Greg Biffle comes out of nowhere to take the third place position. Let's not forget that Biffle is also in the Chase, and while everyone is focused on drivers like Kenseth and Johnson, Biffle also has a shot at the championship.
Clint Bowyer hits pit road and has issues as a tire falls off.
If karma is real, Clint Bowyer is dealing with it today.
50 Laps left and drivers are fighting desperately for position. Kasey Kahne loses control and hits the wall. Caution comes out.
Caution out for David Gilliland. Smoke was coming from his car.
Lap 228 - Johnson closing in on leader Kenseth a bit. Lead down to 1.749 seconds. #SYLVANIA300 #NASCAR

— NASCAR Stats (@NASCARStats) September 22, 2013
Matt Kenseth vs. Jimmie Johnson. Will one of these two win today's race?
Both are seasoned drivers in the Sprint Cup Series, and could very well be the 2013 champion.
Top 10: Kenseth, Johnson, Bowyer, Truex Jr, McMurray, Kyle Busch, Kasey Kahne, Dale Jr, Vickers, Biffle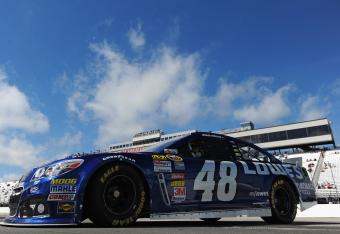 Jimmie Johnson moves up to second. Will this come down to a battle between the 20 and 48?
Matt Kenseth takes the lead once again. Will anyone be able to challenge the 20 at the end of the race?
Gordon has fallen all the way back to 22nd ... 97 laps to go. #nascar

— Bob Pockrass (@bobpockrass) September 22, 2013
Jeff Gordon over shot his pit box. He'll have some work to make up if he wants to be in contention to win.
Caution is out. Looks like someone hit the wall again.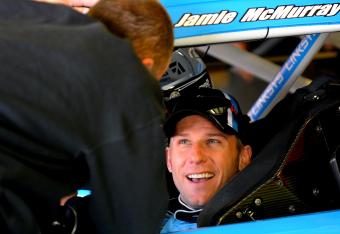 Didn't McMurray hit the wall earlier? What a comeback by him and his team. McMurray is running in sixth and running strong right now.
Top 10: Gordon, Dale Jr, Truex Jr, Johnson, Kenseth, Vickers, McMurray, Kahne, Logano, Kyle Busch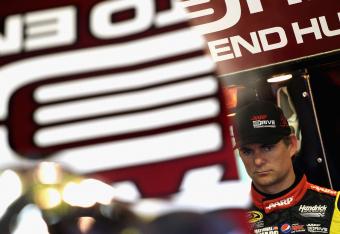 Back to racing after the caution. Jeff Gordon is leading as drivers are going three wide.
Caution comes out. Someone hit the wall and it brings out the caution for debris.
Matt Kenseth to the lead. This 20 team looks unbeatable.
This article is
What is the duplicate article?
Why is this article offensive?
Where is this article plagiarized from?
Why is this article poorly edited?