Tiger Woods at Tour Championship 2013 Tracker: Day 4 Highlights and Updates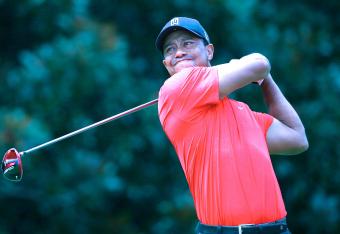 It was an excellent final round for Tiger Woods, but it wasn't enough to get him back in the race for the Tour Championship.
Tiger was too far behind to start with, but he fired an impressive three-under-par 67 on Sunday, by far his best round of the crowning event on the PGA Tour. He finished with an even-par 280 for the tournament.
Even though he had an impressive score, he missed a number of birdie putts that he normally makes when he's on his game. A 63 or 64 could have been within reach had made those putts.
For Tiger, it will be a week off before he competes on Team USA in the Presidents Cup.
Stats-wise and money-wise, it was a good year for Tiger. However, we can think of a few results that would make it a better year. Such as a major or two and a win in the Tour Championship.
Tiger shoots 3-under today to finish the Tour Championship at even par and his PGA Tour season at five wins and first in money, scoring.

— Golf.com (@si_golf) September 22, 2013
Golf Channel senior writer Jason Sobel saw Tiger gain momentum as the tournament progressed.
Tiger Woods posts scores of 73-71-69-67. Based on that pattern, four more rounds here for a 59.

— Jason Sobel (@JasonSobelGC) September 22, 2013
Nice run at a birdie on the closing 18th, but it won't drop and he has to settle for par. For the round, Tiger was three under par, his best showing of the tournament.
Is there a recipe for success as Tiger goes to the final hole? There is, at least according to GC Tiger Tracker.
Par on 17. One hole to play. Needs a quadruple-albatross to have a chance...

— GC Tiger Tracker (@GCTigerTracker) September 22, 2013
The second shot is an excellent one, as he makes it back on to the green. He has 25-to-30 feet for a birdie that would get him back into red figures and makes a fine run at it, but he has to settle for a par when it stays just a foot outside the hole.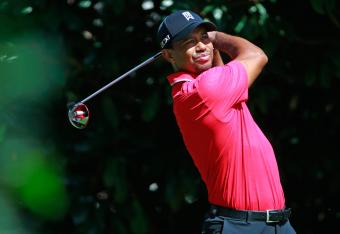 Tiger has been pulling many of his drops to the left. That would not be a good thing on the 455-yard 17th. This time, he hits it right and he's going to need a strong recovery.
Momentum lost on the 16th hole. He hits a mediocre chip shot and he can't sink the putt. A bogey sets Tiger back to even par for the tournament.
The 16th is a tough 481-yard par four, and Tiger hits his drive right. He can't reach the green from there and is short of the dance floor after two.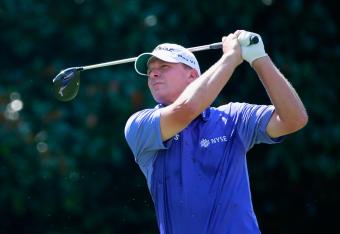 Who is Tiger going to be paired with in the Presidents Cup? Steve Stricker remains a strong possibility, but Matt Kuchar and Jason Dufner are both in the picture as well.
Two-putt birdie on 15. Red figures, baby!! Took all week, but we finally made it!

— GC Tiger Tracker (@GCTigerTracker) September 22, 2013
Tiger's eagle putt looks like it is going to drop, but it stays on the left edge. He's left with a kick-in for the birdie and he's four-under for the day and one under par for the tournament. If Tiger had another 36 holes to go, he might have a chance. Instead, he's only got three left.
Tiger reaches the green of the 525-yard 15th hole in two. He had a legitimate eagle opportunity that would take him to five-under for the day and two-under for the tournament. He can't leave it short.
Kuchar, tiger's playing partner, can't get much going today and is even par for the day. However, the fans love him.
If there's one thing I've learned these past few days, it's this: People love yelling, "KUUUUCH!!!"

— GC Tiger Tracker (@GCTigerTracker) September 22, 2013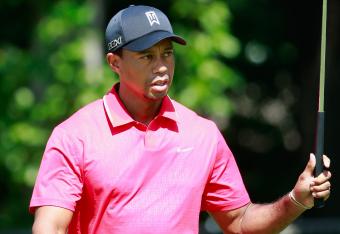 The 14th hole is a good one for Tiger. He hit a fine approach to within 10 feet of the hole. And he makes the 10-footer, so he's back to even par. One more birdie and he will be be under par for the tournament.
Tiger may be having problems, but Stenson is beginning to have some trouble as well.
12 holes ago, Stenson was up by 9. Now the lead is 3

— Doug Ferguson (@dougferguson405) September 22, 2013
Spins one from 55 yards to within inches. That's a gimme. Nice par. #1over

— GC Tiger Tracker (@GCTigerTracker) September 22, 2013
Tiger was short of the green on his second shot at the 13th hole, but his third shot nearly flew the hole. It will be a tap-in for a par. Oh, what might have been.
That birdie on the 12th hole was not exactly a momentum builder for Tiger.
In the trees off the tee on 13. Punch-cut may have damaged the club. He's inspecting it. That was fun.

— GC Tiger Tracker (@GCTigerTracker) September 22, 2013
Ian Poulter was not eligible to compete in the Tour Championship, and he may be just a tad jealous of those playing for the big prizes.
RT @oliverbrown_tel Struggling to embrace the romance of the Tour Championship, where one exceedingly rich e… http://t.co/gaYHbs5vCP

— Ian Poulter (@IanJamesPoulter) September 22, 2013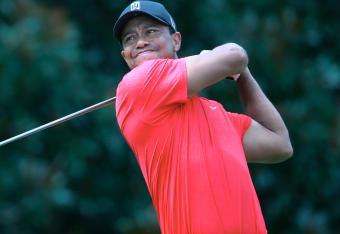 There's something to write home about. Tiger's second shot on the 12th is right at the flag and he is left with a birdie opportunity. He makes the putt, and Tiger is two-under for the day.
Tiger had another look for a birdie on the 11th, but he can't convert an 11-footer. He will have to settle for par.
PGATour.com Brian Wacker explains what will happen to former phenom Rory McIlroy by the end of the day. Last year, Rory was on top of the world. Now, he's just another guy.
Will continue to slide way TW did, too MT @beneverill A year ago @McIlroyRory was killing the golf world...will drop out of top 5 today

— Brian Wacker (@pgatour_brianw) September 22, 2013
Tiger had a good look at a birdie at the 10th. However, he leaves that 23-footer short and he has to settle for a par. Can he get to even par or even one-under? It would take some made putts, something we have not seen a lot of in this tournament.
Tiger with an excellent drive on the 10th. It finds the fairway and he'll be able to hammer away at the flag. On the front nine, he found four of seven fairways, so this is a better start on the back nine.
Here are the scenarios for the players on the leaderboard at the Tour Championship. All of the scenarios would require a Stenson collapse.
FedExCup sample scenarios aka cheat sheet for which players on leaderboard and top seeds can win...#FECcalculator pic.twitter.com/ot9ixlC9TZ

— Stephanie Wei (@StephanieWei) September 22, 2013
This article is
What is the duplicate article?
Why is this article offensive?
Where is this article plagiarized from?
Why is this article poorly edited?