7 Great Manchester United Goals vs. Liverpool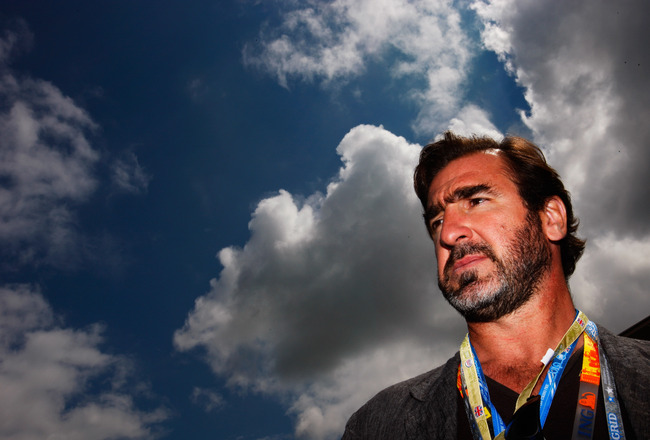 Mark Thompson/Getty Images
Manchester United face Liverpool in the League Cup on September 25, adding yet another entry to the storied history of the great North West rivalry.
With both clubs having conquered the game at home and abroad, boasting some of the very best English club teams of all-time within their parallel legends, over the years the derby games between these two illustrious clubs have become some of the most hyped up matches in world football.
Liverpool venture to Old Trafford to face their rivals once more in the League Cup on September 25th, with the tension ratcheted up several notches due to United's uncertain form and the return from suspension of a certain Uruguayan antagonist.
In the build up to their latest clash, now feels the right time to rundown some of the very best strikes scored by United players against their old foes from Merseyside.
Just by the law of averages, the sheer number of showdowns and exceptional players that have contested the derby suggests that such an undertaking should feature plenty of classics.
That's why each slide includes a great United goal against Liverpool along with an honourable mention that didn't quite make the cut. Goals have all been paired by similarities of style, context and personnel.
Some won trophies, others bragging rights while one in particular garnered a different type of victory for one specific United player.
Hit the button below now or click the arrows to peruse seven of the greatest goals scored against Liverpool by United players.
And why not leave a comment with your favourite United goal versus Liverpool below?
Berbatov's Bicycle Kick
To some United fans, Dimitar Berbatov was an expensive disappointment yet the former Tottenham Hotspur striker ensured himself a place in the club's history with a Premier League hat-trick against Liverpool back in 2010.
Beginning and ending his trio of strikes past Pepe Reina with two well-taken headers, it was the Bulgarian's second goal that earns him a mention in our list.
Taking a touch to control an incoming cross, the laid-back and urbane forward launched himself acrobatically on the spot to power home a bicycle kick finish, delighting Old Trafford.
While Roy Hodgson's time on Merseyside was almost certainly enjoyed more by rival fans than Liverpool's own support, with Steven Gerrard firing home a brace of his own, Berbatov's goals were as important as his second was spectacular.
His three goals were also the first hat-trick scored by a Manchester United player against Liverpool since Stan Pearson in 1946.
Honourable mention: Nani's screamer in 2008.
The Portuguese's well-taken goal was the finishing touch on a comprehensive 3-0 win over Liverpool in 2008.
Slipping between a defensive line that already looked ready for the final whistle, Nani ducked into space and fired off a scintillating drive into the back of the net.
Ferdinand Shows His Class
Rio Ferdinand's all-round footballing ability has seen him receive such memorable compliments as being compared to a Rolls Royce, but it's difficult to think of a better example of his skill than the defender's goal against Liverpool in 2006.
Having brought down a scuffed Carragher clearance within the Liverpool box onto his left foot, and twisting his body through the available space, Ferdinand was able to wrap his foot around the ball to fire a powerful finish into the far top corner of Reina's goal.
It was a strike that helped confirm the result for United, making it 2-0 and set them on their way towards their first league title in four years.
Honourable mention: Ferdinand's last minute winner in January 2006.
While United lost out in the title race to Chelsea in 2005/06, finishing second brought its own rewards for Sir Alex Ferguson's men, with only two automatic Champions League qualification spots available in those years.
United faced off against Liverpool in January 2006. With the second spot up for grabs both teams were playing out a tense and fractious game that remained goalless up until very late on.
The match wouldn't stay that way however, and in the 90th minute, Ferdinand rose to head home a Ryan Giggs freekick to win the match, turning the opposing fans sick with rage.
Jimmy Greenhoff Denies Liverpool the Treble
United headed to Wembley on May 21 1977 determined to prevent their great North West rivals from becoming the first English club to complete a historic treble by winning all three major trophies that year.
Having already wrapped up the league, Bob Paisley's side had to overcome Tommy Docherty's United who had finished the season five places behind the champions, in sixth place.
It was also the first FA Cup final to be contested between United and Liverpool.
The game's defining period came just after half-time, in an action-packed five minutes.
First, striker Stuart Pearson struck for United in the 50th minute before Jimmy Case levelled the scores just two minutes later. United's winner lay just around the corner.
Jimmy Greenhoff received the ball and battled into Liverpool's area before nudging the ball to Lou Macari who quickly took a shot on goal. As the ball fired off his foot, however, it took a glanced deflection off Greenhoff's chest, looping unexpectedly over Liverpool's Ray Clemence, handing United the lead.
The Red Devils held on to see out the game.
Liverpool would go on to win the European Cup against Borussia Monchengladbach just four days later in Rome, completing an impressive First Division and European double.
In fact, Paisley never did win the FA Cup during his prolific stint as Liverpool manager in which he won three European Cups and six league titles. Not a bad consolation.
That feat would elude all of Liverpool's greatest sides and would instead be finally claimed by their long-standing adversaries, and the side that prevented their own treble bid, some 22 years later in May 1999.
There was also an aftermath to the FA Cup result at Old Trafford, with Docherty sacked two months later due to his affair with Laurie Brown, the wife of the club's physio.
Honourable mention: Andrei Kanchelskis boots a poor clearance over David James.
Kanchelskis, United's Ukranian wizard on the wing throughout the early nineties, was a player blessed with the pace and skill required to punish sloppy defending.
Opening the scoring in a 2-0 league victory over Liverpool in September 1994, the winger pounced on a dreadful headed back pass in the 73rd by John Scales, lobbing the unclaimed ball in mid-flight, over David James.
Brian McClair scored a second a minute later to complete a torrid few moments for Liverpool's expensively assembled defense that featured new Anfield recruits Scales and Phil Babb.
Robson Leads the Way to the 1985 FA Cup
Bryan Robson was United's box-to-box, goal-scoring superhero during the '80s when the club struggled to regain it's title-winning composure and instead had to settle for cup-runs to sate their thirst for glory.
The club's 1985 FA Cup win was one of the sweetest enjoyed during the reign of Ron Atkinson.
Having drawn 3-3 with Liverpool in their original semi-final clash at a neutral Goodison Park - a game that many believed United should have won - the two sides headed to Manchester City's Main Road ground to settle the tie in a decisive replay.
Things didn't get off to a good start for United, who went behind in the first half due to a unfortunate Paul McGrath own goal. Fortunately however, their inspirational skipper was on hand to ensure the match wouldn't get away from them.
Immediately after the half-time break, Robson received a pass from Frank Stapleton just inside Liverpool's half, and set about dragging United back into the game.
Charging through on goal, Mark Lawrenson gave chase and was close to catching the midfielder before Robson smashed home an incredible drive from range to beat Bruce Grobbelaar and swing the momentum back in the direction of United.
Mark Hughes may have gone on the settle the match with a winner in the 58th minute, but it was Robson who had saved the day and set the club back on track towards the final, which they would later win to secure their sixth FA Cup.
Captain Marvel was hoisted up by the fans and carried over the pitch, leaving no doubt over who had been the man who made the difference for United on the day.
Honourable mention: Gorden Strachan adds a cigar finish in front of the Kop.
In 1988, United finished as distant runners-up in the league to Liverpool but not without a memorable visit to Anfield in the closing weeks of the season.
Having pulled the scoreline back to 3-2, United's Gordon Strachan found himself one-on-one against Grobbelaar, finishing with a deft shot to the side of the goalkeeper to secure an unlikely draw for the visitors. Alex Ferguson's side had been reduced to 10 men in the first half while trailing 3-1.
A delighted Strachan strolled towards the Liverpool fans to celebrate with a memorable push of his imaginary cigar, incensing the Kop.
"And Solskjaer Has Won It!": The Prequel
Just months before scoring the goal that made United European champions once again, Ole Gunnar Solskjaer foreshadowed his treble-winning feat with a last minute match winner against Liverpool in the 4th Round of the FA Cup.
Michael Owen got Liverpool off to a flying start, opening the scoring in just the 2nd minute with a headed goal. The irresistible combination of Andy Cole and Dwight Yorke later leveled the score from a free-kick in the second-half.
Heading into the final moments at 1-1, the game was all set up for United's Norwegian super sub.
Right at the death, after receiving a knockdown from Paul Scholes, Solskjaer rifled home a finish past James, sending the stands into celebratory mayhem as the goalscorer himself was filled with delight.
The manner of the comeback, and Solskjaer's impact off the bench, only made the goal and the win more enjoyable for United and their fans. However, as we now know, an even more dramatic series of events were yet to unfold for Sir Alex's men.
Honourable mention: John O'Shea slams home a late winner to deny Liverpool in the league.
Rooney had been carried off injured and Scholes dismissed after throwing a punch at Xabi Alonso leaving United a man short and running out of potential match winners during their fractious visit to Anfield in March 2007.
Fortunately for the club's momentum as they surged towards their first title in four years, John O'Shea was on hand to once again break Scouse hearts with a powerful poacher's finish in the final minutes of the game.
Thanks to the Irishman's presence of mind, 10-man United left Liverpool with all three points.
Rooney Hands Evra Satisfaction
Some goals are great due to reasons beyond their quality, timing or title-winning contribution.
On February 12, 2012, Liverpool headed to Old Trafford with Luis Suarez in tow, having served his eight-game ban for racially abusing Patrice Evra in the previous league fixture back in October 2011.
The French fullback wanted satisfaction, especially after United had been knocked out by Liverpool in the FA Cup in the previous month. As Suarez watched on from the stands delighted, and thanks to a Wayne Rooney brace, he got it.
Rooney's first goal was slammed past Reina from a Giggs free-kick before scoring what would prove to be the winner three minutes later, with a slotted-home finish that whizzed by the already falling Liverpool goalkeeper.
The goals ensured United and Evra would enjoy victory over Suarez in their first meeting since his verbal attack on the club's vice-captain.
Once more, the win was even more delicious considering the Uruguayan had petulantly pulled out of a pre-match handshake, leading Evra to take his full-time celebrations into the path of Suarez as he tried to leave the pitch, much to the amusement of the fans his team mates.
A highly cathartic victory for the French international after having to suffer a very personal campaign against him waged through the press by Kenny Dalglish, Suarez, Liverpool and its fans.
The Eric Cantona FA Cup Final
The debate over who is the greatest player to wear the number seven for United is one that is not easily squared. George Best and Cristiano Ronaldo are arguably the best players to have worn it in terms of sheer ability but there is one player whose connection to the famous shirt number goes beyond just his quality as a footballer.
Eric Cantona is possibly the biggest cult hero in United history. More than just the catalyst for the club's modern-day dominance, he had an attitude, an aura and a relationship with the fans that was unmatched. Although some would object that Best enjoyed a similar status in his time.
"The King" was also a decisive contributor towards Sir Alex's '90s trophy haul too, with his 1996 FA Cup winning volley—fired like an arrow from his foot as he hunched over the ball in mid-air—one of the greatest in his extensive back catalogue.
It would prove to be the only goal of the game but a fitting winner for United, who completed a domestic double having already secured the league title, against their fiercest rivals.

Honourable mention: Cantona goalscoring return.

After having kicked out at a racist fan in the stands during United's match against Crystal Palace in January 1995, Cantona was banned from football for eight months.
Having struggled with being cut-off from first team football during his long suspension, the King returned with aplomb against Liverpool in the Premier League on October 1st.
After setting up Nicky Butt to score United's first, Cantona converted a penalty after Giggs was brought down in the area, before racing to his adoring fans and dancing around the goal support.
Keep Reading

Manchester United: Like this team?