St. Louis Rams vs. Dallas Cowboys: Live Score, Highlights and Analysis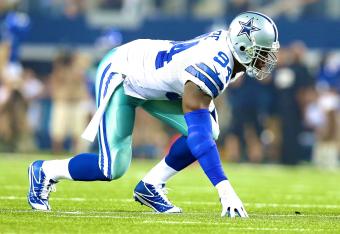 Final
St. Louis Rams 7, Dallas Cowboys 31
Final Thoughts
The St. Louis Rams (1-2) fell short against the Dallas Cowboys (2-1) and now have two-consecutive road losses.
The Rams had a chance to make a statement early in the game after Dallas fumbled a punt return, which gave St. Louis prime field position, but the Rams did not turn the Cowboys' mishap into points.
Instead of showing killer instincts and making a dent early on, the Rams rolled over and played dead.
In an offensive showing that was nothing short of laughable, the Rams netted only 18 yards in the first half while Dallas shredded the Rams for 202 first-half yards.
The Rams struggled with pass defense in the first two games of the season, but it was DeMarco Murray and the Dallas run game that silenced St. Louis this time around.
Murray finished with a phenomenal 175-yard performance.
However, that's not to say the Rams improved their pass defense in any way. Tony Romo still had a very solid outing with 210 passing yards and three touchdowns.
On offense, Rams quarterback Sam Bradford was completely overwhelmed by the pass rush and sacked six times in the game, which is quite surprising considering the Rams haven't surrendered a sack since Week 15 of 2012.
Even when Bradford managed to escape the pressure and throw the ball, the receivers did little to alleviate the situation. Tavon Austin, Austin Pettis, Chris Givens and Jared Cook all had key drops.
Throw in the five penalties—including a block in the back that wiped out an Austin punt-return touchdown—and it's clear the Rams had few positives from this game.
Things won't get any easier for the Rams, who play the San Francisco 49ers on Thursday Night Football four days from now.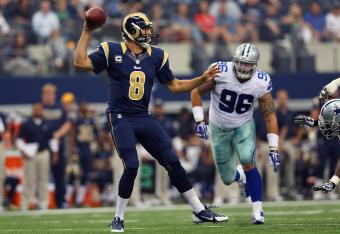 The Rams haven't surrendered a single sack in their last four games dating back to 2012, but Dallas defense has brought down Bradford six times this afternoon.
Bradford has been far from perfect in the game, but between the awful protection and numerous dropped passes, there's plenty of blame to go around.
Here's a look at Sam Bradford's touchdown pass to Pettis.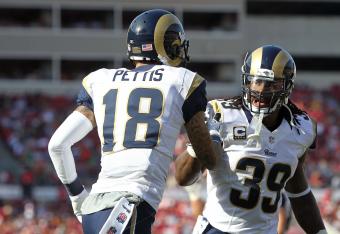 Austin Pettis had two key drops earlier in the game, but Pettis made a tough catch in the end zone for St. Louis' first score of the game.
Rams are down by 17 with only several minutes remaining in the third quarter, but they have avoided a shutout.
Jim Thomas of the St. Louis Post-Dispatch on St. Louis' first-half production:
This is not a misprint: Cowboys outgain Rams 202 yards to 18 in the first half.

— Jim Thomas (@jthom1) September 22, 2013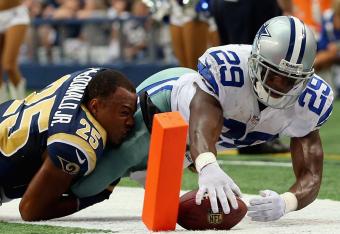 DeMarco Murray is in his third NFL season out of the University of Oklahoma, but Murray is looking less like the player who missed nine games in his first two years and more like another ex-Sooners back—Adrian Peterson.
The St. Louis defense has been trampled by Murray for 146 yards on 19 carries (7.7 yards a carry).
Killing the Rams is nothing new to Murray. As a rookie in 2011, he torched the Rams for 253 rushing yards.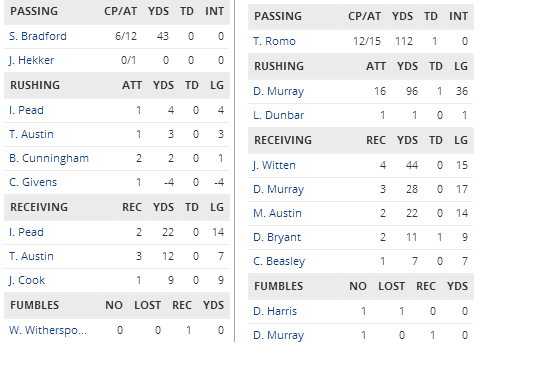 First Half Offensive Leaders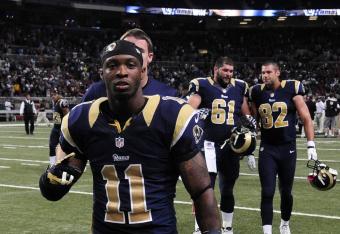 The Rams had four penalties on special teams against Atlanta last week, which constantly forced terrible field position for the offense.
This week, the Rams already have two special teams penalties. The latest illegal block penalty wiped out a would-be Tavon Austin punt-return touchdown.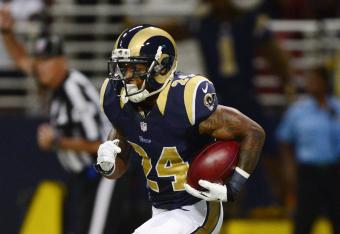 Rams running back Isaiah Pead caught a 14-yard pass from Sam Bradford for St. Louis' only first down of the game, but the Rams were forced to punt shortly after.
Dallas has the ball back with seven minutes remaining in the first half. With a 17-point lead, they have a chance at securing a 20-point advantage before the half.
If Dallas makes at least a field goal, it will be the second-consecutive week the Rams enter halftime down by 20 or more points.
Offensive Stats
First Downs: Dallas 7, St. Louis 0
Yards: Dallas 113, St. Louis 2
Yards Per Pass: Dallas 5.4, St. Louis -0.4
Yards Per Carry: Dallas 8.6, St. Louis 1.7
That pretty much sums it up for the Rams after one quarter of play.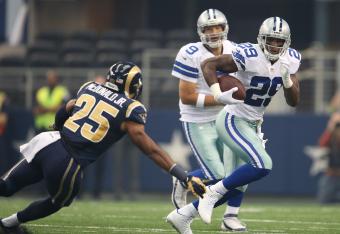 DeMarco Murray already has 81 rushing yards on eight carries here in the first quarter.
The Rams entered the game fifth in the NFL in run defense (61.0 yards per game), but Dallas is giving St. Louis fits on the ground early in this game.
With the first quarter only halfway complete, the Rams have already racked up three penalties.
St. Louis had seven penalties in each of its first two games. At this rate, the Rams are once again on pace for a heavily penalized game.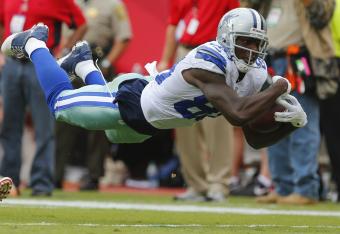 Dez Bryant secured Dallas' first touchdown of the game. Bryant now has a touchdown in nine of his last 11 games.
Cowboys lead 7-0.
In a questionable move, the Rams did not attempt a 57-yard field goal, which is a doable distance for kicker Greg Zuerlein, especially in an indoor venue.
Instead, the Rams ran a fake punt in an effort to secure the first down but failed, giving Dallas solid field position.
The Rams opened with back-to-back three-and-outs. Dallas is now in Rams territory.
While Dallas has gone to the pass on 70 percent of its plays, the absence of the long ball has been an issue.
Tony Romo currently ranks 27th among NFL quarterbacks in yards per attempt (6.17 yards per attempt).
The Rams were killed by Julio Jones and the deep ball in Atlanta last week, but that may not be the case this afternoon, despite St. Louis' poor pass defense in the first two games.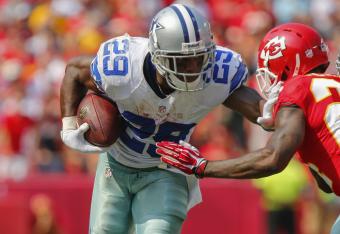 Dallas' top three receivers are tied with 13 receptions a piece.
Dez Bryant and Miles Austin each have 13 catches. Who is the third Cowboys receiver to reach that total?
If you guessed Jason Witten, you're wrong. He's fourth on the team with 11 catches. The answer is running back DeMarco Murray.
Murray will be a key weapon out of the backfield. The Rams have played soft coverage this season and have allowed opponents to complete short passes, but Murray will have a field day if the Rams do not alter that strategy.
If St. Louis continues its "bend, don't break" defensive philosophy, the Cowboys will move the ball at will and control the game.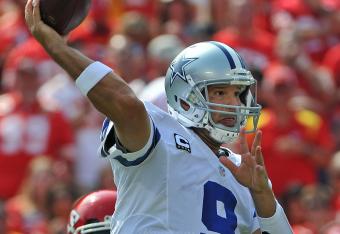 According to NFL.com, Cowboys defensive lineman Jason Hatcher called out Tony Romo in a team meeting for avoiding run plays. Apparently he feels that Romo audibles to the pass too frequently.
Will the Cowboys increase their number of run plays against a St. Louis defense that currently ranks top-five against the run (61.0 yards per game)?
Not likely.
So far, 70 percent of Dallas' 130 plays this season have been pass plays, so the Rams can expect a healthy dose of air ball.
Last week, the Rams faced the Falcons—another pass-happy team that has gone to the air on 72.9 percent of its plays—and struggled to contain the aerial attack.
The Rams rank 28th in pass defense (330.5 yards per game), so it's doubtful that Dallas will even out its offensive approach this week.
Here's a list of St. Louis' inactives according to ESPN's Nick Wagoner:
Rams inactives: RB Stacy, TE McNeill, OL B. Jones, OL Washington, OT Saffold, OL Person, DE Rivers.

— Nick Wagoner (@nwagoner) September 22, 2013
Here are the inactives for the Dallas Cowboys, according to the official Twitter page of the St. Louis Rams:
#Cowboys inactives: Joseph Randle, Ernie Sims, David Arkin, Darrion Weems, Andre Smith, David Carter and Anthony Spencer. #STLvsDAL

— St. Louis Rams (@STLouisRams) September 22, 2013
This article is
What is the duplicate article?
Why is this article offensive?
Where is this article plagiarized from?
Why is this article poorly edited?