Kansas State vs. Texas: 10 Things We Learned in Longhorns' Win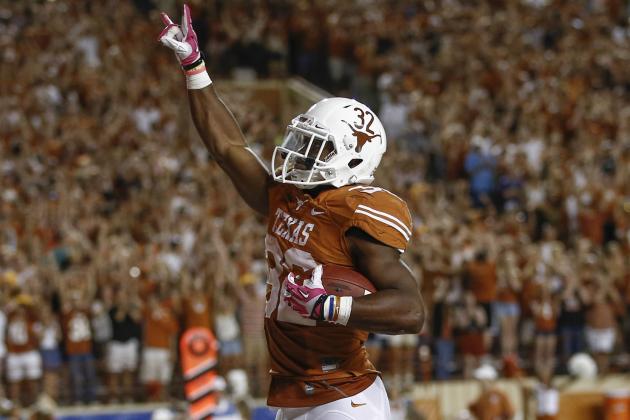 Jim Cowsert-USA TODAY Sports
Johnathan Gray paced the Longhorn offense with 142 yards and two touchdowns.
So far, so good for the Texas Longhorns following their 31-21 victory over the Kansas State Wildcats.
Only eight more to go.
Following back-to-back 20-point losses, the 'Horns got a career night from running back Johnathan Gray (142 yards, two touchdowns) and held the Wildcats to three yards a carry.
For now, head coach Mack Brown's job is safe while he continues to embark on an improbable Big 12 run. He got the first one, and right now that is all that matters to a program that desperately needed something positive.
Here is what we learned from Texas' bounce-back victory.
Begin Slideshow

»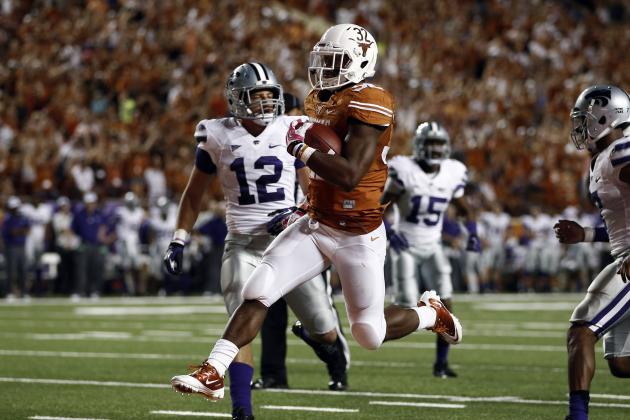 Jim Cowsert-USA TODAY Sports
Johnathan Gray had a career night for the Longhorns.
A Texas team without Daje Johnson and David Ash is not intimidating. At least it wasn't before Johnathan Gray's coming-out party against the Wildcats.
Gray turned his 28 carries into 142 yards and two touchdowns, all of which are career highs. When Ash went down after reaggravating his head injury, the 'Horns leaned on Gray in the second half, and he delivered with a speed-power balance that proved too much for the Wildcats.
He also had a "chip" on defensive end Ryan Mueller that puts all other chip blocks to shame.
After his impressive showings against BYU and Ole Miss were overshadowed, Gray made a statement Saturday night against Kansas State. He is the clear leading man in the backfield and is on pace to be the team's first 1,000-yard rusher since 2007.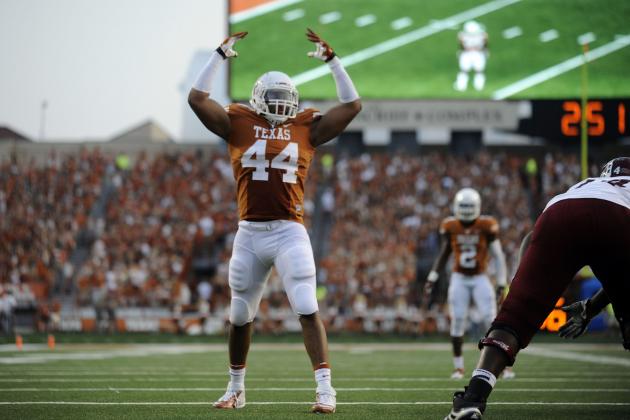 Brendan Maloney-USA TODAY Sports
Jackson Jeffcoat had his best game of the season against Kansas State.
Through the first three games, defensive end Jackson Jeffcoat struggled to produce at a level indicative of his talent. Turns out all he needed was a friendly face in the crowd—father and Hall of Famer Jim Jeffcoat.
Against Ole Miss, facing a freshman left tackle, Jeffcoat was invisible in registering only three tackles and no sacks. It was the opposite case with his father in the stands, as the senior was unstoppable in registering two fourth-quarter sacks and pressuring Jake Waters throughout the night.
With the rest of the defense in shambles, this is the type of effort Texas needs from Jeffcoat to slow down the better Big 12 quarterbacks. If he can continue to produce, it would make up for a lot of shortcomings elsewhere.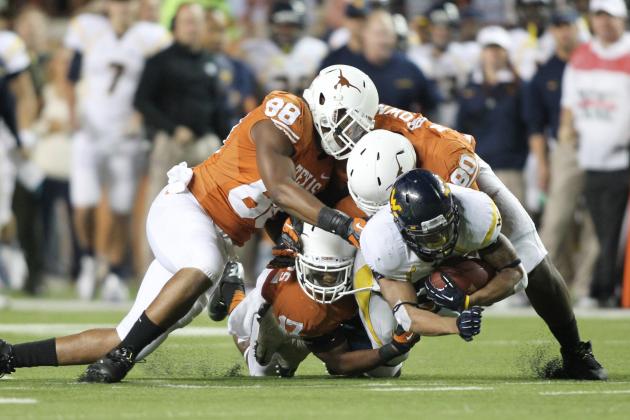 Tim Heitman-USA TODAY Sports
Cedric Reed is a budding star on the right side of the defensive line.
Opposite Jeffcoat is junior Cedric Reed, who has been Texas' best defensive player through the three games this season. It is safe to say he is one of the team's few stars on that side of the ball.
Reed is not a flash in the pan. He was dominant against New Mexico State, registered 14 tackles against BYU and deflected two passes against Ole Miss.
It was more of the same against Kansas State, with Reed continuing to deflect passes at the line and make an impact in the backfield. His strip-sack of Jake Waters clinched the game for the Longhorns.
There were major questions regarding whether Reed could step into Alex Okafor's role and produce on a comparable level. He has done so in impressive fashion.
Jim Cowsert-USA TODAY Sports
Marcus Johnson was one of two sophomore receivers to show up against the Wildcats.
Sophomore receivers Kendall Sanders and Marcus Johnson were both asked to fill in for injured deep-threat Mike Davis. Each proved up to the task, leading the team in receiving.
After almost coughing up the opening kickoff, Sanders rebounded with a 63-yard touchdown in the first quarter. The speedy flanker finished with a team-leading 80 yards on three catches.
Fellow second-year receiver Marcus Johnson also turned in a nice game, finishing tied for the team lead with five receptions for 70 yards. While he never made a play quite like Sanders' 63-yard bomb, Johnson deftly patrolled the sidelines and was a reliable possession receiver throughout the night.
Even when Davis returns from his ankle injury, both of these young receivers proved they deserve a role in this offense.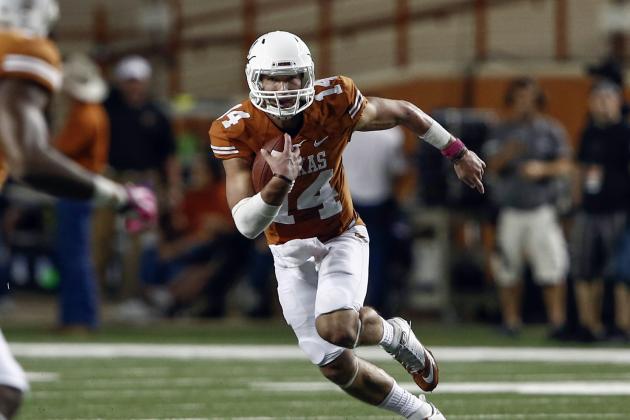 Jim Cowsert-USA TODAY Sports
Ash's running earned him another concussion on Saturday.
One of the more predictable events from the win was David Ash aggravating his concussion that he sustained against BYU. The junior quarterback was getting clobbered and paid the price at the end of the first half.
Using your quarterback as a running threat has obvious benefits, as Texas has experienced firsthand in this 2013 season. But it's important to be smart about the type of hits those quarterbacks take, and the 'Horns have put theirs in harm's way.
Whether it is the result of Ash's style or offensive coordinator Major Applewhite's play-calling, he was hit and hit hard on his seven carries. He was evaluated for a head injury after leaving the game, per The Associated Press (via ESPN.com), and his status for the rest of the season could well be in doubt.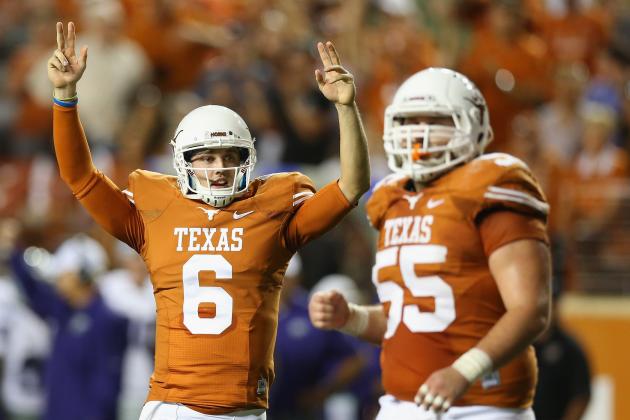 Ronald Martinez/Getty Images
Can Case McCoy lead the Longhorns to victory if David Ash misses more time?
A conservative offense and a porous defense will not win the Big 12. Adding freshman Tyrone Swoopes to the mix would alleviate the former.
Case McCoy was fair in preserving Texas' win on Saturday, but that should be the norm when a backup is asked to preserve a double-digit lead. What is a quarterback that is averaging less than six yards per attempt and is no threat to run going to do when the situation is reversed? Probably not enough to outscore the better Big 12 teams.
If Ash's concussion symptoms linger as they often do with reaggravations, Texas faces a major dilemma under center. Oklahoma is three weeks away, and Mack Brown cannot afford another 40-point spanking on national television.
That means the notion of at least burning Swoopes' redshirt needs to become a serious conversation. The bulldozer freshman is one of the team's best athletes and has the arm to drive the ball downfield with velocity, two distinctions that do not fit McCoy.
It is the kid's future on the line, so this is a decision that needs to be made with care. But the offense needs a quarterback that can make explosive plays if this team is serious about winning the Big 12. Swoopes has the ability to produce such plays.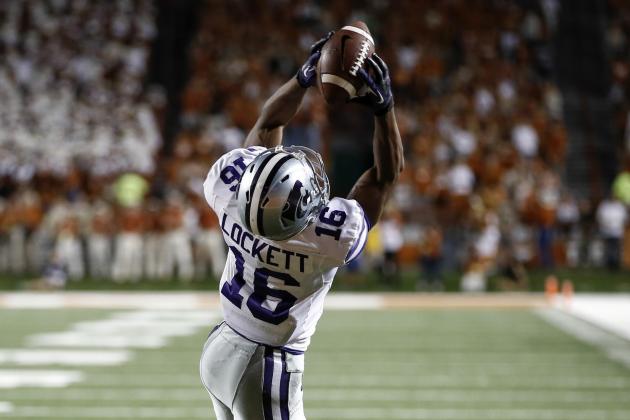 Jim Cowsert-USA TODAY Sports
Tyler Lockett shredded the Longhorns with 237 receiving yards.
The Longhorns were great in holding the Wildcats to 115 rushing yards. Tyler Lockett proved that the next project will be the passing defense.
With Greg Robinson's defense focused on stopping the run, Lockett ran absolutely wild. The junior set career highs with 13 receptions for 237 yards, burning every defensive back Texas threw at him.
Lockett is one of the conference's better receivers, but this is a weak passing offense compared to the better Big 12 teams. Defensive backs coach Duane Akina needs to get his secondary right before it costs the 'Horns against a team like Baylor.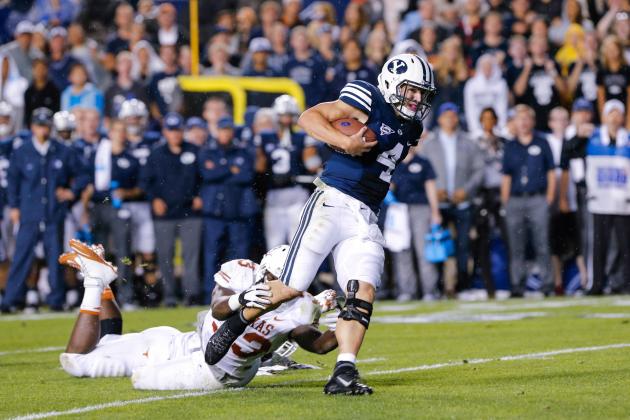 Chris Nicoll-USA TODAY Sports
Steve Edmond continues to be unimpressive at middle linebacker.
Junior Steve Edmond was able to retain his spot as the team's starting "Mike" linebacker because of allegedly increased foot speed after losing weight this offseason. The added speed is not showing up on the field, and his featured role on the defense has become troubling.
Even before he was ejected for targeting, Edmond was ineffective on Saturday. He is still taking too long to react, is not getting off his blocks and fails to beat guys to the sideline. He was frozen by John Hubert on the tailback's first touchdown run.
Even more puzzling is that Edmond remained on the field over Peter Jinkens on numerous occasions when Texas shifted to its nickel package. This is the same Jinkens that runs a 4.5, per Rivals.com, and blew up a read-option with nothing but said speed.
Edmond is not a great playmaker and has not displayed the instincts to warrant the amount of action he sees. Hopefully, the coaches are seeing something the viewers are not, because he does not look the part.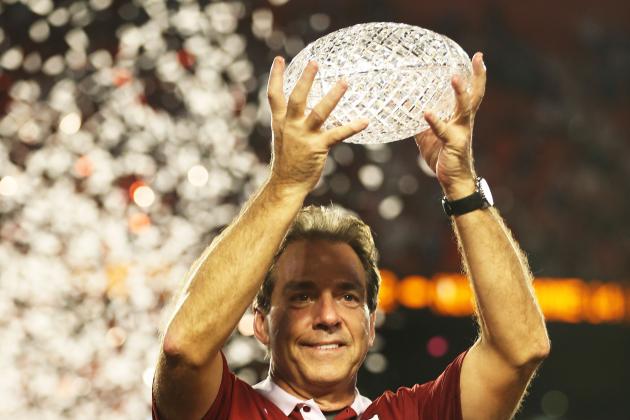 Streeter Lecka/Getty Images
Longhorns fans are doing whatever they can to get Nick Saban's attention.
It was reported earlier this week that a Texas regent contacted Nick Saban's camp about a potential job opening in Austin. Some Longhorns fans decided they like the sound of that.
Prior to the game, fans were selling T-shirts that said "Saban 2014" on the front. Missed the game and want a shirt? No worries, they have a website.
Though the incumbent Brown was able to hold the wolves at bay for another couple of weeks, the pressure is clearly on for him to be replaced. Fans have made it clear that the four-time national champion is at the top of their wish list.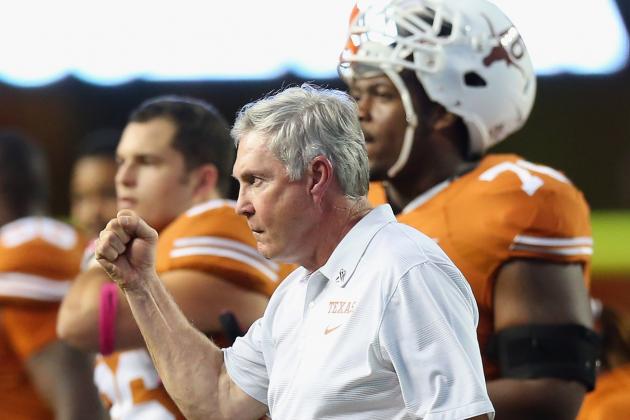 Ronald Martinez/Getty Images
Brown got the first of many must-win games in 2013.
Say what you will about Mack Brown, but the man gets wins when he has to have them. Saturday's matchup with Kansas State was no exception.
Somehow, some way Brown figures out how to win these games. Fans are passing out T-shirts to promote their preferred successor, every football fan who can form a sentence is calling for his job, and he gets a victory he simply had to have against a team he has not beaten in 10 years.
This is what Brown does. He digs himself a hole, fans scream for his job, and then he digs his way out when it looks like its impossible. Just like he did against Baylor last season, Brown got a big one in the face of disaster.
This is not to say that Brown saved his job. The Wildcats are a rebuilding program in every way. But he will not be answering questions about his job while he is game-planning for a certain game in Dallas.