For the second week in a row, No. 15 Michigan narrowly escaped a massive upset scare, this time outlasting Connecticut, 24-21, at Rentschler Field on Saturday night.
But hey, a win's a win, and the Wolverines remain undefeated:
Michigan's last two wins have not been pretty. But to the #GoBlue faithful, 4-0 looks beautiful.

— ESPN (@espn) September 22, 2013
Running back Fitzgerald Toussaint was vital in the Wolverines' comeback victory, scoring two touchdowns in the second half and finishing the contest with 120 rushing yards on 24 carries.
He nearly accounted for half of Michigan's total yardage (284).
The 0-3 Huskies got just 206 yards of total offense, but they were able to stay in the lead for a large majority of the game by slowing down a high-powered Michigan attack—the Wolverines were averaging nearly 450 yards and 42.7 points per game before Saturday—and forcing four turnovers per contest.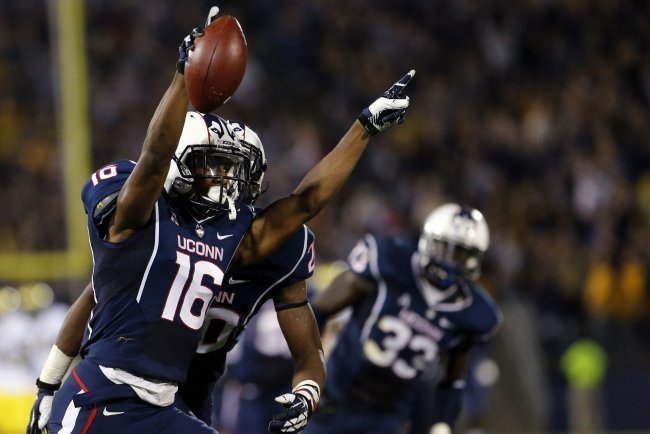 David Butler II-USA TODAY Sports
One of those turnovers, a fumble by quarterback Devin Gardner, was picked up by Ty-Meer Brown and returned 34 yards for the score.
ESPN's College Football Twitter feed gives us a look at the play:
What can Brown do for you? #UConn gets a #ScoopNScore from Ty-Meer Brown to go up 21-7 vs. #Michgan. #MICHvsUCONN: http://t.co/Sg3XxPR8CL

— ESPN CollegeFootball (@ESPNCFB) September 22, 2013
Suddenly, Paul Pasqualoni's squad was up 21-7 in the third quarter in front of a raucous crowd and the upset bid was on.
But for the second time in seven days, the Wolverines showed resolve with their backs against the wall.
Toussaint capped off a nine-play, 75-yard touchdown drive with a 35-yard scamper to cut the lead to seven points heading into the fourth quarter.
Fitz & the Touchdowns. #Michigan RB Fitzgerald Toussaint 35yds to paydirt, cuts #UConn lead to 21-14. #MICHvsUCONN: http://t.co/KlmCWIDaoK

— ESPN CollegeFootball (@ESPNCFB) September 22, 2013
Attempting to protect the lead, UConn QB Chandler Whitmer picked an inopportune time for the Huskies' first turnover of the game. He attempted to force a throw into tight coverage and it was intercepted by Desmond Morgan, who returned the ball 29 yards to the Huskies 12-yard line.
On the next play, Toussaint punched it in for his second score of the game.
Fitz for 6, again. After INT, #Michigan gets this 12yd stride to paydirt from Fitzgerald Toussaint. 21-21 tie: http://t.co/QXzTgvLjID

— ESPN CollegeFootball (@ESPNCFB) September 22, 2013
After a quick three-and-out from the Huskies, Toussaint and Gardner led the Wolverines back down the field to set up a 21-yard field goal for Brendan Gibbons, giving the Wolverines their first lead since the first quarter, at 24-21.
With just under five minutes to work with, Connecticut began to move the ball back down the field, but a false start and sack made it an impossible 4th-and-29.
Whitmer found Deshon Foxx for 26 yards, but it was too little as Michigan went into the victory formation and ran out the clock for the narrow victory.
FINAL: Michigan 24 - Connecticut 21 #GoBlue pic.twitter.com/m6gzVunbAT

— Michigan Football (@umichfootball) September 22, 2013
Brady Hoke's team is 4-0, but it needs to clean things up before Big Ten play.
How would you grade Michigan's win?
Quarterback Devin Gardner ran for 59 yards and a score, but he completed just 52.0 percent of his throws for 111 yards and two interceptions, while his mistakes led to 14 UConn points.
Luckily for the Wolverines, though, they have two weeks to clean things up before they host Minnesota on Oct. 5.
The Huskies, meanwhile, deserve plenty of credit for Saturday's commendable effort, but they will continue to search for their first victory of the season. They travel to Buffalo to take on the Bulls next Saturday.