Big Show is one of the most prominent Superstars on WWE programming currently. Featured as an enemy of Triple H and Stephanie McMahon, Big Show's forced role as their enforcer has produced a number of memorable moments.
Perhaps the strangest of these recent scenes is witnessing Big Show cry numerous times. Big Show's crying is purposeful and serves to strengthen the heel personas of Triple H and Stephanie McMahon.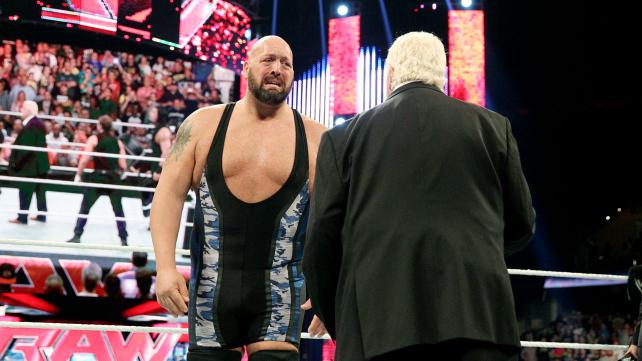 These crying scenes are unsettling, but they are serving a purpose. During the course of this storyline, Big Show's first crying scene came when Stephanie McMahon confronted him in the ring to discuss his contract on the September 2, 2013 edition of Monday Night Raw.
In discussing Big Show's poor finances, failed business dealings and even his size as a detriment to a prolonged pro wrestling career, McMahon struck a nerve. Blurring the line between reality and fiction, it was only natural for Big Show to react emotionally to McMahon's stunningly personal comments.
Through weeping, Big Show demonstrated the range of his persona and reacted honestly to the hurtful comments from his boss. This emotion has caused sympathy for the Big Show and has provided another way for the WWE Universe to identify with his persona.
Forcing Big Show to face Daniel Bryan in order to make money in WWE, McMahon put Big Show into a situation that he did not want to be in.
In being made to have a match with Bryan, Big Show realized that McMahon and Triple H were using him to try and hurt Bryan. When forced to knockout Daniel Bryan, Big Show did as he was ordered to save his job.
It is one thing to have a competitive match and defeat an opponent because one wants to. Big Show did not want to face Bryan after seeing how unfair his treatment from McMahon and Triple H had been at SummerSlam 2013 and afterwards.
Again, crying helped to emphasize the painful situation. Big Show did not decide to use his KO Punch; he was forced to. There was no reason for the extra punishment, and it did nothing to help Big Show. Therefore, the tears in Big Show's eyes helped to suggest the injustices brought about by Triple H and Stephanie McMahon.
The last act of recent tears from Big Show occurred on the September 16, 2013 edition of Monday Night Raw. After Dusty Rhodes refused to choose which son he would give a WWE job to, The Shield and Big Show were called in for physical reinforcement.
When Big Show first refused to punch Rhodes, McMahon ordered The Shield to attack but not before Big Show stopped them. Again, with tears in his eyes, Big Show delivered a punch to Rhodes so that he would not have to be beat down by The Shield.
Once again, the tears that Big Show shed were done for a purpose. By reluctantly knocking out a wrestling legend, Big Show perfectly demonstrated the painful conundrum that he continually faces in trying to keep his job.
Additionally, Big Show again had nothing to gain personally or career-wise by striking Rhodes. The tears from Big Show are perfect because they represent just how poorly he is being treated by Triple H and Stephanie McMahon.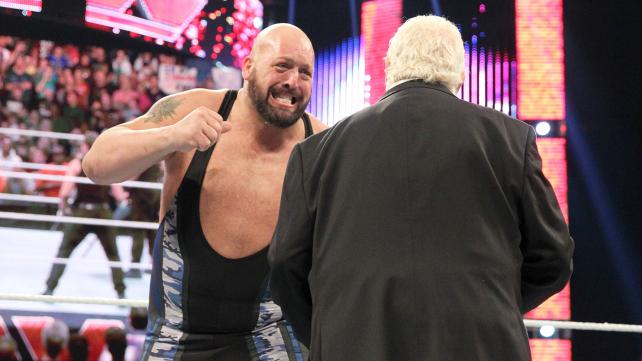 As Big Show continues to unwillingly be the enforcer for McMahon and Triple H, the time will come when Big Show is pushed too far.
It will be an incredible moment when Big Show refuses orders and strikes back. All of the tears, emotion, and reluctant attacks are hopefully leading to Big Show becoming one of the leaders fighting against Triple H and Stephanie McMahon.
This will be the payoff for all the tears.
Read more from Sean McCallon on the Double Axe Handle Blog.
Follow Sean McCallon on Twitter @TheBlueMask246.