It was a relatively quiet weekend around the Top 25, as many ranked teams played inferior nonconference opponents.
A few potential disasters were avoided by the likes of Clemson, Georgia and Michigan, and the best teams in the country emerged from the weekend relatively unscathed.
The only matchup between ranked teams came in Palo Alto, Calif., and No. 5 Stanford defeated No. 23 Arizona State 42-28.
Two-time defending national champion Alabama will remain at the top of the list for the sixth consecutive week dating back to last season.
Overall, there will be very little movement in the Week 5 AP college football rankings, but find out where to anticipate some shuffle in the poll.
Note: Previous rankings based on Week 4 AP Top 25.
Projected Week 5 Rankings

| | |
| --- | --- |
| Rank (Last week) | Team |
| 1 (1) | Alabama |
| 2 (2) | Oregon |
| 3 (3) | Clemson |
| 4 (4) | Ohio State |
| 5 (5) | Stanford |
| 6 (6) | LSU |
| 7 (7) | Louisville |
| 8 (8) | Florida State |
| 9 (9) | Georgia |
| 10 (10) | Texas A&M |
| 11 (11) | Oklahoma State |
| 12 (12) | South Carolina |
| 13 (13) | UCLA |
| 14 (14) | Oklahoma |
| 15 (16) | Miami |
| 16 (17) | Washington |
| 17 (15) | Michigan |
| 18 (18) | Northwestern |
| 19 (20) | Baylor |
| 20 (19) | Florida |
| 21 (21) | Ole Miss |
| 22 (22) | Notre Dame |
| 23 (24) | Wisconsin |
| 24 (25) | Texas Tech |
| 25 (NR) | Fresno State |
Bleacher Report
Fun Facts
The SEC will boast four Top 10-ranked schools for the 12th consecutive AP poll, and the conference leads the nation with seven ranked schools, while the Big Ten, Big 12 and PAC-12 each have four.
Miami's jump to the 15th position would mark the just the second time three ACC programs were ranked in the Top 15 since Week 3 of last season.
LSU will be just one week away from 70 consecutive AP Top 25 rankings, and Alabama will have been voted a Top Five team for the 37th straight poll.
Rising: Fresno State Bulldogs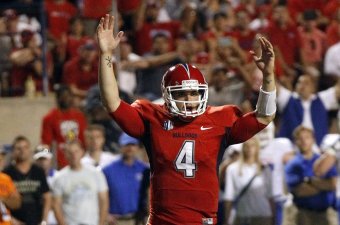 Cary Edmondson-USA TODAY Sports
Derek Carr and the Fresno State Bulldogs escaped Boise State's upset bid, emerged victorious by a final of 41-40 and will creep into the poll.
Carr completed 39 of 60 passes for 460 yards and four touchdowns, and Josh Quezada tallied the game-winning score from one yard out with just two minutes, 14 seconds remaining in the fourth quarter.
Fresno State improved to 3-0 on the year and started its Mountain West schedule with a win.
This will be the first time Fresno State has been ranked in the AP poll since Week 6 of the 2008 season.
Falling: Michigan Wolverines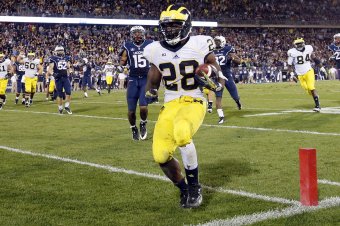 David Butler II-USA TODAY Sports
Last week, Michigan was an outstreched arm away from being upset by the Akron Zips, and the Connecticut Huskies almost took down the Wolverines, too.
But Devin Gardner and Co. rallied from a 14-point deficit during the second half, and the Wolverines clipped Connecticut 24-21.
Gardner scored on the ground while Fitzgerald Toussaint added 120 rushing yards and two touchdowns. Brandon Gibbons drilled a 21-yard field goal with 4:36 remaining in the fourth quarter, and the three-pointer proved to be the game-winner.
After two consecutive close calls, Michigan (4-0) will drop in the rankings—despite a win—for the second straight week.
Rising: Miami Hurricanes
The Hurricanes will jump up one spot in the poll, but it was not necessarily all of their own doing as Michigan was nearly upset by UConn.
A collection of true freshmen put on a show during Miami's 77-7 victory over an overmatched FCS school in Savannah State, but the 'Canes had quite a few injury scares.
Stacy Coley scored two touchdowns, one being a 25-yard pass and the other an 88-yard kick return. Gus Edwards racked up 113 rushing yards and three scores, and Al-Quadin Muhammad notched two sacks.
But senior QB Stephen Morris left the game after suffering a sprained right ankle, starting wide receiver Herb Waters limped off the field, and running back Duke Johnson's shoulder was nicked—unsurprisingly, none of the aforementioned players returned to the rout.
This is just the third week Miami (3-0) has been ranked since Week 10 of the 2010 season.
Falling: Arizona State Sun Devils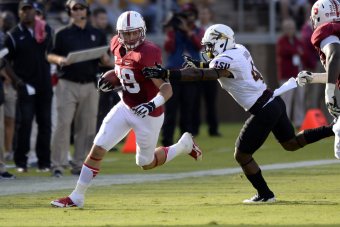 Bob Stanton-USA TODAY Sports
After a truly bizarre win over the Wisconsin Badgers last week, Arizona State was nearly destroyed by the Stanford Cardinal.
The Sun Devils fell behind 29-0 but fought back valiantly during the second half. ASU could not complete the epic comeback, but the 42-28 final score was much closer than once appeared possible.
Taylor Kelly threw for 368 yards and three touchdowns, connecting with Jaelen Strong 12 times for 168 yards and a score. Marion Grice added 83 total yards (50 rushing, 33 receiving) and two touchdowns.
The loss will cause Arizona State (2-1) to fall out of the rankings a single week after entering the poll.