The AP No. 22 Notre Dame Fighting Irish benefited from a sloppy, penalty-laden performance from the visiting Michigan State Spartans and held on for a 17-13 win in South Bend on Saturday.
Sparty's top-ranked defense in the nation gave Irish quarterback Tommy Rees serious problems, as the senior signal-caller completed just 14 of 34 passes for 142 yards.
However, Rees consistently challenged Michigan State's secondary early, often and all game long, resulting in several costly pass-interference penalties.
Notre Dame looking deep often & early today. More pre-snap checks on offense as well... Michigan State shifting a lot on defense. 3-0 Irish.

— Anna Hickey (@AnnaHScout) September 21, 2013
In total, the Irish accumulated eight penalties for 85 yards of their own, but the Spartans had 10 for 115 yards, with many of them keeping the Notre Dame offense afloat on deep passes.
Tom Fornelli of CBS Sports couldn't help poking fun at it when the Irish were trying to close out the game late:
Notre Dame runs the pass interference play on 3rd and 3, but it's not successful.

— Tom Fornelli (@TomFornelli) September 21, 2013
Senior receiver and captain TJ Jones didn't have a catch in the first half until making a two-yard touchdown grab with just 17 seconds on the clock to put the Irish up 10-7.
To the Spartans' credit, they hung tough with an uncertain quarterback situation, as Connor Cook was making his first road start in his career—against a marquee opponent, nonetheless.
Under the circumstances, Cook managed the game well, even against the tough Notre Dame defensive front featuring Louis Nix III and Stephon Tuitt.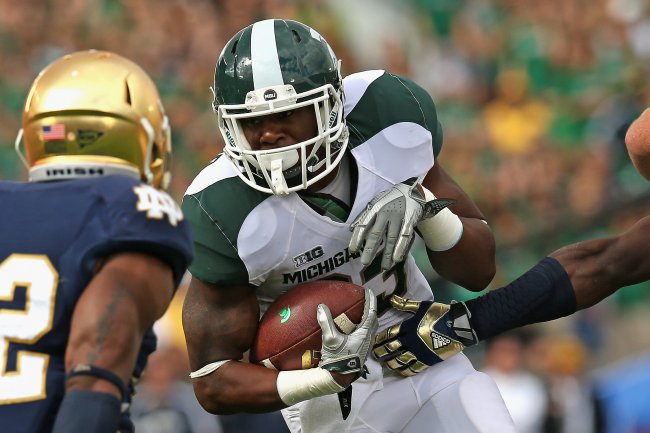 Jonathan Daniel/Getty Images
The three scoring drives were largely helped by the physical running of Jeremy Langford, who finished the game with 14 carries for 68 yards, but the two longest scoring drives of the year on Notre Dame's defense were orchestrated by Cook—a 14-play, 79-yard drive to put the Spartans up 10-7, and a grueling 15-play drive to knot the score at 10 to start the second half.
The Irish had their own tough running from Cam McDaniel, though, as he scored the eventual game-winning touchdown.
A 42-yard field goal by Michael Geiger cut the lead to 17-13, but that drive could have resulted in the tying touchdown if not for some mysterious play-calling in the red zone:
MSU was running over Notre Dame, then tried that silly direct snap and two pass plays. Should have kept pounding it on 1st, 2nd down.

— Graham Couch (@Graham_Couch) September 21, 2013
Neither offense could gain any traction for the remaining 10:40 of the game. JJ Stankevitz summarized the action well:
Notre Dame wins, 17-13, in a game that's the antithesis of aesthetically pleasing. More to come on @CSNChicago

— JJ Stankevitz (@JJStankevitz) September 21, 2013
Last year's incumbent starting QB, Andrew Maxwell, attempted to come in and give the Michigan State offense life in the final two minutes on the last drive.
Unfortunately for Mark Dantonio's team, Maxwell's superior arm strength didn't result in much improvement. His passes sailed, and he couldn't rally the Spartans to victory in the hostile environment. The only series Maxwell was in for wound up being a turnover on downs.
Here is a look at some player grades from the key contributors in this contentious rivalry, as the Irish win this annual battle for the Megaphone Trophy for the third year in a row.
Grades
Tommy Rees, QB, Notre Dame: C-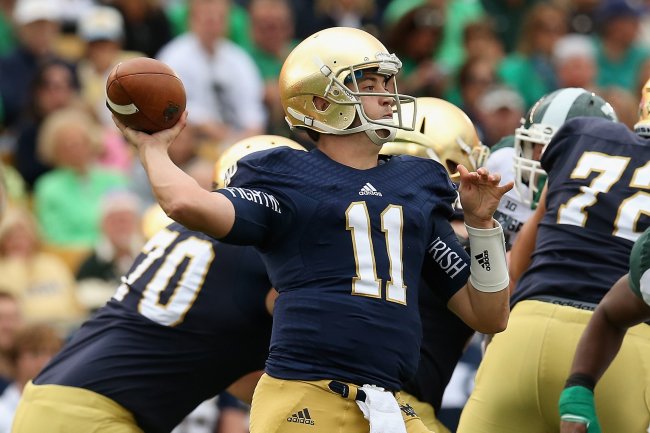 Jonathan Daniel/Getty Images
A lot of pass-interference penalties bailed out Rees, but even on the clean plays, he was not on his game today.
Rees would have been the first Notre Dame quarterback to string together four 300-yard passing games in a single season, according to the NBC telecast.
Granted, this was a difficult Spartans defense to go up against, but Rees misfired on several deep throws in the first half that could have broken the game open. The good news is that Rees and the offense didn't turn the ball over at all against Michigan State, which made a big difference in the outcome.
Jeremy Langford, RB, Michigan State: B+
Which team is in bigger danger of losing its next game?
Without much of a passing game to support him, and a legitimate Notre Dame front seven to go up against, Langford was a big reason why this game was so competitive.
The junior beat out McDaniel by 28 yards for the game-high total and consistently pushed the pile forward. Perhaps running him more would have helped the Spartans get in more of a rhythm in the first half and made things more interesting.
DaVaris Daniels, WR, Notre Dame: C
It was difficult for Daniels—or really any Notre Dame receiver—to get any separation, and he wound up with just three catches for six yards on the game.
The good news is that Daniels' 6'2", 203-pound frame allowed him to stand up to the physical play the Spartans were deploying at the line of scrimmage, and he drew multiple pass-interference penalties.
Darqueze Dennard, CB, Michigan State: B-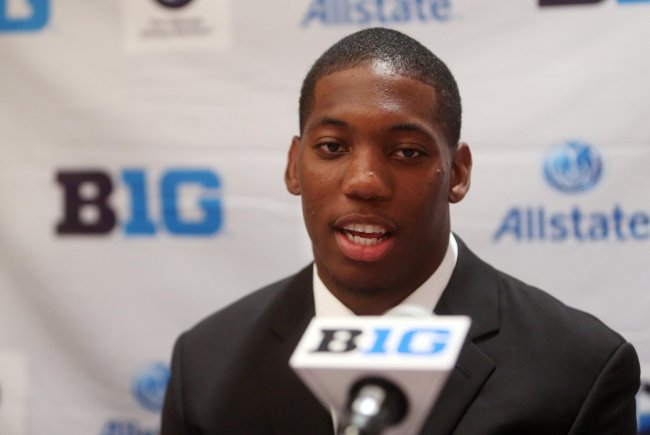 Jerry Lai-USA TODAY Sports
Credit the 197-pound Dennard for eagerly taking on the experienced receiver the Irish had to offer, and for derailing Rees into his worst overall performance of the season.
However, Dennard did have critical interference penalties, and some of them weren't necessary. On a play where he made what looked to be a game-changing interception, he pulled the Notre Dame receiver down before making the catch despite having solid coverage.
For a player who was considered a name to watch on Saturday for NFL scouts, it was a largely mixed performance. If he's meant to thrive at the next level, Dennard will have to avoid being too overzealous and drawing so many flags.