Utah vs. BYU: Live Score and Highlights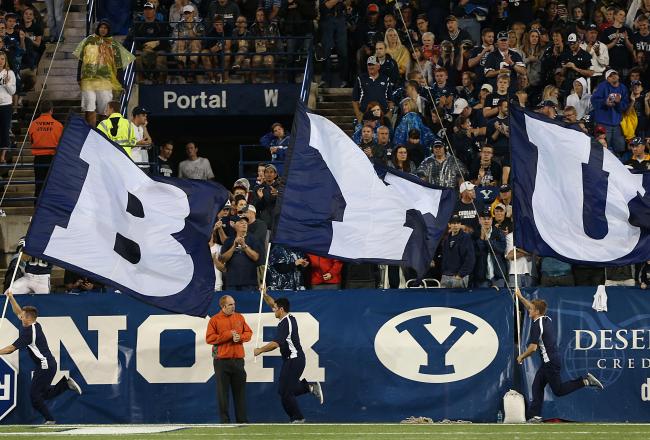 George Frey/Getty Images
Utah - 20
BYU - 13
Final

BYU fought hard, but Utah ended up winning the Holy War for the fourth straight time. It was a defensive battle for 60 minutes and Utah quarterback Travis Wilson did just enough to win, as he threw for 273 yards and two touchdowns.
The Cougars defense also showed up big, but the offense struggled with any consistency. The offense failed to score touchdowns until it was too late and Taysom Hill's interception proved to be costly.
The game wasn't the prettiest, but Utah will take another victory, as the Utes improve to 3-1, while the Cougars drop to 1-2.
FINAL THOUGHTS
The Cougars are exactly who we thought they were. All defense and no offense. It's tough to win games when the offense can't score touchdowns and is stuck settling for a pair of field goals. Taysom Hill made some nice throws when he had time, but his 37.5 completion percentage isn't pleasant. BYU will give every team on its schedule a hard time due to its defense but losing may become routine due to an inept offense.
Utah has shown wonderful flashes offensively, but if that defense can play the way it did today, watch out. The defensive line played extremely well and the secondary held its own. The offense also has great potential if Travis Wilson can continue to grow as a quarterback and James Poole sees a larger workload.
BYU didn't show much that we didn't already know, but Utah may have emerged as a sleeper in the Pac-12 South with this win.
FINAL: Utah 20, BYU 13. The Holy War ends in an appropriately odd fashioned.

— Eye on College FBall (@EyeOnCFB) September 22, 2013
Yes indeed.
There's always next year, BYU. The year after that, I mean. No, I mean the year after the year after next year.

— Paul Myerberg (@PaulMyerberg) September 22, 2013
Ouch.
BYU will get the ball back one last time. The catch is that the offense won't have any timeouts and less than a minute to work with.
Good luck with all that.
Unless Kyle Van Noy can come up with a turnover, Utah is going to win its fourth straight game in this rivalry.
Fourth-and-13.
This is pretty much the game right here.
All the hard work comes down to one play.
Well, as a BYU fan, all you can ask for is a shot to tie this game up.
Here you go...
Even if Utah doesn't score, that clock is getting awfully low.
Does BYU have the playmakers to score another quick touchdown?
This is when Travis Wilson needs to show what he's made of and finish this game. The game is on his shoulders, the great signal-callers close this game out and don't allow BYU another chance.
BYU - 13
Utah - 20
Touchdown BYU!
No, this isn't a joke, the Cougars actually scored!
With five minutes left to play, this is still a ball game. Hopefully you didn't go to sleep already.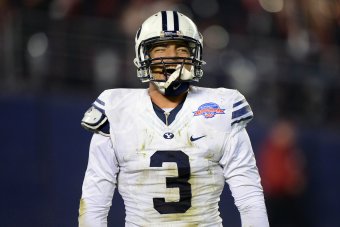 Jake Roth-USA TODAY Sports
The stat sheet may not show it, but linebacker Kyle Van Noy has made plays all over the field tonight and consistently lays the wood on quarterback Travis Wilson.
BYU gets the ball back and has another chance of making a game out of this.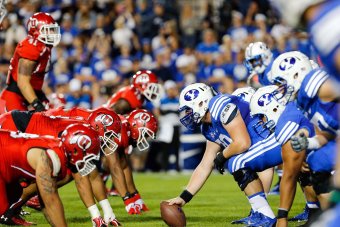 Chris Nicoll-USA TODAY Sports
And just like that, BYU's drive comes to an end after a failed fourth down attempt. With less than nine minutes left to play, the Cougars seem to have blown their chance. Utah will likely work the clock and put this game away.
BYU RB Jamaal Williams is being evaluated at a nearby hospital for spine and left shoulder injuries, per a BYU spokesman.

— Paul Myerberg (@PaulMyerberg) September 22, 2013
Update on Jamaal Williams:
BYU's JD Falslev sets up his team beautifully on a wonderful punt return. If the Cougars can't punch the ball in for a touchdown here...
BYU is clearly missing linebacker Spencer Hadley in pass coverage. He was suspended due to violation of BYU's honor code.
Still, the defense has played its tail off. It's the offense that continues to struggle to pull its own weight.
Oh, boy.
As the Utes get the ball back with under 11 minutes to go, their best bet would be to just work the clock. As each second ticks, BYU's chances of coming back disappear. The Cougars haven't scored a touchdown all game, it's highly unlikely they score two touchdowns in 10 minutes or so.
The losing streak to Utah is likely going to continue.
2 TD's is a lot to ask from this BYU offense in 13 mins, methinks

— Chip Patterson (@Chip_Patterson) September 22, 2013
Pretty much.
Utah - 20
BYU - 6
And just like that, Utah pulls away as Karl Williams hauled in a two-yard pass for a touchdown. This is what happens when one team is cashing in on touchdowns and the other is settling for field goals. Right now, a 14-point lead feels like a 35-point lead if you're a BYU fan.
Utah tight end Jake Murphy appears to be done for the night, as he heads into the locker room with his knee heavily wrapped in ice.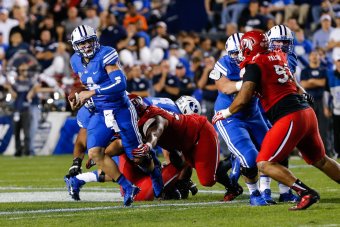 Chris Nicoll-USA TODAY Sports
Did you expect anything else?
We told you that six of the last eight meetings have been decided by one possession.
As we enter the fourth quarter, get ready for another thriller that is sure to come down to the final seconds.
According to ESPN's Lewis Johnson, Jamaal Williams has movement in his hands and feet. Of course, he will still take a trip to the hospital for further evaluation.
Great news.
Utah's offense has gone stagnant in the second half, as BYU will get the ball back once again without allowing a score. Let's see if Hill and the rest of the gang can finally cross the goal line.
BYU play-calling themselves out of TD's like you vaporize if you cross the goal line.

— Joshua Guiher (@collegiatestdms) September 22, 2013
THIS!
This article is
What is the duplicate article?
Why is this article offensive?
Where is this article plagiarized from?
Why is this article poorly edited?

BYU Football: Like this team?