Michigan vs. Connecticut: Live Score and Highlights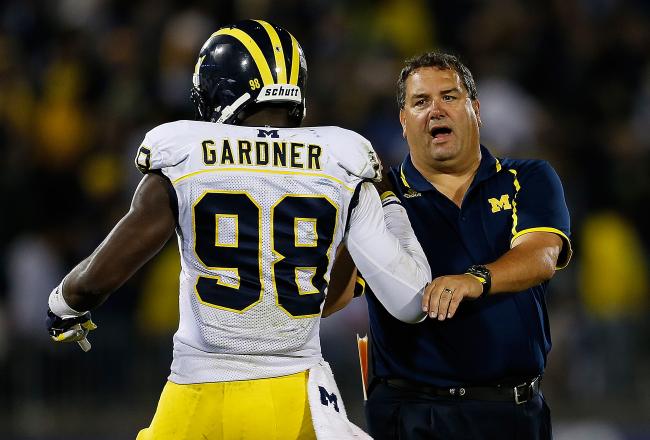 Michigan edged UConn in East Hartford. But it wasn't clean.
Jim Rogash/Getty Images
Michigan 24, UConn 21 (Final)
Fitz Toussaint rushed for 120 yards and two touchdowns as the Wolverines escaped with a 24-21 victory Saturday over UConn in East Hartford.
The Huskies got within 1:48 of beating a third ranked opponent, but quarterback Chandler Whitmer got 26 yards on a fourth down when he needed 29.
Blake Countess' tackle all but sealed the deal. The Huskies finished with 206 yards of offense, with 159 yards and two touchdowns coming from Whitmer, a sophomore who transferred from Illinois.
In Week 3, Michigan struggled its way to a 28-24 win over Akron at The Big House. Team 134 was once expected to be a power in the Big Ten, but two straight lackluster showings against lower-tier opponents raises serious doubt about the Wolverines' legitimacy.
Be sure to check out 10 things we learned from Saturday's win.
Follow Bleacher Report's Michigan Wolverines football writer Adam Biggers on Twitter @AdamBiggers81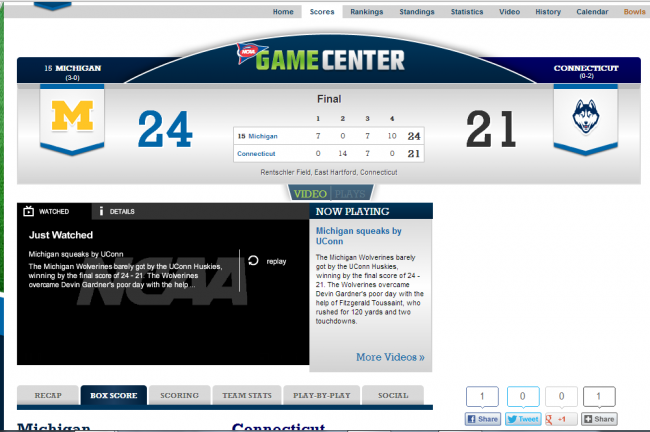 Michigan 24, UConn 21
The No. 15-ranked Wolverines are 4-0. UConn is 0-3.
Michigan 24, UConn 21 (Final)
Expectations may have to be lowered for Team 134. And if you watched Ohio State beat up on Florida A&M, you'll know why--Michigan isn't winning the Big Ten this year. Not with the way its played during the past two weeks.
Although Fitz Toussaint rushed for 120 yards, Michigan's running game doesn't look like a championship-caliber unit. Ohio State has depth with Jordan Hall and Carlos Hyde. Without Toussaint, Michigan has Devin Gardner...and he's the quarterback.
Offensive coordinator Al Borges' play-calling wasn't as sharp against UConn as it should have been. Borges' offense should have put up more than 24 points against a team that has just two wins against ranked opponents to its credit.
The Wolverines aren't playing down to competition. That could have been the accepted excuse in Week 3, but after Week 4, one thing is clear: Michigan just isn't that good of a team. While it's early to say that, it's also illogical to expect this team to hang with the Buckeyes on Nov. 30.
Not. Going. To. Happen.
Fourth-and-29 with 1:48 left to play for UConn, which sits at its own 33-yard line. Pass was completed but was short by a few yards.
Blake Countess on the tackle. That should do it for Michigan, which got lucky for the second straight week.
UConn has to play the cleanest football of the year. That being said, a false start won't help matters.
The Huskies must have taken a page out of Akron's playbook. Maybe Terry Bowden called them before the game and gave them advice?
CBS Jeremy Fowler doesn't like what he sees...
UConn was up to something. Now it's doing UConn things.

— Jeremy Fowler (@JFowlerCBS) September 22, 2013
And by "UConn things", does he mean win national titles in basketball? If so, he's a little early. And he's watching the wrong game. Someone tweet at him.
Let's play a game of "If I Were Al Borges"...
In this installment, I'd advise against running Gardner; he's a fumble waiting to happen, especially under these circumstances (game on the line, late in the game).
Secondly, I'd run Toussaint behind Taylor Lewan. And then repeat.
Drew Dileo sighting: The senior wideout is active. He just bested his top punt return of nine yards with a huge return that was brought back about 40 yards to the 40-yard line because of a block in the back.
Toussaint has 20 carries for 98 yards and two touchdowns. Easily his best stats night of the season. However, he's averaged under four yards per carry against a defense that he should be shredding at every turn.
Michigan 21, UConn 21
Looked like a sweep for Toussaint, who just scored on a 12-yard touchdown run. Desmond Morgan's interception set up Toussaint's second touchdown run of the night.
MLive.com's Josh Slagter and I agree on the use of Gardner:
If you're putting Gardner in the shotgun there, he needs to be throwing.

— Josh Slagter (@JoshSlagter) September 22, 2013
The more I watch the play-calling, the more I feel that Denard Robinson would be the quarterback better suited for this offense. No change present.
Yawin Smallwood just did the "Denard" by mimicking the motion of eating. Shoelace liked to do that. #ShoelaceMemories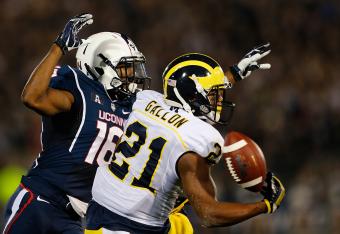 The last pass call was predictable: Michigan's back is up against the wall, so the obvious choice would be to throw to Gallon, who everyone already knows is getting the ball during that scenario. Where is Funchess? He's 6'4" and a mismatch for smaller defensive backs. Why does Michigan feel the need to go for the home run each time with Gallon?
If the play stands as called, Chesson will be tied with Gallon for a team-high 23 receiving yards. Yeah, 23. Not many. Chesson hauled in a 16-yard catch (or so it seems), his second grab of the game.
Does this count as writer's block?
Would it be cool with everyone if my postgame articles are about how great "Grand Theft Auto 5" is?

— Andy Reid (@AReid_Wolverine) September 22, 2013
I have a feeling that not many Wolverines fans are interested in recapping tonight's game. Writing about GTA 5 may be the best option.
UConn's Chad Christen just missed a 46-yard field goal to the left. Tough break for UConn after what looked to be a promising drive. Whitmer had time in pocket; receivers had time to get open—things just didn't come together for the Huskies, other than the nine-yard completion to Parker.
Had McCombs not slipped on the screen pass, he probably would have gained enough to ensure a closer field goal, at the very least.
Michigan's defense isn't putting much pressure on Whitmer; he has all day to throw.
Parker has been money for UConn. Another big catch, this time at Michigan's 39-yard line to keep the drive going. Huskies looking to build on their 21-14 lead.
Parker stats: Two catches, 17 yards.
UConn 21, Michigan 14
Fitz Toussaint is all or nothing. He happened to be "all" on that 35-yard touchdown run. The senior showed nice agility and ability to switch gears. Michigan needed that. Capped a nine-play, 75-yard drive.
The Internet never forgets, just remember that.
#Michigan #Wolverines They have the QB Manziel would be a backup for, the one losing to 0-2 #UConn 21-7... That's some #BigTen Crow to eat.

— 12th Man Quarterback (@12thManQB) September 22, 2013
So maybe a certain Michigan coach said that Johnny Football would be Gardner's backup in Ann Arbor...
Each of Michigan's 10 possessions has started in its own territory. OK, I get that. What I don't get is this: Why does Michigan continue feeding Toussaint the ball on first down for what will most certainly be a wasted play of little to no gain?
Why?
Michigan won't take a deep shot because Gardner's mind is elsewhere, obviously. But the Wolverines don't seem to want Green taking carries over Toussaint, which baffles me even more.
Anyone have any witty headline ideas? I can see it now: Gardner, Michigan grounded at Rentschler...something like that.
UConn's Spencer Parker has to hold onto those. Whitmer had some steam on it, but if Parker makes the catch, the Huskies gain a ton of confidence on this drive. They have to know what position they're in—taking advantage of this once-in-a-lifetime shot has to be the focus.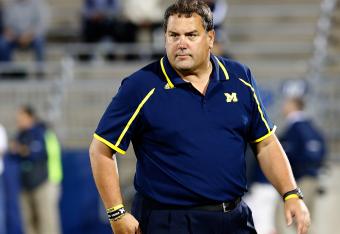 It's difficult to pinpoint the problem. Gardner isn't accurate. The line is giving him time. But is it enough? Receivers aren't separating from defensive backs.
UConn keeps on moving as Michigan keeps shooting itself in the foot.
Gardner's run on 3rd-and-25 prior to Wile's punt was proof positive that the offense is in disarray. No excuse for lack of execution. Not like this.
Mark Snyder of the Detroit Free Press shared a startling stat, one that really shows the lack of offensive firepower on Michigan's end:
Michigan held the ball for 5 more minutes than UConn

— Mark Snyder (@Mark__Snyder) September 22, 2013
And UConn just added to that lead thanks to a fumble recovery. Devin Gardner botched the snap, and the Huskies' Ty-Meer Brown did the rest of the work with a 30-yard scoop.
Michigan has four turnovers tonight, three of them are from Gardner.
Looked like Devin tried to go left with the ball in his hands and bumped into MAgnuson

— Mark Snyder (@Mark__Snyder) September 22, 2013
This article is
What is the duplicate article?
Why is this article offensive?
Where is this article plagiarized from?
Why is this article poorly edited?