Butch Jones made the controversial decision to replace starting quarterback Justin Worley with redshirt freshman Nathan Peterman against Florida.
The gamble blew up in the face of UT's first-year coach and cost the Vols a golden opportunity to beat the Gators.
Making his first career start in "The Swamp," Peterman endured arguably the worst, most mistake-riddled half of any UT quarterback in recent memory. His ineffectiveness dug the Vols a hole that turned into a 31-17 loss.
It was the ninth consecutive win for Florida over UT, and Jones should be kicking himself for the decision that led to it.
He said after the game that this loss wasn't completely on Peterman's shoulders, according to the Twitter feed of GoVols247's Wes Rucker:
Butch: "It's not all on Nate Peterman. I love Nate Peterman."

— Wes Rucker (@wesrucker247) September 22, 2013
He's right; Peterman never should have been in this position.
Peterman was part of a fumbled handoff exchange on the Vols' first series, suffered a sack-fumble on the next one and threw an interception the next time he was on the field.
With UT down just three points late in the first half, Peterman made his most egregious and atrocious unforced error when the ball slipped out of his hand on a pass and into the hands of Florida defensive tackle Darious Cummings. The Gators turned that turnover into a touchdown and a 10-point halftime lead.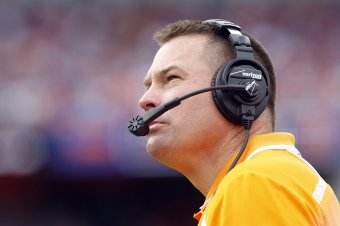 Kim Klement-USA TODAY Sports
That was Peterman's last play, but the damage was already irreparable. Jones' failed quarterback experiment cost UT—which forced three Florida turnovers and was the beneficiary of a dropped snap by UF punter Kyle Christy—a shot to win against the vulnerable Gators.
Tennessee squandered four first-half drives that started inside the Gators' 40-yard line and couldn't capitalize on the momentum it captured when Devaun Swafford returned an interception for a touchdown to give UT an early 7-0 lead.
The Vols also were going against Florida backup quarterback Tyler Murphy after knocking Jeff Driskel out of the game in the first quarter.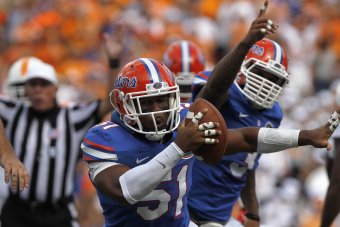 Kim Klement-USA TODAY Sports
This game was there for the taking, but with Peterman under center, the Vols offense was impotent. The Fruit Cove, Fla., native's final, forgettable stat line was 4 of 11 for five yards, two interceptions and one fumble, though it appeared Rajion Neal's fumble was Peterman's fault, as well, as he tried to pull back the read-option too late.
Peterman's performance was worse than Erik Ainge's first half against LSU in 2005 or Jonathan Crompton against Auburn in 2008.
In a long line of forgettable games for Tennessee against Florida, Saturday's just might be the least memorable.

Jones' decision to go with Peterman over Worley was puzzling, to say the least. He noted early in the week that he wanted an offensive game plan with more running plays for the quarterback, and Peterman does have more mobility.
But the two have battled all spring and fall for the job with Worley beating Peterman on the field. Though Worley hasn't been good this season, he only had one turnover in the first three games. Going into a hostile environment where protecting the ball is critical, Worley should have been the call.
He wasn't, and it burned the Vols.
Information was taken from quotes transcribed from videos posted on UTSports.com.