Overshadowed College Football Storylines That Found Spotlight on a Slow Saturday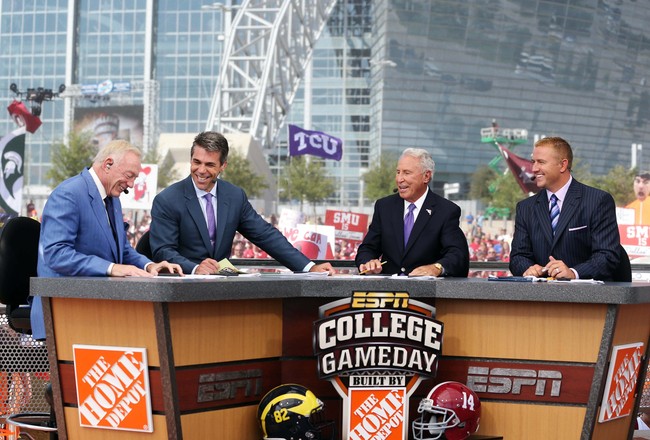 There wasn't much going on in college football this weekend.
Kevin Jairaj-USA TODAY Sports
"This one would crack mirrors. It has not been pretty."
Sure, CBS Sports' Verne Lundquist may have been speaking on an ugly first half between Florida and Tennessee. However, the same sentiments could be shared about this weekend's slate of college football games.
In fact, calling this Saturday slow would be an understatement.
The weekend's matchups were so undesirable, ESPN's College GameDay chose to visit FCS school North Dakota State instead. Adding insult to injury, it was a game in which the Bison were 40-point favorites.
As expected, some interesting storylines have stolen the spotlight.
Players Use Marked Gear to Protest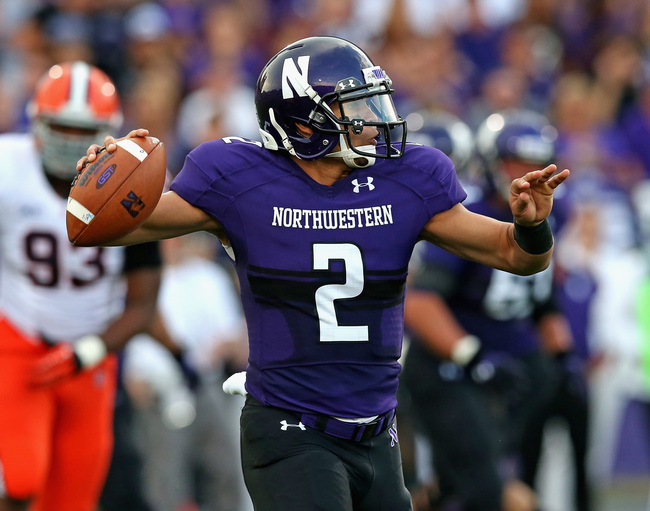 Kolter is one of several players to protest on Saturday.
Jonathan Daniel/Getty Images
On Saturday, several players around the nation used markings on their equipment to let their stance against NCAA's treatment of student-athletes be known.
Among the players participating were Georgia Tech quarterback Vad Lee, Northwestern quarterback Kain Colter and Georgia's offensive lineman. All scrawled the letters "APU"—All Players United—on their wrist tape.
Whether it's the issue of concussions or the much-debated issue of compensation, scrutiny of the NCAA's treatment is nothing new. According to NCPA president Ramogi Huma, the protest was months in the making.
Per ESPN's Tom Farrey, this gesture isn't just a one-time thing, according to Huma:
Players will continue to wear the APU throughout the season and spread the word. They're taking the reform effort to television, which has never been done. They've been using their bodies to make money for the people who run NCAA sports. Now, for the first time, they're using their bodies to push for basic protection at the very least.
While it's too early to tell what kind of effect the protests will have, it's nice to see many of these players making a stand for something they believe in.
Ground Game Carries Georgia Tech to 3-0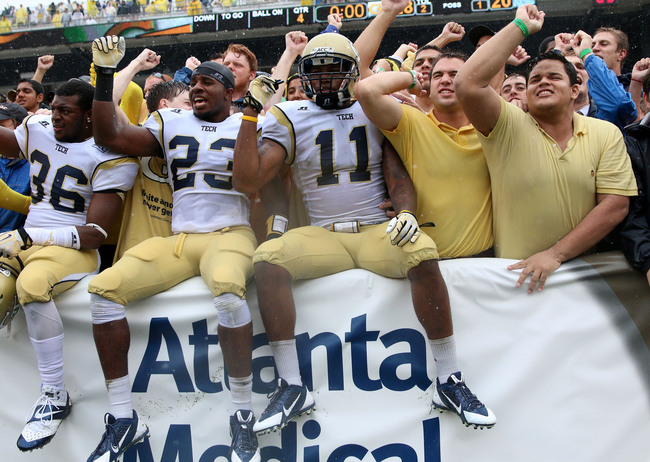 The Yellow Jackets have been a pleasant surprise thus far.
Mike Zarrilli/Getty Images
Surprise, surprise, the Yellow Jackets are 3-0.
After facing deficits of 13-0 and 20-7 in the first half, the team rallied to get past North Carolina, 28-20. It marks just the second time since 2005 that Georgia Tech has been undefeated through the first three weeks of the season.
But more impressive, it's how the team has gotten here.
Coming into Saturday's game, the Yellow Jackets boasted the nation's No. 3 rushing attack, averaging 356 yards per game. In fact, eight players on the roster have rushed for at least 50 yards.
Against the Tar Heels, Georgia Tech continued that dominance, racking up 324 yards on the ground.
Most of the focus in the ACC has been on Clemson, Florida State and Miami. However, it's about time people starting giving the Yellow Jackets some credit.
The team will have a chance to earn some respect in two weeks when it travels to face the Hurricanes on Oct. 5.
Frank Beamer on Hot Seat?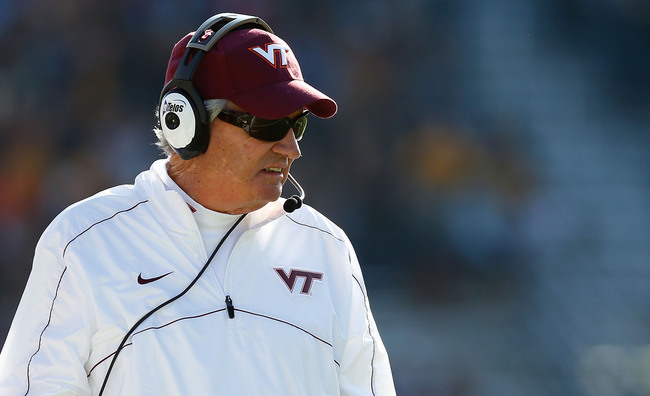 Could this be the end of Beamer's run?
Jared Wickerham/Getty Images
Believe it or not, Frank Beamer may find himself on the hot seat.
Sure, he most recently led the Hokies to eight straight 10-win seasons from 2004-2011. However, a 7-6 finish last year has raised flags in Blacksburg.
It was Virginia Tech's worst season since going 2-8-1 in 1992.
Although the team is 3-1, thus far, other than a 45-3 thrashing of Western Carolina, the Hokies have looked suspect. That was especially evident by the team needing three overtimes to put away Marshall, 29-21.
It was a game in which Virginia Tech led for just 5:04, after a return of a blocked punt made it 7-0. In fact, the Hokies needed a touchdown with 3:09 remaining just to send the contest into overtime.
If it wasn't for a missed 39-yard field goal from the Thundering Herd in the first overtime, Virginia Tech could very well be sitting at 2-2.
Even so, the team's offense has been pretty disappointing.
Coming into the Saturday matchup, the Hokies were ranked No. 89 in scoring (23.3 PPG), No. 81 in rushing (147.7 YPG) and No. 99 in passing (180.7 YPG). The team is also just 19-of-50 (38 percent) on third downs, ranking No. 79 in the nation.
Quarterback Logan Thomas hasn't helped, passing for just 698 yards with six interceptions to just four touchdowns.
Wins should still come for Beamer, as the Hokies have only one remaining ranked opponent on the schedule—No. 16 Miami on Nov. 9. However, Virginia Tech demands more than just getting by from its football program.
Rutgers' Letdown Shows Arkansas Not SEC-Ready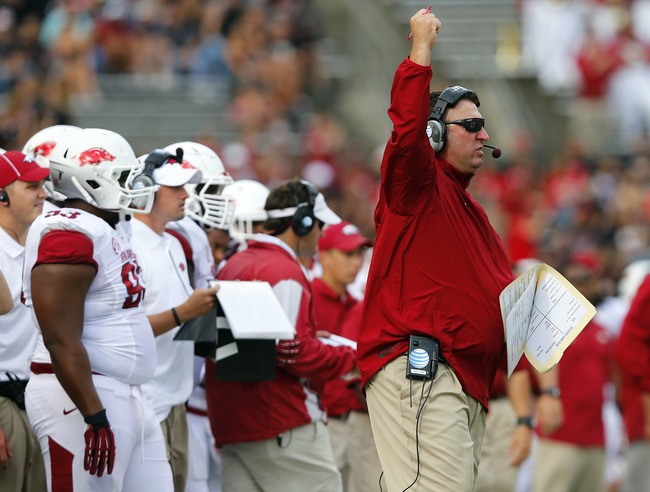 Bielema and his squad just aren't ready for the SEC.
Rich Schultz/Getty Images
Bret Bielema was about 19 minutes away from starting his debut season with the Razorbacks 4-0. However, a 24-7 lead against Rutgers was quickly erased by a punt return and two fourth-quarter touchdowns.
Now, questions arise on whether the former Wisconsin head coach has what it takes to survive the SEC.
Against the Scarlett Knights, Arkansas was just 3-of-14 on third downs, totaling an unimpressive 283 yards of offense. In fact, the No. 11 rushing attack in the nation (294.3 YPG) was held to just 101 yards on 34 carries (3.0 YPC).
Sure, the loss of starting quarterback Brandon Allen hurt. However, the team's passing game was a weakness beforehand.
Although Allen has five touchdowns, he's only passed for 388 yards. Furthermore, the Razorbacks' 141.3 passing yards per game ranked 112th in the nation.
If anything, Bielema and his team were exposed after beating three teams with a combined record of 3-7.
In comparison, Arkansas' remaining opponents have a combined record of 21-6. That includes a stretch of four straight ranked teams beginning next week with No. 10 Texas A&M.
Hey, that's the SEC for you.
Maryland Turning It Around
Brown (center) has given Maryland a lot to be optimistic about.
Mitch Stringer-USA TODAY Sports
With their 37-0 thrashing of West Virginia, the Maryland Terrapins are now 4-0. In other words, the team has already equaled the amount of wins it had last season.
Goes to show you how much can change when you're not forced to start a linebacker at quarterback.
After losing not one, not two, but four quarterbacks to season-ending injuries, Maryland had to turn to linebacker Shawn Petty to fill in at the helm. It was just one of many bad breaks in a 4-8 campaign.
Now, things have begun to turn around.
Entering this weekend, the Terrapins boasted the nation's No. 10 offense, averaging 554.7 yards per game. The team also ranked No. 21 in rushing (262.3 YPG) and No. 27 in passing (292.3).
Quarterback C.J. Brown has been the reason.
The senior has thrown for 1,050 yards and seven touchdowns to just one interception. He's also rushed for a total of 283 yards and another six scores.
With a showdown at No. 8 Florida State next up on Oct. 5, Brown and Maryland have a chance to prove that the fast start is no fluke.
Chuckie Keeton Outplays Kessler, Gives USC Scare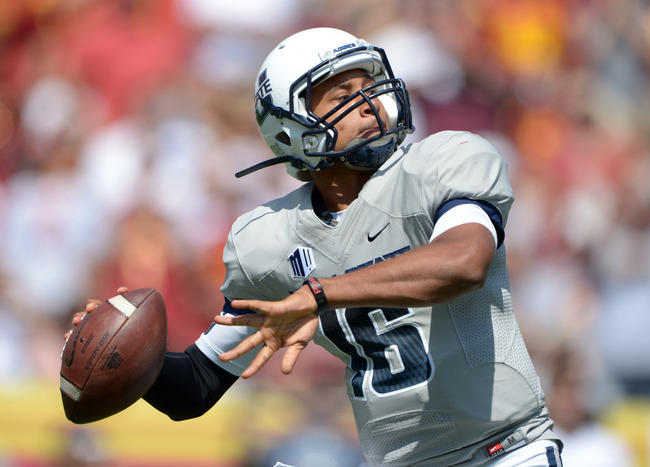 Keeton gave USC a run for its money.
USA TODAY Sports
Coming into this matchup, Utah State had the nation's No. 12 offense (550.3 YPG) and No. 15 passing attack (331.3 YPG). During the team's 17-14 loss to USC, you wouldn't have been able to tell.
Regardless, the Aggies still outperformed the Trojans offense.
On the day, Utah State's offense outgained USC 285 yards to 282. Furthermore, quarterback Chuckie Keeton one-upped his counterpart.
The junior went 21-of-39 for 179 yards and two touchdowns. In comparison, Cody Kessler only managed 13-of-26 passing for 164 yards and one score.
Sure, the numbers were modest compared to Keeton's 923 yards and 12 touchdowns in the Aggies' first three contests. However, forcing the Trojans to rely on a fourth-quarter field goal to survive should be a boost of confidence.
Then again, this was the second time in three games that USC had been outgained by its opposition—a 10-7 loss to Washington State.
Utah State will go on putting up big numbers. As for the Trojans, the jury is still out on whether they'll ever re-discover their offense.
Murphy Shows He's Capable of Leading Florida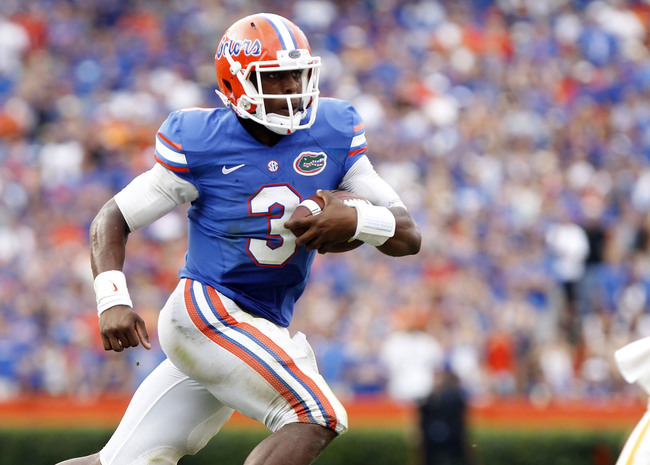 Can Murphy lead the Gators the rest of the way?
Kim Klement-USA TODAY Sports
Could the injury to quarterback Jeff Driskel be a blessing in disguise for the Gators?
In the first quarter of a 31-17 win over rival Tennessee, Driskel threw an interception that was returned for a touchdown. To add insult to injury, the junior broke his lower right leg on the play. He'll miss the remainder of the season via ESPN.
While Florida will certainly miss his experience, that's about all the team should miss.
In 17 career starts, Driskel has been largely ineffective. In fact, he had 200 or more passing yards in just three games while passing for only two multi-touchdown games. In comparison, Driskel had three multi-interception games.
Backup Tyler Murphy played well in relief.
The junior threw for 134 yards and one touchdown on 8-of-14 passing. But most impressively, he rushed for 84 yards and a touchdown on 10 carries.
Sure, it's too early to declare Murphy the better option over Driskel. However, there's no doubt the dual-threat youngster makes the Gators offense more formidable.
But can he keep it up? That's the question.
Miami Beats the Spread, Loses QB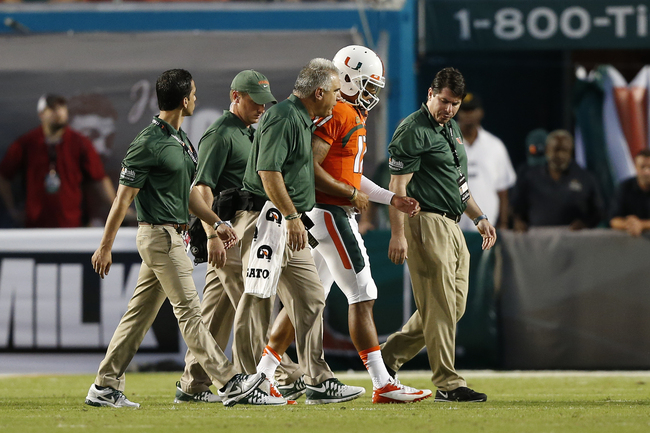 Morris left the game early after suffering leg injury.
Joel Auerbach/Getty Images
Against FCS opponent Savannah State, it was a foregone conclusion that the Hurricanes would win. But many thought Las Vegas' 60-point spread for the team was a bit ridiculous.
Turns out it wasn't enough.
Miami went on to thrash the Tigers 77-7. The Hurricanes outgained their opposition 637-183, racking up 324 rushing yards in the process. Furthermore, the team scored on its first seven possessions.
It was so bad that the fourth quarter was shortened to 12 minutes by mutual agreement from the coaches.
Then again, this is the same Savannah State team that got outscored 139-0 against two ranked opponents in 2012. By that logic, Miami should be embarrassed to even conceded seven points.
The team also lost quarterback Stephen Morris to a lower right leg injury. It's not considered serious. However, it's an unnecessary setback to face against a team that never really posed a threat.
Alabama Offense Gets Stuck in Mud During Win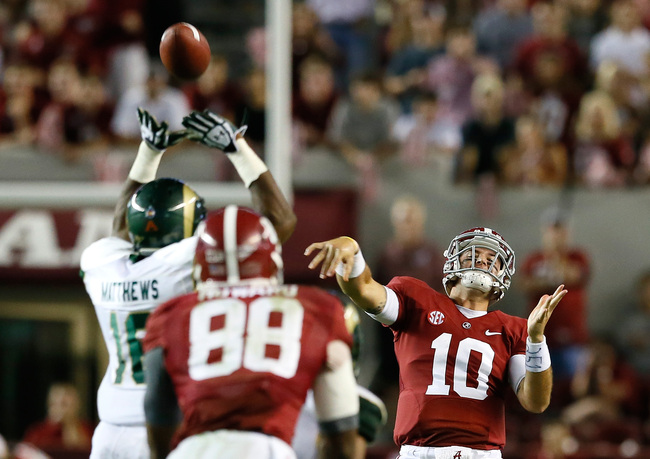 McCarron (right) and the Tide looked sloppy in Saturday's win.
Kevin C. Cox/Getty Images
Call it a hangover after the win against Texas A&M or being caught looking ahead to the showdown against No. 21 Ole Miss; either way, the Crimson Tide looked sloppy during their 31-6 victory over 1-2 Colorado State.
The game was actually a lot closer than the score line suggests. In fact, it was just 17-6 after three quarters.
It took an AJ McCarron 30-yard touchdown pass with 11:47 remaining to finally seal the deal.
Sure, the Alabama defense looked stout for the majority of the game. However, the offense looked stuck in mud.
For starters, the team failed to convert a third down until late in the fourth quarter. The Tide finished 2-of-10 on the night.
McCarron didn't fare any better.
After his 334-yard, four-touchdown performance against the then-No. 6 Aggies, the senior threw for just 258 yards and a touchdown. He also added an interception.
The rushing game didn't fare much better, gaining just 66 yards on 21 carries (3.1 YPC). Either the Texas A&M defense is just that bad or Alabama suffered a letdown. Whatever the case, the team better get it together before next week's matchup against the Rebels.
Michigan Survives Second Straight Scare Against Lesser Opponents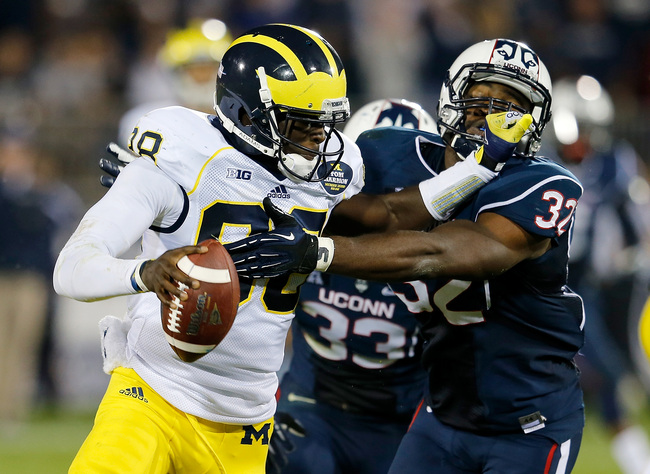 Gardner (left) and the Wolverines had their hands full against the Huskies.
Jim Rogash/Getty Images
After escaping with a 28-24 victory against FCS-foe Akron last weekend, the Wolverines turned away 0-2 Connecticut's upset bid, 24-21. The team rallied back from a 21-7 second-half deficit.
Boy, Michigan doesn't like to make anything easy.
Behind careless play with the ball—four turnovers—the Wolverines struggled to move the ball. The team recorded just 284 yards of total offense.
Devin Gardner didn't help matters.
Besides a poor performance through the air—13-of-25, 111 YDS—the junior quarterback coughed up the ball three times on the night. He also couldn't get much going on the ground, rushing for 59 yards on 19 carries (3.1 YPC).
Sure, Michigan may be 4-0 on the season. However, head coach Brady Hoke and his team have a lot of holes to patch up going into the bye week.
All stats used in this article are courtesy of NCAA.com.

For complete coverage of everything Sooners, you can follow Sebastian on Facebook and on Twitter.
Keep Reading