Analyzing Aaron Murray's Four-Touchdown Outing in Win over North Texas
September 21, 2013

Scott Cunningham/Getty Images
Aaron Murray's draft stock stayed put on Saturday.
Although the Georgia quarterback wasn't nearly as unstoppable as his 22-of-30, 408-yard, four-touchdown final line indicates, he had plenty of first-team All-SEC moments in the Bulldogs' 45-21 win over North Texas.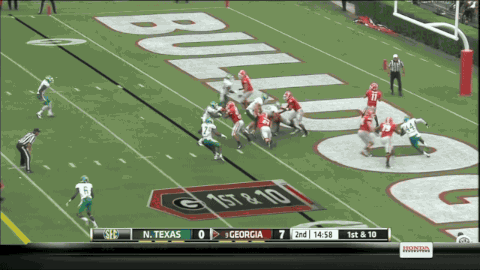 The most notable, of course, came on the very first play of the second quarter. After Mean Green punter Blake Macek pinned Georgia on its own two-yard line with a 61-yard boot, Murray connected with true freshman Reggie Davis on a beautiful throw-and-run for a 98-yard score.
It was the first reception of Davis' young collegiate campaign, putting his career yards-per-reception, for the time being, at an unsustainable (probably) 98.0. 
For Murray, it helped him surpass two SEC legends, per ESPN Stats & Info:
The longest play in school history was also his 100th career touchdown with the Bulldogs, so there was quite a bit going on during the 10 seconds or so that it took Murray and Davis to put Georgia on top by two touchdowns. 
Late in the third quarter, the senior quarterback had a more underrated moment, but it might have been just as impressive. 
With the Mean Green down just seven points and still threatening for an upset, Murray was vital in a methodical 12-play, 95-yard touchdown drive that finally put the game out of reach. 
Much of the yardage was knocked away by the two-headed monster of Keith Marshall and Todd Gurley, but Murray continually sustained the drive. On 3rd-and-10, he ran 14 yards. On 3rd-and-3, he completed a 12-yard pass to Rhett McGowan. 
Finally, to finish off the drive, he found Chris Conley for a four-yard score. 
Overall, Murray was a solid 5-of-8 for 62 yards and a score on third down for the day while also rushing for 29 yards. He completed the first down (or touchdown) on five of 11 third downs. 
So yeah, plenty of glimpses of the guy who was second-team All-SEC as a sophomore and is one of the most prolific passers in conference history. For much of the game, he looked unstoppable, cutting through the Mean Green defense like a fat guy through water.
His final statistics are accurate in that regard.
Unfortunately, there were a few head-scratching moments, especially at home against a 32.5-point underdog. 
In the first quarter, Murray threw an interception in the end zone when he forced the ball into coverage. On his TD toss to Conley, he slightly underthrew it, allowing a Mean Green corner to get a hand on the pigskin. It fell to Conley to make a juggling catch, but you have to think an SEC defender would have come down with another red-zone pick.
Moreover, as CBS Sports' college football Twitter feed pointed out, he struggled a bit in the rain:
Those are nit-picky observations from an otherwise terrific day, but against North Texas—a supposed tune-up for LSU next week—he shouldn't be making those mistakes. 
He certainly can't afford them against the Tigers.
Nevertheless, for the most part, Murray looked just as effective as most were expecting him to be.