SMU vs. Texas A&M: Live Score and Highlights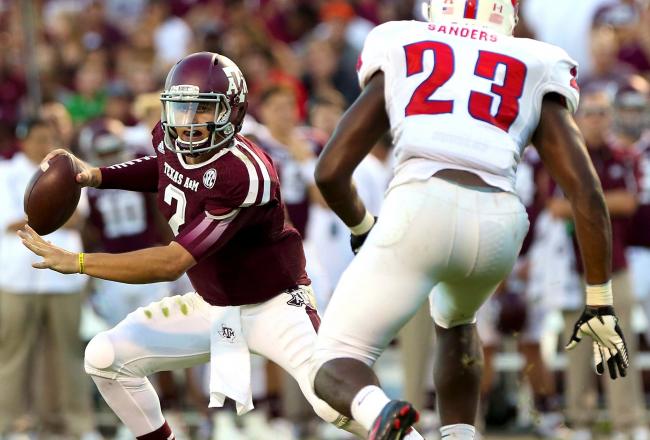 Texas A&M 42, SMU 13-Final
Despite 13 penalties for 144 yards, Texas A&M had way too much for SMU. The Aggies took control of the game early and never looked back on their way to a 42-13 victory over in-state rival SMU.
Even though he only played one drive into the second half, quarterback Johnny Manziel was his dominant self, leading the Aggies on six touchdown drives.
SMU was able to move the ball at times, but could never hit that big play down the field to stay in the game.
Texas A&M will now step back into SEC play next week and hit the road for the first time against Arkansas.
SMU has another tough road contest at TCU.
Here are 10 things we learned about Texas A&M in its dominating victory.
Also follow along on Twitter: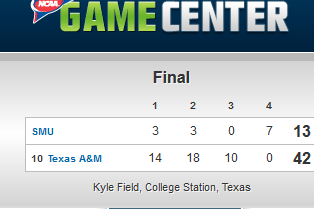 Here is a box score of the game, courtesy of NCAA.com.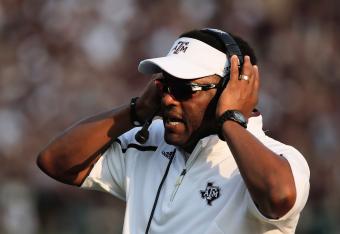 Despite throwing the ball even at the end of the game, Texas A&M head coach Kevin Sumlin had a pleasant hand shake with SMU head coach June Jones.
It was not pretty on either side of the ball, but Texas A&M came out on top in a game filled with penalties to knock off SMU 42-13.
Texas A&M 42, SMU 13-Final
With just over two minutes remaining, the Aggies are looking to run out the rest of the clock and finish off the Mustangs.
Another SMU turnover gives Texas A&M the ball back.
The Aggies appear content to run out the clock, via the pass and the run.
Gilbert is now out of the game for SMU.
Neal Burcham is in there now with just over six minutes remaining.
By the way, Texas A&M is just giving away this easy cover right now. Pull Manziel with 26 minutes left and now go third string QB? Painful.

— Clay Travis (@ClayTravisBGID) September 22, 2013
People with money on the game might not be too happy to see that Manziel has been out of the game for quite some time now.
Texas A&M is still covering the spread right now, but it is getting dicey.
Gilbert has a pass that is batted down and then intercepted by Deshawn Hall of Texas A&M.
After knocking on the door, SMU gives it away. Texas A&M is now inside SMU territory after the 39-yard return.
Imagine what Johnny Manziel is gonna text Devin Gardner later. Screw it, if he has iOS7 he'll just block 98's number.

— Brett (@BLeez17) September 22, 2013
The Devin Gardner/Johnny Manziel comparisons are continuing on Twitter.
SMU will get the ball back inside Texas A&M territory. Another scoring opportunity for the Mustangs.
Also, a few more opportunities for Garrett Gilbert to throw the ball.
True Freshman Kenny Hill is now in at quarterback for the Aggies.
This guy has a wealth of potential.
Texas A&M 42, SMU 13-Mid 4th Quarter
Garrett Gilbert hits Keenan Holman with a 31-yard touchdown over the middle.
First time all night the Mustangs reach the end zone.
A lot of backups are now in the game for the Aggies. Garrett Gilbert is still out there for SMU.
His arm might be sore after this. He has already thrown 56 passes.
New Item on the Bucket List: Party with Johnny Manziel

— Ethan Klaseen (@Klaseen24) September 22, 2013
A lot of Texas A&M fans likely have this on their bucket list.
Texas A&M 42, SMU 6-End of 3rd Quarter
Texas A&M 42, SMU 6-Late 3rd Quarter
Kicker Josh Lambo knocks in a 40-yard field goal to give the Aggies 40-plus points in each of their first four games this season.
First time in school history that has happened.
Johnny Manziel now has 9 games since start of last season w/ 200 Pass yds, a Pass TD & a Rush TD, most such games in FBS during that span.

— ESPN Stats & Info (@ESPNStatsInfo) September 22, 2013
Here is an interesting stat on Manziel as the officials continue to throw a flag for anything and everything they can.
The third fourth-down attempt fails inside the red zone and the Aggies hold.
SMU put together a 17-play, 65-yard drive but could not punch it in.
SMU has converted two fourth downs, including a dramatic 4th-and-15 to keep the drive alive.
Senior wide receiver Keenan Holman is shaken up for SMU.
He has seven catches for 82 yards. He might be suffering from cramps.
No point in watching if Manziel comes out

— Devan (@Dev_shape) September 22, 2013
Hopefully not everybody is thinking this way.
Here is the final stat line on Manziel: 14-of-21 passing, 244 yards, 1 touchdown, 1 interception; 12 carries, 102 yards, 2 touchdowns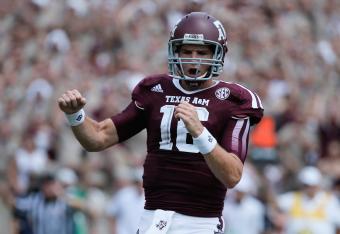 Matt Joeckel is in the game.
Is the day already over for Manziel? That seems a little premature to me.
This article is
What is the duplicate article?
Why is this article offensive?
Where is this article plagiarized from?
Why is this article poorly edited?