Utah State vs. USC: Live Score and Highlights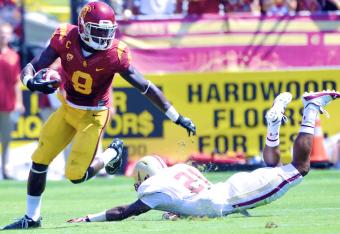 USC 17, Utah State 14 ; FINAL
In a defensive struggle, the Trojans were able to eek out a three point victory over the Aggies of Utah State.
The victory was in large part to the efforts against Utah State's talented quarterback Chuckie Keeton. Morgan Breslin in particular was a huge reason as to why Keeton was unable to get on track.
Bleacher Report appreciates you following the live blog!
The full box score can be found here.
My initial takeaways from this game:
1. USC's front seven is very good. The addition of Pendergast was massive for a team that recently has struggled against the spread.
2. Kiffin doesn't trust Kessler fully yet. The play-calling is very vanilla.
3. This team needs to improve up front on the offensive line. I know depth is an issue, but Kessler is going to get killed against Pac-12 defensive lines.
FINAL SCORE: USC 17, Utah State 14
Aesthetics weren't involved in this affair, but I don't think Lane Kiffin cares too much.
The Trojans get a much needed win in a defensive battle.
With the first down, it appears as if the Trojans will eek out a close victory.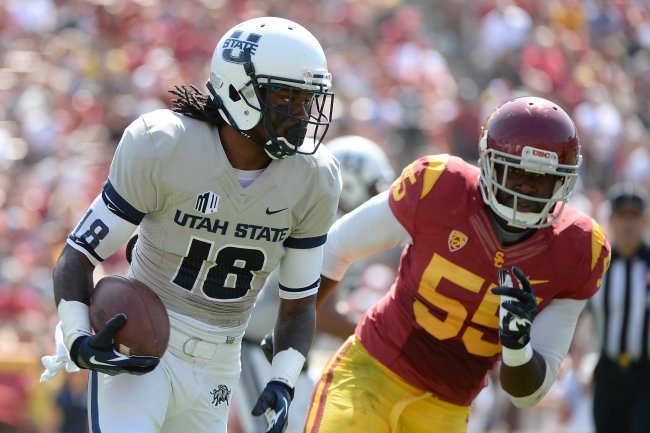 Harry How/Getty Images
On a 4th-and-9 conversion attempt, Keeton and the Aggies are stopped short of a first down.
The Trojans take over, looking to milk the clock.
Keeton's options downfield are few and far between. SC's defense has done a very nice job at bottling up the talented signal-caller.
Well, I guess we can say this has been a defensive battle.
I say that because the offense on both sides is reminiscent of a Mark Sanchez game with the Jets.
In other words, ugly.
Chuckie Keeton has not looked as good as advertised.
A fan just said in Coliseum there are so few people he has great cell coverage and can watch other games on his phone #USC

— InsideUSC (@InsideUSC) September 21, 2013
Wolf has been unmerciful today...
I just realized I'm under more pressure to produce an interesting tweet than Lane Kiffin is to win #USC

— InsideUSC (@InsideUSC) September 21, 2013
Is this true, SC fans?
Wow, that was awkward.
SC now in prime position to add to its lead.
Keeton is having "happy feet" right now.
SC's defensive line is mauling Utah State's OL, not giving Keeton time to throw.
FIELD GOAL!
USC 17, Utah State 14
The Trojans were unable to convert in the red zone and settled for a 25-yard field goal by Andre Heidari.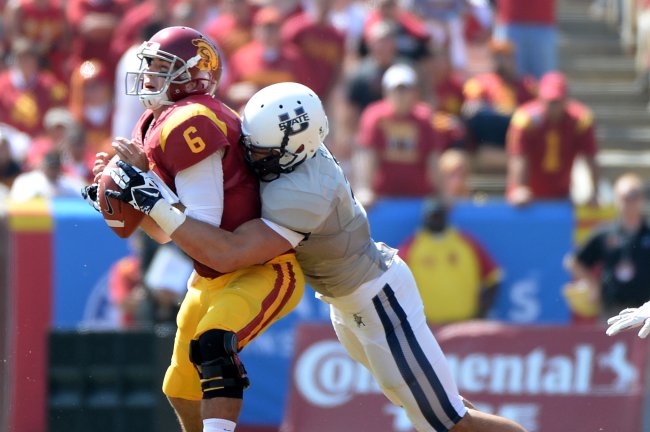 Harry How/Getty Images
End of the 3rd quarter and the Trojans are tied with Utah State, 14-14.
Punter Jaron Bentrude just nailed a punt...for 13 yards.
USC takes over on the Aggies' 27-yard line.
Neither offense looks very good right now.
Both defenses are ratcheting up the pressure, and there's no semblance of rhythm on either side.
Another three-and-out for the Trojans #concern
Remember when Pete Carroll dominated 3rd quarters after making halftime adjustments #USC

— InsideUSC (@InsideUSC) September 21, 2013
Yikes...
Utah State looks absolutely AMPED right now on defense. The Aggies are getting constant pressure on Kessler right now.
USC clowned around, played hot potato with the ball, wrecked its own drive, butchered a field goal... and gave Utah State reason to believe.

— Matt Zemek (@MattZemek_CFN) September 21, 2013
Tell us how you really feel, Mr. Zemek...
TOUCHDOWN!
USC 14, Utah State 14
Keeton scrambles to his right and finds Travis Reynolds for an eight-yard touchdown.
Not only is the score tied, but the boo birds are out in full force in the Coliseum.
Utah State is beginning to increase the tempo of its offense.
Keeton has the Aggies in USC territory, driving.
Kicker Andre Heidari misses a 46-yard field goal wide left, and the score remains 14-7.
Heidari is 3-for-6 on field goal attempts for the season.
USC WR Marqise Lee is now 2nd all-time on the Trojans career receiving yardage list passing Dwayne Jarrett today.

— USC Trojans (@USC_Athletics) September 21, 2013
Congratulations to Marqise Lee.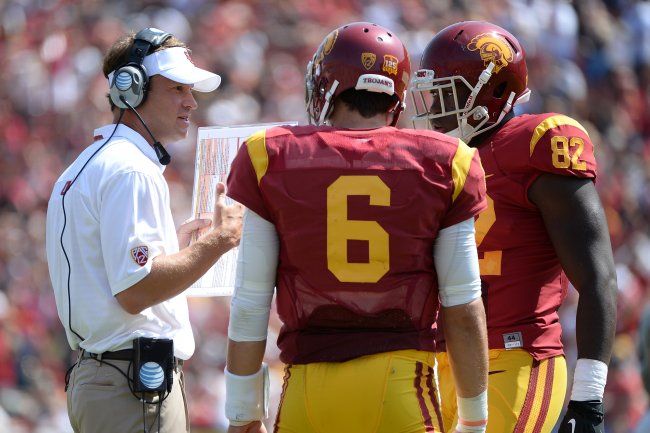 Harry How/Getty Images
Will Kiffin open it up in the second half, or play it safe?
In other words, will he play to win, or play to not lose?
Keeton and the Utah State offense will start with the ball from its own 25-yard line.
This article is
What is the duplicate article?
Why is this article offensive?
Where is this article plagiarized from?
Why is this article poorly edited?

USC Football: Like this team?