Michigan State vs. Notre Dame: Live Scores and Highlights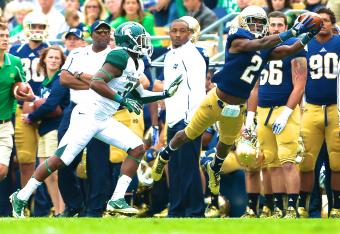 Notre Dame 17, Michigan State 13—FINAL
The Michigan State Spartans rolled into South Bend, Ind. to take on the Notre Dame Fighting Irish in the Battle for the Megaphone. An important rivalry game for both teams, Notre Dame was looking to maintain some momentum after rebounding at Purdue following a tough loss to Michigan. The Irish did just that.
In a game that lived up to its billing as a defensive struggle, each team had its chances to grab control of the game, but the result was in doubt down to the final minute.
Offensive inconsistency finally did the Spartans in as Notre Dame came up with some critical fourth quarter stops when it mattered most.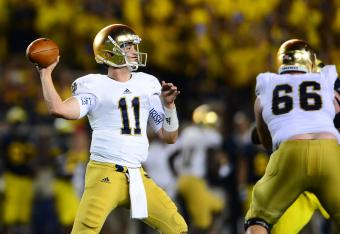 That's going to do it for our live blog of Michigan State vs. Notre Dame.
Make sure to check out all the postgame coverage of this, and every college football game right here with Bleacher Report!
And don't forget to follow me on Twitter @davidrluther!
Could the bug-a-boo for Michigan State today possible have been its lack of defensive scoring?
In every game this season to this point, the defense had scored points, and had outscored the offense against both FBS opponents.
Notre Dame only had 12 first downs and 5 were via penalty. Oh what could have been!

— Rick Holmes (@spartyholmes) September 21, 2013
Make sure you check out the comments at the bottom of the page. A lot of talk about officiating today, and some griping about MSU's offense (and deservedly so...).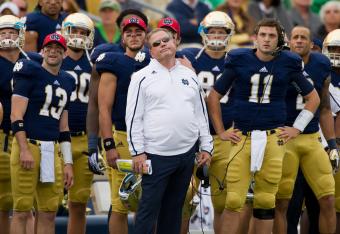 It wasn't pretty.
In fact, it was pretty darn ugly at times. But Notre Dame has another win over Michigan State, and Brian Kelly has his 10th-straight home victory (first time for Notre Dame in 14 seasons). The Irish improve to 3-1 while the Spartans fall to 3-1.
Before this game even started, everyone assumed it would be a defensive battle. We were all correct. But what was surprising was the number of penalties. In all, there were 18 penalties for a combined 200 yards. Pass interference was the rule of the day, even if the officials had some pretty bizarre interpretations of that rule.
Michigan State still has plenty of problems on offense, but this was the Spartans' best offensive performance of the season against an FBS opponent. While Notre Dame's defense certainly gave up some yards today (254), the Irish were good enough to contain the Spartans when it mattered most.
Offensively, Notre Dame put up 17 points and 220 yards on the nation's best defense. Obviously not spectacular, but every college football fan in the nation will tell you that any win is better than a spectacular loss.
Final stats from today's game.
| | MSU | ND |
| --- | --- | --- |
| 1st Downs | 19 | 13 |
| 3rd down efficiency | 8-18 | 6-17 |
| 4th down efficiency | 1-2 | 0-1 |
| Total Yards | 254 | 220 |
| Passing | 135 | 142 |
| Comp-Att | 16-36 | 14-34 |
| Yards per pass | 3.8 | 4.2 |
| Rushing | 119 | 78 |
| Rushing Attempts | 35 | 32 |
| Yards per rush | 3.4 | 2.4 |
| Penalties | 10-115 | 8-85 |
| Turnovers | 1 | 0 |
| Fumbles lost | 0 | 0 |
| Interceptions thrown | 1 | 0 |
| Possession | 30:38 | 29:22 |
Well good win by Notre Dame. MSU made a lot of mistakes which helped but I'll take an ugly win over a pretty loss. #GoIrish #WeAreND

— Cole Tynan (@ColeslawTynan) September 21, 2013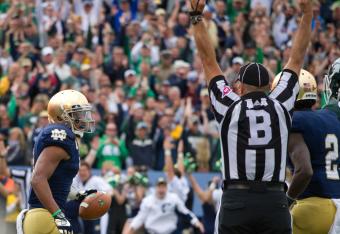 Final score: Notre Dame 17, Michigan State 13.
Stay tuned for some final thoughts and analysis.
Brian Kelly becomes the first Notre Dame coach in 14 years to win 10 straight home games.
A few knees, and this game is in the books.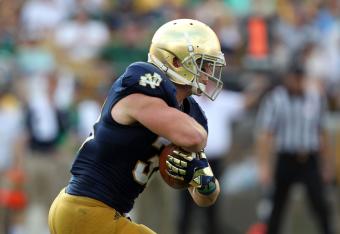 Cam McDaniel gains a first down on 2nd-and-14, taking the entire MSU defense with him.
But a personal foul on McDaniel for taunting will bring the ball back.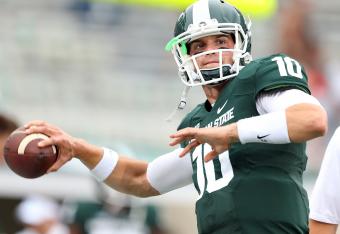 Notre Dame holds on 4th-and-20. That will all but seal the game for the Irish.
Andrew Maxwell doesn't even get the pass off. Scrambles past the line of scrimmage, and that will pretty much do it barring any Michigan State miracle.
All together now: Penalties!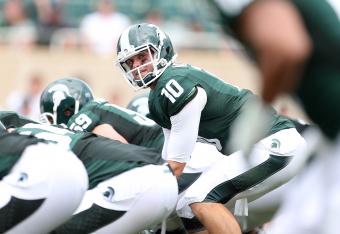 Andrew Maxwell comes in at quarterback for Michigan State...
Wow. What is Dantonio doing here? Pulling a 2012 Brian Kelly?
TIMEOUT, Michigan State.
3rd-and-15 for Notre Dame, Michigan State with one timeout. Four point game. A little over two minutes remaining.
This is rivalry football, and it doesn't get any better than this.
Priceless.
Notre Dame runs the pass interference play on 3rd and 3, but it's not successful.

— Tom Fornelli (@TomFornelli) September 21, 2013
Three plays and a punt. The Irish defense did its thing.
A couple of first downs and Notre Dame can raise the Megaphone again. But Michigan State's defense has been held scoreless today. Think they're itching for a big play?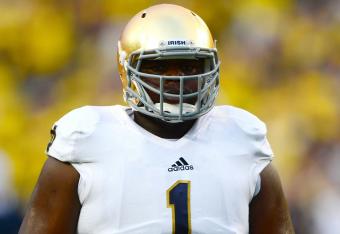 Can the Notre Dame defense rise to the challenge?
Michigan State impressively holds Notre Dame to a three-and-out, and the Irish will need to punt from their own 17.
But a 50-yard punt puts 70 yards between Michigan State and a victory.
Down to the wire, as predicted!
Wondering that myself.
How did the refs miss that punch from Michigan state ???

— Brian Anderson (@b_anderson9) September 21, 2013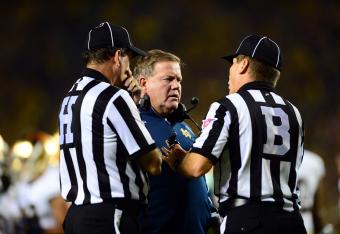 A very late flag (like seriously 30 seconds after the whistle) as numerous Notre Dame players come out onto the field as the officials try to un-pile players battling for a fumble.
Now it's Brian Kelly's turn to scream at the referee.
Michigan State is 4-for-7 on third down in the second half. But the latest failed conversion forces a punt with under six minutes remaining.
Connor Cook now seems to be able to rack up the pass completions (13-of-26 for 114).
As long as MSU doesn't abandon the run game, Notre Dame could be in for a dogfight down the stretch here.
Michigan State's defense finally shows up on third down without committing a penalty.
I'm sure a lot of Michigan State fans will see it this way. And probably more than a few neutral observers, too.
The refs have determined Notre Dame should win this game and god forbid someone tries to get in the way of that outcome. #NDvsMSU

— restless (@dorquewrench) September 21, 2013
FIELD GOAL, Michigan State.
Stupid mistakes and penalties kill the Michigan State drive. It's now 4th-and-20, and Michigan State kicks a 42-yarder.
This article is
What is the duplicate article?
Why is this article offensive?
Where is this article plagiarized from?
Why is this article poorly edited?