Purdue vs. Wisconsin: Live Score and Highlights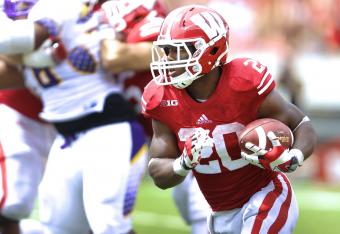 Wisconsin 41, Purdue 10 - Final
The Badgers move to 1-0 in the Big 10 with a huge matchup against Ohio State looming next week.
Purdue falls to 1-3 on the season, and seem to be struggling to find develop their identity on offense.
Check out the updates below, to see how the game unfolded with instant reactions.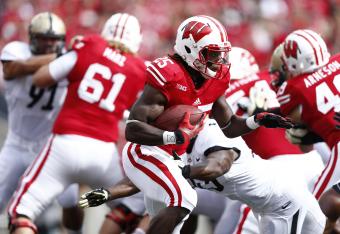 The big question now for Wisconsin is: Can they defeat Ohio State a week from now?
The Buckeyes will offer a more formidable run defense than the Boilermakers, but Wisconsin has an incredible offensive line and a stable of running backs who can still move the ball against Ohio State's tougher defense.
But can Joel Stave and the passing game keep the Buckeye defense honest? I don't think they can, and that will leave them a bit shy of what it takes to defeat Ohio State.
If Stave has a better performance, or Jared Abbrederis is able to carry the quarterback with his excellent play at receiver, it could certainly be a very competitive game. But as it stands, I'll have to say that Ohio State has the edge at the moment.
That's it for today. Thanks for following along!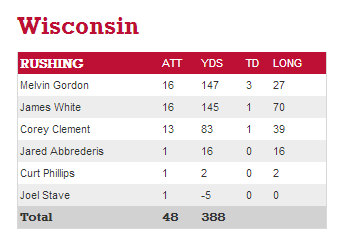 Check out these dominant rushing statistics for the Badgers. Gordon impressed the most with his raw ability, but White and Clement also ran well.

The final score, as brought to you by the NCAA's official GameCenter.
FINAL: #Badgers 41, Purdue 10. Running game brilliant again, Joel Stave not so much. Ohio State next week.

— Bucky's 5th Quarter (@B5Q) September 21, 2013
"Ohio State is next." That's a huge step-up from Purdue, which showed it wasn't on the same level as the Badgers today.
Can Joel Stave manage the Wisconsin offense well enough to topple the Buckeyes? We'll have to wait and see, but I don't think he's good enough to keep the team in the game through the air.
In 3rd and 10+, Purdue's offensive line is apparently composed of a clothespin, a traffic cone, and a construction barrel. @HammerAndRails

— Grant Butterfield (@GSchofield50) September 21, 2013
No kidding. But credit has to go to Wisconsin, which has a relentless pass rush.
Another interception for Sojourn Shelton, the second this season for the true freshman. #Badgers

— Bucky's 5th Quarter (@B5Q) September 21, 2013
This is encouraging for Wisconsin, which has a playmaker on defense with a future ahead of him in the program.
Rob Henry throws an interception at the goal line, and the Badgers will take over.
A late throw over the middle is never, ever a good idea. That's exactly what Henry did.
2nd and goal from the 25 is less than ideal.

— John Veldhuis (@JohnVeldhuis) September 21, 2013
Penalties and a loss on a swing pass have left the Boilermakers in a bad place on offense.
Can we please stop blaming Henry for all of this? Yes, he hasn't been great, but the offensive line is terrible.

— Travis Miller (@HammerAndRails) September 21, 2013
A very fair assessment. He's not had many clean pockets to stand in this afternoon.
Some life here for the Purdue offense, as Henry connects on a pair of passes to get the ball into Wisconsin territory.
A faint bit of hope in an otherwise lackluster performance.
The Badgers go for a fourth-down conversion up 31 in the fourth quarter, and the pass is dropped right at the sticks for a first down.
Was it an attempt to run up the score?
I don't think so. A punt would have been pointless given the field position, and the Boilermakers are only going to attempt to throw the ball and not run the clock down as quickly.
Fair play, in my opinion.
Curt Phillips now in the game at QB for the #Badgers.

— Badgers Live (@BadgersLive) September 21, 2013
The Badgers had already subbed out their star running backs James White and Melvin Gordon, and now they've put Joel Stave on the bench as the lead is secure.
They left Stave in the game to let him throw the ball a couple times to build confidence, and it didn't work out.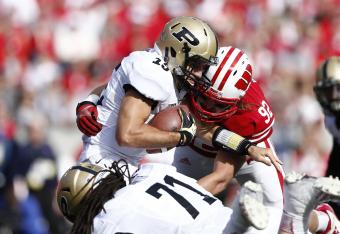 I don't think Rob Henry has thrown the ball further than 10-15 yards all day for Purdue, and when he has, it's been throwing it away while on the run.
Purdue wants to establish a power running game, but they don't have the defense to support that kind of offense. They're going to need to score points to compete, and Henry can't air the ball out and keep the defense honest.
Being a part of "Jump Around" at Camp Randall is on my sports bucket list. It's such an awesome tradition.
A sold out stadium jumping around and going crazy together just gives me goosebumps, and that's just watching the video.
Touchdown, Badgers.
Corey Clement gets an easy five-yard score that he set up himself with a huge gain. The Badgers are absolutely loaded with talent at running back.
41-10 Wisconsin, 14:56 to go in the fourth quarter.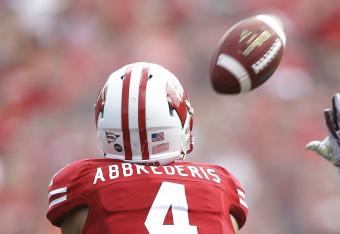 Joel Stave misses a wide open Jared Abbrederis with a Tebow-like misfire.
The Badgers need to be concerned about the ability of their signal-caller. If this game is any indication, he's not good enough to move the football against Ohio State or any of the more formidable Big 10 opponents.
Highlight reels are usually filled with runs of 10+ yards. Melvin Gordon might have the longest highlight reel ever for one year.

— Ian Kenyon (@IanKenyonNFL) September 21, 2013
Bleacher Report's Ian Kenyon has a point.
Melvin Gordon is a highlight factory. He essentially makes a highlight per carry with his double-digit rushing average.
Konrad Zagzebski shaken up now, too, down on one knee. #Badgers getting really banged up this game.

— Bucky's 5th Quarter (@B5Q) September 21, 2013
If there's one negative to take from this game, it would be the number of Wisconsin players who have had to leave the field hurt.
Definitely not what the Badgers want at the start of the conference season.
Field goal, Wisconsin.
3:13 to go in the third quarter, 34-10 Badgers.
Wisconsin tried to throw the ball a few times, just to see if they could build some confidence for Joel Stave. It didn't work, and the drive eventually sputtered to a halt.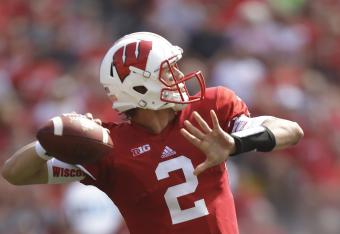 Joel Stave with a criminally bad throw. The Badgers can run the football, but they have to be very, very worried about their passing game.
Stave is just not capable of making consistently accurate throws and good decisions, especially to receivers not named Jared Abbrederis. If Wisconsin falls behind in any games later this season, it will be interesting to see if Stave can move the offense with any success.
We'd like to welcome all of you bandwagon jumpers on the #MG34Heisman train…. http://t.co/gTfhte0s8j

— MadTown Badgers (@MTBadgers) September 21, 2013
Wisconsin running backs are the 2013 version of the Hawaii quarterbacks of a decade ago. They will always be in the Heisman discussion but won't win it because they benefit from the "system."
That said, Gordon is a special player and deserves consideration based on his performances this season.
Well, Cody Webster is averaging 44.6 yards on five punts. #Purdue

— Michael Osipoff (@MichaelOsipoff) September 21, 2013
At least there's a positive for the Boilermakers in this disappointing performance.
The bad news for the Boilermakers is that their offense just cannot get anything going.
Rob Henry cannot stretch the field with long passes, and he doesn't have any receivers or running backs who can turn his short passes into big gains.
Not to mention, there have been multiple miscommunications and busted plays on offense for Purdue so far. They needed to be perfect to challenge Wisconsin, but they have been anything but perfect this afternoon.
This article is
What is the duplicate article?
Why is this article offensive?
Where is this article plagiarized from?
Why is this article poorly edited?