Tennessee vs. Florida: Live Score and Highlights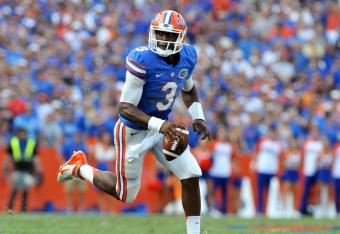 Al Messerschmidt/Getty Images
Florida 31, Tennessee 17 — Final

The Tennessee Volunteers and Florida Gators squared off in a Southeastern Conference matchup at The Swamp.
Florida QB Jeff Driskel exited the game after throwing a pick-six, but junior Tyler Murphy replaced him admirably. Murphy finished the game with 134 passing yards, 84 rushing yards and two touchdowns, leading the Gators to a 31-17 win.
Mack Brown and Matt Jones added one touchdown each on the ground.
After redshirt freshman Nate Peterman started the game, Justin Worley entered for the second half and led both of Tennessee's scoring drives. Devaun Swafford had the pick-six for the Volunteers.
We provided live analysis and scoring updates throughout the game.
And to cap off the day, Bleacher Report's Tyler Piccotti has 10 things we learned about the Gators.
Per Will Muschamp on CBS Sports, Jeff Driskel is out for the season. Tyler Murphy takes over under center for the Gators.
Florida 31, Tennessee 17 — Final
Just for good measure, the Gators add a sixth takeaway. It's gone final, and Florida has beaten Tennessee by 14 points.
Check back later for what we've learned from both teams.
Worley's pass incomplete and the #Vols turn it over on downs at the 24-yard line. 2:29 remaining in the game.

— Tennessee Football (@Vol_Football) September 21, 2013
Tennessee could not convert on fourth down, and now we're just waiting for the clock to run out.
Solid game from Florida, and the Volunteers played much, much better throughout the second half.
Well, this is falling under the definition of "quick."
Tennessee is just outside of the red zone and threatening. Remember, the Volunteers must score a touchdown, so it is four-down territory.
Hardin misses the field goal, but time is not on Tennessee's side.
The Vols used all their timeouts, and Worley must lead a quick scoring drive.
#Gators defense has five takeaways today. Only had two coming in (both Vernon Hargreaves III interceptions).

— Scott Carter (@GatorZoneScott) September 21, 2013
Florida defense has really stepped up today. Beyond its normal ability to surrender few yards, the Gators have forced five turnovers.
Pick a true freshman QB to redshirt. Get the other one some snaps against South Alabama. IMO

— RockyTopTalk (@RockyTopTalk) September 21, 2013
Tennessee QB situation is not a good one.
Horrible decision by Worley to force that ball into coverage, and Gorman picks it off.
It looked like Butch Jones asked Worley, "what were you doing?" as the quarterback walked off the field.
Tyler Murphy is trending on Twitter worldwide. #Gators

— Thomas Goldkamp (@Goldkamp247) September 21, 2013
Mission accomplished.
#Vols @Randyboy37 with 11 tackles, second-career game with double-figure tackles. Career-high of 12 came vs. UK in 2011.

— Tennessee Football (@Vol_Football) September 21, 2013
Randolph is all over the field for Tennessee today.
I can tell you result of Driskel x-ray: an acute case of lost job.

— Matt Hayes (@Matt_HayesSN) September 21, 2013
Your thoughts?
Tennessee safety Brian Randolph really stuck Mack Brown on that tackle.
The Volunteers can force punt right here—and they do. Huge defensive stop by UT.
With the injuries and Poole's ejection, Gators running out of options in secondary. Had to contribute to those two busted coverages.

— Robbie Andreu (@RobbieAndreu) September 21, 2013
It will be very interesting to see what Florida's thinning secondary can do for the rest of the game.
Of course, if Murphy and Co. can score some more points, the Gators are just fine.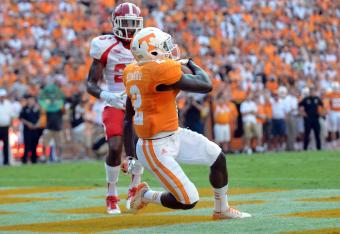 Florida 31, Tennessee 17
Worley finds Pig Howard for an 18-yard touchdown.
Another breakdown by Florida's defensive backs, as Howard was wiiiiiiide open for that catch.
Tennessee isn't dead yet.
Slight breakdown by the UF secondary.
Tennessee must score a touchdown on this drive to stay in the game, and that 32-yard completion from Worley to North greatly helps the Vols' cause.
Gators CB Brian Poole ejected for targeted vs Vols. Play upheld on review, so he'll be out the first half next week at Kentucky

— Mark Long (@APMarkLong) September 21, 2013
Brian Poole will definitely be ejected for that hit.
Florida gets its first targeting penalty of the year.
Florida 31, Tennessee 10
Excellent play call as Tyler Murphy makes one man miss and takes the quarterback draw into the end zone from seven yards out.
Murphy has been stellar as Driskel's replacement, carrying the ball eight times for 80 yards and one touchdown, to go with 134 yards and one score through the air.
Tennessee
Justin Worley: 4-of-8, 33 YDS
Nathan Peterman: 4-of-10, 6 YDS, 1 INT
Rajion Neal: 9 CAR, 28 YDS
Pig Howard: 2 REC, 27 YDS
Marquez North: 2 REC, 6 YDS; 2 CAR 6 YDS
Florida
Jeff Driskel: 3-of-6, 31 YDS, 1 INT
Tyler Murphy: 8-of-13, 135 YDS, 1 TD; 7 CAR, 83 YDS
Mack Brown: 16 CAR, 57 YDS, 1 TD
Matt Jones: 10 CAR, 42 YDS, 1 TD
Quinton Dunbar: 4 REC, 64 YDS
Solomon Patton: 3 REC, 73 YDS, 1 TD
That missed tackle could decide the game.
If Florida scores just a field goal, it would extend the Gators' lead to 17 points. A three-possession game will more than likely be too large a deficit for Tennessee to recover from.
Tyler Murphy is gaining more fans with each play…that was a nice 28-yard run there.

— Scott Carter (@GatorZoneScott) September 21, 2013
Tyler Murphy with a nifty 28-yard run.
Question of the day: Is illegal batting a real penalty?
Brilliant snap-decision by Darrin Kitchens to just slap the muffed punt out of bounds.
Despite the penalty, Florida will keep possession.
Jabari Gorman with a missed pick-six opportunity.
The interception would have given Florida the ball, at worst, near UT's 40-yard line.
This article is
What is the duplicate article?
Why is this article offensive?
Where is this article plagiarized from?
Why is this article poorly edited?