UFC 165 Live Results: Play-by-Play and Highlights of Jones vs. Gustafsson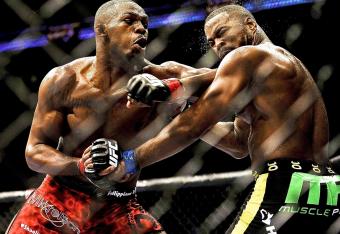 Jon Jones defeats Alexander Gustafsson in a close and controversial fight—a war that some are calling the greatest light heavyweight title fight of all time.
But did Jones actually win? Regardless of whether you answer "yes" or "no," it's clear that Jones has finally found a foil. One has to think this fight will warrant an immediate rematch.
Main Card (PPV)
Champ Jon Jones def. Alexander Gustafsson via unanimous decision (48-47, 48-47, 49-46)
Champ Renan Barao def. Eddie Wineland via TKO (strikes) - Round 2, 0:35
Brendan Schaub def. Matt Mitrione via submission (D'Arce choke) - Round 1, 4:06
Francis Carmont def. Constantinos Philippou via unanimous decision (30-27, 30-27, 30-26)
Khabib Nurmagomedov def. Pat Healy via unanimous decision (30-27, 30-27, 30-27)
Preliminary Card

Myles Jury def. Mike Ricci via split decision (29-28, 28-29, 29-28)
Wilson Reis def. Ivan Menjivar via unanimous decision (29-28, 29-28, 29-28)
Stephen Thompson def. Chris Clements via TKO (Punches) Round 2, 1:27
Mitch Gagnon def. Dustin Kimura via submission (guillotine choke) Round 1, 4:05
John Makdessi def. Renee Forte via KO (Punches) Round 1, 2:01
Michel Richard dos Prazeres def. Jesse Ronson via split decision (29-28, 28-29, 29-28)
Alex Caceres def. Roland Delorme via split decision (29-28, 28-29, 29-28)

Daniel Omielanczuk def. Nandor Guelmino via KO (punches) - Round 3, 3:18
Last but not least, check out my write-up on the news that the championship bout was almost stopped due to the cut Jones sustained in the first round.
Signing off, folks!
Check out our Burning Questions Heading into Fight Night 29!
This just in.
Jon Jones has been taken to the hospital on a stretcher following his fight.
Either way, I'm calling it a night. Make sure to keep an eye out for our post-fight coverage, including my soon-to-be-posted burning questions piece!
Most media members, though, seem to back the decision:
I had it 49-46 Jones. I am also a guy who is trying to type everything at the same exact moment it happens. Also, I'm not "official" so...

— Brent Brookhouse (@brentbrookhouse) September 22, 2013
3-2 Jones. Gustafsson took incredible shots, was exhausted and still didnt fall. One of the greatest title fights ever. Decision coming.

— Ariel Helwani (@arielhelwani) September 22, 2013
What a fight. It's over. I'm exhausted. I score it for Jones, but I have no idea who they are giving it to.

— Bleacher Report MMA (@BR_MMA) September 22, 2013
In close fights, fans and media always give the underdog the benefit of the doubt in close rounds. Jones won Rounds 2, 4, 5.

— FrontRowBrian (@FrontRowBrian) September 22, 2013
And the calls of robbery start rearing their heads. I scored it for Jones three rounds to two. The only toss-up round, in my book, was the second, which I gave to Jones based on his kicks landing. Not really sure why there is much outcry, but here is just a bit:
I thought @AlexTheMauler won that one

— Gray Maynard (@GrayMaynard) September 22, 2013
Well the decision is final so congrats on a great fight. Jones showed spirit for sure. I thought Gus won but as I say great fight, well done

— michael (@bisping) September 22, 2013
@DaMarques_UFC. That was a highway robbery Gus fucked him up he can't even walk

— Chris Weidman (@UFCMaestro) September 22, 2013
WTF....??? Really???

— Brandon Vera (@Verafied) September 22, 2013
Book the rematch
Jon Jones vs. Alexander Gustafsson Official Decision
Jon Jones defeats Alexander Gustafsson via unanimous decision (48-47, 48-47, 49-46)
Great fight, great effort by both fighters. I completely wrote off Gustafsson before this fight, and he proved me very wrong. Great showing by him, and the bruises, cuts and and busted lip on Jones shows that.
Great fight that, in many ways, saved the card.
Jon Jones vs. Alexander Gustafsson Round 5
Final Round. Gustafsson opens with a nice left-right and peppers with other punches. Jones lands a nice body kick followed by a leg kick. Jones clinches and Gus shakes it off, Gus returns the favor and lands a hard uppercut in response.
Jones goes for a superman punch and Gus lands a hard left counter. Jones lands a nice step-in elbow, and Gustafsson goes for a big clinch uppercut. He shoots for a takedown, but Jones recovers.
Jon lands a big right of his own, and goes for a takedown and finally lands one. Gustafsson squirms to the cage and stands right up. Jones presses forward. Gus breaks away.
Jones eats another huge headkick from Jones, but shrugs it off. Gustafsson is wheezing for some reason, and eats a head kick, and then another. Gus is incredibly exhausted all of a sudden, but stuffs a takedown.
Gustafsson musters up a hard right, but keeps eating leg kicks. He starts landing some lefts, though. Gustafsson seems to have recovered, but is still very tired. Jones lands another head kick, but Gustafsson shrugs it off. With ten seconds left, he eats a knee to the chin.
The horn sounds, and both fighters slump over in exhaustion. The end of the fight. I'd call this round, and this fight, for Jones, though I can see it going to Gustafsson as well.
10-9 Jon Jones
Jon Jones vs. Alexander Gustafsson Round 4
Jones lands a hard jab to start the round off. Gustafsson throws some hard leg kicks of his own, but Jones is starting to open up with his jab.
Gustafsson is finding success with his right straight, but Jones' sudden use of the jab is paying dividends, but he doesn't quite seem to realize it. Jones lands a hard leg kick, but Gustafsson keeps finding homes for his hands. Jones goes for a takedown, but Gustafsson defends again. Jones presses forward and hurts Jones with a hard left.
He follows it up with a combination, but Jones gets a big clinch. Gustafsson, remarkably, defends yet another takedown. Gustafsson's confidence is growing in earnest now, and he just keeps finding right hands. Jones shoots for a desperation takedown and it's stuffed again.
Jones lands a huge kick but Gustafsson shrugs it off and eats a big left. He goes for another spinning elbow, but doesn't commit. He throws another and it lands hard, hurting Gustafsson. Gustafsson runs away, and Jones goes for a takedown, but Gus defends.
Jones goes for more elbows and finds them. Gustafsson goes for a desperation takedown to get to the end of the round. Round-stealer, in my book.
10-9 Jon Jones
Jon Jones vs. Alexander Gustafsson Round 3
Jones lands a hard leg kicks, but Gustafsson lands a nice punch combination. Jones continues spamming kicks, but Gustafsson is making him pay with punches each time. Jones lands a nice high kick, but again, Gustafsson lands a nice pair of jabs.
Gustafsson is beginning to check the leg kicks consistently, and is starting to fire off his own. Gustafsson is beginning to, in earnest, beat Jones to the punch with consistency. Jones, for whatever reason, absolutely refuses to simply jab, always trying to land kicks instead. Gustafsson eats a kick to the body and is hurt from it.
Jones doesn't go for the kill, though, and Gustafsson recovers and starts to throw hands again. Gustafsson gets in on Jones and lands some nice punches. They break and Jones goes for his spinning elbow again. Gustafsson avoids taking damage, and takes the back but Jones slips away.
Jones tries to finish the round, but Gustafsson escapes any damage and, by my count, has this round.
10-9 Alexander Gustafsson
Jon Jones vs. Alexander Gustafsson Round 2
Jones goes right back to those front leg kicks to the obliques. Gus catches it and takes Jones down. Jones pops back up, and goes for a takedown of his own, leading to a race around the cage that the Swede eventually wins.
Back at striking range again.
Gustafsson eats a big left elbow from Jones but shakes it off. Gustafsson is doing great work getting inside Jones, but eats a kick, then returns a knee.
Gustafsson is on the outside now, though, and isn't showing quite as much lateral movement as he was in round 1. Jones lands a nice head kick that only really slaps, but still scores points. Gustafsson is committed to landing that left hand, but Jones is starting to find his range and continues landing kicks.
Jones goes for another head kick. Gustafsson catches it and Jones rolls out and looks for a leg lock, but Gus jumps out of it. Gus lands a hard right hand, but needs more if he wants to win the round.
Gustafsson eats a left trying to get in, but finds a right later. Jones has really recovered, and it shows as the round wraps up.
10-9 Jon Jones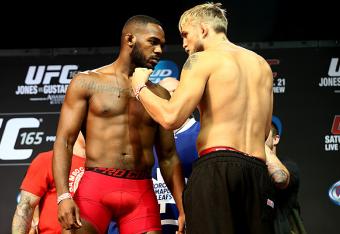 Jon Jones vs. Alexander Gustafsson Round 1
Main event time!
Gustafsson comes out throwing leg kicks and showing lots of lateral movement. Jones misses some of his famous oblique kicks, goes for a takedown attempt but Gustafsson runs out of it. Jones is spamming that side kick to the leg and it has Gustafsson a lot less spry already.
Gustafsson lands a big left hook that has Jones backpedaling a little. Jones is rearing back a bit, clearly looking for more of those front leg kicks to the thigh. Gustafsson lands a nice hand again, and then lands another nice left.
Jon Jones, holy crap, has a cut over his left eye.
Jones is starting to open up now, though. He lands some kicks, but eats punches from Gustafsson. Jones gets shockingly taken down by Gustafsson with a minute left on the clock. Jones gets up quickly, but still shocking.
Jones is showing urgency now, and presses forward, poking Gustafsson right in the eye when the Swede moves in for a punch. He recovers quickly, though and the action starts back up with 20 on the clock.
Jones goes for a spinning elbow and whiffs it. Jones looks for a takedown in the waning seconds. He doesn't get it but lands a hard elbow. Not nearly enough to take the round, though. An emphatic, impressed...
10-9 Alexander Gustafsson
Some quick tweets before the main event:
"@CarlaEsparza1: Pretty sweet dance at the end there Renan Barao!! #ufc" haha for sure

— Chris Holdsworth (@holdsworth135) September 22, 2013
I want to see Barao vs. Cruz so bad right now.

— Jeremy Botter (@jeremybotter) September 22, 2013
If you don't think Dominick Cruz is in serious trouble coming back you is crazy.

— Duane Finley (@DuaneFinleyMMA) September 22, 2013
There has been some serious spinning s--t going on in the Octagon lately. Renan Barao with another one. Defends his title again #UFC165

— Damon Martin (@DamonMartin) September 22, 2013
Renan Barao vs. Eddie Wineland Official Decision
Renan Barao defeats Eddie Wineland by TKO via spinning back kick at 0:35 of Round 2
Shocking end to the fight. The kick wasn't nearly as bad as it initially looked or sounded (it looked like Wineland should be getting brought directly to the morgue from there). Still enough to end the fight, and more than enough to give Renan Barao a highlight that will follow him as long as he fights with the UFC.
Huge win. Can't wait to see how many more main events the UFC keeps him out of.
Renan Barao vs. Eddie Wineland Round 2
Wineland rushes to the center of the cage but Barao is clearly back in his groove. Barao throws a massive spinning kick and Wineland ducks directly into it with a scary snapping sound.
Barao pounces, and Wineland is much less unconscious than one would thing. Still, the ref quickly pulls Barao away, and that gives him a great win.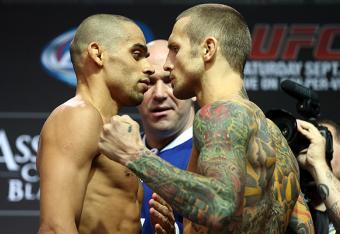 Renan Barao vs. Eddie Wineland Round 1
The biggest little fight that nobody really cares about due to the UFC's indifference towards every non-Urijah Faber bantamweight! Still should be a good one.
Wineland comes out with some happy feet, feinting punches hard while peppering in leg kicks. Barao goes for a leg kick, but it gets caught and Wineland lands a nice right. Wineland clinches things to the cage but gets separated by the ref due to inactivity.
Wineland is doing good work keeping Barao frozen in place. He is feinting non stop, and has Barao reluctant to commit to anything, save a whiffed spinning kick. Wineland is eating some leg kicks, but Wineland's solid striking is dominating the round so far.
Barao is starting to open up a tad bit, and lands a good right-left combination that has Wineland a bit less confident. He slips it again, but Barao is clearly not as scared as he was. Still, the horn sounds and this is a lost round for Barao.
10-9 Eddie Wineland
Matt Mitrione vs. Brendan Schaub Official Decision
Brendan Schaub defeats Matt Mitrione by submission via d'Arce choke at 4:06 of Round 1
Big win for Brendan Schaub, who has been under fire since his BJJ faux pas earlier this year. Even so, Schaub has clearly advanced his game since TUF10. Matt Mitrione has not.
Does he have a bright future in the heavyweight division? That remains to be seen. He trains at top gyms and is a massive heavyweight. We'll just have to see what he does in his next couple fights.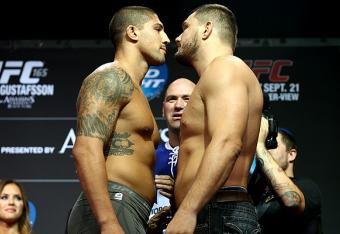 Matt Mitrione vs. Brendan Schaub Round 1
Schaub catches Mitrione with a right early, and both fighters, at least early, show that they're looking to get a knockout. Mitrione has a cut over his eyebrow from a headbutt.
While they swung hard in the first minute, the pace slows considerably after ninety seconds as Mitrione plods forward, and Schaub backpedals. Schaub, after a bit, runs into a big combination, throwing hands wildly before getting a double-leg takedown.
Schaub advances position and goes for a d'Arce choke. Mitrione gives the thumbs up initially, but that's in there tight. The ref goes in for a second look and Mitrione is out.
Quick end to the fight!
Costa Philippou vs. Francis Carmont Official Decision
Francis Carmont defeats Costa Philippou via unanimous decision (30-27, 30-27, 30-26)
No doubt here, and no trouble for Carmont. One of the most easy-to-call fights you'll ever spot.
A strong showing by Carmont for sure, but more so an awful display by Philippou, who basically demonstrated himself to have no real chance against any remotely competent grappler in the division. Hard not to call into question where he will find himself from here.
Costa Philippou vs. Francis Carmont Round 3
Carmont throws a wacky, slow spinning kick, but Philippou evades it with ease. Carmont, though, is throwing some huge kicks, though, and follows them up with yet another gigantic double-leg takedown.
Carmont's wiry frame is slightly reminiscent of Jon Jones, but striking is his true power, and he shows urgency in round 3 as he throws huge hands from top position. Philippou works his way back to his feet, but is once again taken right back down.
Philippou is absolutely lost right now, and he keeps going after sure-to-fail submission attempts. Carmont just rides Philippou for minutes on end, and when the 10-second clap happens, he simply stands up, walks away, and knows he has won while Philippou stays down, defeated.
10-9 Francis Carmont
Costa Philippou vs. Francis Carmont Round 2
Carmont lands another huge takedown shortly after the bell rings. They slide across the cage, but Carmont doesn't start landing ground and pound from top position for a few minutes. The ref, though, had seen enough by that point and stands them up.
Carmont goes for another takedown shortly afterwards. Philippou sprawls well, but he still powers through and finishes it against the cage. He threatens a kimura, but uses it to set up some powerful elbows. He lands some big hands from there, gets kicked off, but stays on top of Philippou.
Carmont works to mount, and gets it for a split second, but it doesn't matter based sheerly on how thoroughly he has dominated this round. The round ends with Carmont leaving no doubt thus far.
10-9 Francis Carmont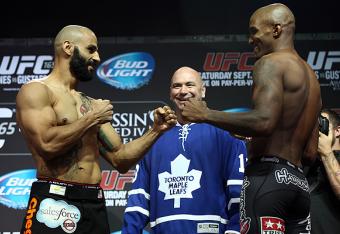 Costa Philippou vs. Francis Carmont Round 1
Boxer vs. Kickboxer! Carmont landing some biting leg kicks early and shoots for a big double leg takedown. Carmont takes the back and lands some big lefts against the cage. He hints at a rear-naked choke and Philippou rolls over, putting Carmont in his half-guard. Carmont throws some big hands.
Philippou hints at an armbar, but Carmont just moves right into side control off it. Philippou works things back to guard, but Carmont is smothering him with his grappling right now. With 10 seconds left, Philippou goes for an armbar, but to no avail.
10-9 Francis Carmont
Pat Healy vs. Khabib Nurmagomedov Official Decision
Khabib Nurmagomedov defeats Pat Healy via unanimous decision (30-27, 30-27, 30-27)
Nurmagomedov takes a huge win and takes the opportunity to call for a title shot in his interview with Joe Rogan. Beating Pat Healy is no small thing, and he did it in such convincing fashion that it is worth talking about.
Regardless, the Russian vaults deep into the lightweight top-10 with this win and finds himself at most a win or two away.
Pat Healy vs. Khabib Nurmagomedov Round 3
Nurmagomedov goes for an early takedown, can't get it, but follows up with a nice left hook. The Russian clearly wants to work things to the ground to seal up a victory, and Healy's best chances are clearly a knockout.
Khabib lands another big double and lands in Healy's guard. He doesn't land much, but he keeps top position with ease. Healy eventually works his way up, but gets picked up, carried and slammed down hard a la Matt Hughes vs. Frank Trigg.
Nurmagomedov goes for some wild ground and pound from there, Healy gives up side control to Khabib, and eats more punches. He gets things back to guard, but Khabib lands a hard right.
The horn sounds with the Russian on top, displaying all-around excellence.
10-9 Khabib Nurmagomedov
Pat Healy vs. Khabib Nurmagomedov Round 2
Healy lands a nice left early that wobbles Nurmagomedov and stalks from there. He recovers, though, and turns the corner fast on a takedown attempt, taking his back and landing some big left hands to Healy's head.
Healy breaks away and they return to striking. They continue with Khabib throwing quick punches and kicks while Healy tries to counter, but simply can't. Healy is starting to show signs of being tired, but lands a big right. Khabib shakes it off, though, and can't do anything with it.
Nurmagomedov clinches, but Healy shakes him to the ground. Things quickly move back to the feet but Khabib tries to bring it right back down, but can't. Healy, in spite of being tired, continues to press the action when he can.
Nurmagomedov again pushes things to the cage. They break, trade punches and go right back. With 30 seconds left, Nurmagomedov lands a good double-leg takedown.
Healy does a good job tangling Khabib up, but it's nothing that will save the round for him.
10-9 Khabib Nurmagomedov
This article is
What is the duplicate article?
Why is this article offensive?
Where is this article plagiarized from?
Why is this article poorly edited?