While there are certain to be some blowouts in Week 3 (sorry, Jaguars fans), there are also some really intriguing matchups between legitimate playoff contenders.
A number of teams are trying to prove that their 2-0 record is for real and not a fluke. Meanwhile, some squads are hoping to avoid their second or even third loss this early in the year.
This is certain to create some exciting football in the third week of the season. Here is a look at the top battles on Sunday, along with full predictions for the remaining slate of games.
Green Bay Packers vs. Cincinnati Bengals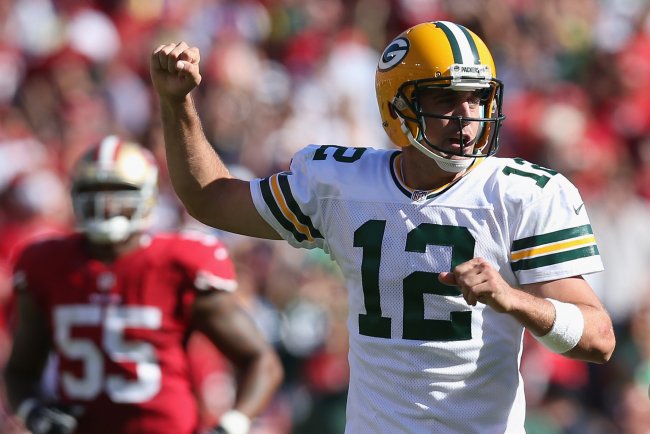 Jeff Gross/Getty Images
Despite starting the season 1-1, Green Bay still has one of the top offenses in the NFL. The unit ranks first in the league in yards per game and second behind the Denver Broncos in points per game. Aaron Rodgers has plenty of weapons around him, and the offense could be even more dangerous if the run game continues to be productive.
Then again, if anyone has a solid chance of slowing down this group, it is the Bengals. If the defensive line can put pressure on Rodgers, it will force him into making bad decisions and will eventually lead to some turnovers.
On the other side of the football, A.J. Green also has a chance for a big game against a struggling Packers secondary.
Despite all of this, it is hard to imagine the Bengals staying with Green Bay on the scoreboard. Rodgers knows how to avoid pressure and find his targets down the field better than anyone else in football, and he will be able to put up enough points against this quality defense to come away with a road victory.
Prediction: Packers 31, Bengals 27
Houston Texans vs. Baltimore Ravens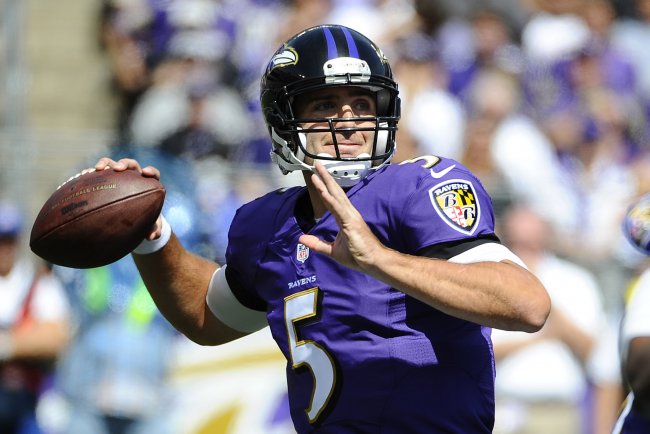 Brad Mills-USA TODAY Sports
Neither of these teams has performed well to start the season. The Ravens were blown out by the Broncos and then could barely move the football against the Cleveland Browns. Meanwhile, the Texans fell behind early in both games to start the year, but they pulled out late wins over the San Diego Chargers and Tennessee Titans.
Obviously, winning is the most important thing, but there is not much reason to have confidence in Houston, despite its 2-0 record.
One thing to look for in this game is a truly breakout performance from Bernard Pierce. With Ray Rice injured and doubtful for Sunday, the bigger Pierce will get his chance to have a huge game on the ground. This will set up Joe Flacco to have more space on play-actions, and the Ravens will finally start to resemble the squad that won the Super Bowl last season.
Prediction: Ravens 20, Texans 17
Atlanta Falcons vs. Miami Dolphins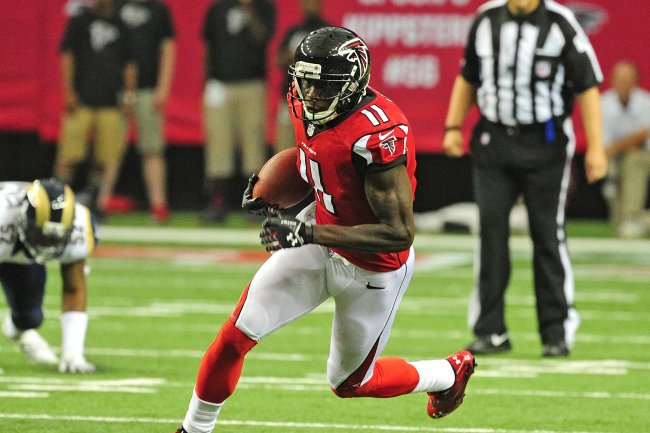 Scott Cunningham/Getty Images
The Kansas City Chiefs made a big statement Thursday night to prove that their undefeated record was legitimate. The Miami Dolphins will try to do that as well on Sunday.
Miami has been impressive to start the year, with road victories over the Browns and Indianapolis Colts. Amazingly, the Dolphins only had two road wins all last season.
Ryan Tannehill has been one of the most improved players in the NFL, and the defense has held up strong in the two wins.
Unfortunately, though, that defense has not been challenged like it will be against the Atlanta Falcons. Matt Ryan and Julio Jones have been perfectly in sync to start the year, and whatever the squad can get out of Roddy White is a bonus.
While Steven Jackson is out for the game, Jason Snelling and Jacquizz Rodgers are experienced enough to provide balance to the offense.
Although Miami still has a chance of playing for a playoff spot, the squad will lose its first game of the year on Sunday.
Prediction: Falcons 28, Dolphins 17
NFL Week 3 Games

| | | |
| --- | --- | --- |
| Home Team | Predicted Score | Road Team |
| Cincinnati Bengals | 27-31 | Green Bay Packers |
| Minnesota Vikings | 21-3 | Cleveland Browns |
| Dallas Cowboys | 24-21 | St. Louis Rams |
| Washington Redskins | 27-35 | Detroit Lions |
| Tennessee Titans | 20-21 | San Diego Chargers |
| New England Patriots | 17-14 | Tampa Bay Buccaneers |
| New Orleans Saints | 31-21 | Arizona Cardinals |
| Carolina Panthers | 28-27 | New York Giants |
| Baltimore Ravens | 20-17 | Houston Texans |
| Miami Dolphins | 17-28 | Atlanta Falcons |
| New York Jets | 13-16 | Buffalo Bills |
| San Francisco 49ers | 31-20 | Indianapolis Colts |
| Seattle Seahawks | 27-7 | Jacksonville Jaguars |
| Pittsburgh Steelers | 6-17 | Chicago Bears |
| Denver Broncos | 38-17 | Oakland Raiders |
Follow Rob Goldberg on Twitter for the latest breaking news and analysis.