Final Score: Ohio State 76, Florida A&M 0
Ohio State knocked off the overmatched Florida A&M Rattlers by a final margin of 76-0 on Saturday afternoon. With the exception of a freshman backup getting injured, Ohio State avoided any injuries or problems that could linger on into next week when Big Ten kicks off.
In addition, the Buckeyes managed to play a lot of young, talented backups and showed even more depth at certain positions like running back. But even the backups were better than the best the Rattlers could offer, as FAMU did not cross midfield the entire game.
All told, this was exactly what was expected and exactly what the Buckeyes needed heading into conference play. The players stay sharp and healthy with this final victory in non-conference play.
Here are our grades of the Buckeyes for this lopsided victory.
For the full box score, check out NCAA.com.
Ohio State Buckeyes Game Grades

| | | |
| --- | --- | --- |
| Positional Unit | 1st Half Grades | Final Grades |
| Pass Offense | A | A |
| Run Offense | B | A |
| Pass Defense | A | A |
| Run Defense | A | A |
| Special Teams | A | B+ |
| Coaching | A | A |
vs. FAMU September 21, 2013
Game Analysis for the Ohio State Buckeyes

Pass Offense
Kenny Guiton did most of his work early, having an efficient record-breaking day with six touchdowns to go with 215 yards passing.
The Buckeyes found success with a lot of different formations and types of passes, but it will be interesting to see how much of this is used against Wisconsin.


Run Offense
Although the run offense was limited in the first half, the Buckeyes imposed their will all over the FAMU defensive line in the second half.
Freshman Ezekiel Elliott showed great explosiveness and why he will be a future star, as OSU rumbled to over 350 on the ground.
Pass Defense
Much like the Buckeyes, Florida A&M went to a backup quarterback and largely away from the pass in the second half.
As a result, the amazing number of holding the Rattlers to 30 yards passing on the game is sure to stand out.
Run Defense
Another week, another incredible effort against the run by the Silver Bullets defensive front. FAMU managed no run for more than 10 yards and only managed 2.0 yards per carry.
This was just what was needed heading into a much tougher test versus Wisconsin.
Special Teams
Even backup kicker Kyle Clinton got into the mix in this game, as Drew Basil only kicked seven of the extra-point attempts.
Philly Brown's punt return remains the highlight, but a couple of big plays on punt blocks was just the momentum shift the Buckeyes look for out of this unit.
Coaching
Credit the defensive coaches for having the backups just as ready to go in this week as the starters. Despite having to play with backup quarterbacks, the Ohio State offense just kept on getting better.
This team is ready for Big Ten play, so mission accomplished.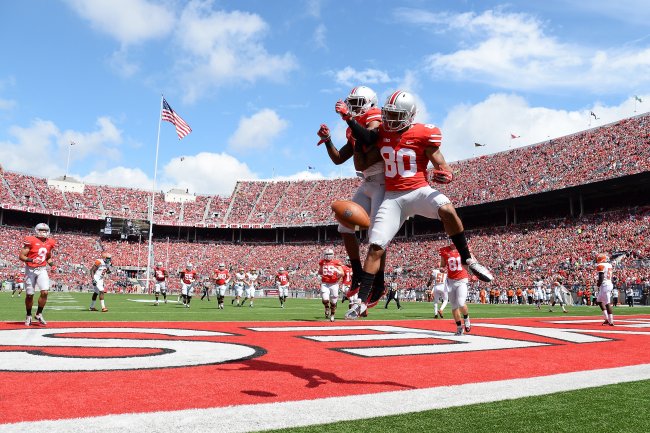 Jamie Sabau/Getty Images
First-Half Analysis for the Ohio State Buckeyes

Pass Offense
Kenny Guiton threw a couple bad passes, including an interception in the end zone, but overall, he made good reads with all the time the offensive line provided.
The Buckeyes worked hard on the passing game in the first half and show a lot of promise. Nine different receivers catching passes and six touchdowns (school record) speaks for itself.
Run Offense
Ohio State only ran two rushing plays in the first quarter, so it was difficult to judge the unit. However, Jordan Hall nabbed two quick touchdowns, and Carlos Hyde looked dominant once he shook the rust off in the second quarter.
Pass Defense
The Buckeyes have prevented substantial yards after the catch, as FAMU only managed 26 yards on eight receptions.
The defensive line is getting great pass rush for the most part, and backup lineman Chase Ferris was fantastic breaking up plays this half.
Run Defense
Although OSU is usually stingy against the run, 17 yards on 11 carries is a whole new level of shutdown defense.
The linebackers, led by Ryan Shazier, have really crashed down to stop any Rattlers from breaking off more than a few yards at a time.
Special Teams
Drew Basil hit all his extra points but did have two kickoffs that went out of bounds.
However, the punt return team has been great, with a 65-yard return by Philly Brown and two blocks already in the first half. Field position is no problem with this effort.
Coaching
Interesting decisions in the first half to work more on the passing game, but expect more running in the second as OSU continues to work in more players.
Ohio State is totally focused despite the lesser competition, and that reflects well on Urban Meyer and his coaching staff.