No. 1 Alabama sustained a spirited effort from Colorado State and hung on for a 31-6 victory to move to 4-0.
Alabama 31, Colorado State 6, Final
For the full box score, head over to NCAA.com.
Alabama Crimson Tide Game Grades

| | | |
| --- | --- | --- |
| Positional Unit | First Half Grade | Final Grade |
| Pass Offense | B | B |
| Run Offense | C- | D+ |
| Pass Defense | B+ | A- |
| Rush Defense | A | A |
| Special Teams | A | A |
| Coaching | A- | B+ |
Week 4 vs. Colorado State
Game Analysis for the Crimson Tide:
Pass offense: A.J. McCarron's early fourth quarter TD pass took all the air out of CSU's comeback bid. He was efficient in the first half and mostly hit or miss after the break. Ultimately, McCarron completed 20-of-26 passes for 258 yards, one touchdown and one pick. What stuck out was the fact that they didn't convert on third down until there was 3:21 left in the game.
Run offense: Alabama never established the run in this one. T.J. Yeldon's first run went for 38 yards, which accounted for all but 28 of their total for the game. His suspension in the first quarter got them off on the wrong foot, and 'Bama never recovered.
Pass defense: The inexperienced secondary 'Bama put out there tonight did their job. CSU sustained a couple of time-consuming drives early in the second half that resulted in six points, but other than that the Rams had very little room to operate down the field. The Tide limited them to short passes all night.
Run defense: Alabama's front seven suppressed the run game all night. CSU's longest run of the game was for nine yards. The gang tackling was a thing of beauty and forced the Rams to rely on the pass for the majority of their time on offense.
Special teams: The punt block for a touchdown was a huge play with the offense sputtering in the first half. Alabama got dangerously close to blocking another one late, clearly rattling CSU's punter after the block. Alabama's kick coverage led by Christion Jones was spectacular. The only hiccup was the missed field goal in the first half.
Coaching: Saban and the coaching staff had their moments tonight. Their third down play-calling was questionable, often erring on the conservative side. Alabama made an aggressive play call early in the game to go for it on fourth down inside the five, resulting in a touchdown. Saban also sent the house towards CSU's punter all night and did a great job.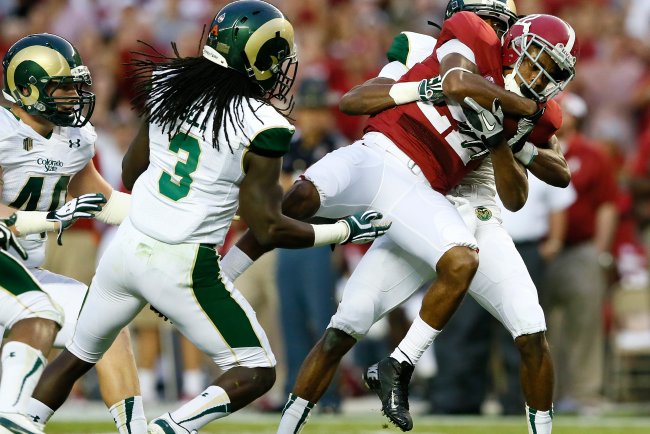 Kevin C. Cox/Getty Images
First-Half Analysis for the Alabama Crimson Tide:
Pass offense: A.J. McCarron mostly had his way with the CSU secondary to the tune of 11-for-15 and 144 yards. Without his favorite target, Amari Cooper, A.J. broke out the bootlegs, slants and checkdowns, but he did a ton of his damage on the play action. He did misfire on a couple of throws, and 'Bama failed to convert all five of its third downs.
Run offense: Jalston Fowler and Kenyan Drake managed 11 yards on seven carries in the first quarter, getting cut off on the outside and stuffed up the middle. T.J. Yeldon ripped off 38 yards on his first carry after his first quarter suspension. Besides Yeldon's run, Alabama failed to establish any sort of rhythm with the run game.
Pass defense: Safety Vinnie Sunseri was swarming quarterback Garrett Grayson early on. Bama's depleted secondary held their own, despite a few big plays. Tight man coverage has been the game plan, leaving CSU relegated to mostly checkdowns and screens. Blitzing also seems to be the only way 'Bama can get pressure on Grayson.
Run defense: Linebackers C.J. Mosley and Adrian Hubbard truly stood out, flying all over the field for tackles in the secondary and behind the line of scrimmage. They have mostly overpowered the smaller offensive line of CSU, allowing just 23 yards on the ground.
Special teams: Kenyan Drake was ineffective out of the backfield, but his punt block for a touchdown early in the second quarter was huge. The spectacular Christion Jones made a couple of great tackles on a kickoff and a punt. Cade Foster did hook a 46-yarder wide left, though.
Coaching: Nick Saban's call to go for it on fourth down inside the 5-yard line resulted in a rushing touchdown for Drake. Saban has his boys on defense pressuring hard and swarming to the ball after the 628 yards they gave up last week.