Boise State vs. Fresno State: Live Score and Highlights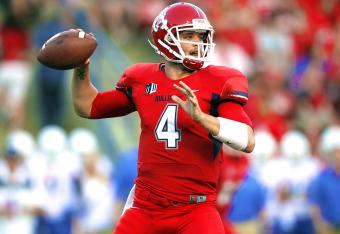 Fresno State beat Boise State at home on Friday night, snapping a seven-year losing streak against its rival with a wild 41-40 win.
Current Score: Fresno State 41, Boise State 40 – FINAL
Thanks so much for reading along all night. It was certainly one to remember. Feel free to stop by for all of the season's biggest games.
Have a good night!
Final Thought:
This is Fresno State's night, and the biggest takeaway of the evening is that the Bulldogs are legitimate threats (if not favorites) to crash the BCS.
But let's not overlook what Boise State did. These are not the same, thoroughly dominant Broncos of year's past, but they showed steely resolve to come back and take the lead in a hostile environment.
Someone is to blame. There are fingers to be pointed for sure. But Joe Southwick—the most likely scapegoat—did some amazing things on that football field.
Derek Carr was the best QB in tonight's game. But it wasn't as lopsided as it could have been. Boise State has a quarterback it can feel good about.
Even in unfamiliar defeat.
Are the Bulldogs poised to crash the final BCS?
Fresno State just got over the biggest hurdle on its schedule. The Bulldogs might (and should) be favored by double digits in all of their remaining games.
They don't get Utah State, and only road games at Wyoming and San Jose State seem to poise any potential threat way from home.
Just one caveat: As a result of expansion, the Mountain West will have a conference championship game for the first time this season.
The Bulldogs might have to play Boise State again.
Mark your calendars.
Fresno was better. It shouldn't have been this close. But slaying that kind of dragon isn't easy.

— George Schroeder (@GeorgeSchroeder) September 21, 2013
USA Today's George Schroeder says it perfectly.
There was no reason this game should have been so close. Fresno let Boise hang around, couldn't drive a stake in the Broncos heart, and needed some late-game heroics to walk out with a victory.
But that doesn't matter. The ends justify the means. All that matters is winning, and the Bulldogs exorcised some massive personal demons.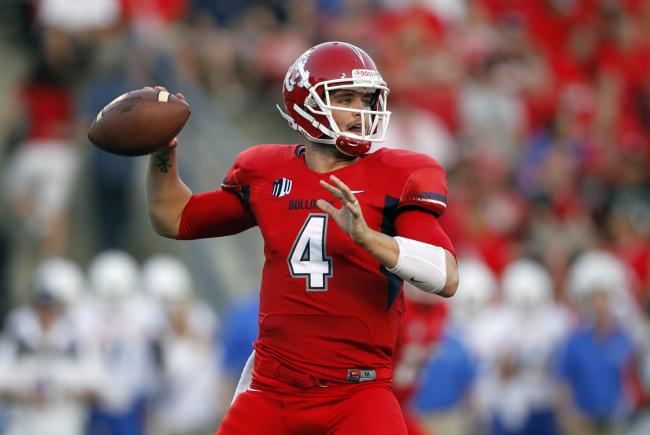 Player of the Game: QB Derek Carr, Fresno State
Derek did what his brother, No. 1 overall draft pick David, could never do. He finally beat Boise State.
Carr finished the game with 460 passing yards and four touchdowns.
In the post-game interview on ESPN, he said he won the game for his brother.
FINAL – Fresno State 41, Boise State 40
It's over, folks.
Boise State's seven-game win-streak over Fresno is a thing of the past.
The Broncos drop to 2-2 and gave to lick some wounds. The Bulldogs remain undefeated and appear on course for a potential BCS bowl.
What. A. Game.
Turnover on Downs
Fresno brought pressure on 4th-and-6, Southwick stood in and delivered a nice pass to Kirby Moore, but it was broken up (and bounced off his hands) at the last second.
Fresno takes over and can kneel for the victory.
Boise worked a number of plays in rapid succession, and now finds itself around midfield. It finally used its second timeout of the half (first of the drive) to stop the clock after Matt Miller gets tackled in bounds.
Boise State is INFAMOUS for its kicking struggles, even if its hasn't reared its ugly head as recently. But it needs to get in FG range first; the Broncos are now facing fourth down around midfield.
Bulldogs Touchdown – Fresno State 41, Boise State 40
Fresno punches it in on a shotgun draw by Quezada.
The only question: Did it leave Boise State too much time? The Bulldogs scored on first down and leave 2:14 on the clock.
Does Joe Southwick have a two-minute-drill comeback in him? Can Dan Goodale be trusted to hit a game-winning kick, or does it need to be a touchdown?

Fresno State is driving, now inside the Boise State 20.
Worth nothing: This one pretty much can't go to overtime. The only plausible way it could would be a Fresno touchdown and missed PAT.
If that doesn't happen, we're inside the final four minutes of game time.
Boise went back to its trick-play roots to (finally) convert for two points. Take a look.
#BoiseState scores a TD on the Southwick QB dive keeper and the Broncos take their first lead of the night.

— Bryant-Jon Anteola (@Banteola_TheBee) September 21, 2013
Broncos Touchdown – Boise State 40, Fresno State 34
First. Lead. Of. The. Night.
And it couldn't come at a better time. BSU gets the two-point conversion and now leads 40-34.
I can't help thinking back to that chop block, which negated a Fresno State TD. The Bulldogs would have been up 38-19. Oh, how things have changed.
Refs have conflicting calls here. One says touchback, other says out of bounds at the 3.

— Times-News Bronco FB (@TN_Broncos) September 21, 2013
THE CRAZY KEEPS GETTING CRAZIER
Southwick runs left end, inside the Fresno State five. He's stripped and the ball bounces out of the end zone, which appeared to give Fresno a touchback.
But he's ruled out of bounds at the three yard line, and though it's under review, it appears it will stand. Boise State—somehow—should have the ball inside the five with the chance to take a lead.
Turnover
Wow. What on Earth just happened.
The conversion is ruled no good, and Boise State trails by two. But Fresno State has an aborted fumble on the kickoff, giving the ball back to Boise.
Wow. Broncos ball near the red zone.
May want to review that. I thought he got in.

— Tom Fornelli (@TomFornelli) September 21, 2013
Broncos Touchdown – Fresno State 34, Boise State 32
Boise drives down the field and Baltazar punches it in for the score.
The two-point conversion is ruled no-good on an option pitch, but it is currently under review. It looked an awful lot like Baltazar—reaching an outstretched arm—might have gotten in.
If he did, not only is it an amazing individual effort, it's the biggest play of the game.
Baltazar's backup is named Nebuchadnezzar. Don't look it up. Just trust me.

— mgoblog (@mgoblog) September 21, 2013
Boise State driving to tie the game, inside the 10 yard line. Need something to break the tension?
Someone needed to say it...
Stunned Fresno State did not go for that. Boise State down 1 possession with the ball.

— Brian Murphy (@murphsturph) September 21, 2013
Fresno has been good on fourth down tonight, but opted to punt on 4th-and-1 at the Boise 43.
Carr pooched it inside the 15, but not inside the five like Southwick did earlier. The Broncos will have bad-but-not-terrible field position, needing just one score (and a conversion) to tie the game.
They're fortunate to be in this position.
Burroughs has had two kickoffs over 50 yards tonight. 55 and 58.

— Boise State Football (@BroncoSportsFB) September 21, 2013
Dallas Burroughs having a huge game for Boise. The return that set up the Broncos' last score was his second of 50-plus yards tonight.
Field position has helped bring the Broncos back. They'll enter the fourth quarter down by just eight.
Broncos Touchdown – Fresno State 34, Boise State 26
Talk about quick answers...
A big kick return puts Boise at the Fresno 35, and one play later, after an Aaron Baltazar run, the Broncos are in the end zone.
The drive took less than 20 seconds off the clock.
Now Fresno, which minutes ago appeared to be up by three scores, leads by just one. We have ourselves a game, folks.
Difference between a TD & FG on that possession is huge. 2 possession game much different from 3 possession

— Kyle Kensing (@kensing45) September 21, 2013
B/R's Kyle Kensing agrees.
Bulldogs Field Goal – Fresno State 34, Boise State 19
Fresno extends the lead, but doesn't land the knockout blow it hoped (and appeared) to land.
Boise State's defense bends without breaking, coming up with a big stand and keeping this a two-score game.
The Broncos need points on this next possession. And it has to be seven or eight—not three or six.
Touchdown called off because of a chop block from #FresnoState. Bulldogs o-line, though, doing a great job pass blocking.

— Bryant-Jon Anteola (@Banteola_TheBee) September 21, 2013
Fresno appeared to have just iced the game with a touchdown, but the play was called back for a chop block.
Still, because it bears mentioning, Fresno's offensive line has played well all night. That was it's first big mistake.
This is how you run a fake punt inside your own 10-yd line: http://t.co/4dbqfKnRAx #BOISEvsFRESNO

— ESPN CollegeFootball (@ESPNCFB) September 21, 2013
Given recent developments, it may not have the game-changing impact it once appeared to have.
But here's some sick video of Boise State's fake punt.
Bulldogs Fumble Recovery
Huge, costly, massive turnover. Boise drives down to the red zone, but gets stuffed. The Broncos go on fourth down and get it, but Ajayi promptly fumbles before going down.
Fresno ball. HUGE momentum shift. Still a two-possession game.
And the huge call goes Fresno State's way.
The pass is ruled incomplete, and Fresno punts it away. Boise will get the ball on the Fresno 48 instead of the Fresno 15.
That's a 33-yard difference.
This article is
What is the duplicate article?
Why is this article offensive?
Where is this article plagiarized from?
Why is this article poorly edited?