Ranking the 10 Highest Octane Offenses Heading into NFL Week 3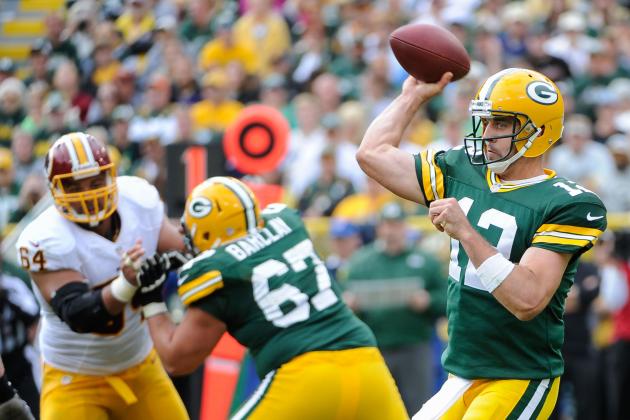 Benny Sieu-USA TODAY Sports

With the NFL's Week 3 already under way, the old familiar faces on offense have dominated the league once again, as the Denver Broncos and Green Bay Packers continue to pile up points.
But that's just the tip of the iceberg.
Chip Kelly's innovative scheme has helped rejuvenate the Philadelphia Eagles, while Mike McCoy has brought some of Denver's tricks over to the San Diego Chargers.
These new innovations have continued to drive offensive numbers through the roof.
There are seven teams in the league averaging more than 400 yards in a game right now, which was unthinkable as recently as a decade ago.
The NFL will continue to ramp up the intensity on offense as the year goes, but these following 10 teams represent the most explosive offenses in the league right now, based on their yards per game and potential playmakers.
Begin Slideshow

»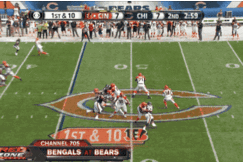 A.J. Green is an incredibly explosive weapon for Cincinnati. Courtesy of Bleacher Report.
Cincinnati Bengals
Andy Dalton may not be the most imposing leader of any of the offenses on this list, but he's still helped the Cincinnati Bengals pile up the 12th-most yards per game of any team in the league.
As this GIF makes clear, A.J. Green is one of the premier playmakers in the league, making the Chicago Bears' normally stout pass defense look silly in Week 1.
The team also has a potent mix of tight ends, with both Tyler Eifert and Jermaine Gresham opening things up for the offense.
The main issue holding this team back is the running game-rookie Giovani Bernard had a big game against the Pittsburgh Steelers, but can he repeat that performance going forward?
Atlanta Falcons
Matt Ryan remains a steady, if unspectacular, quarterback, although this offense hasn't taken off quite yet.
The team is still 11th in yards per game, with 380 yards per contest, but Steven Jackson's addition hasn't helped the team as much as many thought it would.
He's only ran 14 times for 77 yards, and the team has continued to rely on the brilliance of Julio Jones.
Jones already has 258 yards and two touchdowns, but if he remains the only playmaker on offense, then it will be easy for defenses to focus on stopping him.
Many thought the St. Louis Rams would improve on offense this year, but no one thought it would happen so quickly.
Sam Bradford is completing 63 percent of his passes, five percent higher than his career average, and his new targets have really helped with this improvement.
As this video shows, tight end Jared Cook's athleticism has given the unit a new dimension, as his combination of speed and physicality have made him a matchup nightmare for linebackers.
Rookie Tavon Austin has yet to make a big impact, with only 12 receptions so far, but his two touchdowns show that his progression will only help this offense continue to flourish.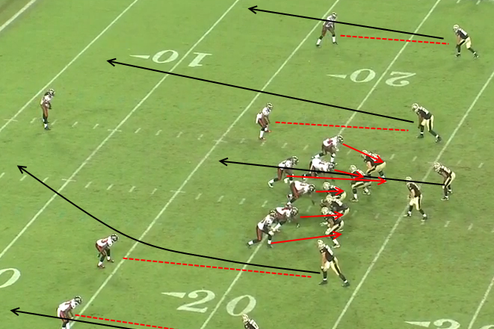 Jimmy Graham's ability to line up wide adds a new element to the Saints offense. Courtesy of SB Nation.
Drew Brees is no stranger to piling up yards, and nothing's changed this year.
Jimmy Graham is the most threatening and versatile weapon in the league, and he's helped the offense average 395 yards a game.
As the diagram shows, Graham often lines up as a type of slot receiver when the Saints use their shotgun formation.
This puts a great deal of pressure on opposing defenses; they have to decide whether to shift their nickel cornerback over to keep up with Graham and leave a linebacker on the other slot receiver or hope that the linebacker is speedy enough to blanket the tight end.
It's a tough choice, and it forces defenses into a variety of unfavorable matchups.
If the New Orleans Saints could just cobble together a running game, they might be in the spot of the next team on this list.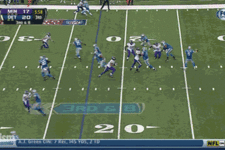 Reggie Bush has been explosive for the Lions. Courtesy of guyism.com
After a down year last season, the Detroit Lions are back with another explosive offense.
Matthew Stafford is completing close to 66 percent of his passes right now, and his running backs have been a big help in that department.
Reggie Bush and Joique Bell have combined to run for just 171 yards, but they've caught 17 balls for 253 yards.
As this GIF suggests, the Lions' proficiency with the screen game is a big part of them averaging 395.5 yards per game.
Their ground game could certainly use work, however, which is keeping them behind this next team.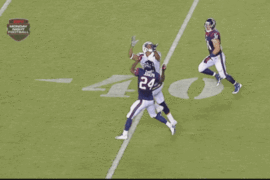 Malcom Floyd's athleticism is a real boon for the Chargers. Courtesy of Bleacher Report.
After a horrendous 2012 season that brought trade rumors to San Diego, Philip Rivers is looking like his old self again.
He's thrown for seven touchdowns and just one interception to help the team pile up historic amounts of offense.
Antonio Gates is looking healthy for the first time in years as well, averaging 17.3 yards a catch.
Even Malcom Floyd has improved, averaging 24.8 yards per reception, and making acrobatic catches like the GIF shows.
The Chargers might have benefited from playing Philadelphia's porous defense in one of their games, but this is still an offense on the rise.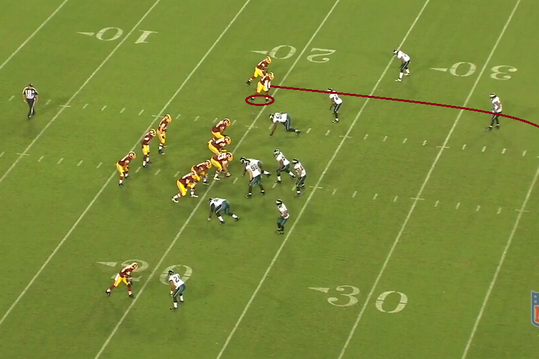 Leonard Hankerson and Pierre Garcon form an imposing tandem. Courtesy of SB Nation.
All the talk in Washington is about the Redskins' 0-2 record, but that obscures the fact that this offense is still potent.
Many of the 804 total yards the team has racked up have come when the team's been playing catch-up after allowing the other team to take a big lead, but the unit can still produce in fits and starts.
Robert Griffin III is still finding his footing, and while he's sailed some of his throws, he still has an impressive arm that he uses to deliver tight spirals, like the GIF shows.
Alfred Morris is still playing consistently, averaging 6.1 yards per carry, and Leonard Hankerson has started to develop with his eight catches for 115 yards.
Their record might not reflect it, but this offense should slowly, but surely, help the team stay competitive.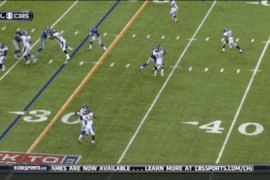 Eli Manning's interceptions are often products of bad luck rather than his shortcomings. Courtesy of SI.
The New York Giants are another 0-2 team that is still searching for answers defensively, but the offense has not been the problem.
Eli Manning has helped the team lead the league in passing yards per game, and they're currently averaging 427 yards of offense per contest.
He's thrown an ugly seven interceptions, but as the GIF shows, it's largely been the product of bad luck rather than his own issues.
Victor Cruz continues to be one of the premier playmakers in the league, as he caught 13 balls for 236 yards and three scores already.
The challenge is the ground game. David Wilson has lost the trust of the coaching staff after some early fumbles, and Da'Rel Scott isn't anything to write home about.
This stands in stark contrast to the next team on this list, which is one of the few to feature a potent running attack.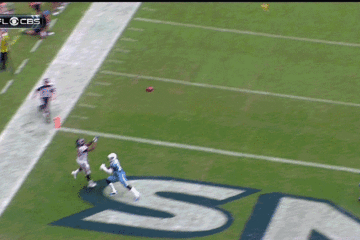 DeAndre Hopkins is an athletic addition to the Texans. Courtesy of Deadspin
Unlike the rest of the teams on this list, Houston's greatest strength is its rushing attack, instead of the passing game.
Arian Foster and Ben Tate form a potent running back rotation, as they've combined to run for 284 yards so far.
Matt Schaub is still playing well, and the combination of the passing and running games helped the team place fourth in yards per game with 450.5 per contest.
But DeAndre Hopkins has helped add a new dimension to the passing attack. As the GIF shows, his athleticism is the perfect complement to Andre Johnson.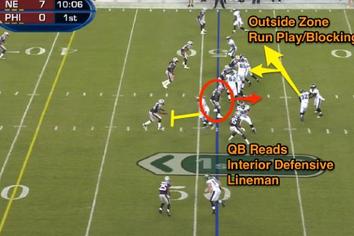 Michael Vick has quickly become adept at Chip Kelly's zone-read concepts. Courtesy of Smart Football
Chip Kelly has delivered on his reputation as the premier offensive mind in football.
His Philadelphia Eagles are averaging 461.7 yards a game, and much like his old Oregon Ducks team, they're doing it by running the ball.
They lead the league in rushing yards per game, and as the play diagram shows, Michael Vick's ability to run zone-read plays is a big reason why.
Vick is averaging 9.6 yards per run, and the threat of Vick's legs has allowed running back LeSean McCoy to run for 395 yards and two scores.
But for all of Vick's talents, he can't compare to the proficiency of the next two passers on this list.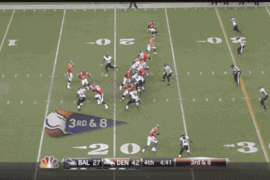 Demaryius Thomas has elite playmaking ability. Courtesy of Bleacher Report.
Peyton Manning has orchestrated another dominant offense in Denver.
The team's averaging 462 yards per game and is currently third in passing yards.
Demaryius Thomas has shown a consistent ability to make big plays, as he's averaging an insane 21.3 yards a catch.
All Manning has to do is get the ball in his hands, and as the GIF shows, he'll do the rest.
The running game is impressive as well. While the team is only 21st in run yards per game, Knowshon Moreno has started to deliver on his potential with his 5.5 yard-per-carry average.
But as good as the Broncos have looked at times, they still can't quite compare to the excellence of the leader of this final team's offense.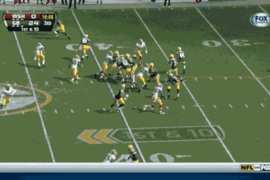 Aaron Rodgers is in complete command of the Packers' offense. Courtesy of GIFD Sports.
Tom Brady and Peyton Manning might get all the publicity, but Aaron Rodgers is the best quarterback in the league right now, and he leads the NFL's most explosive offense.
The Green Bay Packers are second in passing yards per game and first in total yards, averaging a whopping 482.5 yards per match.
Randall Cobb has ably stepped in to replace Greg Jennings, and Rodgers can still deliver the ball with velocity and accuracy, as the GIF shows.
The quarterback has already thrown for 813 yards, and when that's combined with a running attack that's currently averaging 101 yards per game, this offense is nearly unstoppable.
Rodgers is the master of all he surveys on the field right now, and that makes the Packers tops on this list.