Miami Dolphins wide receiver Brian Hartline proved himself as a go-to target with 1083 yards receiving last season.
Now, Hartline may be the No. 1 option in the team's passing game again since speedy teammate Mike Wallace is questionable for Sunday's home opener against the Atlanta Falcons.
According to Armando Salguero of the Miami Herald, Wallace was limited by a groin injury during Friday's practice and is essentially a 50-50 proposition to play at Sun Life Stadium in Week 3:
WR Mike Wallace (groin) and C Mike Pouncey (ankle) were limited in practice today and are questionable for the game.

— Armando Salguero (@ArmandoSalguero) September 20, 2013
Listed at 6'2" and just under 200 pounds, the 26-year-old Hartline was a fourth-round draft pick in 2009 and has been an extremely valuable return considering the franchise's modest investment in him.
The strengths of Hartline's game are the fundamentals and nuances of the receiver position, which reflect a player who's worked hard since being passed over by so many teams in the draft.
Strong, sure hands allow Hartline to catch just about anything thrown his way, and he's displayed a knack for field awareness with regard to catching balls on the sidelines.
Omar Kelly of the South Florida Sun-Sentinel has consistently noticed that in covering the team:
I'm so use to Brian Hartline making ridiculous sideline, tip toe catches they have become routine to me.

— Omar Kelly (@OmarKelly) September 15, 2013
His short-area quickness and work ethic have allowed him to become an increasingly precise route-runner, too.
Who will finish 2013 with more receptions?
Speed is the perpetually underrated attribute Hartline possesses. It's allowed him to average 14.9 yards per catch in his career. That's not quite as explosive as Wallace's 17-yard average, but it still makes Hartline at least a respectable deep threat.
That's good news for quarterback Ryan Tannehill, whose rocket arm drives the ball outside the numbers, down the seam and very deep.
Hartline caught nine passes for 114 yards and a big touchdown in Week 1's 23-10 victory over the Cleveland Browns, while Wallace only had one catch in the game.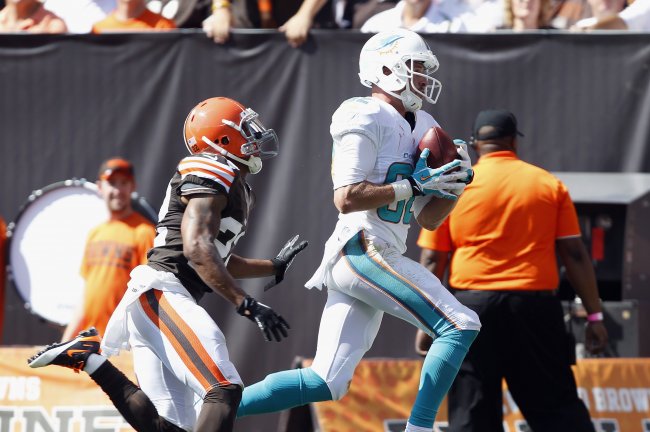 Matt Sullivan/Getty Images
The touchdown Hartline caught to beat Buster Skrine, who is extremely fast in his own right, showed off Hartline's fleet feet and the capability he has to make big plays down the field.
Last season when Hartline ascended to relative stardom, he had an 80-yard catch-and-run against the Arizona Cardinals, outrunning safety Adrian Wilson:
Video Credit: Ty Schalter
Even when Wallace broke out in Indianapolis this past Sunday, Hartline kept producing with five catches for 68 yards.
So if Wallace is out, it's still feasible to count on Hartline. The youth of Atlanta's secondary will be tested, as Desmond Trufant will likely have a difficult time matching up with Hartline since he is an all-around stellar receiver.
It's hard to poke many holes in Hartline's game. Given his relatively young age and steady improvement, he's only bound to get better as Tannehill gets more comfortable in his second year under center.
Wallace's injury doesn't seem serious—he still may play on Sunday—but Hartline is more of a fringe No. 1 and definite No. 2 wide receiver.