Looking Back at the 25 Most Memorable Moments of the 2013 MLB Regular Season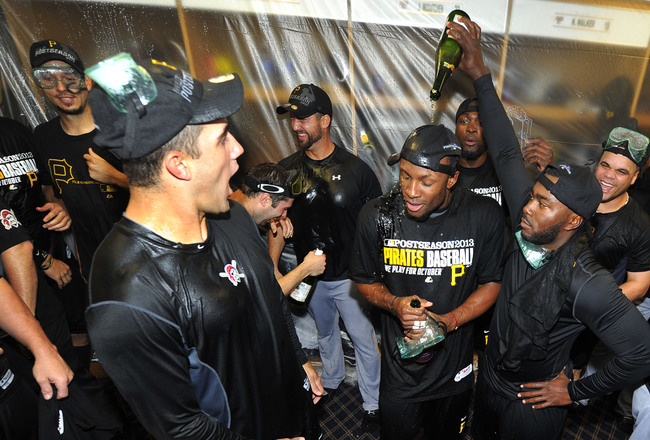 A crazy defensive play on Sept. 23 allowed the Pittsburgh Pirates to clinch their first playoff berth in two decades.
Brian Kersey/Getty Images
As the 2013 MLB regular season nears its conclusion, we're left with memories of its overachievers, disappointments, mistakes, brawls, highlights, bloopers and announcements.
For your easy consumption, the 25 most notable moments have been organized chronologically.
Everything that has transpired on and off the field since Opening Day was eligible. Keep in mind that we zeroed in on particular plays, pitches, statements and collisions, rather than entire games or legal processes.
Before we turn our attention to the playoffs, let's relive what was an amazing summer around the majors.
*Stats provided from FanGraphs unless otherwise noted. Updated through the games of Sept. 26.
Josh Hamilton Strikes out in Return to Rangers Ballpark

Courtesy of MLB.com.

Date: April 5
It seems like ancient history, but Josh Hamilton used to be relevant across the baseball world.
On the strength of his 43 home runs in 2012, the outfielder earned a five-year, $125 million contract from the Los Angeles Angels after spending the five previous seasons with the Texas Rangers. His fans in the Lone Star State were none too pleased to learn that he showed disinterest in re-signing with the Rangers, and they took offense when he stated in spring training that Dallas-Fort Worth wasn't truly "a baseball town."
Coincidentally, the AL West rivals met in the second series of the 2013 regular season. Hamilton wasn't warmly received by the crowd of nearly 49,000, and his second-inning strikeout got the fans even more amped.
Why It's Memorable
At-bats like this show how pathetic such a talented player becomes without plate discipline. This should've been taken as an indication that Hamilton would struggle to produce at an All-Star-caliber level.
Carlos Quentin Charges Zack Greinke, Breaks His Collarbone

Courtesy of MLB.com.

Date: April 11
Zack Greinke and Carlos Quentin faced off for years when both resided on AL Central rosters. Let's just say this wasn't the first time that one of their plate appearances resulted in an HBP.
In this instance, Greinke merely plunked Quentin's arm on a 3-2 offering, so it didn't seem intentional. Nonetheless, the brawny outfielder decided to teach his rival a lesson.
Why It's Memorable
Quentin's listed weight is 45 pounds heavier than Greinke's, and the eye test says that could be understating the discrepancy. It was impressive to see the pitcher show no fear in that situation.
However, being brave resulted in a fractured collarbone and a month-long absence from the Los Angeles Dodgers rotation. Had Greinke not recovered ahead of the original timetable, perhaps it would've been too late for L.A. to salvage its season.
The public was also critical of the league for only suspending Quentin eight games, considering his violent intentions.
J.A. Happ Takes a Line Drive off His Head

Courtesy of MLB.com.

Date: May 7
J.A. Happ's afternoon was already off to a rough start as the Tampa Bay Rays made him work by consistently putting his pitches in play.
Of course, this line drive off the bat of Desmond Jennings in the second inning really put everything in perspective. Immediately, his physical well-being became the only thing that mattered.
The Tropicana Field staff eventually took him away on a stretcher.
Why It's Memorable
Brandon McCarthy's near-death experience after being involved in a similar play in 2012 ignited more of a discussion about protection for pitchers. There was plenty more of that after this unfortunate occurrence.
Certain camera angles show that Happ began to bleed from the head, which led many to worry that perhaps he had also sustained a brain injury. Thankfully, we learned that the 30-year-old southpaw was feeling better after a brief hospital stay.
He returned to the Toronto Blue Jays three months later.
Even After Video Review, Angel Hernandez Blows Home Run Call

Courtesy of MLB.com.

Date: May 8
Adam Rosales squared up a Chris Perez fastball and smashed it off the railing above the left-field wall at Progressive Field. The line drive hit several feet above the yellow line before bouncing back in play.
Angel Hernandez had a different perspective and insisted that the ball deflected off the wall, rather than clearing it.
Oakland Athletics manager Bob Melvin expressed his displeasure, and the umpiring crew appropriately went to review the video. However, for whatever cockamamie reason, Hernandez wasn't willing to overturn the call based on the seemingly definitive footage.
Why It's Memorable
Major League Baseball risked upsetting its traditional fans by installing home-run review several seasons ago. The technology is now widely embraced because it allows more pivotal plays to be ruled correctly.
Seldom does an umpire stick with an erroneous call when given access to high-definition shots of the play.
Considering that this was a one-run game in the ninth inning, the difference between a double and a home run is the difference between losing and continuing into extra innings. The A's would have had a legitimate gripe had they missed qualifying for the playoffs by a single game.
Bryce Harper Collides with Dodger Stadium Wall

Courtesy of MLB.com.

Date: May 13
We only know of Bryce Harper as an outfielder, but he predominantly played behind the plate before the Washington Nationals drafted him in 2010.
Awkward collisions like this show that although athleticism helps, he still isn't fully acclimated to the position. Harper took an illogical route to the fly ball, then smashed into the right-field wall before he had a chance to brace himself.
The Nats placed him on the disabled list later that month with a knee injury.
Why It's Memorable
It was simply enjoyable to watch this in GIF form again and again and again (h/t SB Nation). The 20-year-old All-Star is held to such lofty expectations, so it's fun to have this reminder of his imperfection.
Angel Pagan's Walk-off Inside-the-Park Home Run

Courtesy of MLB.com.

Date: May 25
Most teams don't fill 41,000-plus seats for a May game against the Colorado Rockies, but coming off a World Series championship, the San Francisco Giants fanbase was especially fired up earlier this summer.
From the cheering sounds in this video, it would seem that most of the crowd stayed to see this game-winner in extra innings.
Angel Pagan was guaranteed extra bases on this line drive to right-center field. A fortuitous deflection off the wall and his own impressive running speed allowed him to round the bases.
Why It's Memorable
According to STATS LLC (h/t Associated Press), this was the first walk-off, inside-the-park home run in the majors since June 2004.
"I thought it was going over the fence," Hunter Pence remarked. "Inside the park is the last thing you think of. All we could do is watch him run and hope he was safe."
However, most Giants fans probably consider this a bittersweet memory. Pagan landed on the disabled list following his heroics, underwent hamstring surgery and missed the next 84 games.
MLB.com's Chris Haft reports that the center fielder actually hurt his hammy earlier that afternoon.
Arizona Diamondbacks, Los Angeles Dodgers Brawl at Dodger Stadium

Courtesy of MLB.com.

Date: June 11
Cuban phenom Yasiel Puig took a fastball to the face earlier in the game between the Los Angeles Dodgers and Arizona Diamondbacks. Following retaliation from Zack Greinke, Arizona's Ian Kennedy very blatantly targeted Greinke's head as well.
There was plenty of pushing and shoving and bodies falling to the ground, and a handful of players received suspensions on both sides.
Why It's Memorable
Don Mattingly, Alan Trammell and Mark McGwire all got involved. Perhaps that wouldn't have been notable in the late 1980s when they were productive MLB players, but as coaches, they're supposed to be the ones diffusing this sort of situation!
Rest assured, this wasn't the last disagreement between the Dodgers and D-Backs during the regular season.
Brian Cashman Fires Back at Alex Rodriguez
Date: June 25
Andrew Marchand of ESPNNewYork.com shared one of the best quotes of the regular season after speaking with New York Yankees general manager Brian Cashman:
Livid over Alex Rodriguez's decision to tweet an update on his rehab process, Yankees general manager Brian Cashman had a message for the third baseman.

"You know what, when the Yankees want to announce something, [we will]," Cashman told ESPN New York. "Alex should just shut the f--- up. That's it. I'm going to call Alex now."
Why It's Memorable
Executives from most major sport organizations choose their words very carefully. They'll even lie to the media to conceal their strong feelings and avoid sparking a controversy.
Not Cashman. He gave us a rare glimpse at what a nightmare it's been dealing with A-Rod over the past half-dozen years.
Homer Bailey Finished Second Career No-Hitter

Courtesy of MLB.com

Date: July 2
On a night when his fastball was particularly explosive, Homer Bailey completed his second no-hitter in as many years. He became the first MLB pitcher since Nolan Ryan in the 1970s to get it done twice in a span when nobody else matched the feat.
Bailey only walked one batter while racking up nine strikeouts.
Why It's Memorable
The right-hander shut down the reigning world-champion San Francisco Giants at a point when their season was rapidly spinning out of control. The fact that he dominated against an urgent opponent spoke volumes about how he had progressed since his first few years in the majors.
Many of us began to recognize the 27-year-old Bailey as a true front-line starter on a contending team.
Carlos Gomez Robs Home Run for Final Out

Courtesy of MLB.com.

Date: July 8
Per FanGraphs, Carlos Gomez ranks among the MLB leaders in advanced defensive stats like defensive runs saved and ultimate zone rating.
That's not so difficult to believe when he's making game-saving plays like this.
The first-time All-Star clearly extended his arm beyond the Miller Park fence to rob Joey Votto of a home run. It was also the final out of the game.
Why It's Memorable
Votto's reaction is hilarious. In sheer disbelief that Gomez came down with the ball, he starts screaming and advancing toward the outfield.
Also, this was a good eye test for those who don't watch the Brew Crew on a consistent basis and only knew of Gomez's effectiveness based on his numbers.
Tim Lincecum Completes No-Hitter on 148th Pitch

Courtesy of MLB.com.

Date: July 13
The San Francisco Giants desperately needed a win to maintain the illusion that they could repeat as world champs.
Tim Lincecum stepped up for them. Thirteen strikeouts against the San Diego Padres were the most for him in any game since his back-to-back NL Cy Young Award-winning seasons (2008-2009).
San Francisco's 9-0 victory briefly gave fans renewed confidence in an otherwise shaky starting rotation.
Why It's Memorable
We often forget that the human body is capable of throwing 148 pitches. Nobody besides Lincecum even came close to reaching that total this season.
With the Giants comfortably ahead on the scoreboard, many fans were curious to see whether manager Bruce Bochy would leave Lincecum in to make history.
Mariano Rivera's All-Star Game Entrance

Courtesy of MLB.com.

Date: July 16
Instead of reserving Mariano Rivera for his customary ninth inning, American League manager Jim Leyland made the call to the bullpen in the eighth. He was more concerned with getting the retiring legend on the field, rather than worrying about save opportunities.
The sell-out crowd at Citi Field—which undoubtedly included a few New York Yankees fans—was thrilled to see him in the Midsummer Classic one final time.
He would be named the 2013 All-Star Game MVP for his scoreless inning of work.
Why It's Memorable
Both teams retreated to their dugouts during Rivera's entrance and began clapping along with the fans. It's a gesture we've never seen before in Major League Baseball, and one that we won't see again for the foreseeable future.
Ryan Braun Accepts 65-Game Ban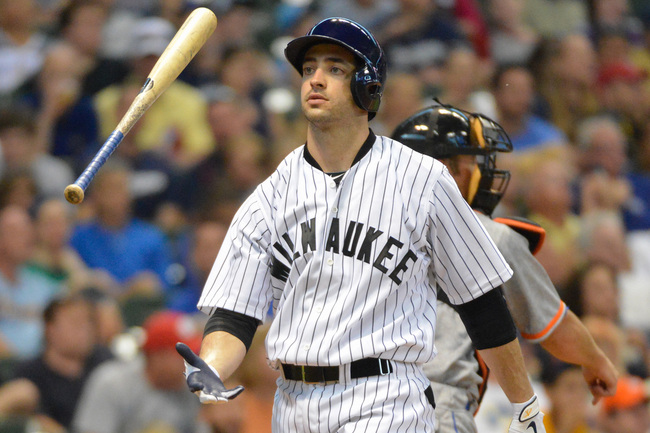 Benny Sieu-USA TODAY Sports
Date: July 22
Commissioner Bud Selig suspended the MVP-caliber outfielder without pay for the remainder of 2013 due to his involvement with the Biogenesis scandal.
Hampered by a thumb injury, Ryan Braun finished with a career-low nine home runs.
Why It's Memorable
Braun initially tested positive for performance-enhancing drugs in 2011, and he had vehemently fought cheating accusations ever since. His verbal assaults on sample collector Dino Laurenzi Jr. were so malicious, in fact, that the league decided to fire him.
Abruptly changing course and accepting a plea deal—rather than fighting the suspension in arbitration—caught a lot of us by surprise.
Braun also offended much of the baseball world with a very dry apology statement that was released that same day. Phrases like "I realize now that I have made some mistakes" and "This situation has taken a toll on me" didn't earn him any sympathy.
Tim Hudson Fractures Ankle, Consoled by Eric Young Jr.

Courtesy of MLB.com.

Date: July 24
The Atlanta Braves were cruising to an easy victory at Citi Field behind a stellar performance from Tim Hudson.
The right-hander had held the opposition scoreless. Moreover, receiving a toss from Freddie Freeman at first base for the second out of the eighth inning officially made this Hudson's longest start of 2013.
Tragically, a split-second later, the likable 15-year veteran collapsed to the ground in pain after being stepped on by a hustling Eric Young Jr. Although the precise injury wasn't immediately apparent, the reactions from both players suggested it was quite severe.
Why It's Memorable
Young showed so much genuine concern for one of his competitors. Just jump to the final minute of the above video, as he grasps Hudson's hand, wiping tears from his eyes when the pitcher departs on a stretcher.
Losing Hudson so close to the non-waiver trade deadline also fueled a lot of rumors about the Braves seeking additional rotation help.
Jake Peavy-Jose Iglesias Trade Completed
Ed Zurga/Getty Images
Date: July 30
As the non-waiver trade deadline approached, it became clear that the Chicago White Sox were going to part ways with Jake Peavy. Health was a question with him earlier in the summer, but several July starts after recovering from a broken rib restored his trade value.
The Arizona Diamondbacks, Boston Red Sox, Oakland Athletics and St. Louis Cardinals were all seriously linked to the right-hander. All eyes were fixated on the negotiations considering how few other established starting pitchers seemed attainable.
With less than 24 hours to spare, the White Sox agreed to a three-team exchange that shipped the veteran right-hander to Boston, shortstop Jose Iglesias to the Detroit Tigers and outfielder Avisail Garcia to the Windy City. A handful of lesser players were also involved.
Why It's Memorable
Aside from being cheap and controllable, Iglesias and Garcia also have All-Star potential. It ought to be exciting for their fans to watch them grow later this decade.
Peavy, meanwhile, stabilized the back end of the Red Sox rotation. He'll have a large say in whether they win a championship this season and next.
Alex Rodriguez Makes Controversial Season Debut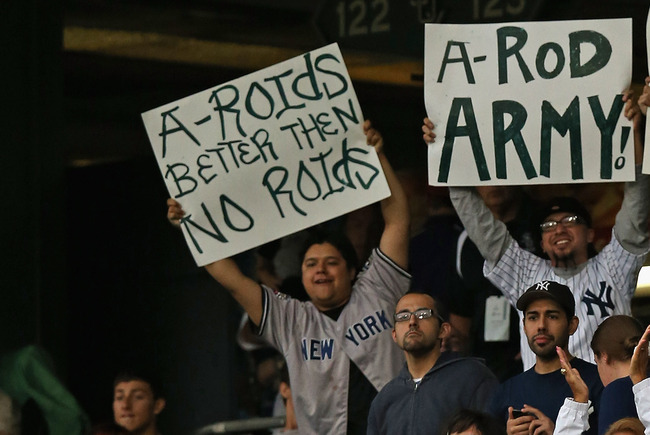 Jonathan Daniel/Getty Images
Date: Aug. 5
On the same day that Major League Baseball suspended Alex Rodriguez for 211 games, he made his 2013 debut at U.S. Cellular Field. Yeah, that was difficult for many of us to comprehend.
The Chicago White Sox attracted one of their largest Monday home crowds of the summer. The fans expressed their disapproval of the former AL MVP with boos that "could have drowned out a jet," the Associated Press reports.
Why It's Memorable
In four-plus months with A-Rod on the disabled list, New York Yankees third basemen were extremely unproductive at the plate. People were anxious to see him do better.
Considering that Rodriguez was coming off major hip surgery, there was a dramatic overreaction to every swing and step he took.
MLB Announces Expanded Replay for 2014, Including Managers' Challenges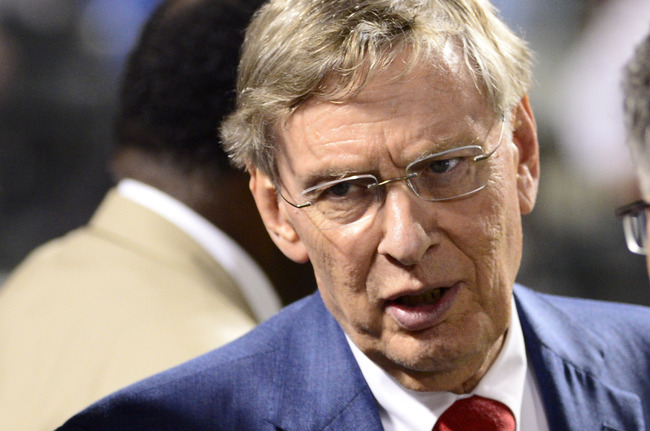 Scott Rovak-USA TODAY Sports
Date: Aug. 15
We could see this coming from a light-year away, but Major League Baseball announced that it intends to expand the use of instant replay in 2014. The owners will vote in the offseason to approve a system that includes managers' challenges and a greater number of reviewable scenarios (not only potential home runs).
Why It's Memorable
The sport is adopting several aspects from the NFL's system that don't necessarily suit the different pace of the game.
The whole idea of challenges would further complicate baseball strategy. It's also unclear why challenges aren't evenly distributed from the first through ninth innings. MLB.com's Paul Hagen has the full details.
Ultimately, it will be nice to have rules that lessen the impact of Angel Hernandez and his constant screw-ups.
Charlie Manuel Fired by Philadelphia Phillies
Gregory Shamus/Getty Images
Date: Aug. 16
A handful of managers began the 2013 season as "lame ducks" in the final guaranteed years of their contracts, but Charlie Manuel presumably had the least to worry about.
Since taking over as skipper in 2005, he had led the Philadelphia Phillies through their most successful era in franchise history. They captured five NL East titles—after only six from 1969 to 2004—and a World Series championship while consistently finishing at .500 or better.
Nonetheless, with pennant contention already a pipe dream, general manager Ruben Amaro Jr. chose to replace Manuel with Hall of Fame second baseman Ryne Sandberg.
Why It's Memorable
Sandberg was considered a desirable managerial candidate around the league. If this team had not promoted him, he surely would've found a job elsewhere this winter.
ESPN's Jayson Stark, who has spent most of his career covering the Phillies, provided interesting commentary on the news conference that announced Manuel's departure, calling it "an odd scene."
New York Mets Reveal Matt Harvey's Partially Torn Ulnar Collateral Ligament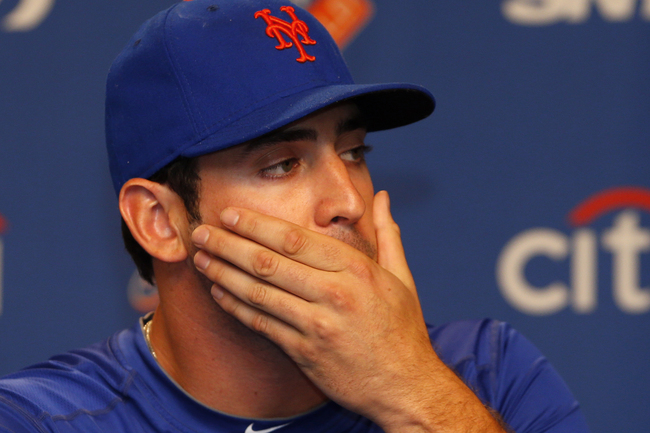 Rich Schultz/Getty Images
Date: Aug. 26
Matt Harvey dazzled all of us in his first full major league season. He posted a 2.27 ERA, 2.00 FIP and 9.64 K/9 in 26 starts for the New York Mets, frequently pitching into the later innings.
However, more so than his complete-game shutout or All-Star Game performance, we'll remember the right-hander solemnly answering questions about his partially torn UCL and questionable future.
This elbow injury often requires Tommy John surgery to heal. For the time being, Harvey has opted for rest and rehab in the hopes of recovering without going under the knife.
Why It's Memorable
The 24-year-old's combination of elite velocity, command, pitch variety and subtle cockiness makes him a very intriguing player. The possibility of him missing the 2014 campaign comes as a bitter disappointment, even among those with no interest in the Mets.
Jose Fernandez Pimps First MLB Home Run, Spits on Third Base

Courtesy of MLB.com.

Date: Sept. 11
In the final game of his rookie campaign, Jose Fernandez excelled in all areas. Aside from pitching seven innings of one-run ball, the right-hander also launched the first home run of his MLB career.
As the broadcaster so eloquently put it, he did some "21-year-old things" after making solid contact, and the Atlanta Braves were more than a little displeased.
Both benches and bullpens emptied when Brian McCann and Chris Johnson confronted Fernandez at home plate.
Why It's Memorable
You seldom see a team get so upset about a few seconds of staring or a stylized home-run trot, particularly when that team is cruising toward a playoff berth.
On another note, Fernandez's ability to clear the left-field fence with ease makes us anxious to see his career resume next spring.
The 'Buttslide'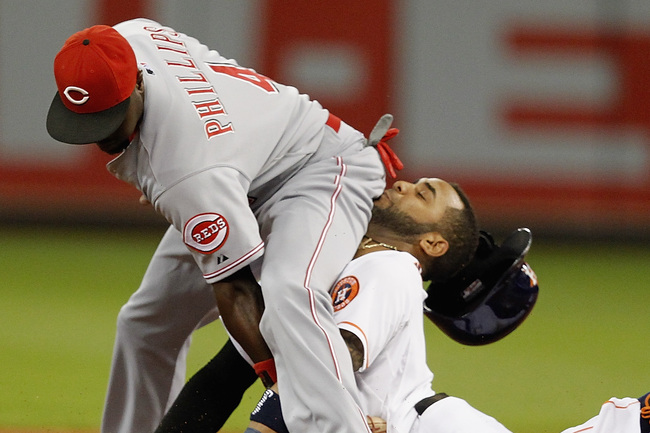 Bob Levey/Getty Images
Date: Sept. 17
It's been a relatively successful season for Jonathan Villar of the Houston Astros. The 22-year-old rookie has received regular starts at shortstop since his July debut, and he looked like a candidate to serve in a prominent role again in 2014.
Unfortunately, due to his team's futility, most of us only know him from co-starring with Brandon Phillips in the "buttslide" (h/t SB Nation's Grant Brisbee). If one moment is used to define Houston's humiliating summer as the American League's weakest team, this would be it.
Although successful, Villar surely regrets attempting this stolen base.
Why It's Memorable
We are an immature society that finds it amusing when one person's face collides with another person's butt. Mark Sanchez of the New York Jets starred in such an incident, and nearly one year later, that remains fresh in our memories.
This is destined to be included in that montage of bloopers that MLB stadiums play in the middle innings to keep their crowds attentive.
Los Angeles Dodgers Celebrate NL West Title in Chase Field Pool

Courtesy of MLB.com.

Date: Sept. 19
The Los Angeles Dodgers clinched the NL West title with a 7-6 victory at Chase Field, so their urge to celebrate was understandable. The spraying of the champagne began in the visitor's clubhouse, but about half the players decided to let the accomplishment soak in by leaping into the pool beyond the right-center field wall.
Why It's Memorable
This behavior was highly questionable when you consider that the Arizona Diamondbacks specifically requested that the Dodgers keep their jubilation to themselves (h/t Sporting News).
Then there's this juicy rumor from Dodger Scribe's Tony Jackson:
There also are indications that MULTIPLE Dodgers players urinated into the pool, but I can't tell you that with any certainty. It's just what I've heard. What I can tell you is that it was only a handful of guys — maybe eight, give or take — who ran out and jumped into the pool. It would be presumptuous to assume that every one of them had the same thoughts running through his brain. Maybe there were some who really were just celebrating, nothing more. Maybe there were others who meant it as a direct slap in the face to the Diamondbacks.
These division rivals clearly don't get along. This particular misunderstanding has the potential to linger into the winter and even into future face-offs between the D-Backs and Dodgers in 2014.
Pittsburgh Pirates End Playoff Drought

Courtesy of MLB.com.

Date: Sept. 23
Marlon Byrd's bobble in right-center field during the ninth inning could have easily contributed to a game-deciding rally. After all, anything less than perfect execution from the Pittsburgh Pirates defense was going to allow the Chicago Cubs to even the score at two runs apiece.
Andrew McCutchen and Justin Morneau had other ideas. Their laser throws put Russell Martin in position to tag Nate Schierholtz at home plate for the final out.
Why It's Memorable
Pittsburgh's playoff drought was easily the longest active one in the National League entering 2013. It's been apparent since midseason that the suffering was finally coming to an end, but the Bucs chose to officially do so on one of the regular season's most exhilarating plays.
Atlanta Braves Take Offense to Carlos Gomez, Benches Clear
Date: Sept. 25
Oh boy, here we go again.
Carlos Gomez did his best Jose Fernandez impression, taking his sweet time after launching a no-doubt home run against the Atlanta Braves. Freddie Freeman and Paul Maholm can be seen reprimanding him, and Brian McCann blocked the outfielder's path to home plate.
Both benches cleared, and several players were later suspended.
Why It's Memorable
Despite being the one who showboated, Gomez gets extremely irritated. His Milwaukee Brewers teammates literally have to drag him back to the dugout to prevent him from inflicting bodily harm on the Braves.
Also, he never touched home plate. Strange how the umpiring crew didn't notice that.
Derek Jeter, Andy Pettitte Meet Mariano Rivera at Yankee Stadium Mound

Courtesy of MLB.com.

Date: Sept. 26
The year of Mariano Rivera isn't quite over, as the New York Daily News reports that the New York Yankees may insert the future Hall of Famer in center field sometime during their final road trip. That would obviously qualify as memorable.
However, regardless of how Rivera performs in his final moments as an MLB player, no particular moment will trump this Yankee Stadium send-off.
Why It's Memorable
The Yankees cleverly sent Derek Jeter and Andy Pettitte, Rivera's most tenured teammates, to the mound to remove him from the game. After tearful embraces among the players, a fanbase that's being denied playoff baseball for only the second time in two decades still mustered the enthusiasm to erupt in applause, even summoning him for a curtain call once he disappeared into the dugout.
We may never again see a retiring player treated so well.
Keep Reading