Purdue vs. Wisconsin Football: Complete Game Preview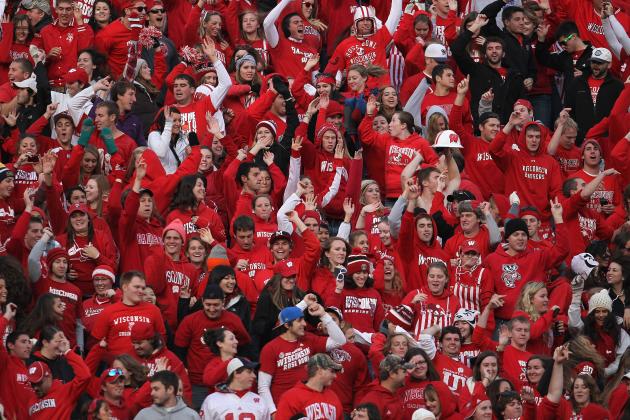 Jonathan Daniel/Getty Images
Purdue can expect Camp Randall Stadium to be packed on Saturday.
It's been a slow start to the season for the Purdue Boilermakers, but they seem to be on the right track after last week's loss against Notre Dame, a contest that could have easily went their way.
This week will serve as another tough test for the Boilers as both teams open B1G play.
They go on the road to play Wisconsin at Camp Randall Stadium, an arena that's never been kind to them but has been especially brutal for the past couple of matchups.
In 2011, Purdue suffered an embarrassing 62-17 loss while at Camp Randall and, in 2009, it was only slightly less terrible, losing 37-0.
And in their past eight games against the Badgers, home or away, the Boilermakers are 0-8.
But this is a new season, and Purdue will look to change the course of recent history.
For Wisconsin, the Purdue game will serve as a chance to repair the devastating loss to Arizona State last week, perhaps the most bizarre finish ever to a college football game.
The Badgers are now 2-1 after the loss, but they are 0-0 in conference play and hope to get on the right track in the B1G with a win.
And, without further ado, here's everything you need to know about the game.
Time: Sat., Sept. 21, 3:30 p.m. ET
Place: Camp Randall Stadium, Madison, Wisc.
TV: ABC, ESPN 2
Radio: Purdue Sports Network, Badger Sports Network
Spread: UW -23.5, according to Odds Shark

Begin Slideshow

»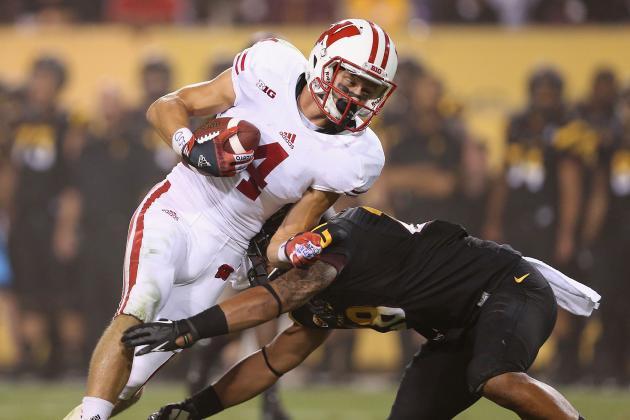 Christian Petersen/Getty Images
Jared Abbrederis could cause problems for the Purdue defense.
Contain the Run
Montee Ball may be gone, but the Wisconsin Badgers have replaced him with a three-headed monster in the backfield.
Slowing down any of the three running backs—especially all of them—will be tough, but it may also prove to be the difference between a win and a loss.
James White has shown his versatility with 297 yards on the ground, but he also has 66 yards receiving on eight catches.
Melvin Gordon has proven explosive, putting up 477 yards and four touchdowns on 37 carries for a yards-per-carry average of 12.9.
True freshman Corey Clement has done most of his work in garbage time, but he has demonstrated his capability with his opportunities, recording 251 yards and three touchdowns on only 31 carries.
The Purdue run defense performed well against Notre Dame, holding Cam McDaniels to 56 yards, but McDaniels is not nearly as talented as Wisconsin's backs.
They'll have to show the same resolve—and probably more—against the Badgers.
Establish the Run
Akeem Hunt has not run the ball this season as successfully as many thought he would.
Thankfully, Hunt has contributed as a pass-catcher; but that won't be enough to defeat the Badgers.
Last week, Arizona State's Marion Grice was able to haul in five passes for 50 yards, but he also put up numbers on the ground, notching 84 yards and four touchdowns.
Hunt will need to put up those same types of numbers for the Boilers to have a shot.
Focus on Jared Abbrederis

Purdue cornerback Ricardo Allen will have his hands full on Saturday with Abbrederis, but Purdue will need to provide Allen with backside help if they plan on stopping the senior wideout.
On the year, Abbrederis has 160 more receiving yards, eight more catches and two more touchdowns than the Badgers' next wide receiver.
He's accounted for half of his team's six touchdowns through the air and is, by far, quarterback Joel Stave's favorite target.
Stopping him will be difficult but most likely necessary for Purdue.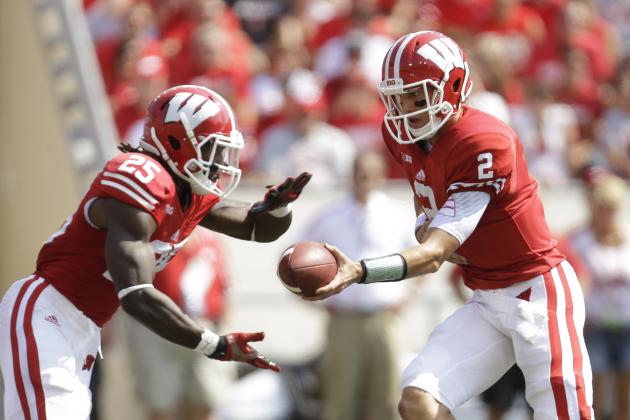 Mike McGinnis/Getty Images
Running the ball will be the biggest key for a Wisconsin victory.
Run, Run and Run Again
The aforementioned three-headed monster has been shredding teams so far this year, so there's no reason to stop what's working for them.
The running game has been the main weapon for the Badgers for years and years, so look for them to continue to go to the well once again.
Challenge the Purdue Secondary
With Purdue's main priority on stopping the run and the Purdue pass defense's penchant for breaking down in the second half, letting Stave take a few shots down the field could lead to some big plays and easy scores.
Stave has been the subject of ridicule among some Badgers fans, but that may change after the Purdue game (at least in the short term) if he's able to connect on a few touchdown plays.
Make Rob Henry Beat Them
The best way for the Badgers to stifle the Purdue offense is to add to their recent struggles on the ground.
Hunt will be looking to break out of his running slump, and it would be wise for the Badgers to make sure he doesn't.
Doing so would mean that senior quarterback Rob Henry would have a chance at making some big plays with his arm, and that may be the best possible scenario for the Badgers defense.
Henry stepped up for the most part against Notre Dame, throwing for 256 yards and three touchdowns on 25-of-40 passing, but he also threw an absolutely devastating interception that was returned for a touchdown to ultimately put the game out of reach.
And in the two games before that Henry was mediocre at best.
He completed 18 of 35 passes for 161 yards against Cincinnati and 15 of 24 passes for 150 yards against an FCS school in Indiana State.
He had no touchdowns and two interceptions combined in those two games.
Wisconsin should view the Notre Dame game as the exception, not the rule, when it comes to Henry.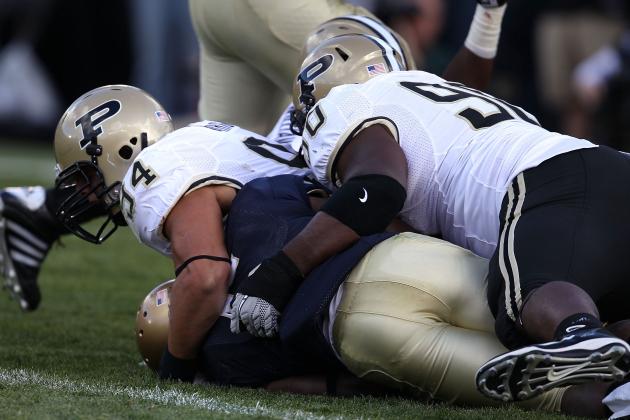 Jonathan Daniel/Getty Images
The Purdue defensive line shines when Bruce Gaston does.
Ricardo Allen
It will be interesting to see how he matches up against Jared Abbrederis.
If Allen is able to stifle and aggravate Abbrederis, then the Purdue defense will be able to focus more of its efforts on the ground game.
If not, it will be a long game for the Boilermakers.
Bruce Gaston
Everything on the defensive line starts with Gaston.
And the defensive line is going to be key when it comes to stopping Gordon, White and Clement. How Gaston performs may dictate how well they do as a whole against these three.
Raheem Mostert
Mostert is one of the most explosive players on the Boilermakers, but he has only one touch on the year, which was on a kickoff.
However, head coach Darrell Hazell is looking to start utilizing Mostert more, starting with this game.
Mostert has haunted the Badgers before, but he did it on special teams. He had over 200 yards in the return game in 2011.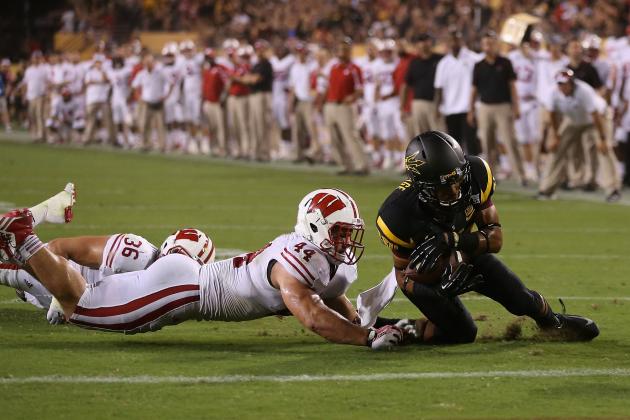 Christian Petersen/Getty Images
Purdue Head Coach Darrell Hazell thinks Chris Borland is the best in the country.
Melvin Gordon
White is marked down as the starter, but Gordon is the one that is second in the nation in rushing yards and first in yards per carry.
He can turn any rush into a touchdown and is, by far, the most exciting player on this Badgers offense.
Chris Borland
Purdue head coach Darrell Hazell said that linebacker Chris Borland is the best in the country at what he does, according to Mike Carmin of JCOnline, and he may be right.
Brian Bennett of ESPN.com has Borland currently in second place to win the B1G's Nagurski-Woodson Defensive Player of the Year award.
Borland had 10 tackles and a sack in the loss to Arizona State, and he'll look to add to his resume against a struggling Purdue offensive line.
Joel Stave
Is Stave going to crumble under the pressure, or will he respond in a big way against Purdue's secondary?
Some have blamed him for not holding on to the ball on the final play of last week's wacky finish, so it will be interesting to see how he responds this week in a favorable matchup for the embattled quarterback.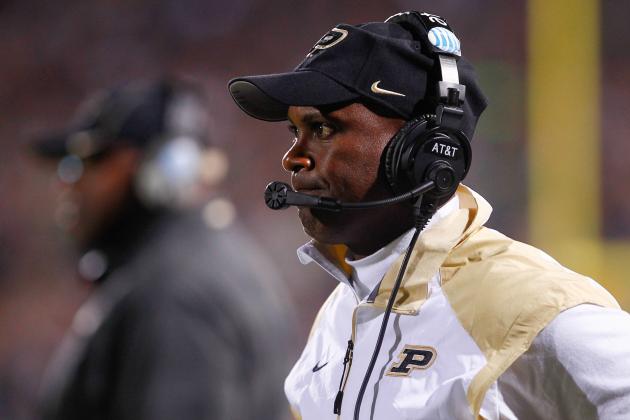 Michael Hickey/Getty Images
Darrell Hazell is impressed with Wisconsin's strong running attack.
Hazell's biggest concern will be the Wisconsin running game when Saturday's game rolls around, according to Mike Carmin of JCOnline.
"They get great double teams, they get a lot of movement," Hazell said. "They are so consistent with it. They're very patience with what they're doing."
Wisconsin head coach Gary Andersen and Hazell have bonded, due to their similar paths to their current head coaching positions, reports Andy Baggot of the Wisconsin State Journal.
"He's a good guy," Andersen said. "Seems to be very family oriented and I respect what he did where he was before he came (to Purdue)."
Andersen was impressed by Purdue's pro-style offense and the challenges it brings to Wisconsin's defense.
"There's a lot of moving pieces to the offense for a pro style offense," Andersen said. "There's a lot of fly sweep and the speed motions and stuff coming across, which forces you, whether you're in man coverage or zone coverage, to roll the coverage or slide the coverage, and that comes with a lot of practice reps. It's a good scheme."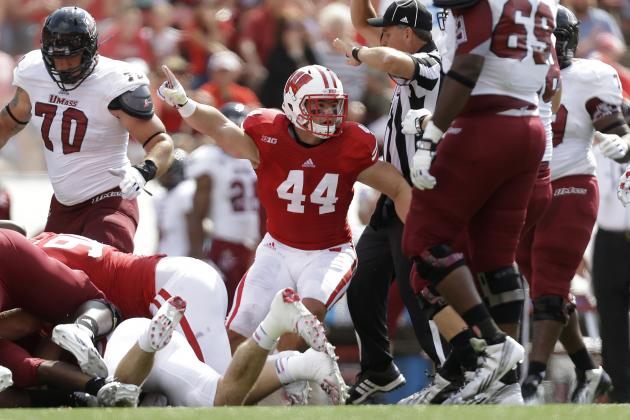 Mike McGinnis/Getty Images
The Badgers are just too powerful for the Boilermakers this season.
Wisconsin 35, Purdue 17
Purdue has shown significant improvement throughout the season, but they're still not where they need to be.
And Wisconsin would be 3-0 right now had the appropriate call been made (and then converted on the field goal) last week. Their running game is a legitimate weapon and something that Purdue fans should (and do) fear.
In the end, those factors, combined with the incredible home-field advantage that Camp Randall Stadium brings, will lead to an 18-point Wisconsin win.