Home-field advantage is a powerful force in the NFL, but the league's best teams find a way to win on the road.
The schedule for Week 3 is loaded with intriguing matchups.
At this point in the season, most teams have shaken off any early season jitters and we're beginning to see a few teams separate from the pack as early Super Bowl contenders.
It would be foolish, however, to assume the landscape of the NFL will stay the same throughout the course of the long season. Each and every week presents a new set of challenges for coaches and players alike.
For instance, after the first week, the Philadelphia Eagles looked unstoppable on offense.
After losing two straight home games to the San Diego Chargers and Kansas City Chiefs, though, the league has a blueprint on how to slow down the juggernaut—own the line of scrimmage and the time-of-possession battle.
Here's a peek at every game left on the schedule after Thursday night's clash in Philadelphia, followed by a closer look at a few games in which the road teams will come away with a victory.
2013 NFL Schedule: Week 3

| | | | | |
| --- | --- | --- | --- | --- |
| Date | Time (ET) | Away | Home | Prediction |
| 9/22 | 1:00 p.m. | Houston Texans | Baltimore Ravens | Texans |
| 9/22 | 1:00 p.m. | New York Giants | Carolina Panthers | Panthers |
| 9/22 | 1:00 p.m. | Detroit Lions | Washington Redskins | Lions |
| 9/22 | 1:00 p.m. | San Diego Chargers | Tennessee Titans | Titans |
| 9/22 | 1:00 p.m. | Arizona Cardinals | New Orleans Saints | Saints |
| 9/22 | 1:00 p.m. | Tampa Bay Buccaneers | New England Patriots | Patriots |
| 9/22 | 1:00 p.m. | Green Bay Packers | Cincinnati Bengals | Packers |
| 9/22 | 1:00 p.m. | St. Louis Rams | Dallas Cowboys | Cowboys |
| 9/22 | 1:00 p.m. | Cleveland Browns | Minnesota Vikings | Vikings |
| 9/22 | 4:05 p.m. | Atlanta Falcons | Miami Dolphins | Falcons |
| 9/22 | 4:25 p.m. | Buffalo Bills | New York Jets | Bills |
| 9/22 | 4:25 p.m. | Indianapolis Colts | San Francisco 49ers | 49ers |
| 9/22 | 4:25 p.m. | Jacksonville Jaguars | Seattle Seahawks | Seahawks |
| 9/22 | 8:30 p.m. | Chicago Bears | Pittsburgh Steelers | Bears |
| 9/23 | 8:40 p.m. | Oakland Raiders | Denver Broncos | Broncos |
Jesse Reed
Green Bay Packers at Cincinnati Bengals
After losing to the Chicago Bears at Soldier Field in Week 1, the Bengals bounced back with a home win against their AFC North rivals, the Pittsburgh Steelers, on Monday Night Football.
But Cincinnati was far from impressive on Monday night.
Pittsburgh's offense is as ugly as any in the league right now. The Steelers can't protect the quarterback and can't run the ball but still managed to score 10 points and put up 278 yards against the Bengals.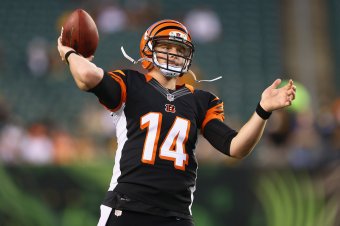 Andy Lyons/Getty Images
Andy Dalton was abysmal in the first half, and though he did get into a nice rhythm in the fourth quarter, he isn't the kind of quarterback that can hang with Aaron Rodgers in a shootout.
Speaking of Rodgers, he's as hot as any quarterback in the league. He passed for 480 yards and four touchdowns last weekend against the Washington Redskins, and he has complete control over his offense.
If James Starks can come through with another big game, then the Bengals will be blown out at home. Even if Starks doesn't get going on the ground, however, Rodgers has enough firepower on offense to put up more points than Dalton and the Bengals.
Final Score
Packers win 31-24
Detroit Lions at Washington Redskins
Matthew Stafford must be giddy at the thought of facing the Redskins in Week 3.
Washington's defense is—putting it nicely—a sieve. No team in the league has given up more yardage per game than the Redskins.
The Eagles owned this defense in Week 1, and then the Packers did the same in Week 2.
Calvin Johnson and Co. will feast on the porous secondary of Washington. Reggie Bush suffered a knee injury last weekend, but he practiced on Friday, as noted by Dave Birkett of the Detroit Free Press:
Reggie Bush practiced today with sleeve on his knee. Showed no signs of injury running before practice, caught passes from Stafford in shell

— Dave Birkett (@davebirkett) September 20, 2013
Stafford has plenty of weapons with which to assault the Redskins, and he will.
On the other side, Robert Griffin III is still showing significant rust, and Washington's offensive line has struggled badly. Detroit's defensive line—which has been phenomenal so far—will have a field day putting pressure on RGIII.
Final Score
Which road team has the best chance of winning big?
Lions win 35-27
Houston Texans at Baltimore Ravens
The crowd at M&T Bank Stadium is always loud, and the intelligent Ravens fans are adept at making it hard for opposing offenses to function.
But Baltimore's defense isn't what it used to be, and Houston will be able to ride the running game to victory on Sunday.
Arian Foster hasn't looked explosive running the ball, but he's been complemented by Ben Tate, who has been a lightning bolt for the Texans this season. He leads the team in rushing, gaining 148 yards on just 18 carries, and head coach Gary Kubiak intends on continuing to give him touches, as noted by HoustonTexans.com:
I think they're both playing real well, I think Arian is catching up so to speak from what the time he has missed, but I think Ben's playing at an extremely high level right now. It's important that we continue to give him his touches and we will.
As this two-headed monster chews up hard-earned yardage between the tackles, Baltimore's defense will become vulnerable to the play-action pass. Andre Johnson, DeAndre Hopkins and Owen Daniels are all dangerous weapons, and Baltimore's secondary will get burned more than once on Sunday.
Houston's defense will fare just as well against Joe Flacco and the Ravens offense, and the Texans should easily win this game.
Final Score
Texans win 28-17
Follow me on Twitter @JesseReed78