The Cincinnati Bengals are one of the most promising teams in the entire AFC and are the favorites to win the AFC North title. The past two seasons, the Bengals have reached the playoffs, and though they've not won a postseason game in those two tries, the talent level of their roster is higher than ever.
While it is early in the season, it's hard to imagine a January without Cincinnati on the football field. It has way too many assets on both offense and defense not to be a competitive postseason team.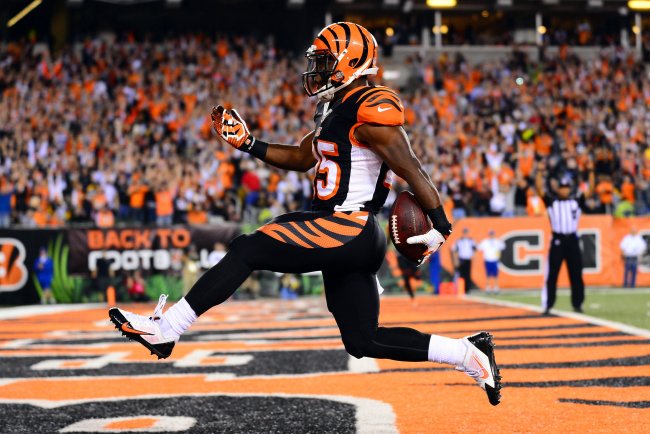 Andrew Weber-USA TODAY Sports
That is, if the team can get its act together. Right now, the Bengals' toughest foes are themselves.
The Bengals have started their season 1-1, dropping their opening contest against the Chicago Bears before heading back to Cincinnati to defeat the Pittsburgh Steelers, something that they hadn't done at home since 2009. However, they could just as easily be a 2-0 team, and their win over Pittsburgh could have been by a wider margin than 20-10.
The biggest way the Bengals have been shooting themselves in the foot is penalties. So far, they've racked up 17 of them for 168 yards—eight against the Bears for 84 yards and nine against the Steelers for another 84. Seven have been committed by the offense, with three belonging to tight end Jermaine Gresham (always a source of penalties), three have been committed by the defense and seven have occurred on special teams.
Bengals Penalties Through 2 Games

| | | | | | |
| --- | --- | --- | --- | --- | --- |
| Team | Penalties | Yards | Def. Pen. | Off. Pen. | ST Pen. |
| CIN Week 1 | 8 | 84 | 1 | 3 | 4 |
| CHI Week 1 | 4 | 59 | 1 | 3 | 0 |
| CIN Week 2 | 9 | 84 | 2 | 4 | 3 |
| PIT Week 2 | 3 | 29 | 2 | 1 | 0 |
via Pro Football Focus (subscription required)
Giving away 84 yards per game to its opponents has hurt the team. It moves the offense out of manageable down-and-distance situations, making it harder to move the ball. It extends opponents' drives. It improves opponents' field position before playing a single down or hurts the Bengals' own.
Against the Bears, a penalty on a return gave Chicago excellent field position. It went just four yards before kicking a field goal to end the first half, and the Bears eventually bested the Bengals by three points.
A Bengals penalty also kept them from getting one final shot to tie or win the game against the Bears. Middle linebacker Rey Maualuga was called for a facemask on what would have otherwise been a failed third-down Chicago run. Instead of punting and the Bengals getting the ball back with around a minute remaining in the game, the Bears had a new set of downs with which to take a knee and the win.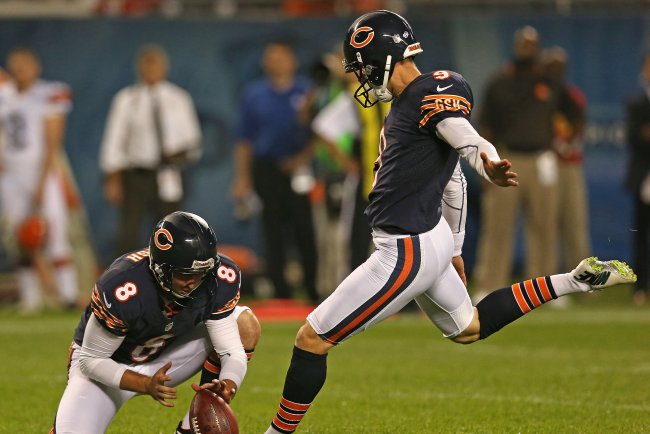 Jonathan Daniel/Getty Images
Against the Steelers, penalties also made an impact. A false start by guard Kevin Zeitler turned a 3rd-and-5 into a 3rd-and-10, and an incomplete pass killed the drive. A Gresham hold turned a 2nd-and-8 in the fourth quarter to a 2nd-and-18. These penalties hurt momentum, change the game plan and ultimately put the Bengals in a bad position.
Another issue the Bengals have had through two games is the inconsistent play of their quarterback, Andy Dalton. His performance against the Bears was one of the best of his career, as he completed 26 of his 33 pass attempts—or 78.8 percent—for 282 yards and two touchdowns. It was only marred by two interceptions, the first of which resulted in a Chicago touchdown drive.
Against the Steelers, Dalton had a shaky start. In the first half, he completed only 16 of his 32 pass attempts, with many of his incompletions being poorly thrown passes, including ones that were too high, overthrown or just simply off target.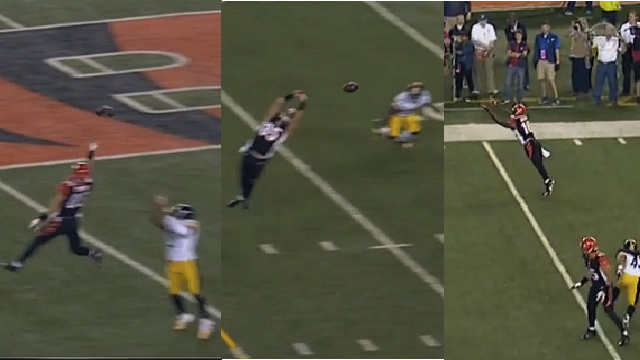 Dalton completed 25 of his 45 passes for the game, settling down in the second half to complete nine of his 13 attempts. The inconsistencies from Week 1 to Week 2 didn't cost the Bengals the game, but a lot of that had to do with how the defense performed and, more importantly, how poorly the Steelers offense played. Against a better offense, one more capable of putting up points, Dalton cannot have so many early struggles.
Further, the Bengals put many of their draft resources into having a high-powered offense since taking Dalton in 2011, including this April when they took tight end Tyler Eifert in Round 1 and running back Giovani Bernard in Round 2. All of their offensive players, from the line on down, have looked exceptionally sharp this year. The only wild card is Dalton.
The clear advantages the Bengals have on offense—the two rookies, wide receivers A.J. Green, Marvin Jones and Mohamed Sanu and pass protection that gave up no sacks against the Steelers among them—go to waste if Dalton cannot consistently throw accurate passes and make smart decisions.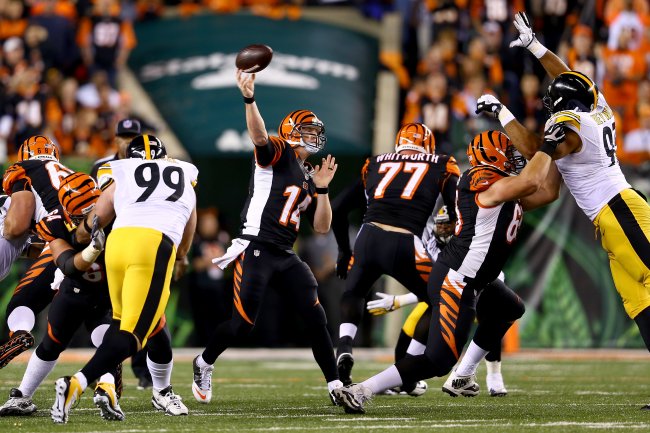 Andy Lyons/Getty Images
No young quarterback has been given such a strong supporting cast in recent years. Dalton cannot take this for granted. It's a lot of weight he must shoulder, but that is a typical demand made of a franchise quarterback.
Dalton cannot crumble under the pressure; he must embrace it and use it to make himself and his team better. If he can, the Super Bowl is a very real possibility; if he cannot, then the Bengals may be forced to look elsewhere for a passer who can take better advantage of this opportunity.
Phil Sims previews Bengals vs. Packers for Bleacher Report.
Looking at the Bengals roster and the draft decisions they've made in recent years, most other teams in the NFL should be seething with jealousy. Few teams have better depth and more talented starters. There is no on-paper reason why the Bengals should be 1-1 right now; this is a 2-0 team with 2-0 talent. The Bengals have the ability to best the Green Bay Packers this Sunday, which, if they do, quickly becomes their signature win.
The mistakes and mental errors simply must decrease. When they do, the team will be nearly unstoppable. Right now, the only thing in the Bengals' way is the Bengals themselves.