Are the Green Bay Packers Prepared to Handle Bengals WR A.J. Green?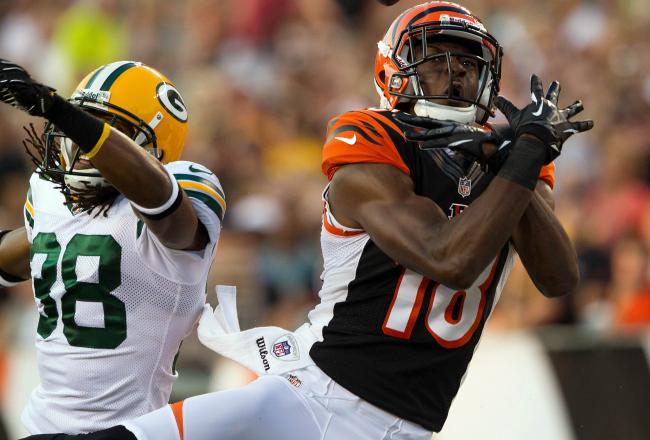 Rob Leifheit-USA TODAY Sports
A.J. Green of the Cincinnati Bengals will present the Green Bay Packers with a challenge that the defense has struggled to meet through two weeks this season.
A pair of No. 1 receivers—Anquan Boldin of the San Francisco 49ers and Pierre Garcon of the Washington Redskins—have mostly carved up the Packers secondary to begin 2013. In fact, through two games, no defense has allowed more receiving yards to the opposition's top receiver than Green Bay's 351.
Boldin torched the Packers in Week 1, catching 13 passes (tied for the most in a single game this season) for 208 yards (most) and one touchdown. The savvy veteran devoured a zone-heavy coverage that was designed to limit Colin Kaepernick's ability to scramble.
Last Sunday, Garcon took advantage of soft coverages in an otherwise decided game to catch eight passes for 143 yards and a score. Of his 143 yards, 81 came in the second half with the Packers comfortably leading. More concerning was the fact that Garcon gained over half his yardage after the catch (75), which came as a result of poor tackling from the secondary late in the contest.
Through two weeks, Boldin's 208 yards and Garcon's 143 both rank in the top 10 for single-game totals by a receiver in 2013.
Packers vs. No. 1 Receivers, 2013 Season

| | | | | |
| --- | --- | --- | --- | --- |
| | Team | Rec | Yrd | TD |
| A. Boldin | SF | 13 | 208 | 1 |
| P. Garcon | WAS | 8 | 143 | 1 |
| Totals | | 21 | 351 | 2 |
Source: ESPN
The Packers need to clean up the mistakes ahead of Sunday's tilt with the Bengals.
While Boldin and Garcon are both nice players who can deliver from week-to-week, Green is a transcendent talent who forces defensive coordinators to be aware of his presence on every single snap. One miscue, and he can quickly put six points on the board.
Heading into Week 3, Green is tied for seventh in the NFL in receptions (15), 12th in receiving yards (203) and eighth in touchdowns (two). His 20 receiving scores since 2011 are the ninth-most, while only six receivers have averaged more yards a game over that same span (79.1). The 162 yards he recorded against Chicago in Week 1 are the sixth-most in a game this season.
Calvin Johnson remains the prototype for an elite receiver, but the 6'4" Green isn't too far behind.
Further complicating the Packers' ability to corral Green Sunday will be the absence of safety Morgan Burnett, who will miss his third straight game with a hamstring injury. The Packers officially ruled out Burnett Friday, via Rob Demovsky of ESPN.
#Packers have ruled out Morgan Burnett and Jarrett Bush.

— Rob Demovsky (@RobDemovsky) September 20, 2013
Green shows in the example below why safety play will be so important for keeping him in check Sunday.
In the second quarter of Week 1, the Bears played a Cover 2 against Green, who is circled in the following screen shot: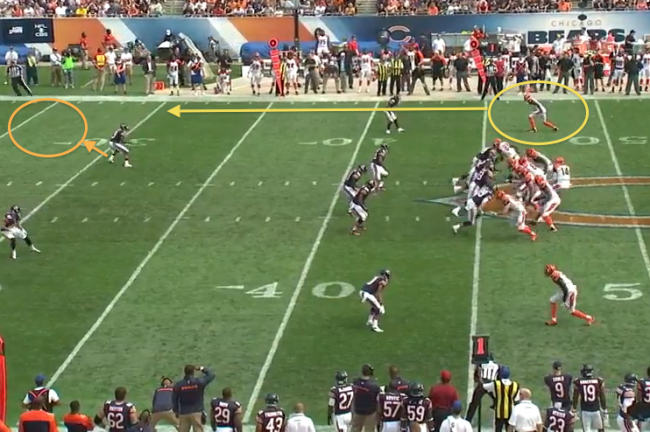 Tim Jennings, the cornerback lined up opposite Green, plays an underneath technique before passing his man off to the deep safety. It's a defensive scheme that the Bears have played for years and mostly perfected.
This particular play is made for Green and the Bengals when quarterback Andy Dalton goes to work on Major Wright, Chicago's deep safety to Jennings' half of the field. A subtle pump fake to Jermaine Gresham, who is running down the middle seam, draws Wright in a couple of misinformed steps, and Green is left without a man in coverage down the far sidelines.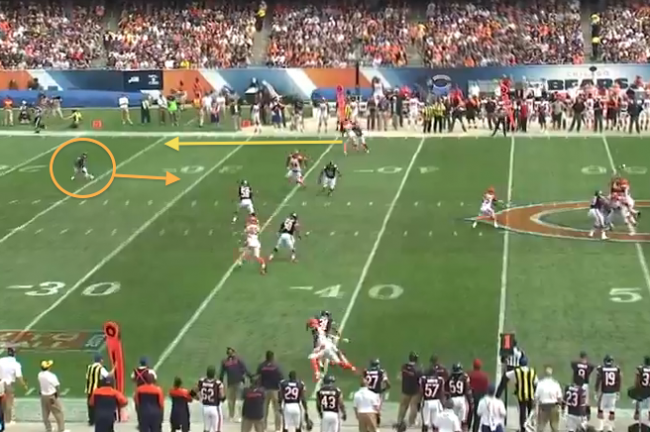 The Packers may not play much of any Cover 2 Sunday, especially against a receiver of Green's caliber. More than likely, he will see man-to-man with a bracketed safety over the top, which is different than what Chicago played on the 45-yard touchdown above.
Still, the play highlights how important it will be for the Packers to play disciplined in the back end, especially with three young safeties—Jerron McMillian, M.D. Jennings and Chris Banjo—likely to get all the snaps Sunday. While Boldin and Garcon hurt the Packers in the middle of the field, Green can make just one mistake on the boundary hurt in the form of a game-changing play.
Green Bay also can't overcompensate on covering Green, as Gresham and fellow tight end Tyler Eifert have the ability to control the middle.
The Pittsburgh Steelers might have provided the beginnings of a blueprint for containing Green during Cincinnati's 20-10 win Monday night.
Cornerback Ike Taylor played physical with Green in man-to-man coverage, and he used that disruption to sit underneath short breaking routes. The Steelers safety duo then provided the necessary help down the field so that Taylor could be more aggressive near the line of scrimmage.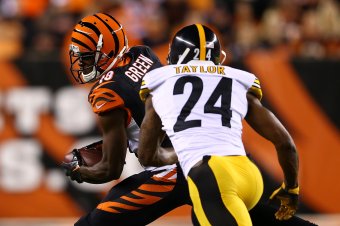 Andy Lyons/Getty Images
While Green was targeted 15 times by Dalton, he caught just six passes for 41 yards. His long catch on the night was just 10 yards, as there were no significant lapses in coverage. The result was a struggle moving the football for the Bengals.
Counting Monday, the Steelers have now contributed three of Green's seven lowest yardage totals in his NFL career.
The Packers can attempt to build on what has worked for the Steelers, especially with Tramon Williams playing the role of Taylor at the line. He could mirror Green throughout the contest. The lanky Davon House (6'1") could also contribute on the outside.
That said, putting so much responsibility on the shoulders of three young safeties could certainly backfire on the Packers too.
More than likely, defensive coordinator Dom Capers will play Green like he has with so many top receivers in recent past. The Packers will give up receptions underneath, but protecting the defense down the field against big gains will remain the primary focus.
The Packers have been a bend-but-don't-break defense for the better part of the last two seasons. Through two games in 2013, Green Bay is ranked 30th in the league in both total defense (458 yards a game) and against the pass (359).
Allowing big numbers to receivers is partly to blame. Since the beginning of 2011, a laundry list of receivers have put up impressive numbers against the Green Bay secondary, including three different 200-yard games.
The following table shows the receivers who have went over 115 yards receiving against the Packers over that time span:
WRs With 115 or More Receiving Yards vs. GB, Since 2011

| | | | | | |
| --- | --- | --- | --- | --- | --- |
| | Team | Year | Rec | Yrd | TD |
| C. Johnson | DET | 2011 | 11 | 244 | 1 |
| R. Wayne | IND | 2012 | 13 | 212 | 1 |
| A. Boldin | SF | 2013 | 13 | 208 | 1 |
| H. Nicks | NYG | 2011 | 7 | 165 | 2 |
| S. Smith | CAR | 2011 | 6 | 156 | 0 |
| M. Colston | NO | 2012 | 9 | 153 | 1 |
| P. Garcon | WAS | 2013 | 8 | 143 | 1 |
| C. Johnson | DET | 2011 | 5 | 143 | 1 |
| V. Jackson | SD | 2011 | 7 | 141 | 3 |
| B. Lloyd | DEN | 2011 | 8 | 136 | 0 |
| K. Winslow | TB | 2011 | 9 | 132 | 0 |
| M. Crabtree | SF | 2012 | 9 | 119 | 2 |
| V. Cruz | NYG | 2011 | 7 | 119 | 0 |
| C. Shorts | JAX | 2012 | 8 | 116 | 0 |
Source: Pro Football Reference
It's a staggering list.
Overall, the Packers have allowed 19 different 100-yard receivers since '11, and Green becoming No. 20 is certainly a good possibility on Sunday.
Putting together a Steelers-like effort against Green might not be reasonable, but Green Bay can escape Cincinnati with a win even if he does become the next receiver to torture the defense. Stopping the chunk plays that change games will be the difference.
The depleted Packers secondary can claim a win against Green, but only if the talented receiver isn't the difference in the game. Boldin was in San Francisco; Garcon only hurt the Packers in garbage time.
Receptions and yards as standalone stats don't always tell the story. How and when those numbers come about is more important, and the Packers must ensure that Green isn't controlling the contest during the biggest moments.
This article is
What is the duplicate article?
Why is this article offensive?
Where is this article plagiarized from?
Why is this article poorly edited?

Green Bay Packers: Like this team?