If the first two weeks are any indication of things to come, NFL fans will have a lot to look forward to on Monday Night Football this season.
The opening games were as intriguing as possible. The NFL knew what it was doing when it scheduled Chip Kelly's debut against Robert Griffin III's return as the first Monday Night Football game of the season. The Philadelphia Eagles stole the spotlight with their uptempo offense, but the Redskins made the game interesting in the second half.
In the second game of the night, the Houston Texans mounted a huge rally to stun the San Diego Chargers.
Week 2 featured an intense division matchup between the Pittsburgh Steelers and the Cincinnati Bengals, which Cincinnati managed to win with a strong second half.
Here are the remaining Monday Night Football games along with predictions for the biggest games on the schedule. *Note: All remaining MNF games are at 8:40 p.m. ET and can be seen on ESPN.
Monday Night Football Schedule 2013

| | | | | |
| --- | --- | --- | --- | --- |
| Week | Date | Away | Home | Result |
| 1 | 9/9 | Philadelphia Eagles | Washington Redskins | PHI 33-27 |
| 1 | 9/9 | Houston Texans | San Diego Chargers | HOU 31-28 |
| 2 | 9/16 | Pittsburgh Steelers | Cincinnati Bengals | CIN 20-10 |
| Week | Date | Away | Home | Prediction |
| 3 | 9/23 | Oakland Raiders | Denver Broncos | Broncos |
| 4 | 9/30 | Miami Dolphins | New Orleans Saints | Saints |
| 5 | 10/7 | New York jets | Atlanta Falcons | Falcons |
| 6 | 10/14 | Indianapolis Colts | San Diego Chargers | Colts |
| 7 | 10/21 | Minnesota Vikings | New York Giants | Giants |
| 8 | 10/28 | Seattle Seahawks | St. Louis Rams | Seahawks |
| 9 | 11/4 | Chicago Bears | Green Bay Packers | Packers |
| 10 | 11/11 | Miami Dolphins | Tampa Bay Buccaneers | Dolphins |
| 11 | 11/18 | New England Patriots | Carolina Panthers | Patriots |
| 12 | 11/25 | San Francisco 49ers | Washington Redskins | 49ers |
| 13 | 12/2 | New Orleans Saints | Seattle Seahawks | Seahawks |
| 14 | 12/9 | Dallas Cowboys | Chicago Bears | Bears |
| 15 | 12/16 | Baltimore Ravens | Detroit Lions | Lions |
| 16 | 12/23 | Atlanta Falcons | San Francisco 49ers | 49ers |
NFL.com
Week 9 (Nov. 4): Chicago Bears at Green Bay Packers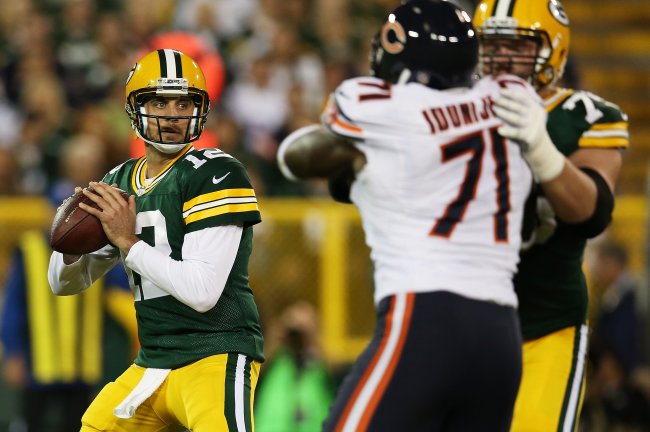 Jonathan Daniel/Getty Images
There are a few intriguing matchups in the first half of the season, but the schedule heats up starting in November. This game figures to match up the top teams in the NFC North for the first time all season.
Chicago travels to Lambeau Field to take on Green Bay in the middle of the season. The Bears are currently one game ahead of the Packers thanks to a pair of fourth-quarter rallies. They have a favorable schedule leading up to this showdown and could very easily go 7-2 or better.
The Packers also have a very good chance of entering this matchup with two or fewer losses. Their biggest test between now and then will be this week's matchup in Cincinnati.
Green Bay has lost only three home games since 2010, so this will be a tough game for Chicago. The Packers have not lost to the Bears since 2010. Chicago hasn't won at Lambeau Field since 2007.
Chicago will be coming off a bye week, so they will have plenty of time to prepare for Aaron Rodgers. The Bears have won three straight games after a bye and six of seven, but Marc Trestman will have to prove himself.
Rodgers led the Packers to only 22 points per game against the Bears last season, so Chicago knows how to slow down the explosive offense. However, it won't be enough to pull off the upset in the spotlight.
Prediction: Green Bay Packers 28 - Chicago Bears 17
Week 13 (Dec. 2): New Orleans Saints at Seattle Seahawks
Jonathan Ferrey/Getty Images
December will be when teams are fighting for playoff positioning, and both of these teams figure to be in contention at this point in the season. Coach Sean Payton has brought energy back to the Saints, but even he won't be able to get his team to beat the Seahawks in Seattle.
The Seahawks have won nine straight games at CenturyLink Field, and they have dominated their opponents. They are winning by an average of 19.3 points per game during the streak.
New Orleans has had to squeak out a pair of victories through the first two weeks thanks to clutch performances on both sides of the ball.
The Saints have yet to show that they have regained their old offensive form. They have averaged only 19.5 points per game through two games, which is nothing compared to what Drew Brees is capable of when the offense is flowing.
Seattle looks like the favorite in the NFC, and this could be a key game for it to secure home-field advantage throughout the playoffs. New Orleans will need this game to keep pace with the other NFC contenders, but it will take a perfect performance by the offense to leave Seattle with a victory.
Prediction: Seattle Seahawks 31 - New Orleans Saints 14
Week 16 (Dec. 23): Atlanta Falcons at San Francisco 49ers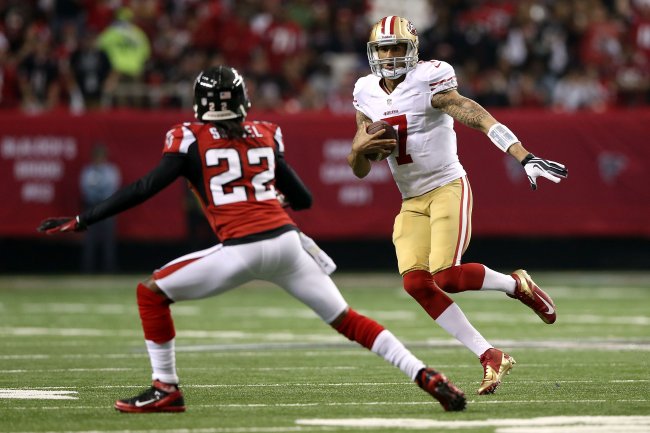 Streeter Lecka/Getty Images
These two teams were the top two in the NFC last season, and they could be among the league's best this year.
San Francisco already knocked off the Packers this season, so they have shown that they are one of the NFC's best teams.
Both teams are currently 1-1 and have lost to their top division rival. They both have some ground to make up now, and this game could go a long way in deciding who has home-field advantage or which team gets the top wild card spot.
Atlanta is unbeatable at home, but has shown some vulnerability on the road. The Falcons are 0-1 on the road this season, and they will have a tough test on this night.
Colin Kaepernick is one of the NFL's premier dual-threat quarterbacks. He has Vernon Davis and Anquan Boldin performing at high levels, and he could have another playmaker by the time this game comes around. Michael Crabtree will miss at least the first six games and is expected to be out until Week 10 or so after suffering an Achilles injury in the offseason.
The 49ers rallied from a 17-point deficit against the Falcons in the NFC Championship game in Atlanta last season. That win earned them a trip to the Super Bowl, so they know they can win this game.
Prediction: San Francisco 49ers 35 - Atlanta Falcons 28
*All stats are courtesy of NFL.com