Is LeSean McCoy a Legitimate Threat to Break the NFL Rushing Record?
Use your ← → (arrow) keys to browse more stories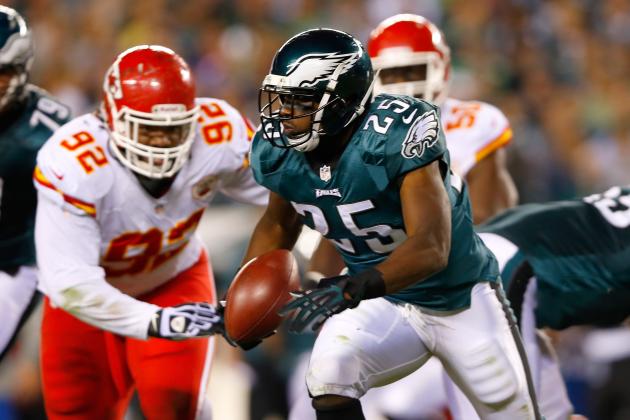 Rich Schultz/Getty Images

After watching the Philadelphia Eagles first three games under Chip Kelly, two things are blatantly obvious—the secondary needs major work, and LeSean McCoy is bound for a special 2013.
The fifth-year running back, who possesses what seems to be unmatched lateral agility, ran for 158 yards on 20 carries in Week 3's loss to the Kansas City Chiefs, lifting his season total to 395 yards at 6.37 yards per rush.
Last year, Minnesota Vikings running back Adrian Peterson fell nine yards short of breaking Eric Dickerson's single-season record of 2,105 rushing yards.
He came that close on 348 carries, a massive workload for a running back in today's NFL.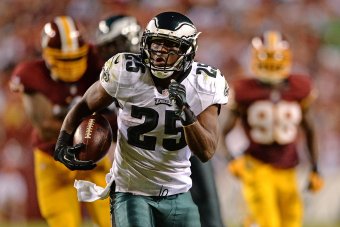 Patrick Smith/Getty Images
McCoy had 273 rushes in 2010, the most in his professional career. So, while some thought playing in a more spread, up-tempo offense could boost his efficiency, nearing 2,000 yards on the ground seemed to be unattainable, based purely on lack of volume.
But no one was quite sure how often Kelly would use McCoy.
Through three games, the shifty runner is averaging slightly more than 20 carries per game, which equals out to nearly four more carries a game compared to what he was given over the past three seasons under former coach Andy Reid.
More importantly is the fact that McCoy is running through larger holes on a more consistent basis in 2013 thanks to Kelly's system that's specifically tailored to get skill-position players in space to accentuate their athleticism.
And McCoy is plenty athletic.
The magic yards-per-game number to tie Dickerson's record is 131.6.
Here's what McCoy's 2013 season projects to at his current per-carry and per-game paces:
LeSean McCoy's 2013 Rushing Pace

| | | | |
| --- | --- | --- | --- |
| Carries Per Game | Yards Per Carry | Yards Per Game | Projected Yards |
| 20.666667 | 6.37096774 | 131.666688 | 2,106.66701 |
ProFootballReference
If he stays exactly as efficient as he's been thus far, McCoy will break Dickerson's record by one yard.
But let's dive deeper into projecting if McCoy is a legitimate threat to be the all-time single-season rushing yard king.
No, the Eagles haven't been the "fastest" offense in the league heading into Week 4, but their revved up pace aids McCoy's chances to approach Dickerson's mark.
In three games, Philadelphia's offense has had the ball for 4,395 game-timed seconds. In that time, it has run 198 plays. After some calculator-aided division, we realize that Kelly's attack runs a play every 22.19 seconds.
Here's a look at how McCoy is being utilized on a seconds-per-carry basis:
Eagles' Use Of LeSean McCoy (Through Three Games)

| | | |
| --- | --- | --- |
| Total Seconds On Offense | Carries | Seconds/Carry |
| 4,395 | 62 | 70.8 |
ProFootballReference
As it currently stands, McCoy is 1,711 yards away from breaking the record and has 13 games to do it.
More division shows that the Eagles runner needs to be just a tad more efficient to be able to maintain his current pace that puts him almost precisely on the 2,106 figure.
LeSean McCoy's Remaining Expected Pace

| | | | |
| --- | --- | --- | --- |
| Games Left | Yards Needed | Expected Total Seconds On Offense Remaining | Expected Carries Remaining |
| 13 | 1,711 | 19,045 | 268.997175 |
ProFootballReference
Based on how long Philadelphia has been on offense, how fast they've operated and how often they've given the ball to McCoy, he should receive 269 more carries on the season.
LeSean McCoy's Needed Production

| | | |
| --- | --- | --- |
| Current Seconds/Yard | Expected Total Seconds On Offense Remaining | Needed Seconds/Yard To Reach 1,711 Over Last 13 Games |
| 11.1265823 | 19,045 | 11.1309 |
ProFootballReference
Multiply those 269 carries by McCoy's current yards-per-attempt average of 6.3709 to get 1,713.7721 expected yards over the final 13 games, which would place him at 2,108 yards at season's end, thereby setting the record.
If McCoy doesn't get the ball as frequently, here's what how much is yards-per-carry average must improve:
LeSean McCoy's Needed Improvement If Carries Decrease

| | |
| --- | --- |
| | Yards Per Carry Average Needed |
| Current Pace = 20.6 carries per game | 6.3709 |
| If 19.6 carries per game | 6.69 |
| If 18.6 carries per game | 7.07 |
| If 17.6 carries per game | 7.47 |
| If 16.6 carries per game | 7.92 |
ProFootballReference
Remember, Jim Brown holds the NFL record with a 6.4 yards-per-carry average for a running back who received at least 200 carries in a single season. Jamaal Charles averaged an electric 6.38 yards per carries in 2010 on 230 attempts.
McCoy will have to be given the ball at least 20 times a game to have a real chance to make history.
It certainly won't be easy for McCoy to keep up such efficient production, but in the Eagles fast-paced offense, the explosive running back may very well threaten Eric Dickerson's rushing record on only 331 carries.