Tiger Woods at Tour Championship 2013 Tracker: Day 2 Highlights and Updates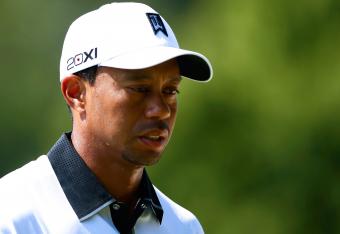 Tiger Woods had it going on for the majority of his second round at the Tour Championship.
However, it's not good enough to get the job done for 13 holes. You have to play 18 holes, and Tiger did not.
Woods finally made a birdie on the third after 20 consecutive holes without one. The smile returned and so did Tiger's game. After he birdied the 13th, he was five-under on the day and two under par for the tournament.
However, the last five holes were simply awful. Tiger had a bogey, double-bogey and a mind-boggling triple-bogey on the 17th hole.
Tiger's five-under start turned into a one-over finish. He closed the second round at four over par, and he is tied for 29th with playing partner Jason Dufner.
Tiger struggled with his accuracy off the tee throughout the round, and paid a big price on the back nine.
Second-round line on Tiger: 4/14 fairways hit, 10/18 GIR, 28 putts. He is tied for 29th in a 30-player field.

— GC Tiger Tracker (@GCTigerTracker) September 20, 2013
Tiger tried to get back into the tournament by playing the first 13 holes in five under par. However, you can't play the last five holes in six over and win an amateur championship, let alone the Tour Championship.
It's all over. Tiger ends the round with a par and that leaves him with a one over par 71.
Here's how quickly it fell apart for Tiger.
An hour ago, Tiger was within four of the lead. Now? He's tied for last.

— Brian Wacker (@pgatour_brianw) September 20, 2013
A four-hole run of disaster for Tiger. He takes a triple-bogey on the 17th. He is one over par for the day and now a painful four-over for the tournament. You can lose it so quickly in this game.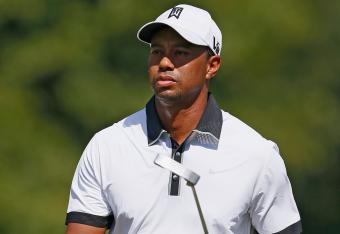 After a brilliant start that had Tiger five-under for the day as he stood on the 14th tee, it's going to be a disaster. His tee shot on 17 went in the water and his third shot leaves him well short. This looks like another double-bogey hole.
The struggling continues for Tiger and he is giving a lot of what he had done earlier away. He takes a bogey on the 16th and is back to one over par for the tournament. He is 10 strokes behind Stenson.
So much for Stenson coming back to the pack.
Henrik Stenson suddenly has a 5-stroke lead four holes into his second round. Could it be a blowout?

— RonGreenJr (@RonGreenJr) September 20, 2013
We said it was a little early for another 59 watch for Jim Furyk, but it's not for Brian Wacker of PGATour.com.
So you're saying there's a chance...RT @JasonSobelGC Jim Furyk needs to play last six holes in 7-under for second straight Friday with 59.

— Brian Wacker (@pgatour_brianw) September 20, 2013
The 16th hole is a long and tough par four. Tiger managed a par on this hole yesterday and his drive goes right.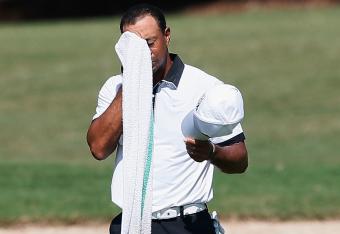 Tiger does not take advantage of the birdie opportunity at the par five. He settles for par and remains at three-under for the day. The mood has turned cloudy again.
The par-five 15th is a birdie opportunity. Tiger is short of the green in two, but he still has a good shot to get one stroke back after the disaster at 14.
One of Tiger's top critics has his say. Robert Lusetich is not wrong.
Clearly, I spoke too soon. Tiger makes the sloppiest of double bogeys on 14th, back to Even par, 8 behind Stenson who starts birdie-birdie

— Robert Lusetich (@RobertLusetich) September 20, 2013
Disaster at the 14th. A double-bogey as he leaves his 12-footer short. Does Tiger go into another funk?
Tiger facing 12-footer for bogey at No 14. About to undo a lot of good work.

— RonGreenJr (@RonGreenJr) September 20, 2013
The good times are ending on the 14th hole. He's in the greenside bunker afthre three and he's going to need a 12-footer for the bogey. This is not good.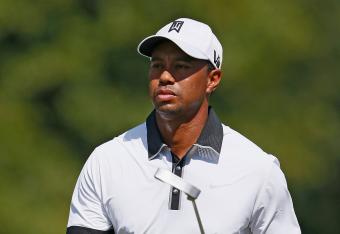 Remember that dour expression that Tiger had yesterday? It's just a memory as he is playing his game and playing it well. He hammers that birdie putt right into the center of the hole for his fifth birdie of the day. If it has been at the edge, it would not have gone in because he had so much pace on it. Dead solid perfect.
Tiger is going to be in position for another birdie after his approach shot runs up to the green and is no more than 12 or 13 feet from the hole. It's an uphill put without much break.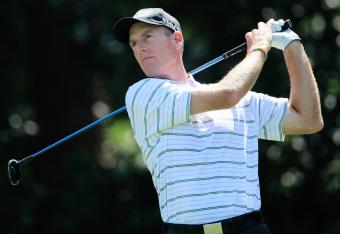 Jim Furyk has it going again today. He's four-under for the day and the same for the tournament through nine hole. That's good, but he is not on the 59 watch just yet.
A couple of more birdies and Tiger will find himself in contention, also long as Stenson and Scott don't go wild.
Tiger converts short birdie putt @ 12 to move into red figures for 1st time this week. #1under

— GC Tiger Tracker (@GCTigerTracker) September 20, 2013
Struck with confidence! Another birdie for Tiger on the 12th. It was the kind of putt Tiger regularly makes without a problem and he sent it right into the center of the jar.
Much better today. With the pin in a very tough left, front location, Tiger lofts it over the bunker and onto the green, perhaps six feet from the flag. Not a kick-in by any means, but a chance for another birdie.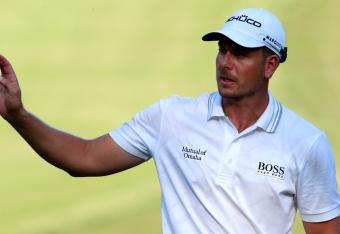 Billy Horschel and Steve Stricker about to tee off; Henrik Stenson and Adam Scott go 10 minutes later.
This article is
What is the duplicate article?
Why is this article offensive?
Where is this article plagiarized from?
Why is this article poorly edited?