20 Dream College Football Matchups We Wish Were on the Schedule in 2013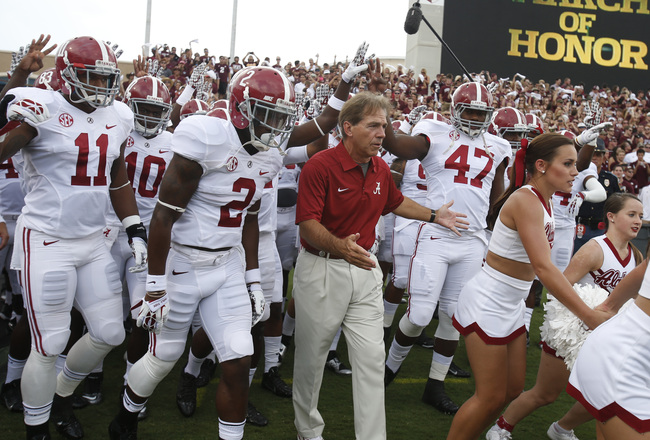 Alabama Crimson Tide
Scott Halleran/Getty Images
Every year, a few tasty college football matchups get our stomachs rumbling in the offseason and serve up a big helping of excitement and thrills when they play out on the field.
Just this season alone, we've seen Georgia vs. Clemson, LSU vs. TCU, Arizona State vs. Wisconsin, Nebraska vs. UCLA, Alabama vs. Virginia Tech and a handful of others that wrote interesting chapters in the 2013 season.
Several notable out-of-conference matchups remain on the schedule, but from this point on, most teams are beginning to enter the conference slate where traditional rivalries are resumed.
But what if you could create your own schedule and pick your own games to see?
Here are 20 dream college football matchups we wish were on the schedule in 2013.
Michigan vs. Arizona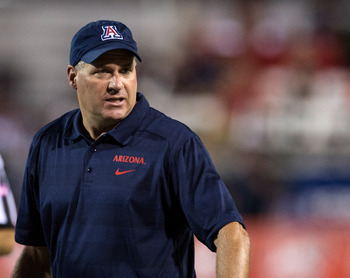 Arizona head coach Rich Rodriguez
Ethan Miller/Getty Images
Here's a rule in coming up with a dream slate of college football: seeing coaches go against their former team is always entertaining.
Oh hey, Rich Rodriguez, the former and mostly unsuccessful Michigan coach now doing some nice work at Arizona!
Both squads have entertaining offenses with dynamic dual-threat quarterbacks, and the defenses have a lot to prove.
The Wolverines are clearly on a different level than the Wildcats this season, but they were on a different planet than the Akron Zips, and that was very nearly a colossal defeat.
The Wildcats have one of the nation's top running backs in Ka'Deem Carey, and they can certainly put points up on the scoreboard.
Were this game to be played in the Big House, you'd probably have Michigan by several touchdowns. In Arizona, it might be a bit closer.
It's not the game you'd plan your year around, but it would certainly drum up some excitement in the offseason, and with Rodriguez on the sidelines, it would be anything but boring.
Washington State vs. Texas Tech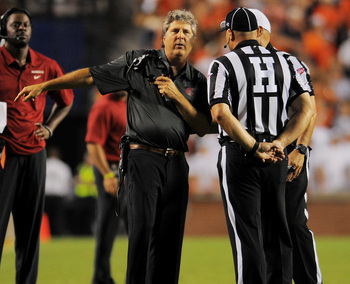 Washington State head coach Mike Leach
Shanna Lockwood-USA TODAY Sports
Not every slide is going to be a coach against his former team because, ultimately, seeing a good game is the most important goal when creating dream games.
But come on, how could Mike Leach facing a program he helped build be left off the list?
The head coach's Air-Raid offense was wildly successful in the Big 12 conference, as his Red Raiders' teams of the '00s put up tons of points each and every week. The defense was never very good, thus the reason for a lack of BCS appearances, but his quarterbacks put up numbers that are hard to believe even today.
Take Graham Harrell, for example, who threw for 10,816 yards and 93 touchdowns at Texas Tech. Oh, and those were just his junior and senior seasons.
With the Cougars, Leach hasn't quite put everything together yet, but the team played Auburn close on the road and knocked off USC in the Coliseum.
Texas Tech would be the favorite here, but the numerous storylines and high-flying offenses would make this a can't-miss.
Arizona St. vs. Louisville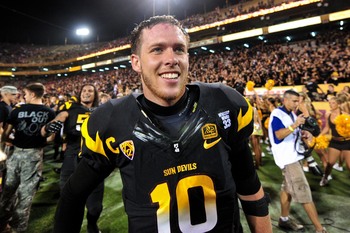 Arizona State QB Taylor Kelly
Matt Kartozian-USA TODAY Sports
Were Arizona State on Louisville's schedule this season, it would be the most difficult game by far for Charlie Strong's team.
It would also give the Cardinals a point of reference for how good they are, as they could compare their contest with other good teams the Sun Devils play in the Pac-12.
Would it be close? Who knows, because Louisville sure looks like an elite team, but it's difficult to tell in wins over Ohio and Eastern Kentucky.
What we do know is that Arizona State has a strong front seven led by defensive tackle Will Sutton. It also boasts a strong, efficient offense led by quarterback Taylor Kelly and running back Marion Grice, who's only a small step down from De'Anthony Thomas when it comes to electric ability.
The best part about this one is that we could see Teddy Bridgewater face a good defense. If he still put up big numbers and his Cardinals won in a route, he might make a serious case for his squad to be in the title game. As it stands, no one of Arizona State's caliber remains on the schedule.
Stanford vs. Baylor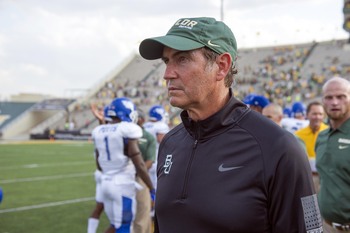 Could Baylor coach Art Briles draw up a scheme to solve Stanford's defense?
Jerome Miron-USA TODAY Sports
Stanford vs. Oregon is already on the schedule, and while seeing a team like Texas A&M try to solve Stanford's defense would be fun, the Baylor Bears might put up an even bigger challenge.
Through two games, Art Briles' team is leading the country in points scored and is second in points allowed.
And it isn't just running back Lache Seastrunk, either. The team is ranked eighth in passing offense and third in rushing. Pick your poison.
Stanford is now famous for having gone into Autzen last season and leaving with a 17-14 victory over the Ducks. Oregon, by the way, scored at least 35 points in every other game in 2012.
Would Briles find a way to keep the scoreboard working overtime, or could David Shaw's team give a similar effort to the one at Oregon and slow down the Bears' offense?
Tennessee vs. USC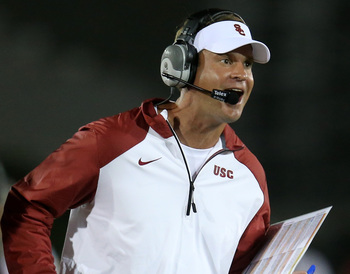 USC coach Lane Kiffin
Stephen Dunn/Getty Images
We'll call this one the Kiffin Bowl. Creative right?
Coach Lane Kiffin had a one-year stint in Knoxville in which he lead the Volunteers to a 7-6 record with wins over Georgia and South Carolina. But the season also saw losses to Alabama, UCLA and Ole Miss. The 23-point loss To Virginia Tech in the 2009 Chick-fil-A Bowl was a disaster.
Then Kiffin apparently weighed his options and decided the time was right to leave Tennessee hanging after one season and take the job at USC.
Amidst severe sanctions, Kiffin did reasonably well with the Trojans thanks in large part to quarterback Matt Barkley.
But today, both programs are in an interesting position. USC, after having national championship hopes in 2012, is off to an underwhelming start after an early home loss to Washington State. The Volunteers don't know what to make of their 2-1 record that includes a 59-14 loss at Oregon.
This one would be unpredictable, making it must-see football. On the one hand, USC flexing its muscles and winning by 28 points wouldn't shock a soul. On the other hand, this could go into four overtimes and have the sports world buzzing for weeks.
We'd love to find out how it all goes down.
Northwestern vs. Ole Miss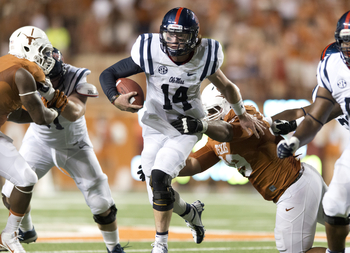 Ole Miss QB Bo Wallace
Cooper Neill/Getty Images
In a matchup of teams hoping to shed their recent reputations, Northwestern and Ole Miss would put on a heck of a show.
Both squads have scored solid, non-conference victories with the Wildcats downing both Cal and Syracuse and the Rebels trouncing Texas in Austin.
Pat Fitzgerald's team likes to score, and despite a rash of early injuries to the offense, they're still scoring more than 43 points per game.
In addition to the win over the Longhorns, Ole Miss also has a road win over Vanderbilt, which came thanks to a thrilling 75-yard touchdown run by running back Jeff Scott with just over a minute to go.
Both teams have a lot of talent on offense, and they would be looking to notch a major win for their respective conferences. In the battle of two darkhorse teams with hopes of winning a league title, college football fans would be the biggest winner.
LSU vs. Ohio State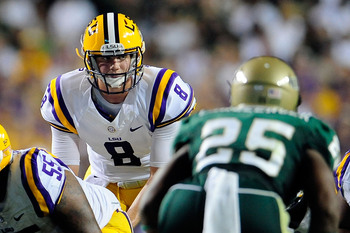 LSU QB Zach Mettenberger
Stacy Revere/Getty Images
The first game on the list that features two powerhouses is LSU vs. Ohio State. Where to even begin?
To start, the Tigers may not want any part of this one. Not because they aren't capable of knocking off the Buckeyes, but because Georgia, Alabama and Texas A&M already exist on the schedule. But disregarding Les Miles' wishes, this one shapes up as a classic.
Ohio State doesn't have a terribly difficult schedule, and a win over LSU would be the exact medicine it needs to get a boost into the Top 2 of the BCS standings. But with the way the Tigers are playing on both sides of the ball, it may not go down like that.
Miles' team has a physical running game, it finally has a quarterback playing well in Zach Mettenberger and the defense, while young, is as talented as there is in the game.
Seeing quarterback Braxton Miller get a chance to prove his skills against an SEC team would be a treat for us all.
Notre Dame vs. Miami (FL)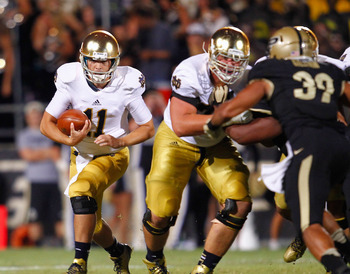 Notre Dame QB Tommy Rees
Michael Hickey/Getty Images
Ah, the ol' Catholics vs. Convicts rivalry. This piece does a nice job summing up the history between these two schools.
And the history, well, there's plenty of it. The two schools played a regular series up until 1990, when it suddenly ended.
But the game doesn't make the list simply because it used to be a big rivalry. It would actually be a great contest this season, as both schools sit firmly in the second tier of teams.
Miami has a huge win over Florida under its belt, and the Irish are 2-1 after losing a close one to Michigan.
The two have gotten together a couple times in recent years, but with the 'Canes hoping to jump back into the national discussion for the first time in nearly a decade, 2013 would be the perfect time to make this thing happen once again.
UCLA vs. Michigan
Michigan QB Devin Gardner
Gregory Shamus/Getty Images
The Michigan Wolverines get to face their second Pac-12 opponent on the list, and this time it's Jim Mora's UCLA Bruins.
Both of these schools have legitimate chances to win their conferences.
Each offense is led by a dynamic quarterback who can make plays with his arm and his legs, and both schools are experiencing a football revival of sorts under relatively new head coaches.
In this Pac-12 vs. Big Ten battle, which team would come out on top and score a major win for their conference?
The difference could be the athleticism of UCLA's defense with surefire first-rounder Anthony Barr roaming around. But let's say the game is being played under the lights at the Big House, with more than 100,000 screaming fans.
Now that would be a dream game.
Oklahoma State vs. Florida State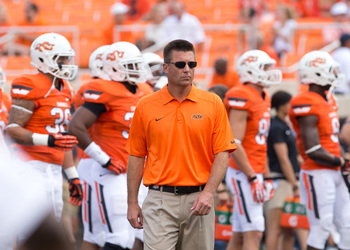 OSU head coach Mike Gundy
Richard Rowe-USA TODAY Sports
Part of the consideration in coming up with these matchups is looking at the history between the two teams. Another part is looking at the styles of play and projecting how they might clash on the field.
But the most important factor is, if you saw this game on the schedule, would you be excited? Does it seem like an entertaining game?
That's the category that the Cowboys and Seminoles fall into.
Oklahoma State is averaging more than 43 points per game and has proven it can play a little defense too with a 21-3 victory over Mississippi State.
Florida State is on everyone's mind due to fantastic freshman quarterback Jameis Winston, the highly recruited dual-threat wizard who's done nothing to shed his predetermined future as a star.
We would find out a lot about both of these schools, from how good they are today to what kind of chances they have in the national title discussion.
In one of the more non-traditional games on the list, Florida State and Oklahoma State would surely give us a fantastic show. Luckily, fans will only have to wait until next season to see it happen.
USC vs. Texas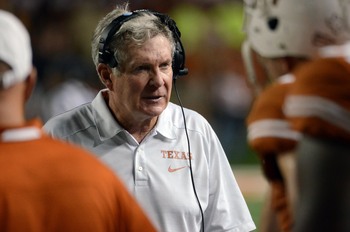 Texas head coach Mack Brown
Brendan Maloney-USA TODAY Sports
It may not be pretty, but boy would this be a fun game to see, if only so rivals and fans around the country could point and laugh.
Then, of course, due to the unpredictable nature of the game, it could turn into an epic showdown that channels the ghosts of Vince Young, Matt Leinart and Reggie Bush. (Would that be an NCAA violation?)
2006 is a long, long time ago in college football years, and while it's fun to imagine both teams bringing their "A" games and giving us something memorable, that isn't likely.
And yet, we'd have to tune in to see what kind of blunders these teams could come up with. Texas has no defense, and USC has a fantastic one. The Trojans, at least until last Saturday's 35-7 win over Boston College, don't have the offense we're used to seeing.
Maybe this game would be 13-7 with six turnovers apiece, but seeing Mack Brown and Lane Kiffin pull out all the stops to vault themselves off the hot seat would be extremely entertaining.
Georgia vs. Washington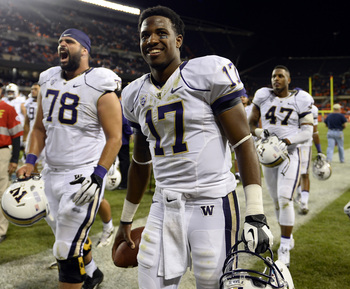 UW QB Keith Price
Mike DiNovo-USA TODAY Sports
Two breeds of dog. Two confident head coaches. And, err, that's pretty much it when it comes to similarities.
Last season, Washington went down to LSU and left as quickly as it could, realizing it had no business tussling with SEC powerhouses.
But the Huskies are a much different team now with a confident quarterback in Keith Price, a top-tier running back in Bishop Sankey and a physical defense led by linebacker Shaq Thompson. Different enough to hang with the Bulldogs?
Not if Aaron Murray, Todd Gurley and company had anything to say about it. Mark Richt's team hung tough in a loss at Clemson and knocked off South Carolina at home. To say it is battle-tested and proven would be an understatement.
Steve Sarkisian's guys have beaten Boise State and Illinois.
If this one were played in Athens, Georgia we'd probably get a score like 38-20 in favor of the Bulldogs. But up at brand new Husky Stadium, it might be a toss-up, giving fans a premier non-conference game.
Baylor vs. LSU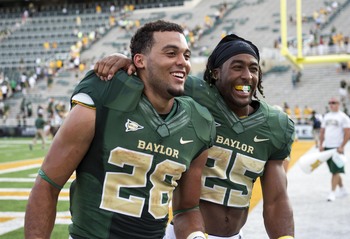 Baylor RB Lache Seastrunk is all smiles in 2013.
Jerome Miron-USA TODAY Sports
Both LSU and Baylor appear now for the second time on this list, and what a show they would put on.
The Bears have been the doormat of the Big 12 for a large part of their history, and LSU has history and tradition to spare.
But 2013 brings us a different breed of football, where fourth-down attempts occur as regularly as Pac-12 officials blowing calls, and if you don't run an up-tempo offense, you're already a step behind (except you, Nick Saban, you're doing just fine).
Would LSU's talented defense have an answer for Lache Seastrunk's speed? Could the Bears play tough enough up front to slow down the Tigers' physical rushing attack? If Art Briles' team pulled it off, could scientists send back the newspaper headlines from the following day to 2005, creating turmoil and chaos?
The game isn't on the actual schedule, so we won't get to find out. But we can dream.
South Carolina vs. Oklahoma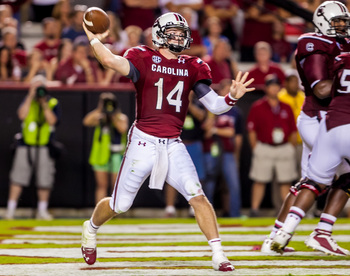 South Carolina QB Connor Shaw
Jeff Blake-USA TODAY Sports
Surprisingly, these two programs have never played.
So why not start now, when both programs are ranked in the Top 15 and have feisty head coaches looking to kick-start their team's season?
It's difficult to get a gauge on the Sooners so far because they looked terrible on offense until switching to quarterback Blake Bell, who promptly led his guys to a 51-20 win over Tulsa.
South Carolina opened the season with a win at North Carolina and tacked on a victory over Vanderbilt last Saturday, but sandwiched between the two is a loss to Georgia.
Traditionally, Oklahoma would be the favorite in this one. But the Gamecock's defense is a different animal, and it doesn't exist anywhere in Big-12 country.
Seeing these two tussle would be very entertaining indeed.
Louisville vs. Clemson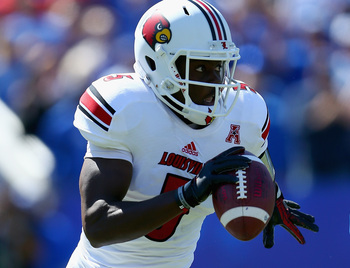 UL QB Teddy Bridgewater
Andy Lyons/Getty Images
Since Clemson already knocked off Georgia, what's one more Top-10 opponent?
And because Louisville doesn't play anybody with a pulse, surely it will be up to the challenge, right?
Somebody make this happen!
This particular matchup gives us two of the best quarterbacks in the game leading two of the best teams in the country, each with hopes of an undefeated season and a shot at the national title.
The legend of Teddy Bridgewater grew in the offseason, and he's since backed up the buzz by already throwing for more than 1,000 yards and 10 touchdowns with just one interception. Still, the outstanding junior isn't going to raise any eyebrows until he can prove it against real competition. Or, in other words, until the Cardinals play their bowl game.
Meanwhile, Tajh Boyd elevated his status tremendously by knocking off Georgia in the Tigers' opening game of the season. The offense also features perhaps the best wide receiver in the game in Sammy Watkins and a solid running back in senior Roderick McDowell.
You could easily see this one turning into a shootout where the team that wins is the one who has the ball last. It may only be a dream, but it sure is fun to think about a Louisville vs. Clemson game.
Texas A&M vs. Oregon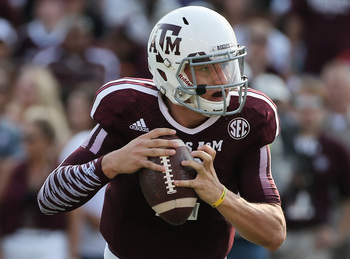 Texas A&M QB Johnny Manziel
Scott Halleran/Getty Images
If this one isn't at the top of your list, it's probably near it.
The obvious storyline is how many points can the two offenses combine to score? Texas A&M has Johnny Manziel, a one-of-a-kind talent who always keeps his team in the game with miraculous plays and, sometimes, a bit of luck.
Oregon is led by Marcus Mariota, another sophomore who can run like the wind and fire lasers at his receivers. The Ducks just put up 59 on Tennessee, though with the starters in throughout the fourth quarter, it may have been 80.
Not to be outdone, the Aggies put up 42 on Alabama in a loss.
You would have to live through being reminded 25 times that both Marcus Mariota and Johnny Manziel were once committed to Oregon, but it would be worth it.
Right now, the slight edge probably goes to Mark Helfrich's team because the defense is playing well, but when you add Johnny Manziel into the equation, anything could happen.
Alabama vs. Stanford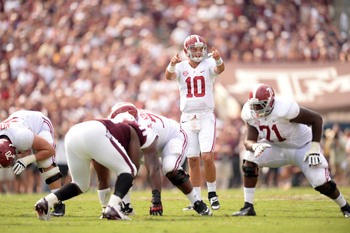 Alabama QB AJ McCarron
Thomas Campbell-USA TODAY Sports
Like Texas A&M vs. Oregon, this game would feature similar styles of play between two teams hoping to reel in a crystal ball.
However, the scoreboards in the respective matchups would look a lot different.
Alabama has an NFL-worthy defense led by linebacker C.J. Mosley, which Stanford counters with a dominant linebacker of their own in Shayne Skov.
The Cardinal may have the edge in the secondary with Ed Reynolds at safety, but both defensive fronts are as physical and intimidating as they come.
The difference here may be on offense, where despite building a reputation of grinding it out and running the clock, the Crimson Tide actually have some pretty dynamic playmakers.
AJ McCarron is as cool and confident a player as you'll find, and T.J. Yeldon is one of the top two or three running backs in the country.
David Shaw's team is led by quarterback Kevin Hogan, who's undefeated as a starter. But he doesn't have anything close to what McCarron has in terms of open field playmakers. He makes up for a little bit of that with his own legs, but the two offenses are on different platforms at this point in the season.
So who wins? Today, it's the Tide by two touchdowns, but if the Cardinal can get things going on offense and show some home run ability, this may be the national championship we get at the end of the season.
Ohio State vs. Florida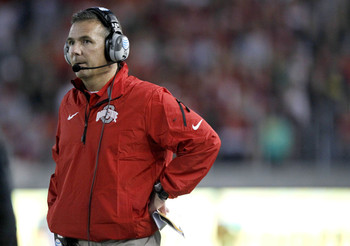 Ohio State head coach Urban Meyer
Cary Edmondson-USA TODAY Sports
Now this game just flat-out has it all.
One of the best coaches in the game, Urban Meyer, would get to square off against the team he helped lead to a pair of national championships.
Both schools are full of tradition and history, and the two are among the best in their respective conferences.
While the Gators took a tumble against Miami earlier this season, they still have the type of defense that Buckeyes' quarterback Braxton Miller is unlikely to see in conference play. And with Ohio State struggling a bit on defense, perhaps Will Muschamps's crew could get things going and finally start to put some points on the board.
If Miller were to put on a show against this defense, not only would he wrap up the Heisman Trophy, but it could solidify his team as the second-best team in the country.
But if Florida came away victorious, it would be another major blow to the Big Ten and another notch in the SEC's belt.
Texas A&M vs. Clemson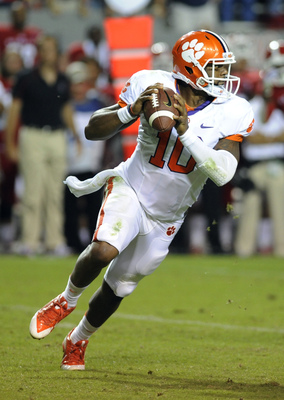 Clemson QB Tajh Boyd
Liz Condo-USA TODAY Sports
If Texas A&M can score 42 points against Alabama, it's downright scary to think about what it might put up on Clemson.
But with the Tigers, you have a team with just as much playmaking ability on offense. Yup, this here is a good ol' fashioned shootout.
Neither team has a remarkably impressive defense, although Clemson can at least claim it held Georgia to 35, which isn't too bad.
But both teams play top-level offense, and the fireworks from this one would fill the sky with smoke for at least a week. It would give us big plays, Heisman moments and hopefully a thrilling finish at the very end.
Looking at it in the context of the 2013 season, it would give the Aggies a chance to climb back up the rankings after the loss to Alabama. For Clemson, a win would provide further proof that it belongs in the title discussion.
Alabama vs. Oregon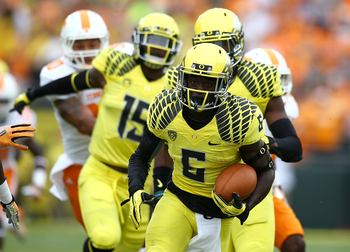 RB De'Anthony Thomas
Jonathan Ferrey/Getty Images
It's a game we've all been dying to see for several years now, and at the conclusion of the 2013 season, the dream may be realized.
Nick Saban vs. Chip, err, Mark Helfrich. Well that doesn't have the same ring to it, but the Oregon offense is playing as well as it ever did under Kelly, and the Tide may actually have a few holes this season.
Of course, those holes are the size of small ferns compared to the giant Redwoods growing larger every day at a place like Texas. But they're just big enough that the Ducks might be able to exploit them and steal a win.
But while the Oregon's defense has played well so far, it hasn't seen anything close to what Alabama can do on offense. McCarron is not going to overthrow passes, and his receivers aren't going to be plagued with numerous drops or fumbles.
After seeing what Johnny Manziel was able to do against Alabama, how would Marcus Mariota perform?
The tickets for this game, aside from being barter material in exchange for small houses, would have just two words written on the back: Buckle Up.
Keep Reading