Film Focus: How Manchester United Can Learn (and Grow) from 3-2 Derby Win in '12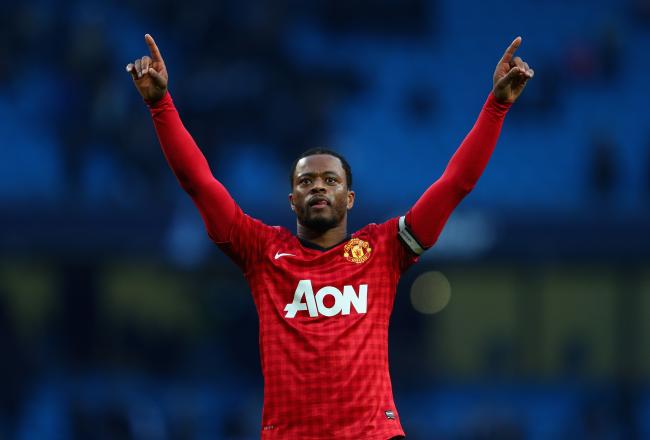 Clive Mason/Getty Images
Arguably Manchester United's toughest fixture of the entire season appears on their schedule this week when they travel to the Etihad Stadium to face Manchester City. And after the success of last season, optimism will no doubt be high among Red Devils fans—especially after their 4-2 defeat of Bayer Leverkusen during the week.
But that doesn't mean for one minute that this will be an easy game.
Manuel Pellegrini's side are one of the favorites for the title this year and with a strong squad infused with attacking power and creativity, the Citizens are certainly capable of winning this one. In fact, you'd be hard-pressed to find someone who didn't consider the 2012 champions as favorites for this fixture given how strong they can be at their best.
The same was said heading into the fixture last year. Manchester City hadn't lost all year—until the Red Devils came to the Etihad and delivered a crucial blow. A late Robin van Persie free kick gave United a 3-2 win, but the reality was that Sir Alex Ferguson's men were much more clinical with the ball than the scoreline suggests. They came to the Etihad with a plan and executed it to near perfection.
So, what was the plan and why was it so successful? Let's break down the memorable 3-2 United victory and see what can be learned for this year's fixture.
Manchester United's Starting XI: Counterattack and Width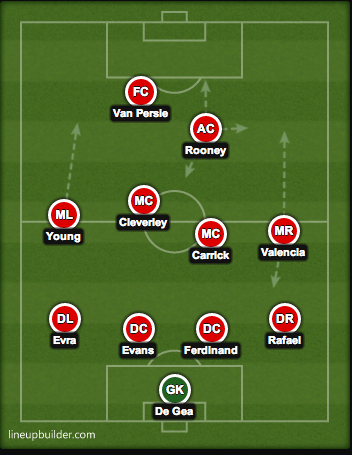 Manchester United's team on the day was an oft 4-4-2 formation that was designed to sit back and counterattack. Ashley Young on the left wing and Antonio Valencia on the right were expected by Ferguson to drop back and cover their respective full-backs while Tom Cleverley and Michael Carrick acted as the double-pivot in central midfield.
Wayne Rooney (played as a free-running No. 10) filled the space ahead of them, and Robin van Persie took his usual spot at the top of the Red Devils' attack.
The key for United was always about counterattacking and width.
Both Valencia and Young were deployed to sit back and then stride forward down their respective flanks if they felt the opportunity was there. However, in order for that to be effective, the attacking duo of Rooney and RVP needed to also look for width.
Neither Rooney or RVP could afford to play as a stagnant striker looking to get in behind the last man. That simply wasn't going to work against the strength of City's defense—led by captain Vincent Kompany. They needed to track back and push wide to try and drag their corresponding defenders with them.
The Plan in Action: Part I
Clive Mason/Getty Images
This plan was immediately put into action as United pounced for their first goal.
After just 15 minutes of play, United had seen few chances fall their way. They had just under 30 percent possession for the match but looked to attack quickly after David de Gea collected the ball in his box. And in the space of just 15 seconds, United would be at the other end of the field.
The key was van Persie's movement on Kompany around the halfway line.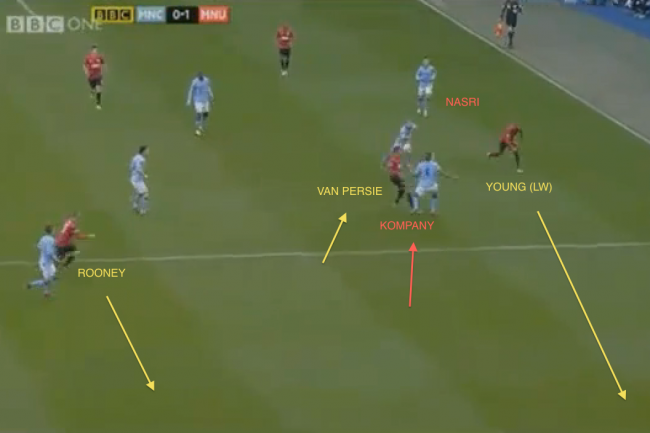 As we can see, van Persie's movement back to halfway drags the defender with him and, with Young quickly breaking away from his man in Samir Nasri, starts the United attack. Rooney recognises the space now in behind van Persie and becomes the moves to the top of the attack.
Fast-forward a few seconds, and we can see just how much space there is for United in behind the Belgian international courtesy of van Persie's movement.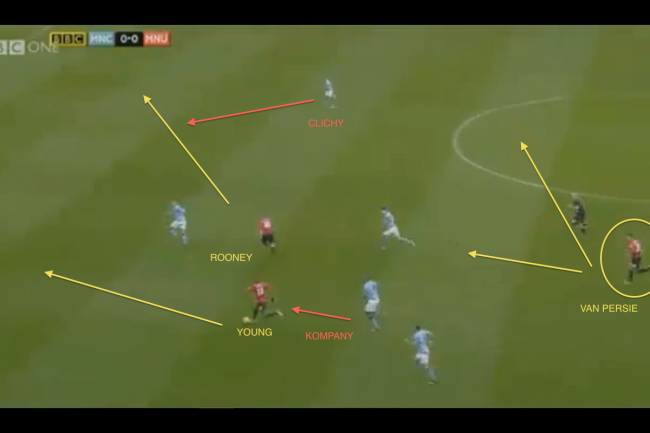 Young is well clear of Kompany and is surging towards goal. Rooney's defender is doing his best to mark both he and Young and will soon switch on to the winger once Gael Clichy arrives from the left flank. Again, the key is van Persie, who is well behind the attack now but—importantly—has dragged Kompany far enough away as well that he cannot cover and provide as much influence.
The final image of the counterattack sees Young and Rooney now surrounded by the defenders, and their attacking space seemingly filled with blue shirts.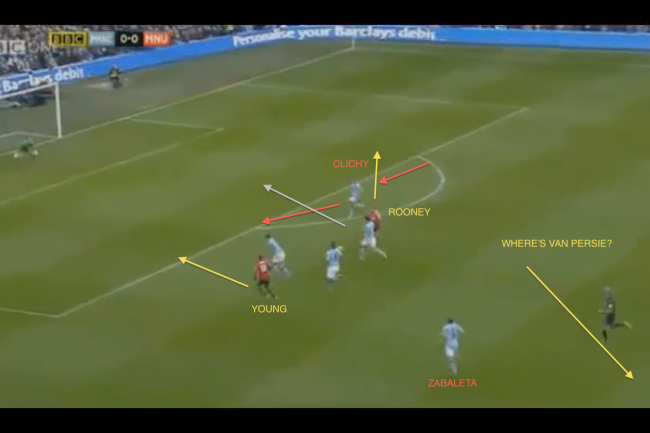 Kompany, notably, has made his way back, but with Young sliding his pass across to Rooney at just the right time, there's still a chance for United to get through.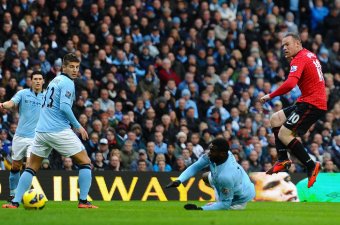 Laurence Griffiths/Getty Images
Clichy—now tasked with the job of shutting down Rooney—assumes that the England international is going to play the ball straight on and attempt a shot at Joe Hart's goal, but Rooney has other ideas. He lets the ball run across him and in behind Clichy, whose movement takes him out of position. With one quick shot, Rooney finds the back of the net and United have a 1-0 lead.
The key is van Persie, who can't even be seen in the shot above.
It was his movement that made the space for Young and Rooney to attack, and while Rooney still had plenty to do in finishing the goal, it was the Dutchman who gets all the credit in this one.
The Plan in Action: Part II
Here we can see the start of United's second goal.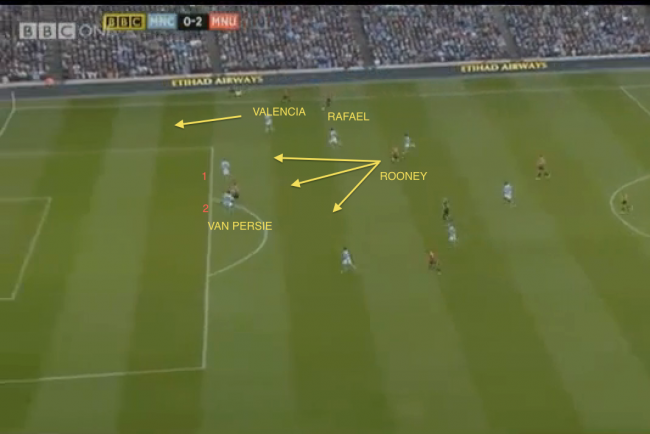 Again, van Persie sits at the top of the attack and is marked by two central defenders, but his movement is important to note here. It might seem like he's simply doing his job as a striker, but what he's actually doing is making space for Rooney, who has dropped off into a more central midfielder role and will surge into the space.
Rafael has the ball, and the presence of Valencia is enough to force Clichy to hold off for just a moment—allowing Rooney to put himself in a great attacking position.
The right-back releases Valencia, who uses his speed and quick feet to get into a good crossing position. Again, as we can see, RVP is being double-marked, and the space is still there for the England international (albeit not as much as there was before).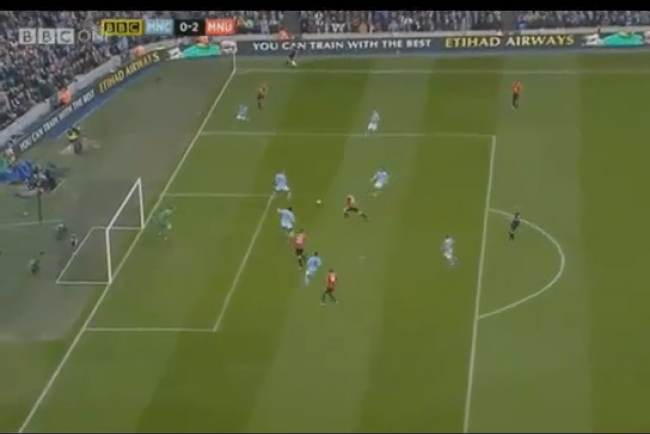 Rooney is simply too clinical with that much space. Kolo Toure (now playing for Kompany) is slow to peel off van Persie, and that's all the space Rooney needs. Timing his run between Pablo Zabaleta and Kolo Toure perfectly, the Englishman makes it 2-0 for the Red Devils.
It's a different kind of movement each time from van Persie, Rooney and the two United wingers, but it's still their movement to trouble the defenders that's the key.
Their movement makes space, and the space makes the chance.
United will no doubt look to exploit this once more against the Citizens.
Where the Plan Struggled
Clive Mason/Getty Images
However, it's important to note that while the attacking side of the formation worked well for United (going up 2-0, namely) it also didn't work in defense.
United struggled to pick up the wide-running full-backs from time to time and were caught ball-watching as well. Both of those issues were clear against the Citizens.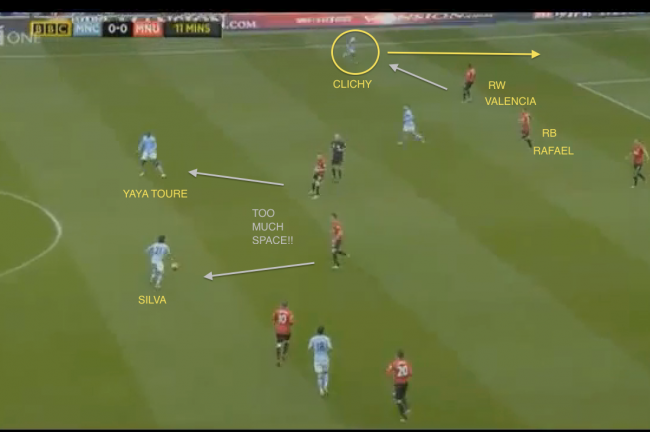 The chance above might not have led to a goal scored for the home team, but it was a huge shock and one that showed United's vulnerability.
As we can see, United are actually set up pretty well in defense, with right-winger Valencia tracking back to play in the same defensive line as Rafael at right-back. However, look at United's central midfield pairing. Cleverley and Carrick appear to have both Silva and Yaya Toure under wraps, but neither is marked. And as the next image shows, Silva has enough space to launch Clichy into the clear.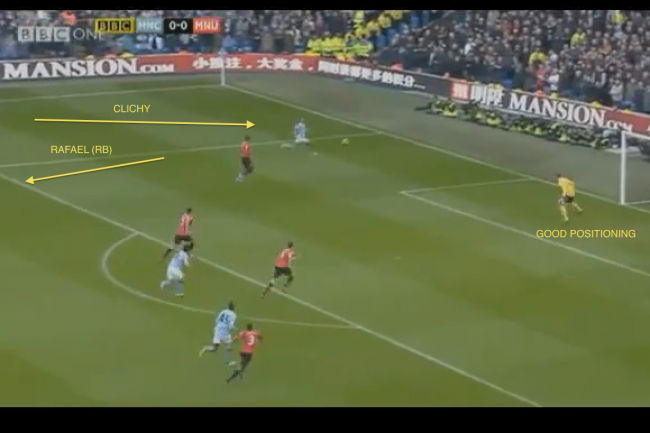 The Frenchman beats Valencia courtesy of a sublime pass, and that's it.
Now some credit must be given here to Clichy. He does exceptionally well to not only keep the ball in but also to slide it across goal, and had Mario Balotelli brought his finishing boots with him that day, de Gea would have stood no chance of stopping the volley. City would have—and perhaps should have, looking back at the chance—been 1-0 up inside the opening minutes.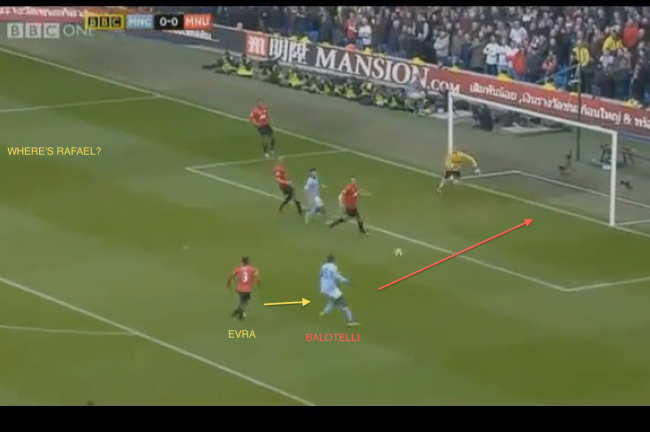 United were caught giving too much space to Silva, and then didn't scramble well in defense. They were lucky it was just a left-back and an out-of-favor striker that this chance fell for and not Jesus Navas and Alvaro Negredo (like it could be on Saturday).
Fixing The Plan: Tackle, tackle, tackle
The key for United here, as far as their defense goes, is their tackling and ability to pick up City's attackers. Fernandinho's inclusion this season has given Yaya Toure so much more attacking freedom in the middle, and with the likes of Negredo, Edin Dzeko and Sergio Aguero potentially ahead of them, has turned City's attack into a very powerful one.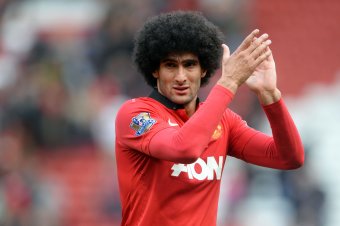 Michael Regan/Getty Images
Picking up these attackers—and forcing turnovers—is of paramount importance.
The arrival of Marouane Fellaini should help this.
The former Everton midfielder was superb against Bayer Leverkusen in the Champions League with his physical, all-action tackling style, and United will need him to fulfill that role against City this weekend. He'll be perfect at shutting down the space that United gave City in Zabaleta's goal (below), and will also help make key tackles in front of United's box (further below).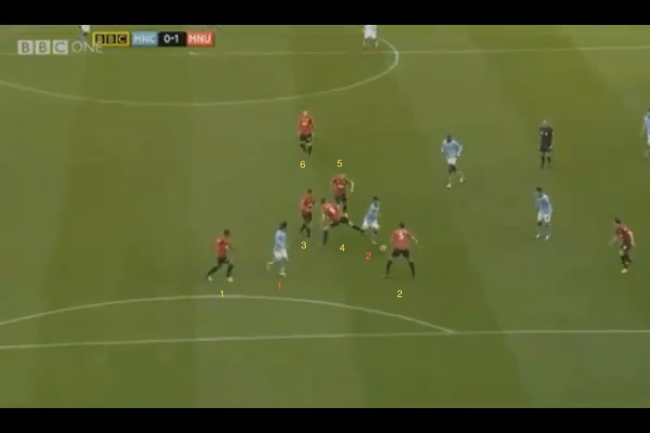 Conclusion: How to Turn the 2012 Plan into a 2013 Plan
At one level, the plan shouldn't be all that complicated for United.
In attack, look for Valencia and the other winger (most likely Nani) to sit deep and then attack with quick strikes. Look for Rooney and van Persie to often interchange and swap roles, as they move from the top of the attack to midfield and from the centre of the field out wide—trying to create space. If pulled off successfully, United have the talent needed to take advantage of the chances they'll find.
In defense, the focus must be their positioning. Rio Ferdinand and Nemanja Vidic must get the four-man (and potentially six-man) defensive line working together so that City can't get behind them. Fellaini must be ready to tackle himself silly on the day; Carrick must be ready to track the movement of Yaya Toure and not allow him space. Rooney, even, can play a key role here by dropping back and picking up the heart of City's midfield this year—Fernandinho.
Execute that plan, and then hope for the best. That's all United can do.
And the winner will be...
Last year, we saw that plan go perfectly early but some sloppy defending take away that lead. And the game-winning goal didn't come from an outworking of the plan. Danny Welbeck simply ran hard and chased down Clichy. He forced an error, turned the ball over, and Rafael was fouled moments later.
The rest, as they say, is history. United fans will certainly be hoping that the history of success they had at the Etihad in 2012 will show up again in 2013.
Hit me up on Twitter for more sports goodness: Follow @dantalintyre
This article is
What is the duplicate article?
Why is this article offensive?
Where is this article plagiarized from?
Why is this article poorly edited?

Manchester United: Like this team?