Kansas City Chiefs vs. Philadelphia Eagles: Live Score, Highlights and Analysis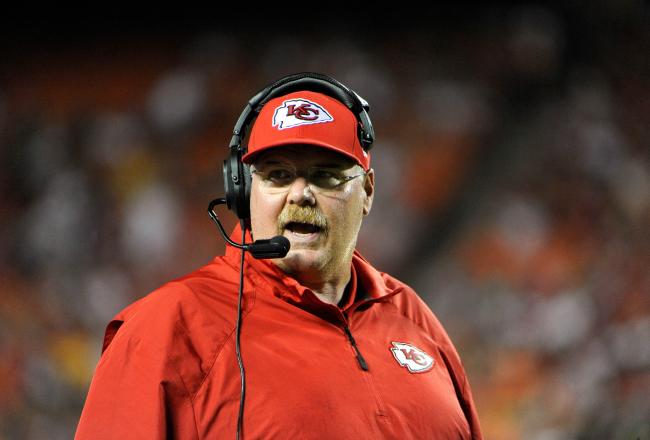 John Rieger-USA TODAY Sports
Andy Reid's much-anticipated return to Philadelphia resulted in a little payback. The head coach of the Kansas City Chiefs was back in the City of Brotherly Love on Thursday night, and he took the Eagles to task with an emotional 26-16 victory against the franchise that cut ties with him after 14 seasons last December.
Reid's replacement and his up-tempo offense were plagued by mistakes. The Birds committed five turnovers before it was all said and done, including a muffed punt and pick six to spot Kansas City 10 points within the game's first four minutes.
From there an erratic Michael Vick was never quite able to find a rhythm. The Eagles quarterback completed 13-of-30 passes for 201 yards with a touchdown and two interceptions, plus was sacked five times as the offense stalled repeatedly.
Philly's defense was able to pressure Chiefs QB Alex Smith, but he managed the game well, committing zero turnovers along the way. Running back Jamaal Charles racked up over 170 yards of total offense, while wide receiver Donnie Avery piled up 141 yards receiving.
Kansas City is now 3-0 on the season, and looking like a viable contender out of the AFC West. The Eagles fall to 1-2 for the year, with a tough game ahead in Denver 10 days from. More analysis on the major happenings from the contest below.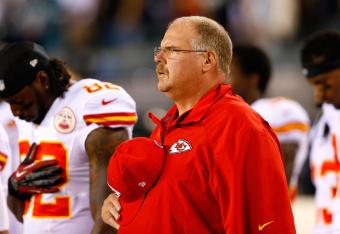 Final: Kansas City 26, Philadelphia 16
Game ends with Alex Smith kneeldowns and a Gatorade shower for Andy Reid. Smith managed the game well, completing 22-of-35 attempts for 273 yards with no turnovers. Jamaal Charles had 172 all-purpose yards and a score, and Donnie Avery of all people torched the Eagles for 141 yards on seven receptions. On the other side of the ball, Justin Houston was credited for 3.5 sacks, four tackles for loss, and three passes broken up.
Philly had some standout stars--Donovan McNabb having his number retired, LeSean McCoy rushing for 158 yards and a TD, and five different players on defense recorded a sack. But again, it came down to turnovers (6) and Vick's subpar performance (13/30, 201 YDS, 1 TD, 2 INT) in the passing game.
That'll do it from the Linc.
Simple fact of the matter is you can't spot teams points and possessions the way the Eagles did tonight. Four turnovers are the story of this game for both teams, particularly the 10 off of Philly's first two possessions--a muffed punt, and a pick six. Clearly those were very big points, not to mention momentum swung the momentum Kansas City's way from the outset.
26-16 Chiefs, 1:40 fourth quarter
Now Vick is shaken up in a (likely) meaningless possession at the end of the game here. Bad news on top of bad news for the Eagles.
Guys, the #Chiefs are 3-0. Think about that for a minute.

— KC Chiefs Blog (@KCChiefsBlog) September 20, 2013
Quite a different story for the Chiefs, who even if they can't beat out Denver for that top spot in the AFC West, appear to be on the inside track to a playoff berth. Andy Reid doing a nice job in Kansas City, which you'll find no surprise here. Lots of talent there, great coach.
So the #eagles are going to fall to 1-3. With how division looks, its not a death sentence- but worst game by this team so far.

— Eliot Shorr-Parks (@EliotShorrParks) September 20, 2013
Eagles have the Broncos in Denver next week, and while they'll have the extra rest and anything can happen, it's easy to look at that game and chalk it up as a loss.
In previous two games, Eagles o-line dominated. Not so much tonight.

— Brian Solomon (@Brian_Solomon) September 20, 2013
Kansas City definitely got the better of the Birds up front. Will be a big story line in Philadelphia for the next week. Meanwhile, the Chiefs front seven is for real.
26-16 Chiefs, 2:36 fourth quarter
The Eagles' offense goes out with a whimper, turning the ball over on downs. Time to go into wind-down mode.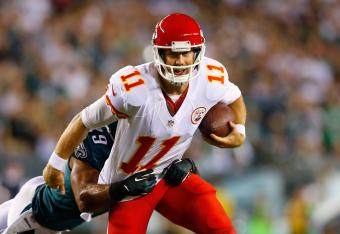 23-16 Chiefs, 3:27 fourth quarter
Big difference in this second half and fourth quarter in particular has been the Chiefs ability to convert on third down. At one point they were 3-of-12, but have since completed three of their last four. They're in field goal range, so unless the Eagles do something drastic, it's looking like this will be a two-possession game.
23-16 Chiefs, 5:00 fourth quarter
Chiefs going on a long march here from out of their own end zone, bleeding a lot of clock in the process.
#Chiefs CB Brandon Flowers with a knee injury, return is questionable. #KCvsPHI

— Jeff Warner (@Jeff1470TheFox) September 20, 2013
23-16 Chiefs, 9:30 fourth quarter
No surprise, Flowers probably not faking after all. That's going to be a big loss for Kansas City if he's out and the Eagles continue to fight back. He's their best cover corner and has been doing the job on DeSean Jackson all night. Chiefs with the ball for now though.
Most 4Q touchdowns of 40 yards or more in NFL history: LeSean McCoy 5, A.P,, Barry Sanders, Antowain Smith, Robert Smith, Fred Taylor 4.

— Reuben Frank (@RoobCSN) September 20, 2013
My CSN colleague Reuben Frank always brings the crazy stats. Well done.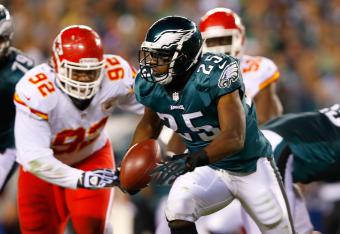 23-16 Chiefs, 11:36 fourth quarter
That 40-yard touchdown run right there is why McCoy leaving the game with an injury would have been a disaster for the Eagles. With the exception of perhaps Adrian Peterson (perhaps...) there is no better back in the NFL right now. Philly has life.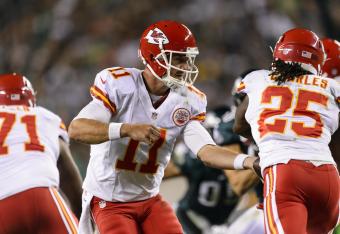 23-9 Chiefs, 11:30 fourth quarter
By the way, Jamaal Charles finally took over the clubhouse lead in rushing from Alex Smith on that last drive. Charles has 12 carries for 47 yards on the score. Not hard to understand why Andy got away from the run in this one. It wasn't very effective until recently.
Charles does have six receptions for 77 yards as well though.
23-9 Chiefs, 12:57 fourth quarter
Kansas City's offense punches the ball into the end zone for the first time tonight, and they have a commanding lead given the way the Eagles have played. 13 minutes is an eternity for Chip's offense, but Vick has not looked capable of leading a comeback up to this point.
Patrick Chung is playing poorly tonight. Maybe we need to play Nate Allen and Earl Wolff together.

— Tommy Lawlor (@lawlornfl) September 20, 2013
16-9 Chiefs, start of fourth quarter
Not sure anybody in the Eagles' defense has had a worse game than safety Patrick Chung, who is featured in the photo of Avery below, probably getting ready to miss that tackle. Surprisingly, Nate Allen is having a good game, but it looks like Philly has problems at both of those spots, not just the one.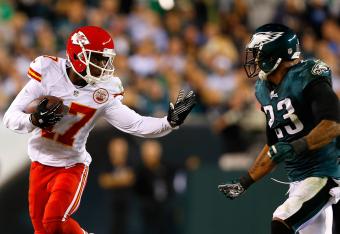 16-9 Chiefs, 1:06 third quarter
Jeff Allen coming out of the game again for the Chiefs.
In the meantime, Donnie Avery continues abusing the Eagles' defense on these underneath routes in long down and distance situations. He's up to 126 yards on six receptions, and nearly took that last one in for six.
Right RT @theprogramkc If you want to stop the clock with a bonus injury, you're not going to do it with your best cover CB.

— Arrowhead Pride (@ArrowheadPride) September 20, 2013
Fair point, folks who think the Chiefs are faking these injuries. Should be noted Brandon Flowers came into this week listed as questionable.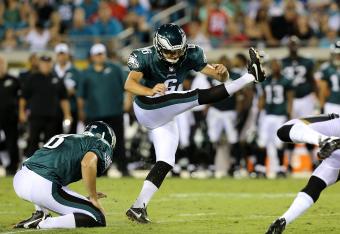 16-9 Chiefs, 2:00 third quarter
That is the second week in a row Alex Henery has missed a big kick for the Eagles. In the immortal words of Andy Reid, the three he left out there last week obviously would've helped. We'll see if it comes back to bite them again against the Chiefs this time.
Vinny Curry with the sack on Smith. I'm sure he'll remind Chip of that after the game. #Eagles

— Martin Frank (@Mfranknfl) September 20, 2013
Meanwhile, it looks like it was wise to activate Vinny Curry for the first time this season. I'm sure Chip Kelly will have the pass rusher in uniform again next week when the Birds head to Denver.
16-9 Chiefs, 4:54 third quarter
Interesting stat: the Eagles actually have more first downs (15) than Kansas City (9). If the game continues at this rate, Birds will have nobody to blame but themselves when they lose.
No idea what Vick is looking at tonight #Eagles

— Brad Rutter (@bradrutter) September 20, 2013
16-9 Chiefs, 6:29 third quarter
Eagles finally strike back, their first points since the opening frame, but Vick still looks careless with the football. Now 9-for-20 for 109 yards, 1 TD, 1 INT (39.4 RAT).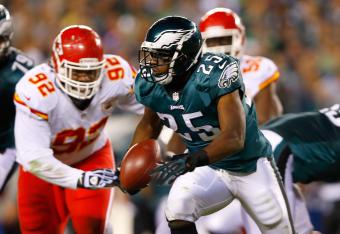 16-6 Chiefs, 8:30 third quarter
Well, no doubt LeSean McCoy is okay. He rips off a 30-yard run to move the Eagles into scoring position, but we have a timeout as Sean Smith goes down with a "cramp." NFL Network color commentator Mike Mayock is vehement it's legit, but coincidentally the Eagles were just starting to go up-tempo.
Eagles have oddly been much better on 3rd & short than 3rd and really long tonight.

— BleedingGreenNation (@BleedingGreen) September 20, 2013
Not to beat a dead horse or anything, but Kansas City now 3-for-12 on third downs tonight.
16-6 Chiefs, 9:34 third quarter
While Justin Houston's 3.5 sacks are getting all the attention, it should be noted Tamba Hali has been giving Jason Peters a lot of trouble on the other side of the Birds' offfensive line. Peters was one of the most dominant left tackles in the game before rupturing his Achilles last year (and looked good up to this point), but obviously Hali is no slouch either. If you enjoy good line play, that's been the battle to watch tonight.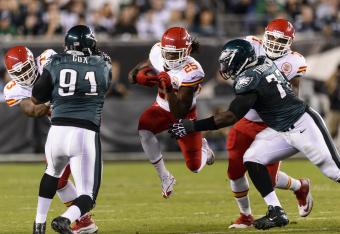 16-6 Chiefs, 12:30 third quarter
Something to keep in mind as Chiefs offense takes the field: Eagles D has done a decent job up to this point all things considered, but Kansas City leads time of possession 19-13. We'll see if Philly can stay strong as the disparity grows.
This article is
What is the duplicate article?
Why is this article offensive?
Where is this article plagiarized from?
Why is this article poorly edited?