Clemson vs. NC State: Live Score and Highlights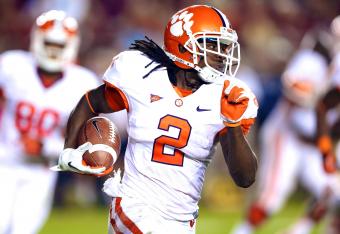 FINAL
North Carolina State: 14
Clemson: 26
Clemson started the game off slow but eventually pulled away from North Carolina State in the third quarter. Despite poor offensive line play and a shaky performance from the secondary, the Tigers offense managed to string together 414 yards and 22 first downs. North Carolina State's defense held tough, but the offense couldn't keep up, producing only three first downs on 16 third down attempts.
Heisman candidate Tajh Boyd threw for 244 yards and three touchdowns, while Sammy Watkins caught 10 passes for 96 of those yards.
Overall, it was a well-played game with the more talented team coming out victorious in the end.
Clemson improves to 3-0 and will play Wake Forest next weekend, while North Carolina State drops to 2-1 and will play Central Michigan next Saturday.
What did we learn from this game?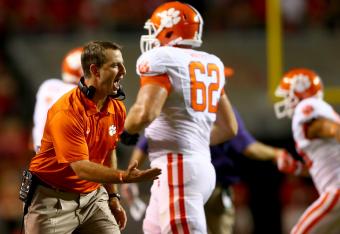 Final Thoughts
Clemson still has work to do. While the team did settle down late in the third quarter, this type of performance wouldn't lead to a victory against Florida State or South Carolina. The Tigers must do a better job of firing on all cylinders right out of the gate and learn to put their foot on a weaker opponent's neck.
As for North Carolina State, this is a team that could make some noise in the ACC. The defense showed that it could play with the big boys, and the offense has talented players capable of taking it the distance. If Pete Thomas can continue to grow as a quarterback, the Wolfpack may surprise some people down the stretch.
Here's a GIF of the nasty uppercut by Clemson left tackle Isaiah Battle.
It's must-see material.
Clemson wins; Clemson: started 3-0 in three straight seasons for the first time since 1928-30

— ESPN Stats & Info (@ESPNStatsInfo) September 20, 2013
Time for Clemson fans to celebrate!
No. 3 Clemson escapes an odd game in Raleigh, defeating NC State 26-14. Boyd 23/47, 244 yd 3 TD. Watkins: 10 catches, 96 yd

— Eye on College FBall (@EyeOnCFB) September 20, 2013
That will do it...
While Clemson will improve to 3-0, North Carolina State played its tail off and should have earned the attention from the rest of the ACC. This team is going places if it can build on this game.
Clemson offensive tackle Isaiah Battle was ejected from the game for throwing a punch. Stupid, stupid play.
The game is over. What are you doing!?
NC State is the 2nd team in the last 10 seasons with a touchdown drive of at least 23 plays. #CLEMvsNCST

— ESPN Stats & Info (@ESPNStatsInfo) September 20, 2013
Incredible.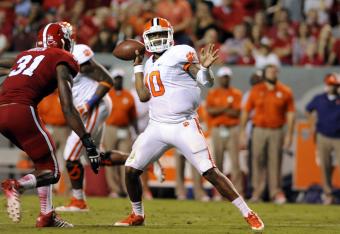 As the final minutes tick down, is Clemson a legit national championship contender? Of course, this wasn't the best performance, but it was a big win considering past history.
Another Vic Beasley sack. Make that 6 of his career 13 sacks against NC State.

— Clemson247 (@Clemson247) September 20, 2013
Meanwhile, Vic Beasley continued to dominate North Carolina State on the last drive.
North Carolina State: 14
Clemson: 26
A four-yard touchdown run by Pete Thomas may be too little too late, but credit the Wolfpack for hanging tough and putting together a 23-play drive. Instead of packing it in like most teams, North Carolina State continues to show strength and make Clemson work for everything in this game.
Hey NC State, play every down like it's 4th down.

— ParadigmShift35 (@NAWTADIGM) September 20, 2013
Yup.
The difference in this game is the third down conversions. Clemson is 9-17 on the important down, while North Carolina State is a lousy 2-13.
Surprisingly, the Wolfpack are two of three on fourth down.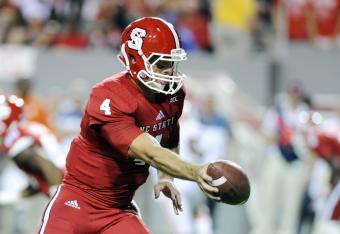 Quarterback Pete Thomas shows solid accuracy and good poise in the pocket. Now, he just needs to throw his first touchdown of the season. Right now would be the perfect time for North Carolina State fans.
We'll never really know what would have happened, but Underwood's non-TD was, well, ya'll know what it was. Awful.

— Adam Gold (@AGoldFan) September 20, 2013
The fact that it wasn't reviewed makes it worse.
This win for Clemson bigger, in long run, than Georgia win. These are games Clemson would fritter away in years past. #confidence

— Matt Hayes (@Matt_HayesSN) September 20, 2013
This is tough to argue...
Clemson: 26
North Carolina State: 7
Oh, my goodness.
Martavis Bryant catches his second touchdown of the game over cornerback Niles Clark. He showed incredibly strong hands and great footwork. And that may do it, folks.
The Wolfpack haven't shown enough offensive consistency to get back in this game.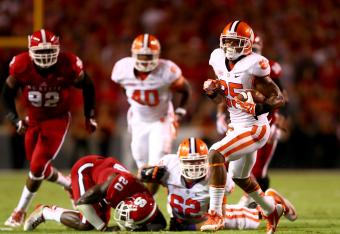 Although the Wolfpack's defense has been remarkable in this game, it has yet to come away with a game-changing play. Now would be the perfect time for a turnover to kind of change the momentum and get the team back in the game.
Niklas Sade missed a 50-yard field goal attempt. I think the real question should be, why in the world is North Carolina State attempting a field goal?
North Carolina State needs to quickly score a touchdown or this game is over. Like we have seen far too often, the Wolfpack's defense will eventually fold and begin giving up big plays.
North Carolina State recently converted on its first third down attempt. The third quarter is nearly over!
There is way too much green on my TV when Clemson's secondary is supposed to be there.

— Lisa Horne (@LisaHorne) September 20, 2013
Hey, it's on my TV, too!
Clemson: 20
North Carolina State: 7
Yikes!
The air has been let out of the building after Clemson scores on a 30-yard touchdown pass to Martavis Bryant. The Wolfpack aren't out of the game just yet, but the last five minutes couldn't have played any worse if you're a North Carolina State fan.
This article is
What is the duplicate article?
Why is this article offensive?
Where is this article plagiarized from?
Why is this article poorly edited?