5 Quick Fixes to Improve the Australian Test Side Before the Ashes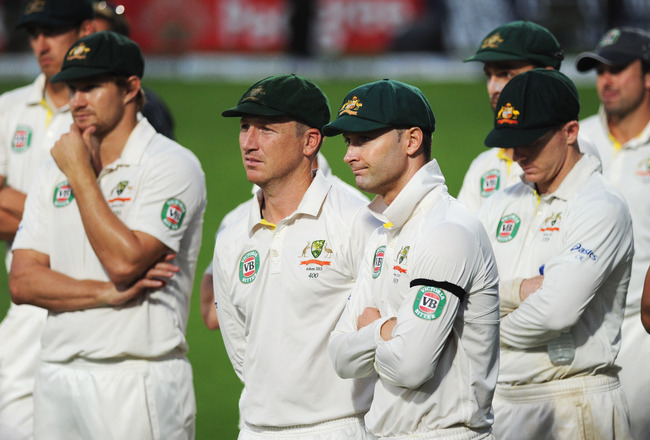 Shaun Botterill/Getty Images
While this summer's Ashes series saw Australia comprehensively beaten on the scoreboard, there was growing evidence to suggest England's fiercest rivals are on the road to recovery.
A team that entered the series amid forecasts of unprecedented humiliation wound up concluding the summer with not only an improved psyche, but greater clarity regarding their identity.
Suddenly, Australia's potential to upset England in the return Ashes series beginning in November looks far more realistic than it did just a couple of months ago.
Darren Lehmann's impact as coach has been a positive one, Michael Clarke appears to be leading a more united outfit, while the selection bingo of the past 12 months appears to be subsiding.
Furthermore, Australia have developed an approach which should see them hotly contest the coming series, with perhaps only Ian Bell and Graeme Swann remaining their only headaches heading into the first Test in Brisbane.
Yet the home side will need to find further avenues of success and must implement a number of measures if they are to reverse the 3-0 scoreline from this summer's encounter with England.
The most important of those steps are listed on the following slides.
1. Settle on a Spinner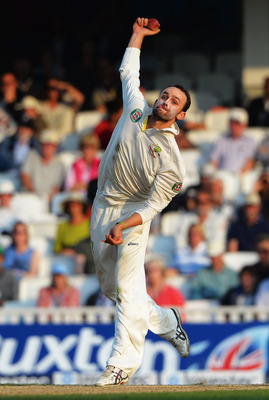 Shaun Botterill/Getty Images
Australia's lottery with spin bowling options simply must come to an end if the team is ever to find a dependable tweaker.
From the third Test at Old Trafford onwards, Nathan Lyon showed enough to see him claim a permanent place in Australia's lineup for the return series Down Under.
While Ashton Agar produced one of the most unforgettable innings in Test cricket history at Trent Bridge, the team's frontline spinner must be a threat with the ball if they are to challenge England.
Agar's combined figures of 2-248 in his two Tests clearly demonstrated his doesn't hold that capacity at this stage in his career.
Lyon meanwhile, put forward a compelling case from Manchester onwards, claiming nine wickets in the series at an average of 33.66.
That wicket tally could have been considerably greater had a number of chances behind the stumps been taken, while his economy rate of 2.56 demonstrated his consistency and control.
Particularly impressive was his performance at Chester-le-Street, where the off-spinner claimed match figures of 7-97 on a wicket that was far more conducive to seam bowling.
Should Lyon be installed as a permanent member of Australia's squad, the team's threat and stability will be undeniably enhanced.
2. Forget the Second All-Rounder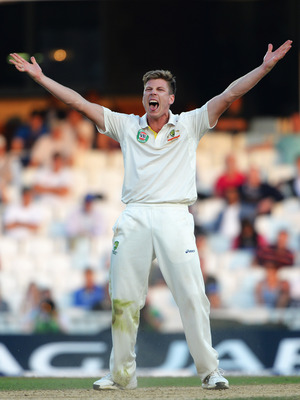 Shaun Botterill/Getty Images
The selection of James Faulkner for the fifth Test at The Oval was another indication of Australia's selectors continuing their search for the right formula.
By replacing a batsman (Usman Khawaja) with a bowling all-rounder, Australia toyed with the concept of playing five bowlers to overcome not only England's batting lineup, but also the back-breaking, life-less pitch that was produced in south London.
However, that tactic will not be the correct option when the teams do battle once more in Australia.
Harder and faster wickets, particularly in Brisbane and Perth, mean the home side should trust the abilities of their four frontline bowlers and rely on Shane Watson to fill the gaps where possible.
The Australian pitches will provide more seam and bounce for the quicker men, while the spinners should also enjoy the extra pace in the wickets given the extremely slow turn witnessed in England.
That should see the bowlers facing a less arduous task, further emphasising the need for six specialist batsmen to be selected.
3. Adapt the Bowling Lineup to Specific Conditions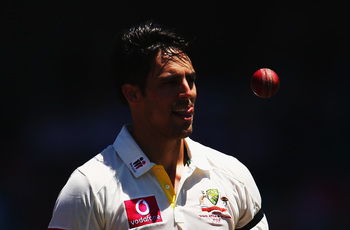 Ryan Pierse/Getty Images
Picking seam bowlers for specific conditions has been one of England's strengths during this successful era.
Australia simply must do the same during the upcoming Ashes series.
Rather than relying on the same three pacemen regardless of the wicket, Australia's selectors need to carefully assemble specific bowling attacks for each individual venue.
While Ryan Harris and Peter Siddle will likely be the stalwarts in this area, selectors should tinker with the third seamer's position depending on conditions.
At both Brisbane and Sydney, where movement in the air and off the seam are always evident, Jackson Bird could prove extremely effective, given his ability to find subtle variations from a consistent line and length. His control could also be useful on the usually slower Melbourne wicket.
Across the other side of the country, Mitchell Johnson could be used as a weapon on a traditionally quick surface. His performances in the concluded ODI series were impressive, while his record at Perth (36 wickets in five Tests) is simply outstanding.
Tailoring the attack to the different wickets will be a key to Australia's chances of success.
4. Target England's Third Seamer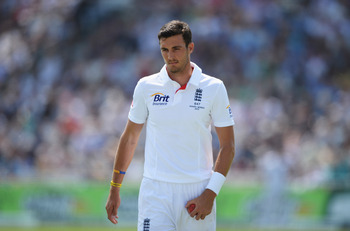 Gareth Copley/Getty Images
One of the strengths of great cricket teams is the ability to identify the opposition's weakness and turn it into an immense liability.
Targeting England's third seamer is Australia's best option in this regard.
Although James Anderson, Stuart Broad and Graeme Swann remain too accomplished to succumb to premeditated attacks, England's third seamer could be made to be the visitors' weakness.
Tim Bresnan's availability continues to be unclear, while Steven Finn's lone Ashes Test this summer was well short of the mark.
Chris Tremlett's county season was also less than impressive, and a host of the other genuine quicks possess little experience at Test level.
Graham Onions looks to be the best option for England, given his excellent season with Durham. However, Onions figures were undoubtedly enhanced by the bowling friendly conditions at Chester-le-Street this summer, the sort of the conditions that won't be found Down Under.
All of which leaves the third seamer position as England's potential weakness. If Australia are able to target that possible frailty (as they did at Trent Bridge with Finn), then the load on the team's stars will be enormously increased.
5. Stick with the Top Five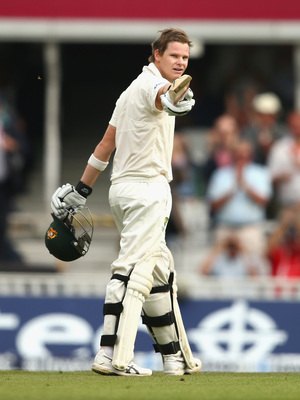 Ryan Pierse/Getty Images
In the final Test of this summer's Ashes series, Australia finally identified their best top five batting combination.
Through a mix of puzzling and forced trial-and-error, the selectors have stumbled across a top five that needs to be given time to consolidate for the foreseeable future.
A lineup of Chris Rogers, David Warner, Shane Watson, Michael Clarke and Steve Smith looks to be the hosts' best combination, particularly given that four of the five men recorded hundreds during the final three Tests of the concluded series.
Watson became the first Australian to score a hundred at number three since the departure of Ricky Ponting, while Smith and Rogers struck their maiden tons in the series, which should greatly improve their stocks.
Clarke's elevation to number four is also a much needed move, while Warner provides the counter-punching contrast to his partner at the top of the order.
If Australia are to turn around this current streak of extremely poor Test results, a consistent top five is absolutely imperative.
Keep Reading