8 Biggest Obstacles for the Denver Broncos to Repeat as AFC West Champions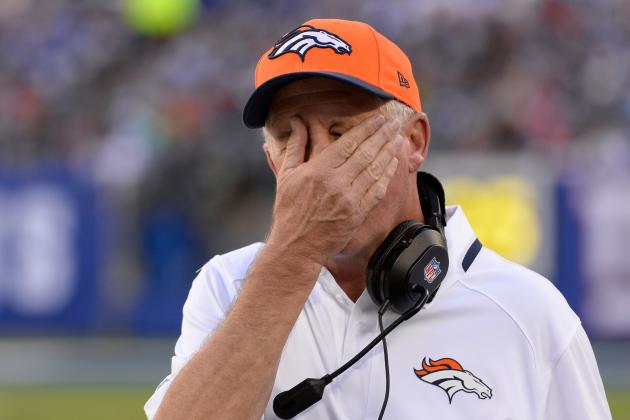 Robert Deutsch-USA TODAY Sports

The Denver Broncos have their eyes set on another AFC West title. They are hoping the third time is the charm as they want to win the Super Bowl in 2013.
They won the AFC West in 2011 with Tim Tebow leading the way. In 2012 they won the AFC West again, this time with Peyton Manning as the man in charge.
This season Manning wants another division title, and the Broncos got off to a 2-0 start to begin the year. They play their first division game of the season in Week 3 against the Oakland Raiders.
Some felt the AFC West was the weakest division in the NFL before the start of the regular season. The Chiefs, Chargers and Raiders are all in different phases of rebuilding. Most felt the Broncos would run away with this division and secure their third-straight AFC West title.
After two weeks of the 2013 season, we've seen the AFC West have more fight than some think.
The Chiefs won their Week 3 Thursday Night Football game against the Philadelphia Eagles. They now sit atop the division at 3-0.
The Chargers have a revamped offense under new head coach Mike McCoy. The former Broncos offensive coordinator has been getting the most out of quarterback Philip Rivers.
The Raiders are moving the ball with quarterback Terrelle Pryor. Their ground game leads the NFL in rushing yards after two weeks. Their defense also leads the league in sacks.
Let's take a look at some of the biggest obstacles that could get in the way of the Denver Broncos winning another AFC West title.
Begin Slideshow

»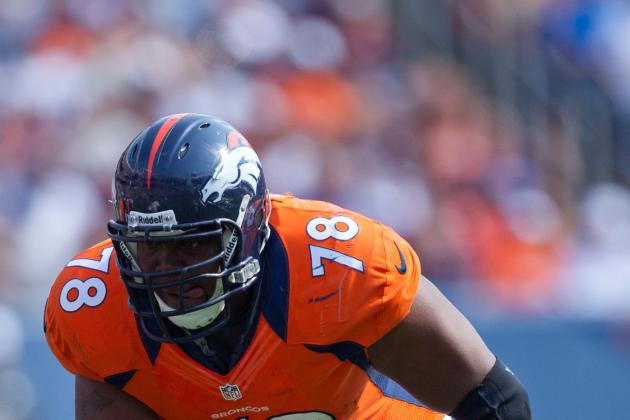 Justin Edmonds/Getty Images

This week we learned, via Gray Caldwell from DenverBroncos.com, that Clady would put placed on season-ending injured reserve. The veteran offensive tackle needs surgery to repair a Lisfranc injury he suffered against the Giants. Clady is one of the best at his position in the game today, and was mostly known for his outstanding ability in pass protection.
With Clady on the field, the Broncos could use him to block an elite level pass-rusher one on one. This allows the rest of the offensive line to double team certain defenders across the line of scrimmage.
Having Clady on the field means Peyton Manning has outstanding pass protection. In 2013 Manning has only been sacked three times, all of which occurred in the season opener against the Ravens.
On Thursday, head coach John Fox talked about losing Clady for the rest of the season:
It was tough. As I mentioned earlier, until you get the finality of it, it was Lisfranc injury that needed to be looked at by some specialists to see if it needed surgery. And at which point it needed surgery, we put him on IR. So it's unfortunate. I mean, he's a Pro Bowl player for us. So it's a blow. But again, it's cliché, but it's, 'Next man up.' In this case, 'Next men up.' [T] Chris Clark, we have great confidence in. He's played a lot of football a year ago, as well as this preseason when Ryan was getting his shoulder back. So I think his teammates have a lot of confidence in him and we feel good about him.
Without Clady on the field we'll see Chris Clark starting at left tackle. He spent most of the offseason working with the first-team offense as Clady recovered from shoulder surgery.
Clark is a valuable swing tackle who can play either left or right tackle. He is a strong run-blocker, but he struggles with elite edge rushers. These opponents are the same Clady could handle by himself.
We'll see the Broncos change a few things up front to help Clark on the left side. We could see more 12 personnel groupings on offense to get another tight end in the game. That tight end will be asked to be a blocker to help take some of the pressure off of Clark.
This would reduce the number of snaps for Wes Welker. He played 49-of-76 snaps against the New York Giants. Welker saw fewer snaps in the second half as the Broncos started using tight end Virgil Green more.
The Broncos love to run out of 12 personnel, and we could see more emphasis placed on the ground game moving forward.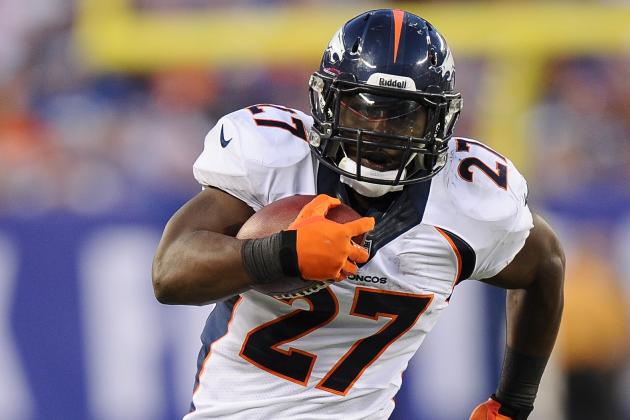 Maddie Meyer/Getty Images

If the Broncos want more of an emphasis on the ground game then they'll have to keep Knowshon Moreno healthy. He's clearly the most trusted back on the roster and leads the team in rushing with 121 yards on 22 carries.
Moreno is the best pass-blocking back on the roster, and that's one of the reasons why he's on the field so much. In Week 2 against the Giants, Moreno played 46 of a possible 76 snaps.
He finished the game with 13 carries for 93 yards and two rushing touchdowns. If they are seeking more balance, then perhaps Moreno could see his carries bump up to around 17 per game—that would put him on pace for about 260 carries this season., which would beat his previous high (247) for carries in a year.
Moreno has only played 16 games in a season once during his pro career. That also happened to be his rookie season of 2009.
During that year Moreno only averaged 3.8 yards per carry. He also lacked the patience and determination that he shows today.
Since that time Moreno has not played a full season due to multiple injuries. In fact, he's only played in 16 games over the last two seasons.
Moreno has a long history of durability problems. Last year he looked good towards the end of the season, but suffered a knee injury in the playoff game against the Ravens.
If he's going to get the largest workload of his career, then the Broncos will have to manage his touches carefully.
We could see rookie Montee Ball share more of the workload in order to help keep Moreno fresh.
Elsa/Getty Images

No matter how good an offense is, turnovers can cause games to slip away. If the Broncos want to win the AFC West, then they'll have to make sure to minimize turnovers.
Rookie Montee Ball may be featured more on the ground going forward. The team selected him in the second round of the 2013 NFL draft, and they have been easing him into the lineup this year.
Ball fumbled against the Giants when the Broncos were in the red zone, but that didn't hurt his playing time. He ended up with the second most snaps (28) at the running back position in Week 2.
On Monday, head coach John Fox said the fumble did not affect the distribution of carries for the running backs. "No. I don't think there was a conscious effort to limit him [Ball]."
Third-string back Ronnie Hillman only got onto the field twice the whole game, both after Ball's fumble.
The reason Hillman has seen his playing time limited is because the team lost trust in him after three fumbles this preseason. He'll now have to wait his turn, and Hillman may not see much playing time as long as Moreno and Ball can impress.
Fox said the team did not make a conscious decision to limit Hillman's carries against the Giants:
No, it's just hard to get three people in there, whether you're talking about quarterback, defensive back or any position. You've just got to go with how you've prepared guys during the week. Some guys get more reps than others.
Ball needs to prove himself in pass protection if he wants to see an increased role. He also needs to beef up his below average 2.0 yards per carry.
Ball has only two fewer carries than Moreno this season, but has 81 fewer rushing yards in the first two games. The Broncos want Ball to do more, but he first must hold onto the rock and be more decisive as a runner.
Peyton Manning isn't going to throw many interceptions this year. Any turnover problems that arise will come from ball carriers.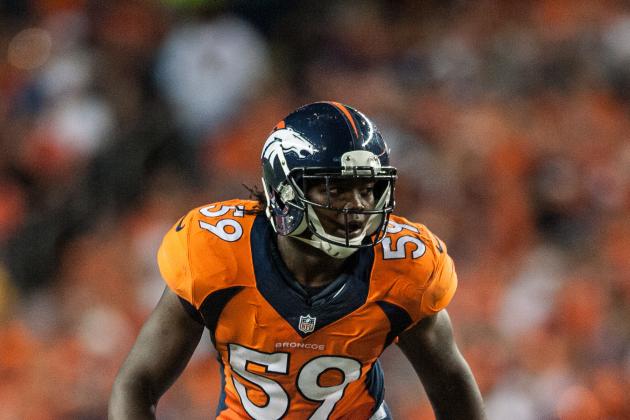 Dustin Bradford/Getty Images

Any team facing the Denver Broncos will have to put up a lot of points. Going against Peyton Manning, opponents know they'll need an aggressive game plan.
Getting down early to the Broncos means most teams won't expect a big day from the ground game. To keep up with the Broncos, a team will have to attack the defense through the air.
The Broncos have a quality secondary, so going against the likes of Champ Bailey, Dominique Rodgers-Cromartie and Chris Harris may not be the best idea. In order to move the ball through the air opponents will likely target the Broncos linebackers in coverage.
Wesley Woodyard moved to middle linebacker before the start of the regular season. He's incredibly athletic and has improved his coverage skills over his NFL career. Woodyard stays on the field when the Broncos go into their nickel package because of his ability to make plays in space.
Nate Irving moved outside to strong-side linebacker this season, and he has looked better in coverage than some thought he would. However, covering running backs out of the backfield or tight ends over the middle is not his strong suit. He'll be a target by opposing quarterbacks when he's on the field. Irving does not play on nickel defense so his targets will be limited.
Danny Trevathan is playing weak-side linebacker and has the athleticism to make plays in coverage. He has one interception this year that would have been returned for a touchdown had he not dropped the ball before he crossed the goal line. Trevathan can struggle with quicker running backs out of the backfield. He plays in the nickel package and may see more targets than Irving or Woodyard.
The Broncos need help from their pass rush, and that in turn will aid the coverage of the linebackers. The secondary will also benefit if the team can turn up the heat on opposing quarterbacks. Denver's pass rush will be greatly helped when Von Miller returns from his six-game suspension.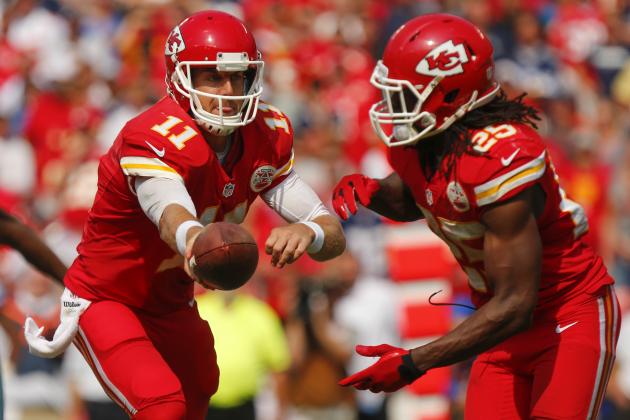 Kyle Rivas/Getty Images

The Chiefs are 3-0 after beating the Philadelphia Eagles 26-16 on Thursday Night Football in Week 3. They've already bested the number of wins they had in 2012, and they could be the toughest opponent for the Broncos in the AFC West.
New Chiefs coach Andy Reid inherited a team with a strong defense, but one that had major questions on the offensive side of the ball. Reid is known as an offensive guru, so fixing that side of the ball would come naturally to him.
Kansas City upgraded the quarterback position when they added Alex Smith to the roster. Smith is not a gunslinger, but more of a game manager who will stay safe with the football. So far this season Smith has 669 yards passing with four touchdowns and zero interceptions. He does a good job leading the team and taking what a defense gives him.
The centerpiece of the offense is superstar running back Jamaal Charles. Reid is going to use Charles as much as possible as both a runner and receiver out of the backfield. Charles already has 224 yards rushing and 151 yards receiving with three total touchdowns in 2013. He is difficult to stop because his speed makes him a threat to score anytime he touches the ball.
The group of wide receivers is led by Dwayne Bowe and Donnie Avery. It has been Avery who has been making more plays than Bowe this year. Perhaps we'll see an emphasis coming from the Chiefs to get Bowe more involved going forward.
The Chiefs defense is stout at all three levels. This unit could give the Broncos problems, because they are complete.
Up front the defensive line features strength and quickness. Dontari Poe has turned into one of the best nose tackles in the game today. He has the strength to toss opponents out of the way with ease, and has the burst to get after the quarterback.
Inside linebackers Derrick Johnson and Akeem Jordan can find the ball quickly. This makes the Chiefs more difficult to run against as neither take that many false steps to get out of position.
Outside linebackers Justin Houston and Tamba Hali will get to the quarterback in a hurry. Their constant pressure puts opposing quarterbacks under duress frequently.
The secondary features a couple of stars in cornerback Brandon Flowers and safety Eric Berry. Flowers can blanket an opponent's best receiver and shut him down. Berry is a ball hawk who can stuff the run close to the line of scrimmage or hang with receivers on downfield routes.
The Chiefs are going to win with a suffocating defense and a consistent offense. They are trying to bounce back after a 2-14 season in 2012. They are on their way to at least a .500 record and could split games with the Broncos this season.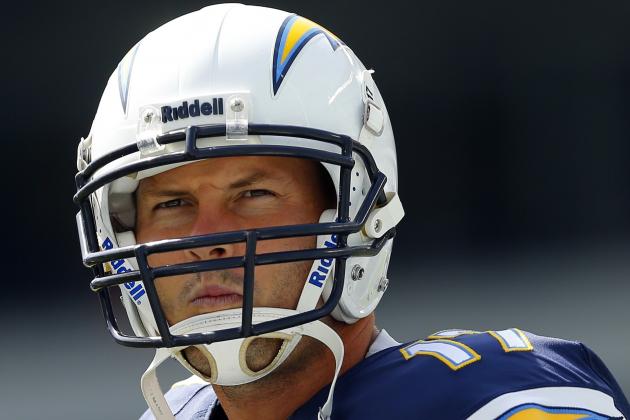 Rich Schultz/Getty Images

Mike McCoy left the Denver Broncos in order to be the head coach of the San Diego Chargers. One of his first hires was bringing on Ken Whisenhunt to run the offense. The pairing of McCoy and Whisenhunt has paid off for the Chargers' offensive side of the ball.
Philip Rivers is having a bounce-back season after a disappointing 2012. In two games he already has 614 passing yards with seven touchdowns and only one interception. The Whisenhunt offense has Rivers get rid of the ball quickly, so the quarterback is not taking as many hits this year.
Rivers is hated by Broncos fans, but there's no denying his leadership and ability as a passer. This passing game could hang with Denver in a shootout.
The ground game isn't the focal point of the offense, but it is important to note that Ryan Mathews looks better this season. Though, he is unlikely to ever play up to the expectations the team originally had for him when he came out of Fresno State as a first-round pick in 2010.
However, Mathews is running with better toughness this year. This hard charging style will help keep defenses honest. The high-powered passing game means most defenses will use nickel coverage. That puts in smaller defenders and is a package teams can have success running against.
Eddie Royal has been a breakout player this year. The former Broncos receiver has five touchdown catches in two games. He's earned the trust of Rivers and is making plays on underneath routes out of the slot. Royal is doing a better job at finding soft spots in the zone, and his sharpened skill set is helping him play better than he did in 2012.
Antonio Gates looks like he did before multiple foot problems slowed him down. A tight end with his movement ability is always dangerous to cover. His size/speed combination make him a mismatch every time he's on the field.
The Chargers defense is suspect, so if they want to win they'll have to do it with their offense. San Diego is playing better than expected this year. They'll prove to be a worthy opponent when they face off against the Broncos later this season.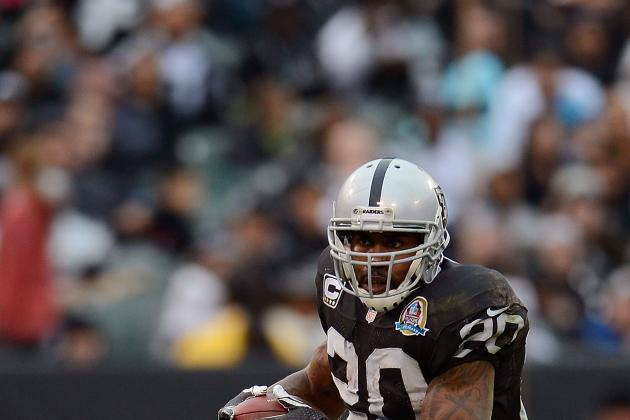 Thearon W. Henderson/Getty Images

Darren McFadden has always been one of the most naturally talented runners in the NFL. Injuries have slowed him down during his career, preventing him from playing up to his potential as a pro. This season McFadden is in the final year of his contract, and is looking to finally reach that potential.
The Broncos will get tested by McFadden on Monday Night Football in Week 3. He can not only make plays as a runner, but also as a receiver out of the backfield. This will be a good test for the Broncos linebackers in coverage.
The Raiders have a rejuvenated ground game with quarterback Terrelle Pryor under center. Entering Week 3 they were leading the NFL in rushing yards. Some of that is Pryor and his scrambling ability, while the other part is what McFadden is doing.
The Broncos defense knows that stopping McFadden will be the key to victory on Monday night. On Thursday defensive tackle Kevin Vickerson commented on how the team needs to consistently get into the backfield.
That's just what we have to continue to do, continue to force our will, continue to play our ball and continue to dominate the one-on-one block. Whatever block you really get, you really have to dominate it. That's what our mindset is up front just going in and dominating the whole 60 minutes. It's going to be a clash of heads, it's going to be a banger but I'm not shying away from it. I'm sure they're not either.
If the Broncos can be disruptive up front, it will greatly help their chances of shutting McFadden down. The team also needs to play with discipline as Pryor can make big plays with his scrambling ability.
The Raiders are not where they want to be yet. However, they do have a few pieces in place—mainly McFadden—to get an upset win here and there.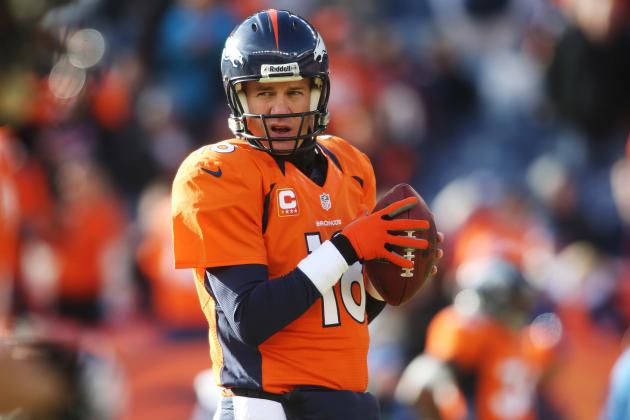 USA TODAY Sports

In terms of making a Super Bowl run, this may be the biggest obstacle for the Broncos to overcome in 2013. Since his career began in 1998, Peyton Manning is 0-4 in playoff games when the temperature dips below 40 degrees.
The team will wrap up their regular season with two games on the road (Houston, Oakland) where weather will not be a factor. In order to get the cold weather feel, Broncos fans should be hoping for a frosty winter in Denver.
The Broncos have five potential cold weather games during the final two months of the season. It would be nice to see some frigid temperatures during this time so the Broncos can get used to playing in less-than-ideal conditions.
Peyton Manning should start wearing gloves some time in November in preparation for the cold weather. His arm strength is not a question, but his grip on the football is. When it's cold Manning's velocity is negatively affected. When his passes aren't spun as tightly, it leads to accuracy problems and interceptions.
Denver has to get this weather problem solved if they want to hoist the Lombardi Trophy at the end of the year. The Super Bowl is being held at Met Life Stadium in New Jersey this season. It's most likely going to be a cold weather game where it's under 40 degrees.
Manning won't only have to overcome the weather in the playoffs at home, but he'll also have to prove the doubters wrong if the team makes the Super Bowl.
All quotes and injury/practice observations obtained firsthand by the author unless otherwise noted.